The Best Video-to-GIF Converters
GIFs have found their way in almost all sorts of content shared over the internet. They make part of people's exchanges on social media, and have become an integral aspect of digital marketing. They add some energy and life to the otherwise mundane blog posts, websites, emails and infographics, among many others.
However, do not confuse between GIFs and videos. The former are short bursts of soundless looping content made from static images but created to emulate motion.
Videos, on the other hand, are a rich presentation of media created with both sound and motion. But you can convert your videos to GIFs using a good video-to-GIF converter.
You can also check out the video converter by Movavi – a simple and effective tool for switching between video, audio, and image formats.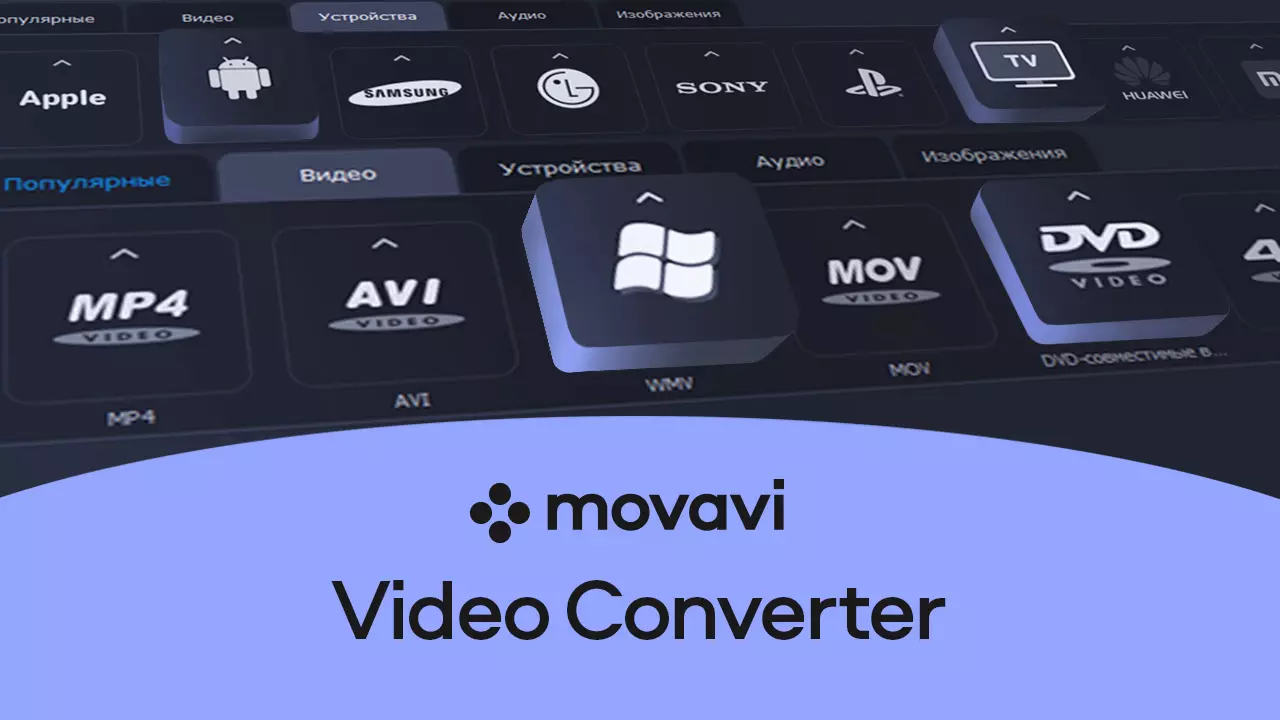 Top MP4-to-GIF Converters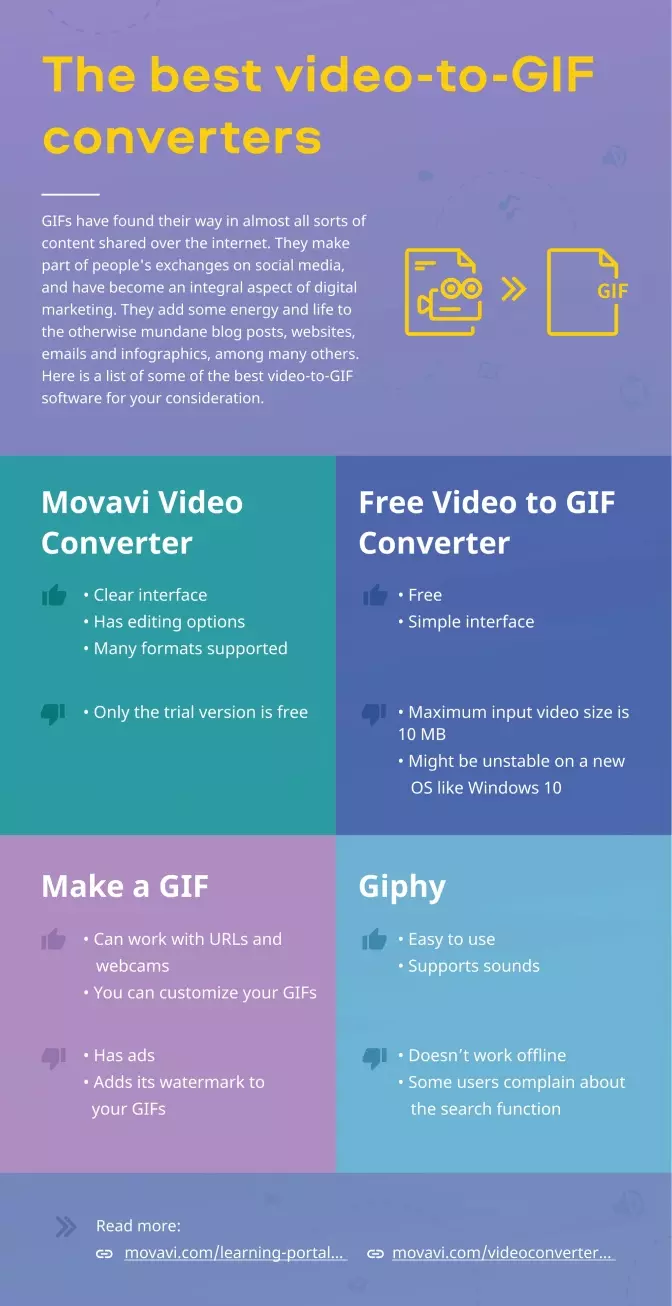 Of course, the best video to GIF software should be free, but sometimes you have a price to pay to enjoy premium features. Consequently, you may have to consider the cost, efficiency and affordability before settling on the most suitable movie to GIF software. Since most of the movies you download are in MP4 format, consider getting the best MP4 to GIF converter to produce high quality GIFs to share with your friends online.
Here is a list of some of the best video-to-GIF software for your consideration.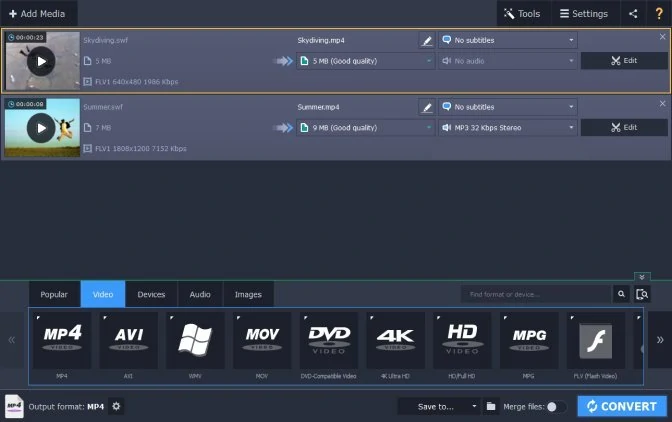 Due to its easy of use and reliable video editing tools, Movavi Video Editor is one of the leaders in the video editing business. Available for both Windows and Mac OS, this program has become a big favorite among users. Being super-fast and reliable, it is one of the top MP4-to-GIF converters that will help you create GIFs from your videos within a short time.
One of the greatest features of this program is its ability to batch export files which makes creating and converting multiple GIFs easier than ever. It is therefore the most convenient for regular GIF creators, whether for personal use or for business.
Though you may need to purchase Movavi to enjoy all these great features, a free trial version is available for those wishing to try it out before committing to the purchase. The trial version is also great for those converting videos to GIFs on a one-time basis.
Pros
Clear interface
Has editing options
Many formats supported
Cons
Only the trial version is free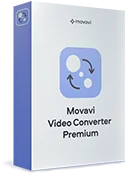 Movavi Video Converter
The ideal way to get your media in the format you need!
Convert video, audio, DVDs, and image files

Enjoy lightning-fast conversion without quality loss

Improve quality, adjust sound, trim and join files before converting

Save video and audio clips for easy mobile access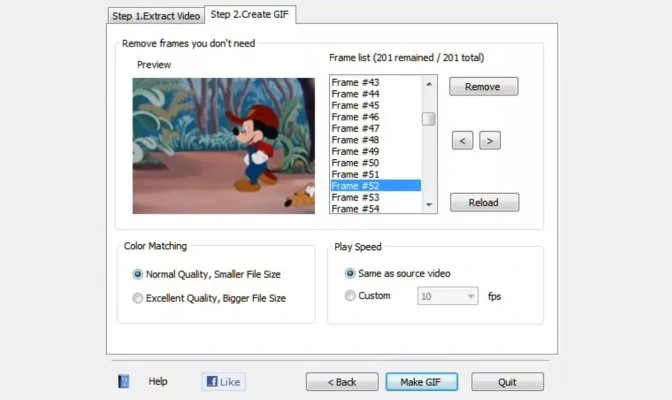 This free tool will help you to convert your videos into automated GIF files in a few simple steps. Once you install this program on your device, you can add video files of up to 10 MB to create an animated GIF. Converting videos to GIF is especially easy courtesy of the simple interface with only two tabs: extract video, and Create GIF.
This animated GIF creator also supports most popular video formats, including MP4, AVI, MPEG and even GIF. It avails a host of functionalities to help you to create a spectacular GIF. These functionalities include selecting playback speed, changing and chopping individual frames, and changing the video width and height, among many others. The only challenge you may face is the interface, though simple and easy to use, it's got only two tabs which limits your options to only extracting a video and creating GIFs. However, this app is enough for you if creating GIFs is the only thing on your mind, and if you already have videos in your video gallery.
Pros
Cons
Maximum input video size is 10 MB
Might be unstable on a new OS like Windows 10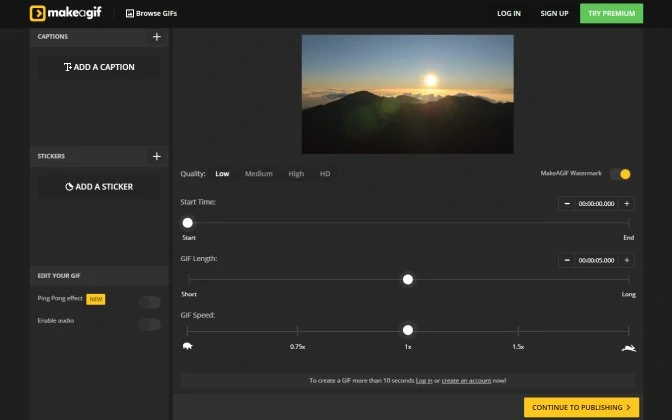 If you are looking for a program that is not just a video to GIF converter, Make a GIF should be your best bet. This app will allow you to convert almost anything to a GIF at the click of a button. Select a video to convert to GIF, and upload it to this easy to use website and it will create a GIF for you. This app also lets you upload a collection of images to make your GIF.
While it lets you apply various customization to the GIF, such as filters, stickers, GIF speed and captions, this video to GIF converter splashes a watermark to each GIF you create. However, you can get rid of this unwanted tag from your creations by upgrading to the premium version. Should you choose to go this route, you will be paying a monthly subscription to enjoy the features of this program, which may become expensive in the long run.
Pros
Can work with URLs and webcams
You can customize your GIFs
Cons
Has ads
Adds its watermark to your GIFs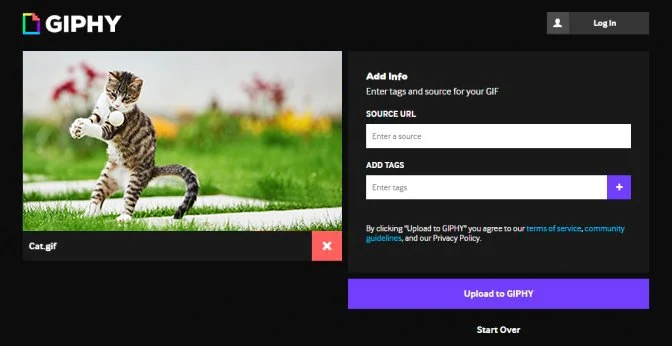 Giphy is the biggest online GIF platform with millions of users accessing it on a daily basis. It is popular because it is easy to use. You input your video URL into the specified field in the window before clicking on "create". This site also provides simple tools, such as drag and drop options for adding videos and images from your local storage.
Unlike some GIF makers, this platform allows you to add sound clips to GIFs, making them more interesting than their muted counterparts. Also, you can add tags and descriptions to your GIFs to make them more eye-catching.
Pros
Easy to use
Supports sounds
Cons
Doesn't work offline
Some users complain about the search function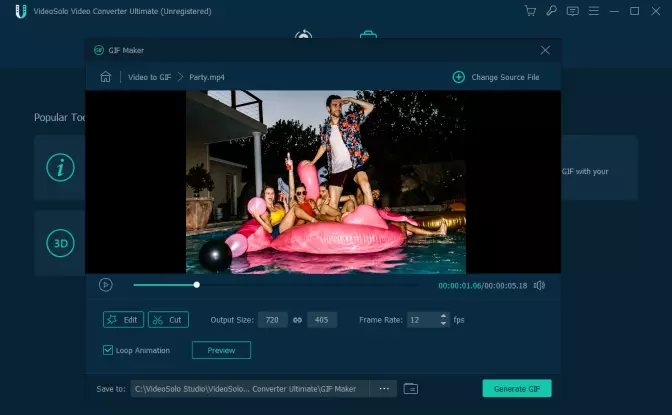 The video-to-GIF converter app provides a variety of options when creating animations. It has tools to trim your videos, select a particular part of the video, or join parts of different videos to make your GIF file. It has a built-in video editor that lets you apply a series of customization to your finished product. You can crop, adjust contrast and saturation, and change video color, among others, to make your GIF attractive.
As a welcome plus, this movie-to-GIF software allows you to add a picture overlay or text to your GIF to make it even more fascinating. If you are not satisfied with the quality of the images and frame rate, you can adjust them to your wishes.
Pros
Many editing options
Not very resource-demanding
Cons
Some features might be hard to find
The Mac version gets updates less frequently than the Windows one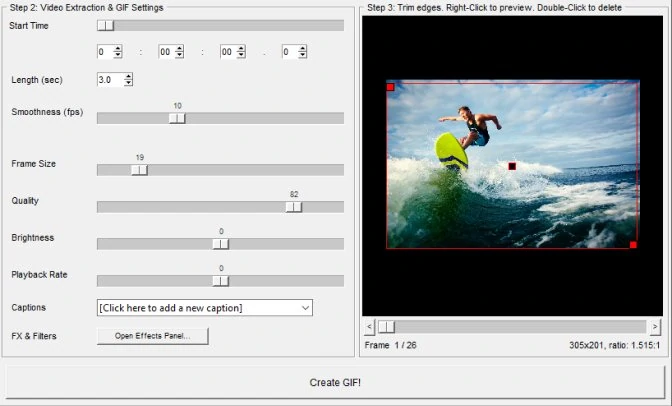 Instagriffer is an app available for free. This app allows to grab a screen and make a GIF of a video you're watching. Best for creating GIF animations in a hassle-free way, this GIF maker boasts of an easy-to-use interface and supports all popular video formats.
Pros
Has a portable version
Can make 3D GIFs
Cons
It's difficult to find an appropriate software installer on the Instagriffer website
A beginner might find the software a bit complicated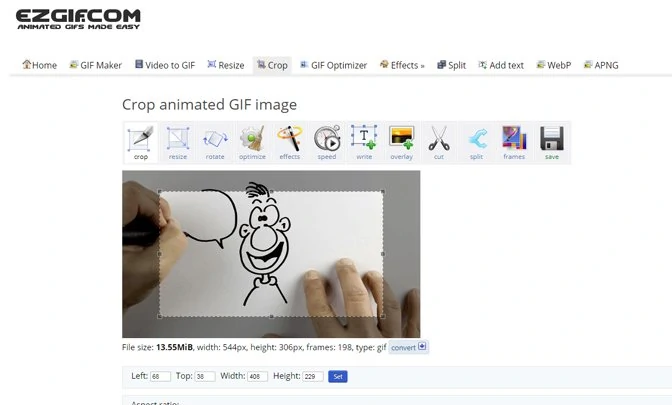 Ezgif is an online service for creating GIFs. You can easily upload your video to a website and create a GIF in a few clicks. However, since it is web based, you may not always be able to access it especially if you are operating in remote areas with poor internet connectivity.
Pros
Easy to use
Can work with URLs
Cons
The video file size is limited
Might seem slow comparing to other GIF makers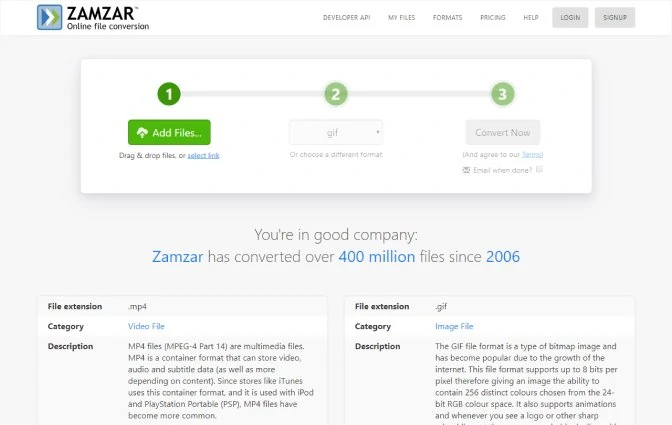 Zamzar is another online service for creating your own GIFs. It's web-based so you won't have to worry about the limited storage space on your device, or incompatibility issues. The platform helps to easily convert media to GIF and to quickly share the created GIF files.
Pros
Can email you the resulting GIF
Simple
Cons
In the free version, maximum video file size is 50 MB
The conversion speed of the free version is limited
Joining the GIF craze should not necessarily be a big deal if you know the best video to GIF converter to use. The best GIF creator should be easy to use, and avail all the basic features to enable you to create high quality GIF images. While some are free and others paid, you will need to assess the features and balance them with your needs before settling for either of them. but if you are still wondering where to start, and need a program that can convert your videos into GIFs, consider downloading and installing Movavi Video Converter.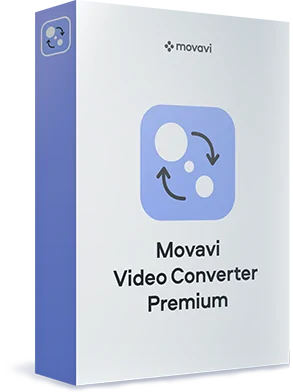 Movavi Video Converter
The ideal way to get your media in the format you need!
Convert video, audio, DVDs, and image files

Enjoy lightning-fast conversion without quality loss

Improve quality, adjust sound, trim and join files before converting

Save video and audio clips for easy mobile access
See Other Useful How-to Guides