How to Convert MOD Files
MOD is a video file format used by some digital camcorders from JVC, Panasonic, and Canon. Although these videos use a specific file extension, they are pretty similar to the more common MPEG-2 files and can be played on almost any PC or Mac. However, you may encounter some issues playing MOD files.
Below, we've described some problems that can be resolved by converting MOD files to a different format.
A video won't open on your device
Not all mobile devices and media players support the MOD format. To play the video, you may need to convert MOD to MP4 or another popular format.
An MOD file is distorted
It may happen that, when you try to play an MOD video, the picture appears distorted. In this case, just convert your video to a standard format like MP4 or AVI.
The video is vertically stretched
This happens when the aspect ratio information is interpreted incorrectly. Converting the MOD video to another format can help in this situation.
In this article, you'll find a guide to converting MOD to MP4 with Movavi Video Converter, a table comparing MOD vs. MP4, and answers to frequently asked questions.
How to Convert MOD Files in Movavi Video Converter
With the Movavi Video Converter conversion software, you can change the format of your video or rip a DVD with just a couple of clicks. The program supports a wide range of media formats, including AVI, MOV, MP4, WMV, and MPG (MPEG). You can also use Movavi Video Converter to extract audio from video and convert music to and from MP3, AAC, WAV, WMA, and other audio formats.
Converting MOD video is really easy – just follow the simple steps below.
Get Movavi's MOD Converter
To install Movavi Video Converter for Windows or Mac, download and run the program, following the on-screen instructions to complete the setup process.
Add MOD Files to the Program
Click the Add Media button, then Add Video, and choose the files you want to convert in the new window that appears. After you click Open, the files will be added to the video converter file list.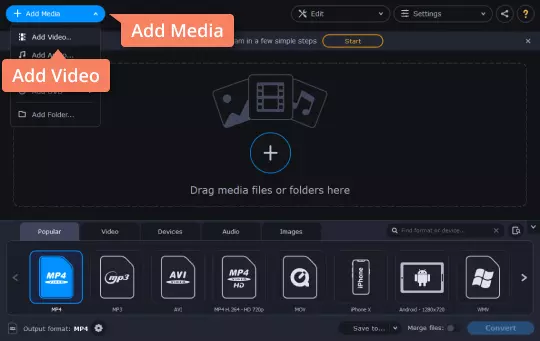 Edit the Uploaded Videos (Optional)
The app helps you edit any video prior to conversion. Hit the Edit button in the file info section to access the editing window.
Stabilize your shaky videos in the Stabilization tab. Change the volume level if it's too low or even get rid of background noise in Audio. Experiment with video display settings in the Adjustments to achieve the desired effect. Insert effects, subtitles, and watermarks in the appropriate tabs. Trim away unwanted details in the videos, rotate the clip footage, and crop the edges – just select one of the respective tabs on the right.
Compress the MOD Files (Optional)
To compress a file that's too large, click its size value in the description section. Specify the values for quality, bitrate, and size. Hit Convert sample if you want to see the way your file will look after conversion.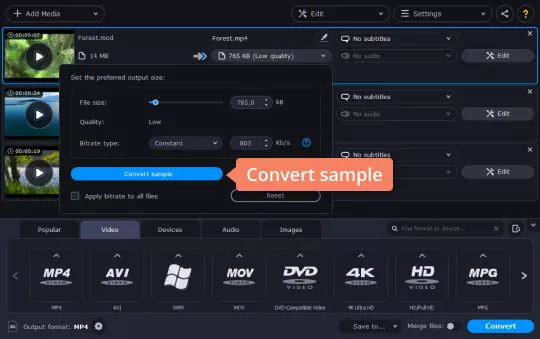 Choose Your New Format
Select Video in the lower part of the screen if you want to convert your video to a specific media format or Devices if you want to create a video that will play on a particular mobile device – smartphone, tablet, or media player. Then, choose the appropriate ready-made preset for that device. You can also let the app determine the preset you need by connecting your device to the computer and clicking the Cell Phone icon.
Convert the MOD Video Files
Now it's time to choose the folder in which your converted videos will be saved. Click Save to and specify the new output folder or stick with the default Movavi Library folder.
All the necessary settings have now been specified, so you can start converting your videos. Just click Convert and wait for the process to finish. After the conversion is complete, the folder containing the finished videos will open automatically.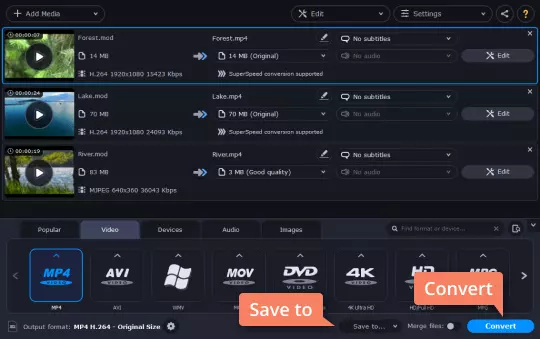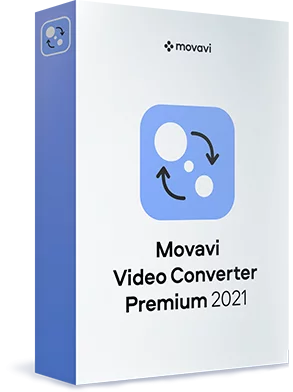 Movavi Video Converter
The ideal way to get your media in the format you need!
Convert video, audio, DVDs, and image files

Enjoy lightning-fast conversion without quality loss

Improve quality, adjust sound, trim and join files before converting

Save video and audio clips for easy mobile access
MOD vs. MP4 Comparison Table
MP4 vs. MOD: what's the difference? These formats use different video and audio codecs. Many players don't support the codecs used in the MOD format, while MP4 can be opened on almost any device.
| Comparison parameter | MOD | MP4 |
| --- | --- | --- |
| File extension | .mod | .mp4 |
| Video codec | MPEG-2 Video | H.264, H.265, MPEG-2, MPEG-4, H.263, VC-1, Dirac, others |
| Audio codec | MPEG-1 Audio Layer II | AAC, MP3, AC-3, Apple Lossless, ALS, SLS, others |
| Supported by | PCs, Macs | Almost all devices and platforms |
Frequently Asked Questions
What Is a .mod Extension?
A file with a .mod extension is a video file in a MOD container format. MOD is a recording format used by some digital camcorders.
How Do I Convert MOD to MP4 on a Mac?
To convert MOD to MP4, you'll need special conversion software. Here's how to convert files using Movavi Video Converter.
Install and open the program.
Click Add Media and then Add Video. Pick the files you want to convert and hit Open.
In the Video tab, select MP4 and pick the desired preset.
Hit Convert and wait until the conversion is done.
What Devices Can Play MOD Files?
DVD players support MOD files.
Some players can open MOD files if you change the extension to .mpg. To do this, simply rename the file, changing the .mod extension to .mpg.
How Do I Play an MOD File on a Mac?
You can play MOD files in any player that supports the MPEG-2 Video codec.
If your player doesn't open an MOD video, convert the file to a universal format like MP4. You can use Movavi Video Converter to do this.
How Do I Play a .mod File on My Android?
Android doesn't natively support MOD video files. To solve this problem, convert the MOD files to a more widely supported format like MP4 and then play it on your Android device. Movavi Video Converter will help you change the format of your MOD video.
See Other Useful How-to Guides