How to Convert AVI to WMV and Vice Versa
AVI is one of the most popular video formats. Many PC and Mac users save their movies in this format, because most media players support it. So if you have some video files in the less-common WMV format, you'll need a way to convert them to AVI. But what software is the right choice for this purpose?
The answer is simple – use Movavi Video Converter! This handy software for Windows or Mac is not only the perfect solution for converting WMV videos to AVI and from AVI to WMV but also a powerful tool to convert all your multimedia between more than 180 formats and save videos and music for more than 200 mobile devices. Find out how to use Movavi Video Converter. From WMV to AVI in just a few minutes? It's easy! Just download the suitable version and follow the steps below.
Install Movavi Video Converter
Download the video converter from the Movavi website and install it on your computer. This easy-to-use software can change your video formats from WMV to AVI really fast. You can also extract soundtracks and save them as MP3, resize and trim your video.
Add a File You Want to Process
Launch the Converter, click the Add Media button in the upper left corner, and select the Add Video option. Choose one or multiple WMV files to convert to AVI.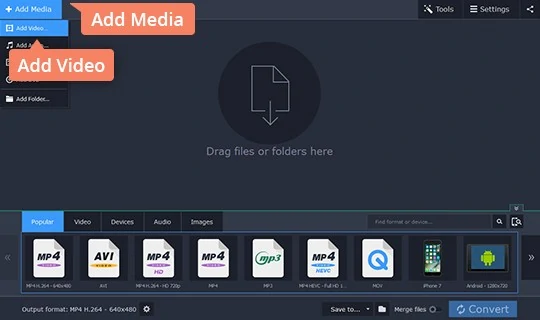 Choose AVI Format and Settings
To set AVI as the output format, go to the Video tab, click the AVI category and select the AVI preset that best suits your needs, depending on the codec and resolution you prefer. You should keep in mind that the higher the resolution, the larger the file size will be. If you click the Cogwheel button, you can also change advanced format settings and even save your own custom preset for later use.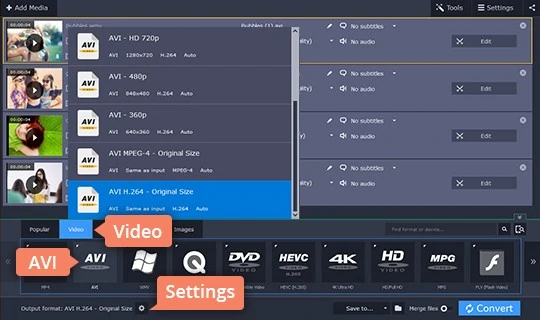 Convert Your WMV File to AVI and Save It
Set the folder for the converted files by clicking the Folder icon next to the Save to line and click Convert. The conversion process will usually take up to several minutes, depending on the number of files you're transferring and how big they are.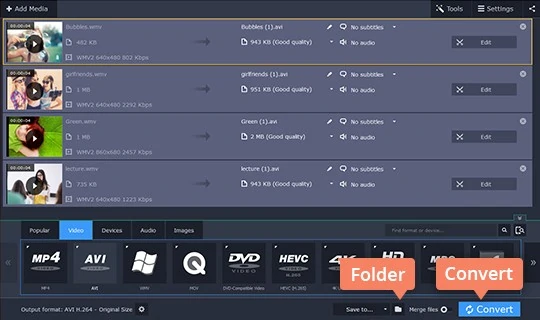 Now you know how to change WMV format files to AVI. Transfer your videos between formats easily with Movavi Video Converter!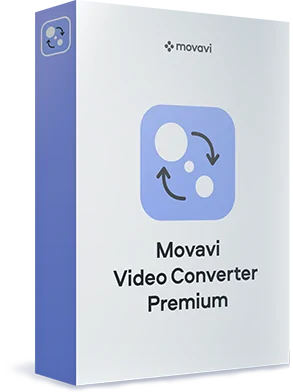 Movavi Video Converter
The ideal way to get your media in the format you need!
Convert video, audio, DVDs, and image files

Enjoy lightning-fast conversion without quality loss

Improve quality, adjust sound, trim and join files before converting

Save video and audio clips for easy mobile access
Frequently Asked Questions
What Is a WMV File?
WMV is the abbreviation for Windows Media Video. The WMV format was introduced in 2006 by Microsoft, and WMV is now widely used for storing multimedia files on PCs.
What Is an AVI File?
AVI is a format created in 1992 by Microsoft. AVI is used to store video and audio encoded with DivX, Xvid, or other codecs. This format is still one of the most popular formats for storing multimedia files.
How Do I Convert WMV to AVI on a Mac?
The process is the same as described above in this article. All you need to do is download and install the Mac version of Movavi Video Converter.
Launch the program and follow these instructions:
Click Add Media and choose Add Video. In the dialog box that appears, select the WMV files you want to process.
On the Video tab, select AVI and choose one of the presets.
Hit Convert.
Is AVI Better Than WMV?
It depends on what you're going to use your files for. For instance, WMV files can be used for online streaming. The WMV format also supports 3D content, metadata storage, chaptering, and more. The AVI format, on the other hand, supports a larger variety of audio and video codecs than WMV.
Can an iPhone Play WMV Files?
No, it can't. An iPhone doesn't support WMV files, but you can overcome this problem by converting them to Apple-friendly video formats like MP4, M4V, or MOV. You can convert your WMVs to these formats with Movavi Video Converter.
See Other Useful How-to Guides