How to Record Your Desktop
You may need desktop screencasts for many reasons: to create a software bug report, a demo, a video tutorial for your clients, friends, or parents who aren't that good at dealing with computers. This guide will show you the best way to capture desktop video with just a few simple steps using Movavi Screen Capture Studio designed for recording screen activities with sound and voiceover, editing of recordings and saving in different file formats. Try our desktop video capture tool and start recording desktop video right now.
See the guide below to learn how to capture video from your desktop.
Install Movavi Screen Recorder
Download Screen Capture Studio, save the installation file to your hard drive, then run it and follow the instructions to install the program.
Set the Recording Parameters
To start recording your screen activities, launch Screen Capture Studio and select Record screen in the main window. Draw the capture frame over the part of your screen you want to record; you can resize and move the frame, or select an entirely new Capture Area preset from the list, if you wish. You can record full screen or any smaller area of the screen.
The program enables you to capture input or output sound devices, or both simultaneously. Just make sure the required audio device is highlighted in green. Move the adjacent sliders up or down to change the volume of any of the audio sources.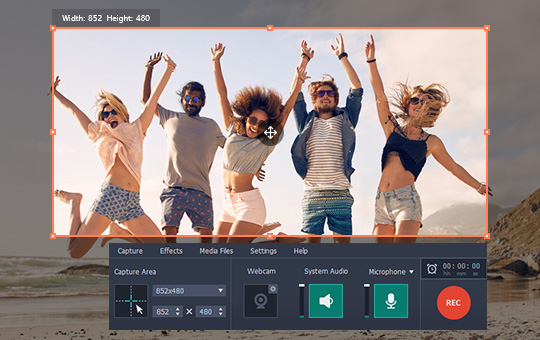 Make your video more informative by showing the mouse cursor and keyboard actions: to set this up, open the Effects menu and select the appropriate options. For Mac users, the menu bar is located at the top of your screen.
Capture Video from Your Desktop
Click REC to start capturing the software you're working with. Click Stop to finish the recording. You can also use hotkeys: in Windows, hit F9 to pause and F10 to stop the capturing process. Mac users should press ⌥ ⌘ 1 and ⌥ ⌘ 2 respectively. Alternatively, you can use the compact control panel above the recording frame to control the process, take snapshots during recording and view the current duration and size of the video file.
Edit the Recordings
After the desktop audio/video recorder stops recording, you'll see a preview window where you can either save the resulting video in a different format or open it in the built-in Video Editor for further tweaking. Choose Open in Editor to enhance your raw footage and start making your software video tutorial or demo presentation look truly professional.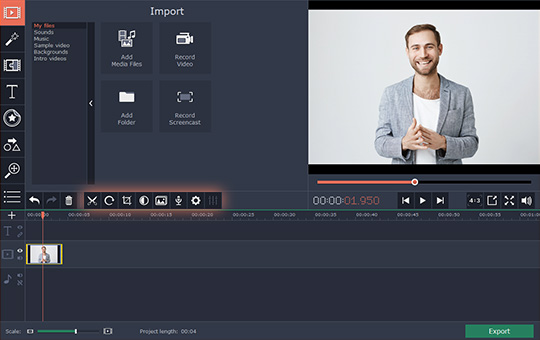 Convert Video (Optional)
You can save your footage in any of many supported media formats, including AVI, FLV, 3GP, MKV, and MP4, or convert it for playback on your mobile device. To open the export dialog, select Save As in the screen recorder preview window or click the Export button in the Video Editor. Here, you can select the target format or mobile device. Screen Capture Studio supports Apple iPod, iPhone, and iPad, PSP, Nokia cellphones, Android based smartphones, and many other devices.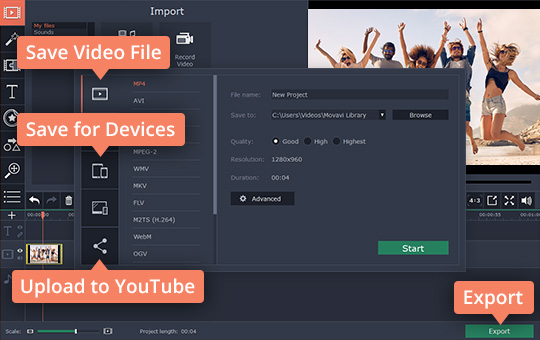 Looks pretty easy, don't you think? Download and try Screen Capture Studio right now. By the way, Movavi's desktop recording software enables you to record any other types of screen activities: video chats, web camera, and online streams.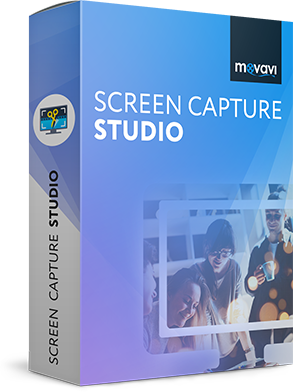 Movavi Screen Capture Studio
The perfect way to record from your screen
Capture video from your computer screen

Grab sound from multiple sources

Tweak videos with the built-in editor

Save videos in any popular format
Disclaimer: Please be aware that Movavi Screen Capture Studio does not allow capture of copy-protected video and audio streams.
See Other Useful How-to Guides