If you are interested in how to record desktop, you've come to the right place! Here, you'll find a review of the best free desktop recorders. We've included screen-recording software, built-in tools, online services, and browser extensions.
A special mention must go to the Movavi Screen Recorder for Windows 7/8/10, which is easily mastered thanks to its intuitive interface. It is the perfect tool for recording good quality webinars, meetings, video calls, live or streaming videos or online tutorials, and then downloading or sharing to online platforms, such as YouTube. You can record audio and video or take simple screenshots and then take advantage of the suite of editing tools. The free trial will give you access to most features, so you can test it out for yourself.
Best desktop recording software
Choosing high-quality software to record your desktop video has its ups and downs. While having a program on your PC can benefit you by providing you with the full version and working offline, it can also take up a lot of space on your computer, depending on the specific software.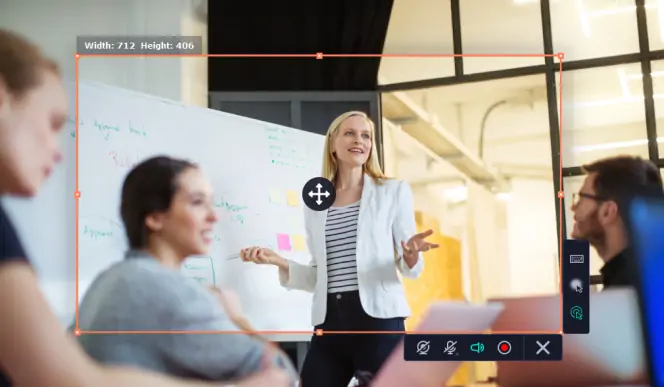 OS: Windows, Mac
Best for: capturing streaming videos, webinars, and online calls
G2 rating: 4.5 out of 5 stars, 41 good reviews out of 44
Capture webinars, record video instructions, and grab streaming or online videos directly from your screen with Movavi Screen Recorder. You can quickly capture desktop video by hitting the record button.
Main features:
Intuitive interface
High-quality audio and video
Fast
Easily share online or via Google drive
Pros:
Adjustable parameters for recording
Ability to record external and internal audio separately
No internet connection required to record video and audio
Cons:
Output video has a watermark with the free desktop screen recorder
No possibility to add tags to your videos with the free version
Here is how to use Movavi Screen Recorder.
Step 1. Install Movavi's desktop video recorder
Download Movavi Screen Recorder, save the installation file to your hard drive, then run it and follow the instructions to install the program on your PC or Mac.
Step 2. Set the recording parameters
To start recording your screen activities, launch the program and hit the Screen recording button. Alternatively, you can just press F10 in Windows or ⌥ ⌘ 2 on Mac. To draw a capture frame, hold down the left mouse button and drag the cursor. You can resize and move the frame if you wish. You can record full screen or any smaller area of the screen.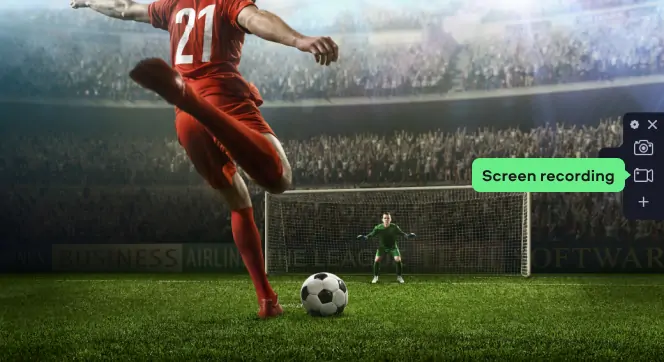 The program also enables you to capture input or output sound, or both simultaneously. Just make sure the required audio source is highlighted in green to indicate it is active.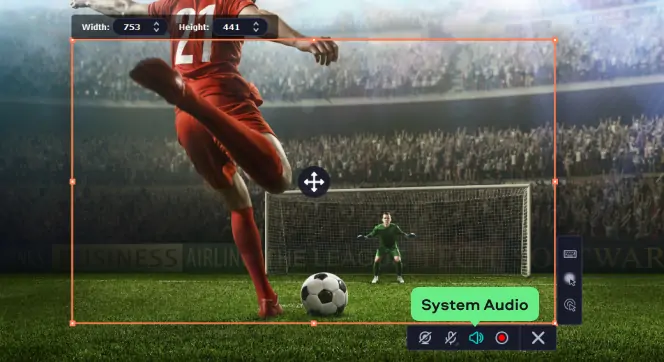 You can make your video more informative by showing the mouse cursor and keyboard actions: to set this up, click the appropriate icons in the sidebar.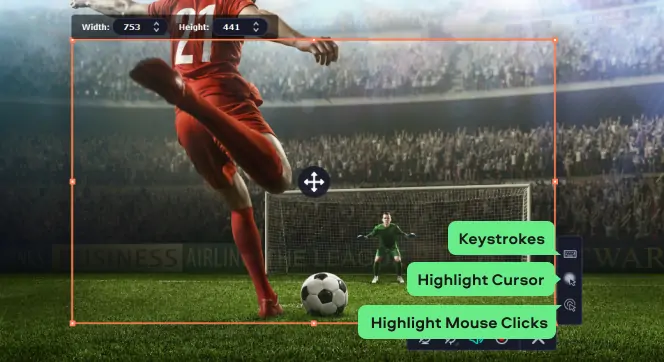 Step 3. Capture video from your desktop
Click REC to start capturing the software you're working with. Click Stop to finish the recording. You can also use hotkeys: in Windows, hit F9 to pause and F10 to stop the capturing process. Mac users should press ⌥ ⌘ 1 and ⌥ ⌘ 2, respectively. You can also take snapshots during recording: hit the appropriate icon in the control panel or use a hotkey – F8 on a Windows PC or ⌥ ⌘ 3 on a Mac.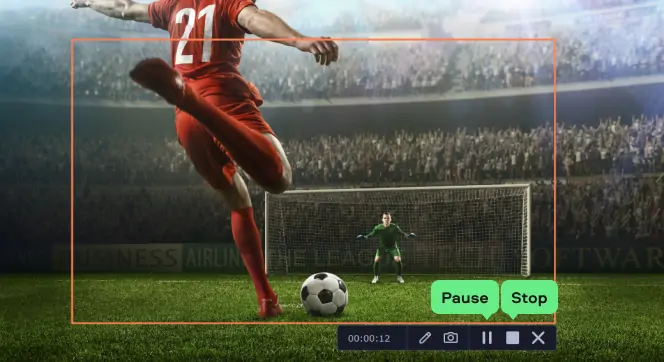 Step 4. Trim the recording
After you stop recording, you'll see a preview window where you can either save the resulting video in a different format right away or cut out unwanted parts with the built-in video-editing tool first. Select the point on the timeline where you want to cut, click the Cut button to divide the segments, repeat if needed. Then select each unwanted piece and hit the Delete fragment button.
Step 5. Save or share the video
You have two options as to what to do with your recorded video: save it on your computer to watch later or share it with anyone who wants to see the recording (or you can do both). To save the video, click Export, enter the file name, select the target folder and format, and click Save. You can also share your video, just choose one of the available options. If you're unsure which option to choose, select Movavi Cloud: the video will be uploaded to our cloud server and will be available only through a specific link. You can send the link to anyone you want to see your video.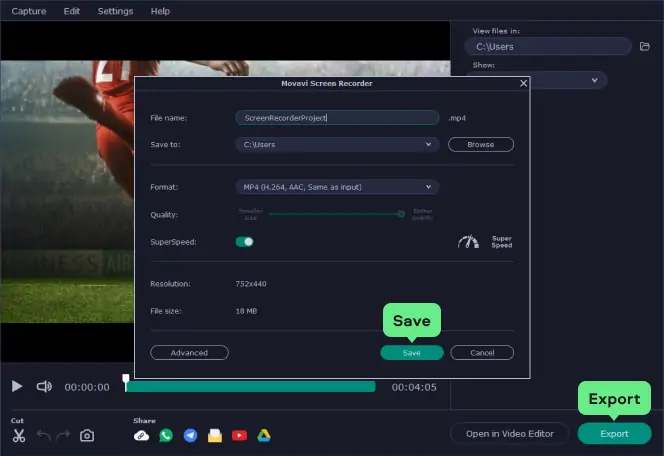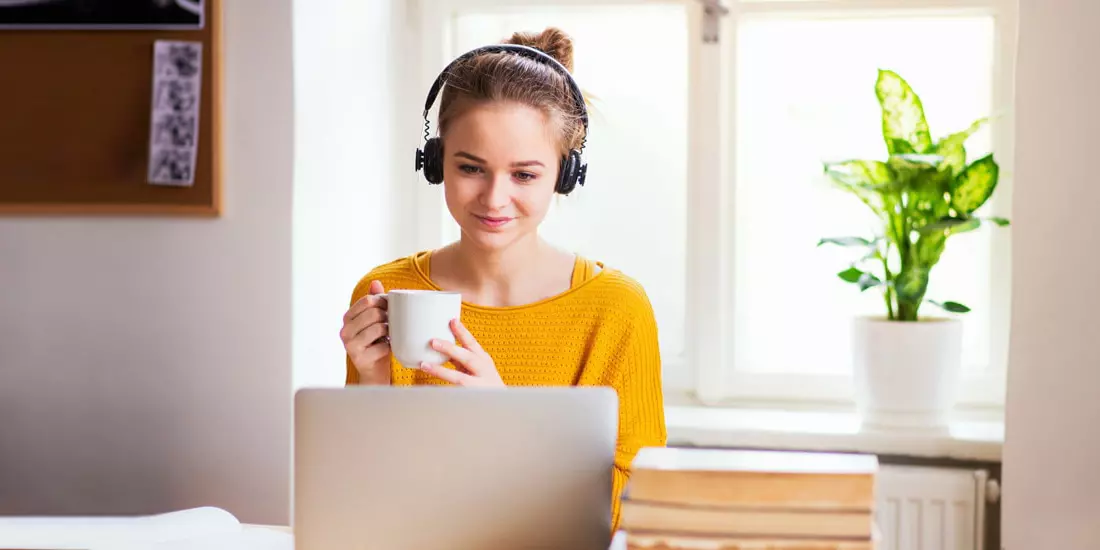 Movavi Screen Recorder
The perfect way to record from your screen
Built-in desktop capture tools
Like desktop software, using the built-in tools that come with your device can provide you with advantages and disadvantages when you're looking to record content from your desktop with sound. Firstly, built-in tools save you time, don't always require a download, and they're made to be compatible with your specific device so that you have the best software. The downside to this style of desktop recorders is that they can be limiting if you want features that aren't included in their programming.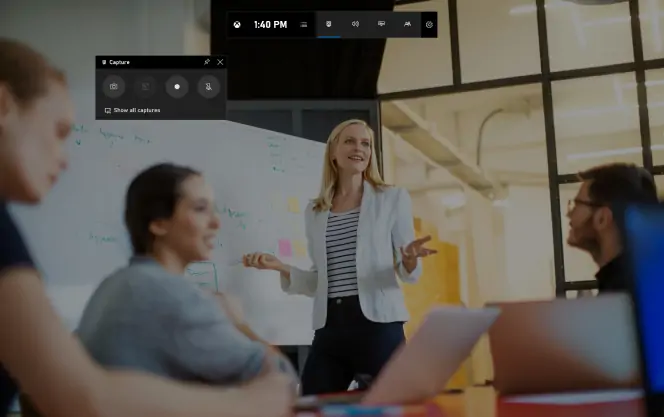 OS: Windows
Best for: gameplay recording
PCWorld rating: 3.5 out of 5 stars
Xbox's Game Bar was crafted to improve workflow with Windows 10 devices. The recording software allows you to capture videos and screenshots while playing PC games. You can stream, record, and share without having to leave the comfort of your game.
Main features:
Free, built-in
User-friendly
Customizable gaming overlay
Pros:
DVR feature in Xbox app allows you to choose the duration of your video
Game Mode settings so that you can optimize video quality
Fluid recording and internal editing
Cons:
Without a video card that supports AMD VCE, Intel Quick Sync H.260, or Nvidia NVENC encoders, the app may not work
You can only record a single app, not the entire desktop
Here's how to record desktop video and audio:
When using Windows 10, press the Windows key + G to launch Game Bar.
Click REC and toggle your microphone on or off for narration.
Click the REC button once more to pause or stop recording.
Save, edit, and share your video.
You can download Xbox Game Bar by following the link below: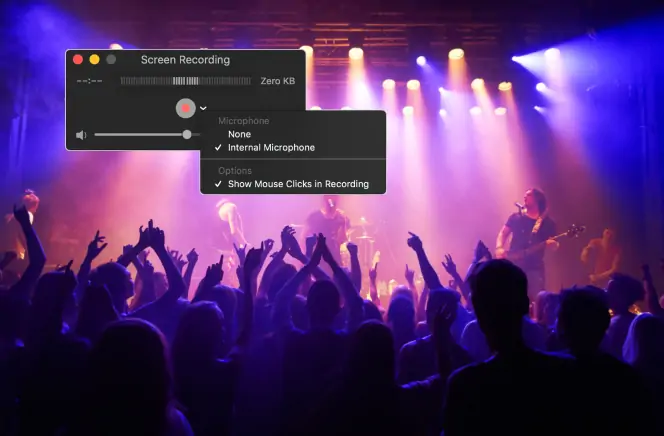 OS: Mac
Best for: macOS users
MacUpdate rating: 3.6 out of 5 stars
Mac users lucked up with having QuickTime bundled with macOS. Unlike other options, it can play iTunes files and allows you to edit them through the pro subscription. However, it is not functional as a desktop recorder with Windows devices, even though you can download it.
Main features:
Pre-installed Apple app
User-friendly
Good selection of editing tools
Pros:
Automatically included with macOS
Simple interface
Full-screen recording
Cons:
Single source, macOS only
Only supports MOV file format
This is how to record your desktop with QuickTime:
Launch the QuickTime Player.
Click File and then choose the type of the recording you'd like to do.
Press the downward arrow next to the Record button to adjust your mic.
Click Record.
Select the circular stop button in the Menu bar.
Click File and Save.
You can download QuickTime by following the link below:
Free desktop screen recorders to use online
Online desktop capture programs make it easy to record your screen without taking up a surplus of room on your computer. You can rely on them to bring you some of the most updated features while simultaneously being able to upload content directly to your favorite platforms through many of them. The biggest con to online screen recording services is that they typically function online only, which means that you can't utilize them if you don't have Internet access.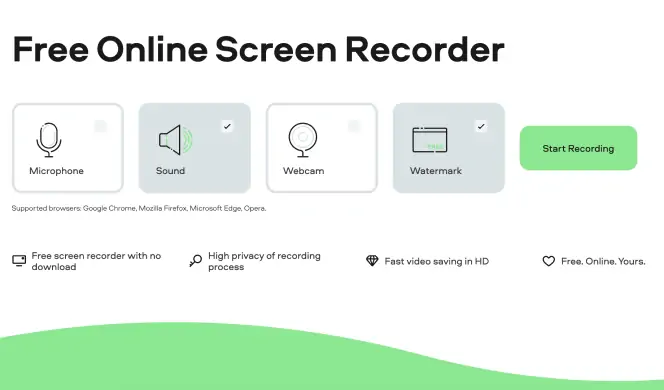 OS: Online
Best for: quick no-download recording
Trustpilot rating: 4.6 out of 5 stars
Capture your desktop and save a video in HD without any trouble. Movavi's Screen Capture solution brings you cutting-edge service so that you can capture your screen in just a few clicks. No installation is needed, and you can record sound and video without having to switch between multiple tabs.
Main features:
Professional quality of audio and video
User-friendly
Eliminates background noise
Pros:
Record both screen and webcam simultaneously
Ability to add your voice while recording internal audio as needed
Supported by all major browsers
Cons:
Watermarks video
Limited features until you download the app
You can access Screencapture.com by following the link below:
Go to the program's official website
Step-by-step instructions
Allow access to your webcam and microphone.
Select the settings you want to use and prepare your video content.
Start recording.
Save your video to your computer.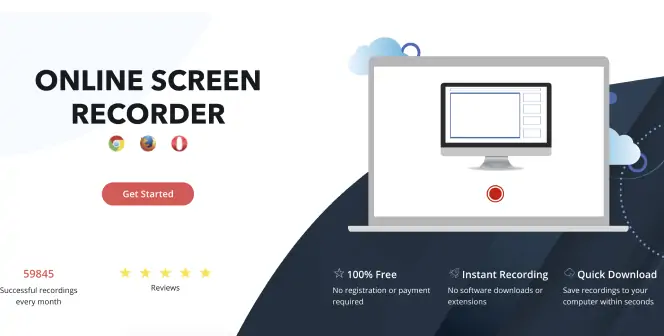 OS: Online
Best for: instant screen recording
Want to know how to record desktop audio and video? Record instantly with this online screen recorder. Features include quick record so that you never have to install extensions or download heavy programming, the ability to record your entire screen with multiple windows, and more.
Main features:
Free version
Quick, easy to download recordings
Integrated storage solution
Pros:
No registration, sign up, or installation
Minimal learning curve
Works with various platforms
Cons:
Cloud storage is not included
Editing features are minimal
You can access Screenapp.io by following the link below:
How to record your desktop video in a browser
Looking for new ways on how to record desktop video with sound? Browser extensions allow you a best of both worlds opportunity. Depending on which browser you use, you can quickly begin recording without the hefty fallback of using all of your PC's storage. However, when you're away from an internet connection, or you only use one specific browser, your desktop recorder could be limited in use or not usable at all.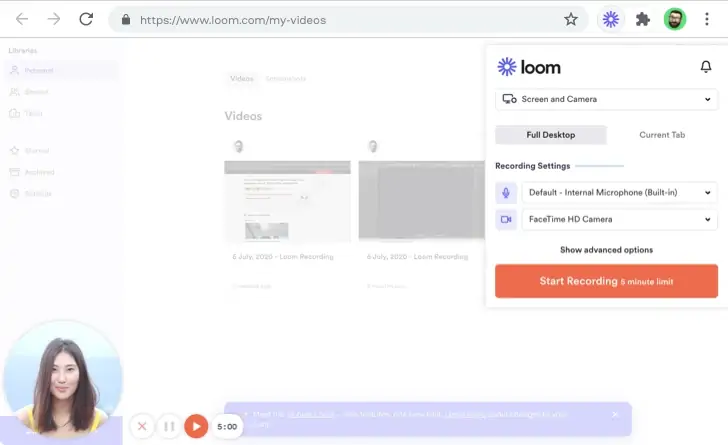 OS: Chrome browser extension
Best for: educational tutorials
Chrome web store rating: 4.7 out of 5 stars
Created as an extension that provides video messaging, Loom allows you to record your screen quickly and share the video with others via a link. You can trim and edit your recordings, as well as track who watches your videos and see when they watched them.
Main features:
User-friendly
Feature-rich
Professional quality results
Pros:
Quickshare videos and recordings
Fast processing
Notifications when somebody views your video
Cons:
Disruptive recording if you lose internet
Limit of 5 minutes recording time without the full version
How to use Loom:
Install the Chrome extension.
Click on the extension's icon when you want to record a new video.
Toggle between screen and webcam or choose to record both.
Click Start recording.
Save and process your video to share it or save it to a folder.
Add Loom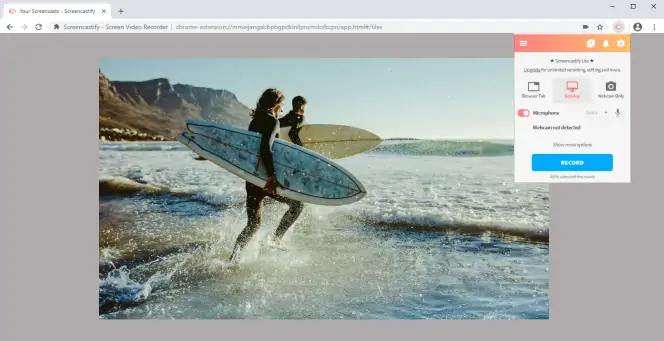 OS: Chrome browser extension
Best for: HD screen recording
Chrome web store rating: 4 out of 5 stars
Designed to be simple, Screencastify allows you to record, edit and share HD videos without hassle. The Chrome extension automatically syncs with your Google Drive and uploads your content so that you never lose your recordings.
Main features:
Free
User-friendly
Good quality audio and video production
Pros:
Syncs with Google Drive
Ability to record a single tab or your entire screen
Live screen options
Cons:
Can't add a webcam while recording
Limited to Google Chrome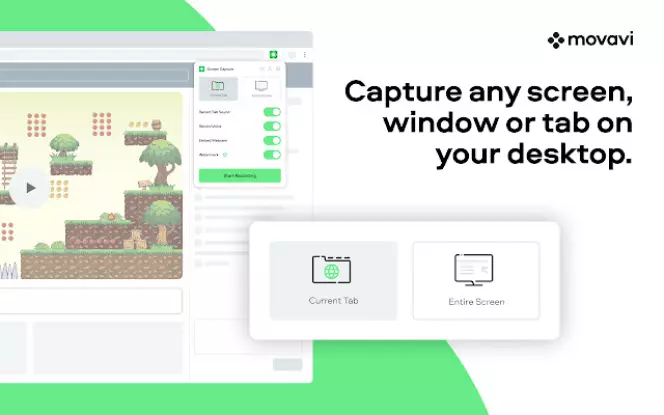 OS: Chrome browser extension
Best for: recording all screen activity with minimal effort
Chrome web store rating: 4.5 out of 5 stars
This is another user-friendly software offering from Movavi. The intuitive interface of this desktop video recorder makes it simple and quick to capture screen activity with professional audio and video results. Create slick demos or webinars by recording full screen, selecting areas of the screen, using the webcam, via a microphone, or the computer's audio. You don't need to be an expert to record and edit your video production using the built-in editing tools. All experience levels can take advantage of the features to create quick, quality screen recordings.
Main features:
Record all desktop activity including websites, Zoom calls, webinars, podcasts, etc.
Can record audio only
Pros:
Intuitive interface
Lightweight
Built-in video editor
Fast
Cons:
Free trial lacks full functionality
Webcam options are limited
Step-by-step instructions
Install the Chrome extension.
Allow access to your webcam and microphone.
Click on the extension's icon.
Choose sound and webcam recording options.
Click Start Recording.
Save the recorded video to your computer.
Nimbus Screenshot & Screen Video Recorder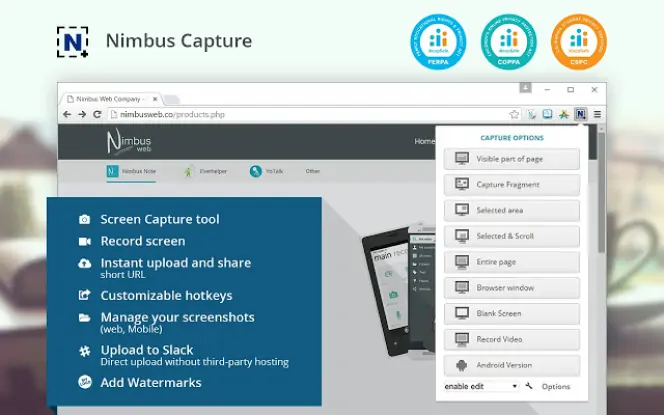 OS: Chrome browser extension
Best for: making screencasts and educational demos
Chrome web store rating: 4.6 out of 5 stars
For full webpage compatibility, you can use Nimbus to capture, screenshot, edit, and annotate video conveniently.
Main features:
Easy-to-use
Good selection of editing tools
Easy sharing across platforms
Pros:
Record desktop screen, voiceover, and webcam all at once
Interactive interface
Integrates directly with Google Drive
Cons:
Limited to browser
You must review updated notes in the extension before using new tools
Apowersoft Online Recorder
OS: Online
Best for: unlimited screen recording
TechRadar rating: 4.5 out of 5 stars
As a smart screen recorder, this web-based app allows you to capture video and audio without having to download screencast software. One-click recording and adjustable parameters ensure you can record anything on your screen without limitations. Additionally, you can add your webcam to the screen for tutorials, streaming, and more.
Main features:
Free
Easy-to-use
Easy to share or save
Pros:
Record both audio and video simultaneously
Edit in real-time
Cloud-based, so you never lose content again
Cons:
Download required before you can access all editing features
Cannot record on a second monitor
How to record desktop with Apowersoft:
Click Start Recording on the webpage.
Adjust the parameters.
Click Record.
Choose to save the file to your desktop or upload it.
You can access Apowersoft Online Recorder by following the link below:
Awesome Screenshot & Screen Recorder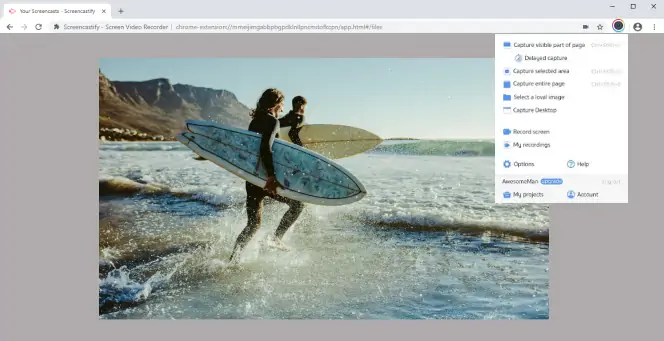 OS: Chrome/Edge browser extension
Best for: product demo or how-to tutorials
Chrome web store rating: 4.6 out of 5 stars
Compared to other Google Chrome extensions, this screen recorder is loaded with powerful tools and even allows you to edit content while offline. The browser extension will enable you to choose video dimensions, share or save content files, and annotate recordings with ease.
Main features:
Free for personal use
Annotation tools
Instant sharing of screenshots and videos
Pros:
Runs offline
Quick switch between screen capture and screen recording features
Instantly sharable content
Cons:
Limited to recording your desktop, current tab, or camera only
Not cross-platform supported
Conclusion: What to look for in a screen recorder
It can be tricky choosing the best screen recorder to fit your individual needs when you are starting out. Here are some important points to keep in mind while doing your research and before you make your ultimate selection.
User-friendly or not: you don't want to spend too long mastering your software, so check out how intuitive the interface is.
Free or paid: either opt for free software or a program with a free trial, so you can try before you buy to avoid any nasty surprises.
Ability to easily share or download and save: consider how you want to use your video creations – share them on online platforms, via email, or download and store them on your computer.
User reviews: do your research online and find user feedback.
Customer/technical support: make sure someone is available to answer your questions.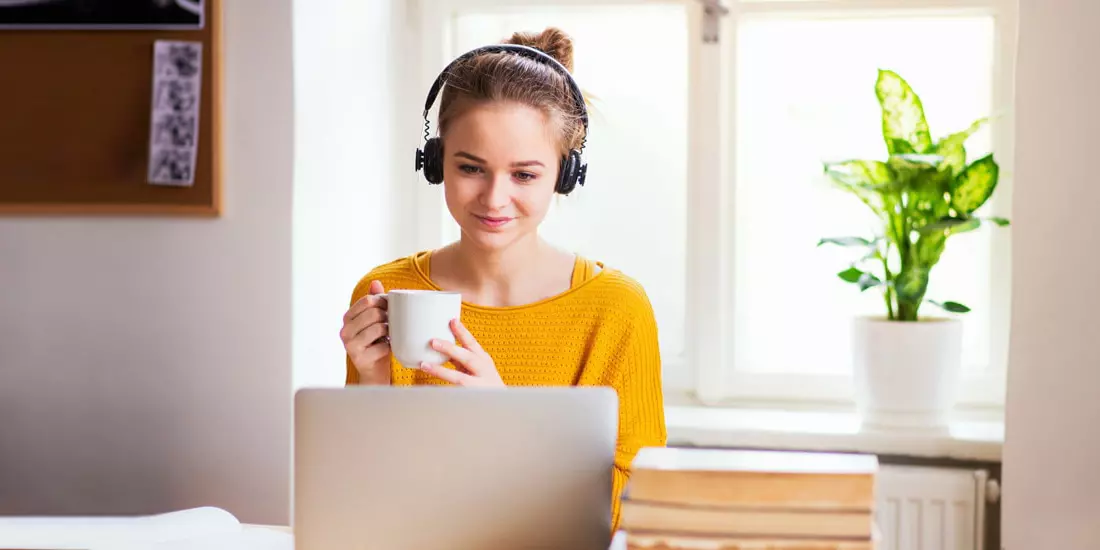 Movavi Screen Recorder
The perfect way to record from your screen
Frequently asked questions
How do I record my desktop?
When you need to know how to record desktop audio or video Movavi Screen Recorder makes it simple.
Install and launch the program.
Adjust your parameters, alter your mic and webcam settings as needed, and click REC.
Edit the video as needed.
Save your file or share it.
How do I record my desktop on Windows 10?
Movavi Screen Recorder allows you to record your Windows 10 desktop with minimal clicks. Once you download and launch the program, all you have to do is save your file.
What are the best desktop recorders?
Depending on your specific needs, what device you're using to record, and what tools you'll need to edit and share your recordings, you may find that one desktop recorder fits your list of necessities more. Below is a list of the best desktop programs, online services, browser extensions, and built-in software for you.
Desktop software
Movavi Screen Recorder
OBS Studio
ScreenCast-O-Matic
IceCream Screen Recorder
ActivePresenter
Flashback Express
Browser extensions
Online services
Apowersoft Online Recorder
Screencapture.com
Screenapp.io
Built-in software
Loom
Screencastify
Nimbus Screenshot & Screen Video Recorder
Awesome Screenshot & Screen Recorder
Sign up for news and special offers