How to Make a Screencast on Windows PCs
Screencasting is a popular way of showing others what's happening on your screen. You can use a screencast to demonstrate software, create digital instructions or an educational screencast, save a webinar or video, report a bug, show an illustration process, and much more.
If you want to make a full-fledged screencast, you need a program that lets you record your screen. Movavi Screen Recorder is perfectly suited for this purpose. To learn how to screencast your desktop under Windows 10 or other versions of Windows, review the four easy steps below.
Step 1.Download Movavi Screen Recorder

DownloadDownload and open the installation file for Movavi Screen Recorder. Run the program when the installation process is complete.

Step 2. Record Your Screencast

Prepare your computer for recording: switch to the program interface, webpage, or other desktop activity that you want to show in your screencast.

By hitting the icon on the sidebar, adjust the capture frame position. After that, decide on the main recording settings. If you want to record sound from your computer's speakers, make sure that the System Audio option is enabled. If you're planning to capture microphone output, enable the Microphone option and choose your device from the drop-down menu. You can also record a voiceover later when you're editing your video.

Step 3. Edit the Recording

After clicking Stop, you'll see a video editing window with your recording added to the timeline.

Delete any unnecessary footage if you've recorded more than you need. To do this, select the clip on the timeline, place the white marker where you want to do the first cut, and click Split (the scissors icon). Make the second cut the same way. Select the unwanted segment and click Delete (the trash can icon).

Step 4. Save the Result in Any Format

Once you're satisfied with the result, click Save As in the lower right corner of the preview window. Choose the preferred video format from the list, change the file name, set the destination folder, and click Save.

That's it! Now you know how to screencast on Windows PCs and how to make a screencast look professional. All you need is a little time and a reliable tool for screen recording on PC – like Movavi Screen Recorder.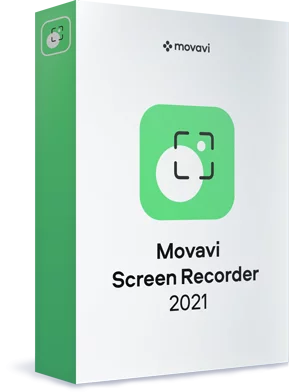 Disclaimer: Please be aware that Movavi Screen Recorder does not allow capture of copy-protected video and audio streams.
Movavi Screen Recorder
Capture video from your computer screen

Grab sound from multiple sources

Use the simple editing tools to make your recording perfect

Save videos in any popular format
Disclaimer: Please be aware that Movavi Screen Recorder does not allow capture of copy-protected video and audio streams.