How to Use QuickTime for Screen Recording with Sound
If you've ever tried to use QuickTime for audio or video recording, you know it can be challenging – not so much in the recording process but in the program's limitations.
But probably you already know them, and still want to use QuickTime to record screen and audio on Mac. If so, in the article below, you'll find a short guide to how to use this app. If you change your mind, check out the QuickTime alternative screen and audio recorder – Movavi Screen Recorder for Mac.
How to Record Audio with QuickTime
Let's start with QuickTime and its limitations.
First of all, you cannot use it to record system audio. The QuickTime recorder captures only external sounds from a built-in microphone or headphones. If you, for example, decide to record a movie, you'll get noisy, indistinguishable sound. If you use QuickTime for screen recording with sound, remember that you'll get a low-quality result.
We could also mention other disadvantages, like poor performance, large file sizes, lack of choice in saving options, lack of keyboard performance, and much more. But let's stop and have a look at QuickTime in use.
Step 1. Download Soundflower

If you haven't yet installed Soundflower on your Mac, you should do so before audio recording. This app allows other software to access your sound card.

When the installation is complete, restart your Mac to refresh all settings.

Step 2. Launch QuickTime

Go to the top menu and find the File tab. if you're going to grab just sound, click on New Audio Recording in the drop-down menu. If you're using QuickTime for video capture, select the New Movie Recording option.

Step 3. Start Audio Recording

You'll see a gray recording panel on your screen. The red button starts the capturing process.

Step 4. Save the File to Your Laptop

When you're done, stop the capture and save the file. You may not have space on your hard disk – QuickTime files can be enormous. Free space on your hard disk first, or use an external drive.

Step 5. Convert the Result

We've already told you about the limited saving functions in QuickTime, so you won't be surprised to see that you cannot save your audio in MP3. To convert the file, download another application or do it online.
How to Use a QuickTime Alternative to Record Screen and Audio
Now let's have a look at Movavi Screen Recorder. This software is much better suited for audio and video grabbing.
Advantages of Movavi Screen Recorder:
Works on macOS X 10.9 or higher
Captures screen and audio either simultaneously or separately
Provides a variety of saving options: MP3, MP4, AVI, MOV, MKV, GIF
Lets you take screenshots and edit them
Offers customizable recording settings
Saves results for different devices: laptop, iPad, smartphone
Lets you share the result via YouTube, Google Drive or Movavi Cloud
Although Movavi Screen Recorder is much more advanced than QuickTime, it's still easy to use. To prove it, here's how to use the program to capture your Mac screen with audio.
Step 1. Install Movavi Screen Recorder

DownloadDownload the software and go through the installation process.

Step 2. Customize the Parameters

To capture internal sound, activate the System Audio button and disable Microphone and Webcam. If you're making a tutorial or a podcast and you need your voice to be in the recording, turn on Microphone and deactivate System Audio.

You can also adjust other settings: schedule start time for the recording, show your keyboard on the screen, make your mouse cursor blink, etc. You can find these parameters on the Effects panel.

Step 3. Record Screen with Audio

Press the REC button to start the capture process. Control the process with the semi-transparent panel or with hotkeys: ⌥ ⌘ 1 to pause and ⌥ ⌘ 2 to stop the recording.

Step 4. Save the Result

In the preview window, you can trim the recording if necessary. If you want to save without editing, click on the Save As icon. Choose the appropriate format and save the file.

Movavi Screen Recorder will save the result in high resolution. If you decide to use the file to create a video clip, you won't encounter any difficulties with the quality or format of the recording.

Don't waste your time – record important things now!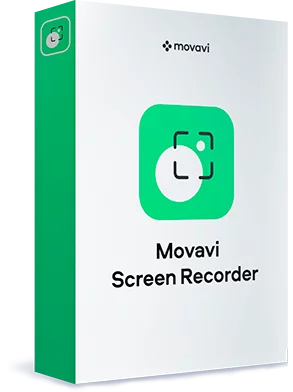 Disclaimer: Please be aware that Movavi Screen Recorder does not allow capture of copy-protected video and audio streams.
Movavi Screen Recorder for Mac
Capture video from your computer screen

Grab sound from multiple sources

Use the simple editing tools to make your recording perfect

Save videos in any popular format
Disclaimer: Please be aware that Movavi Screen Recorder does not allow capture of copy-protected video and audio streams.