Want to record your voice? We've compiled a list of the 12 best voice recording software options (free and paid). The article covers audio editors and a screen recorder for PC.
Program

Best for

OS

Download

Movavi Screen Recorder
Video calls, webinars, and other online events
Windows, macOS
Audacity
Podcasts, audiobooks, voice-overs, or music
Windows, macOS, Linux
| | | | | |
| --- | --- | --- | --- | --- |
| WavePad | Audiophiles, music producers, music teachers, music students, voice actors, podcasts, small businesses | Windows, Mac, iOS, and Android Chromebook version | | |
| GarageBand | Music producers, music teachers, voice actors, podcasts, small businesses | Windows and macOS | | |
| RecordPad | Audiobook creation, digital presentation, or simple message recording | Linux, Mac, Windows, and Android | | |
| GoldWave | Podcasts, audios, interviews, and webinars, transcription work | Windows, Linux with Wine, Android, iPhone/iPad | | |
| Mixcraft | Professional music producer/mix engineer, songwriter | Windows | | |
| i-Sound Recorder | Professional music producer/mix engineer, songwriter | Windows | | |
| AV Music Morpher Gold | DJs and home users | Windows, macOS, Linux | | |
| Ardour | Musicians | Windows, Mac, Linux | | |
| Avid Pro Tools | Budding musicians and home user | Windows and macOS | | |
| Zynewave Podium | Musicians and producers, and casual users | Windows | | |
Our special pick from the table above is Movavi Screen Recorder. It is a unique video and audio capture program that is easy to use and doesn't require any special skills. You can capture your screen activities, make simple edits, save results, and share them with one of the best vocal recording software for a PC and Mac.
Best voice recorder software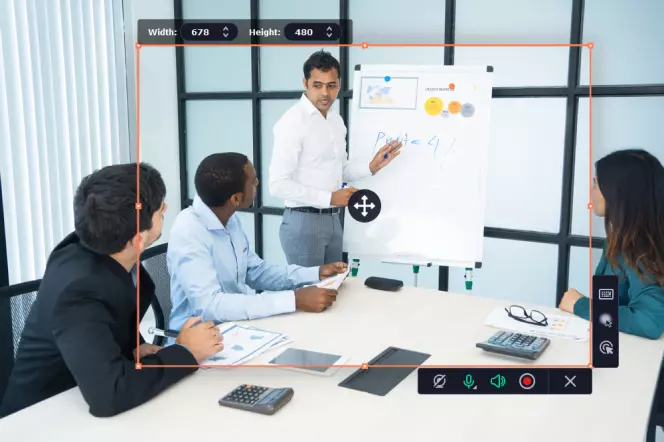 Best for: video calls, webinars, and other online events
OS: Windows and Mac
Price: $57.95
G2 rating: 4.5 out of 5, 49 reviews
Taking a video and audio from your computer screen does not require extra hardware or complex programs. With Movavi Screen Recorder, you can record any screen activity and save it in various video formats. Movavi Screen Recorder is best for recording tutorial video screencasts, gameplay, or even simply a video chat with friends. With a frame rate of up to 60 frames per second, you get stunning, high-quality video. You can select one pre-set mode or personalize settings and save the result to any popular video format.
Key features
Easily capture video chats, gameplay, and other screen activity
Multi-device recording
Snap and edit screenshots
Set your click sound, capture keyboard events, and highlight the cursor
You can store captured videos in any popular format
SuperSpeed mode allows you to save videos in a matter of seconds
Uploads to Google Drive or YouTube to share your creations
Pros
Includes a webcam
You can simultaneously or individually record screen and audio
It saves video in HD and is compatible with multiple formats, including AVI, MP4, MOV, and MKV
Captures and edits screenshots
Mouse display during recording
Cons
Recording time caps at five minutes in the trial version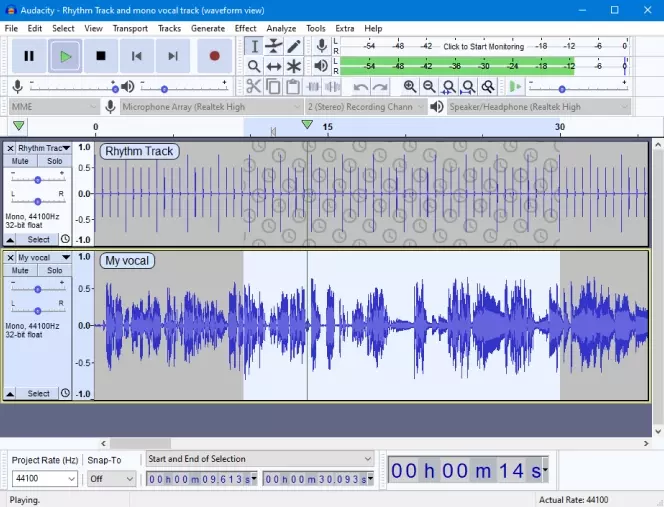 Best for: podcasts, audiobooks, voice-overs, or music
OS: Windows, macOS, Linux
Price: free
PCMag rating: 4 out of 5
Audacity is one of the best voice recorder software. This open-source application for audio editing and recording has gained a cultic following. There are no bells and whistles, but it works and is free. You can even edit soundbites and news stories using Audacity. Aside from recording audio directly into Audacity, you can edit within the application. You can cut, reduce noise, fade in and out, amplify, and import your audio files.
Key features
Compatible with external microphones
Mix, cut, and record live audio
Pitch, reverb, noise reduction, and tempo effects
File formats supported include WAV, AIFF, MP3, AU, FLAC, and Ogg Vorbis
Pros
Stereo recording made easy
An easy-to-use interface for beginners
Effortless workflow
Cons
GUI needs improvements
It doesn't have a Mac version
Improvements needed for VST integration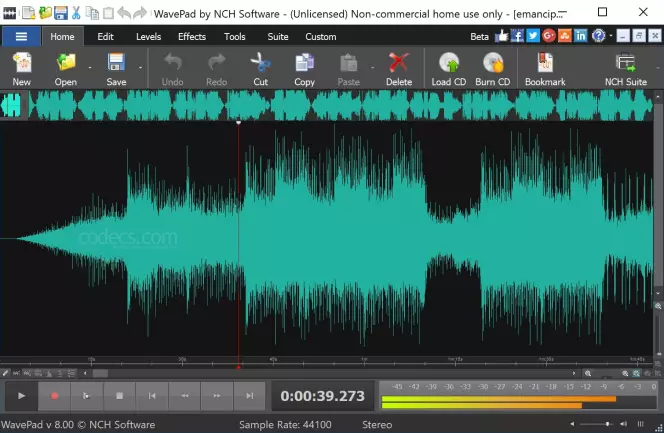 Best for: audiophiles, music producers, music teachers, music students, voice actors, podcasts, small businesses
OS: Windows, Mac, iOS, and Android Chromebook version
Price: free for non-commercial use only
TopTenReviews rating: 3.9 out of 5
This easy-to-use application edits music, voice, and other audio recordings. For Windows and Mac, this audio editing program combines a full-featured audio and music editor. You can edit voice recordings, music, and other audio files. You can cut, copy, and paste parts of audio files and then apply effects such as echo, amplification, and noise reduction.
Key features
Compatible with external microphones
Easily adjust the mic volume and more
Various editing tools, including cut, copy, paste, compression, pitch shifting, etc.
Add echo, amplification, reverb, and noise reduction effects
Supports WAV, MP3, VOX, GSM, and WMA
It has a library of audio effects
Pros
It is easy to understand, even for non-techies
Cleaning up some bad recordings through the cleanup tools spares you from having to re-record them
You can easily cut out sections of recordings and insert another audio piece
Cons
WavePad only works with a single audio track. NCH offers MixPad for multi-track editing. We also use MixPad occasionally to mix background music with a voice.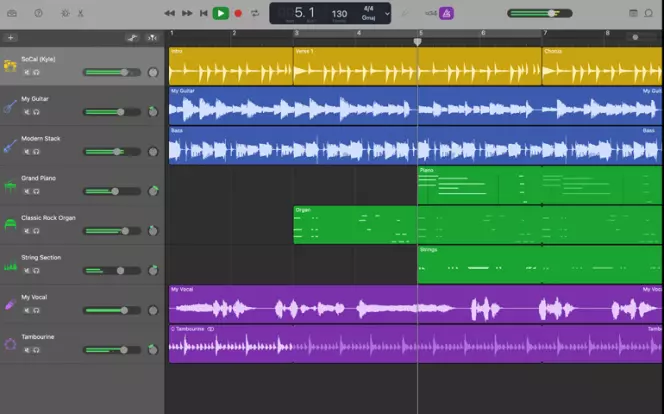 Best for: music producers, music teachers, voice actors, podcasts, small businesses
OS: Windows and macOS
Price: free
TrustRadius rating: 7.6 out of 10, 18 reviews
GarageBand Music Creation Studio is a complete music creation studio right on your Mac – with a comprehensive audio library including instruments, guitar and voice preset, and a massive collection of session percussionists and drummers. You can learn, play, record, create, and share your hits easily with Touch Bar features for the MacBook Pro and its intuitive, modern design. With these features, you can create music like a pro.
Key features
Using the multi-track music sequencer, you can record multiple audio channels in one song
The software comes with pre-set technologies that mimic various amplifiers and recording methods
Uses a MIDI keyboard attached to your computer or your keyboard to control the software instruments
Using software instruments, you can play synthesizers, pianos, guitars, and choral sounds
Pros
Editing is easy since you can simply select what you want to delete and erase it
Syncing tracks when editing is as simple as dragging them together
You can easily insert a click track when needed
GarageBand is intuitive, so the editing, highlighting, and cutting out parts takes minimal time
Cons
EQing a track can be a little confusing
Setting up MIDI should be easier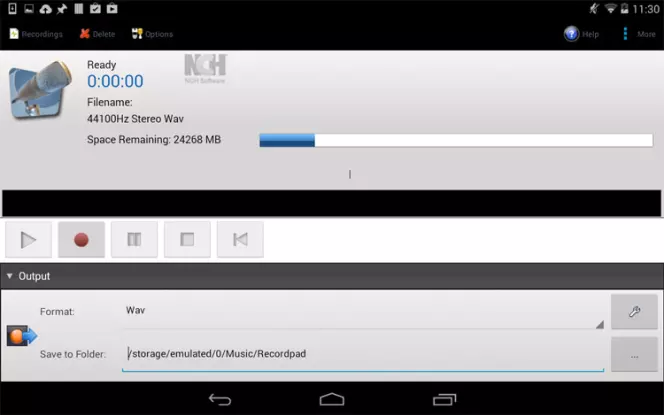 Best for: audiobook creation, digital presentation, or simple message recording
OS: Linux, Mac, Windows, and Android
Price: $50
TopTenReviews rating: 3.5 out of 5
For a "small" product, the interface is simple but deep and designed competently, attractively, and consistent with the rest of the NCH family of products, creating a pleasant user experience. This app for computers uses any microphone, integrates seamlessly with Windows, and is especially useful with Olympus Foot Switch and Express Scribe Transcriber. With RecordPad, you can record audio on your iPhone or iPad easily. When you need to record something spontaneous, 'voice activates' comes in handy.
Key features
Records your screen, camera, and audio simultaneously
Edit audio, video, and recorded clips simultaneously on different tracks
Simple screen recording and video editing for everyone
Professional tools allow you to edit recorded clips quickly
Edit the video like a professional with plentiful templates, stickers, openers, and effects
Multi-format export to MP4, MOV, MKV, GIF, and sharing to YouTube
Don't lose the quality of the video when exporting
Pros
Burning and ripping options are plentiful
Ideal for basic recording
Cons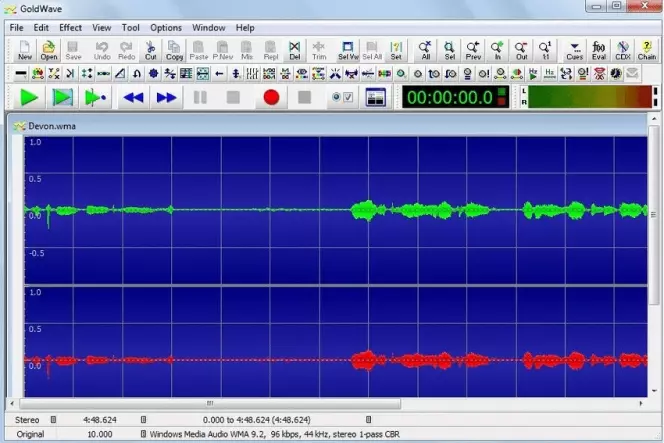 Best for: podcasts, audios, interviews, and webinars, transcription work
OS: Windows, Linux with Wine, Android, iPhone/iPad
Price: 1-year license for $19, lifetime license for $59
G2 rating: 4.3 out of 5, 28 reviews
With GoldWave, your computer or mobile device becomes a recording studio at your fingertips. You can do everything from recording and editing to advanced audio restoration, enhancement, and conversion. With over 25 million downloads, GoldWave is a popular, trusted program. Users find it easy to use and completely accessible. Besides English, GoldWave supports German, Spanish, French, Chinese, and more!
Key features
You can record audio from any source, including microphones, line inputs, USB devices, and streaming
Overwrite audio, copy, paste, mix, and replace
Features over 100 pre-set and over 40 audio effects
15 real-time visuals, including spectrograms, waveforms, envelopes, and the music staff
Support for foot pedals during playback, excellent for transcription
Pros
With batch processing, you can perform non-destructive sound editing
Cons
There are no media-burning tools in the program, which is typical of software of this type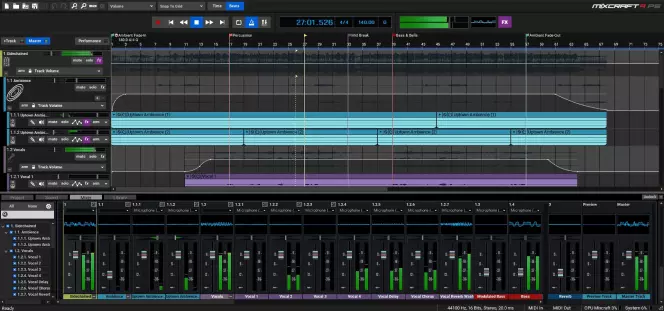 Best for: professional music producer/mix engineer, songwriter
OS: Windows
Price: $89
MusicRadar rating: 4.5 out of 5
If you are not a professional musician, this singing recording software is one of your best options. There are a lot of features that require some learning and tutorial video watching before you can use them, but once you do, your creativity only limits you. Making your loops and riffs is easy with this program (you can do it with your keyboard, but it's more accessible with a MIDI controller keyboard). With its warping feature, you can add to or change music files of all types.
There aren't that many pre-made sound loops to choose from, but they are the loops and riffs you would definitely use. You can speed them up and slow them down as you please, and they sound pretty decent, just at the slightly lower sound quality.
Key features
Multi-track recording of MIDI and audio tracks
The Performance Panel automatically syncs audio and MIDI clips on stage or in the studio
It contains a collection of over 7500 royalty-free loops and samples. There are twenty-one pristine-sounding virtual instruments, two new samplers, Alpha and Omni, and 57 pro audio effects
Publish music and videos directly to YouTube, Facebook, SoundCloud, MixCloud, Vimeo, and Twitter with one click
Easily edit video and still images
Export your videos to a DVD or upload them to YouTube
Pros
Very nice additions to workflow
An extensive collection of plug-in effects
Instruments of top quality
A slick and user-friendly interface
Great for recording vocals and for singing
Cons
An initial dark impression until you get used to it
Some instruments need updating

Best for: professional music producer/mix engineer, songwriter
OS: Windows
Price: $29.95
TopTenReviews rating: 3 out of 5
The i-Sound technology enables you to record sound from any source, whether it's an inner or outer source, into mainstream sound configurations without requiring another circle space. A straightforward and intuitive interface makes i-Sound Recorder easy to use. It lets you record and edit soundtracks on your PC. You can measure, adjust, and alter the sound coming from MIDI, the Internet, real-time media, circles or games that are currently playing, and the receiver.
i-Sound supports MP3, OGG, WMA, WAV, and APE formats. With advanced options for date and time, span, and rehashing account events, this crucial asset is undoubtedly helpful in planning future account events. With this free voice recording software, you can make multiple sound files, change their names and boundaries, and more.
Key features
You can record both the desktop screen and the webcam at the same time
Professional tools for editing recorded clips
Multiple templates and effects built-in
Supports MP4, MOV, MKV, GIF, and other formats
Pros
The mixer has a built-in lock that prevents switching between different software programs during a recording session
Cons
Limited filters and effects options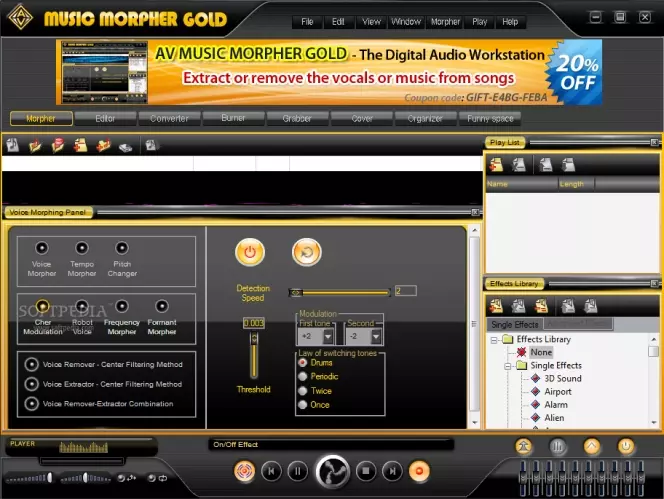 Best for: DJs and home users
OS: Windows, macOS, Linux
Price: $99.95
TopTenReviews rating: 3.3 out of 5
AV Music Morpher Gold makes editing audio and performing DJ tasks as easy as pie. Besides its famous patented vocal Remover and Extractor, this software has a brand-new virtual DJ, new Converter functionality, a multi-track recorder, editor, and many other powerful features. You can remix songs, add sound FX, adjust channels, EQ, or any of the hundreds of included studio-quality effects in the DJ module. Using the Converter module, you can convert multi-format audio files.
With version 5.0, the Morphers and Advanced modules we merged have introduced a new compact player mode. Program developers claim the application can transform any PC into a full-fledged production studio, allowing users to make funky hip-hop, DJ remixes, and pop songs.
Key features
Converts audio data from MP3 or WMA to WAV or from OGG, APE, AIF, IRC, NIST, AU, and more
Ripper tool
Digital audio recorder
Cover editor
Adding sound effects
Burner tool
Pros
Features audio editing tools, including burners and rippers
Adds sound effects to music
Free trial version
Cons
The free trial and regular versions have limitations until you purchase the Gold edition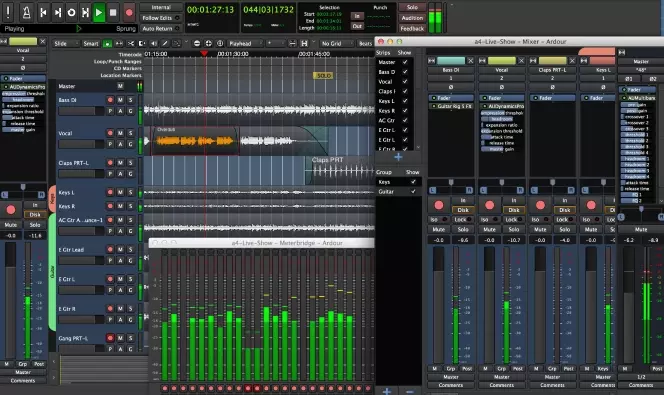 Best for: musicians
OS: Windows. Mac, Linux
Price: free
G2 rating: 4.1 out of 5, 11 reviews
Here's another free vocal recording software that's great for musicians. Ardour is more focused on enhancing recorded voice, unlike GarageBand, a complete musical workstation for both voice and music. It offers an intuitive interface with a host of features that enhance recorded audio quality. The recording window allows you to cut, stretch, or split your audio easily.
Besides multi-track recording, you can also use Ardour for audio editing. To mix audio and get creative with your recordings, you can import MIDI files and audio from the free sound database or your computer hard drive.
Key features
Add-ons and plug-ins abound
Records multi-tracks
Audio editing
Pros
Compatible with all audio engines
Excellent MIDI capabilities
Ripple editing
Cons
Compared to other programs, it is less powerful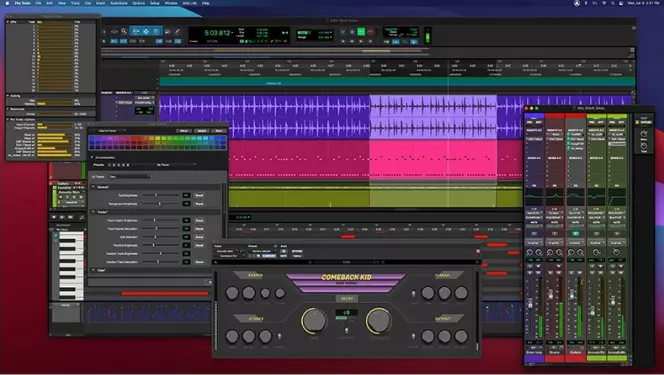 Best for: budding musicians and home users
OS: Windows and macOS
Price: $299
PCMag rating: 4.5 out of 5
In the same vein as Apple's GarageBand, Avid Pro Tools is an excellent audio workstation that allows budding musicians to make their music with limited investment in musical instruments. A remarkable feature of this app is that it will enable you to create and broadcast music while recording audio.
Recording and composing are much easier with the tool's comprehensive user interface. It allows for cloud collaboration, meaning that you can now work with other artists to create music together via the Internet.
MIDI editing, musical pre-sets, loop recording, and auxiliary tracks round out the various features you can use to experiment and create amazing music.
Key features
Non-destructive editing
Track presets
MIDI editor
Input monitoring
Sound effects
Pros
A deep set of shortcuts and workflows
Exceptional control over each audio clip
The UI is excellent (especially for veterans of digital audio workstations)
Cons
The learning curve is steep
Inconsistent cloud projects
Stock plug-ins are not competitive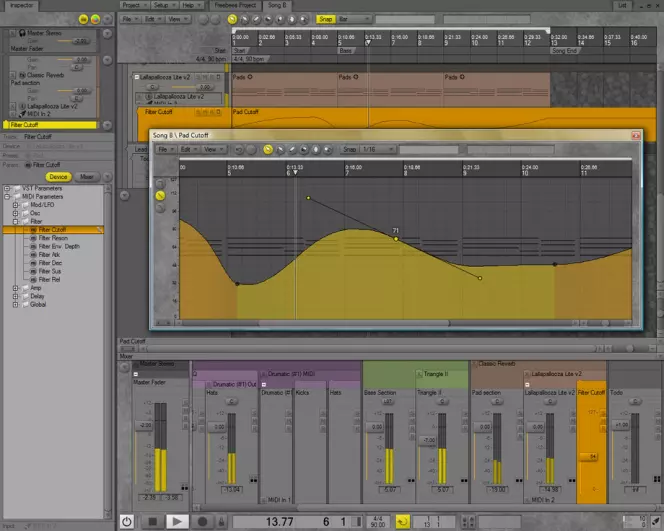 Best for: musicians, producers, and casual users
OS: Windows
Price: free
AlternativeTo rating: 4 out of 5, 2 reviews
Zynewave Podium is a free, full-featured voice recorder program tailored to the needs of Windows users. With this powerful audio recorder, you can capture and edit sound, MIDI, and even use VST effects and instruments. You can also apply any custom sound effects you wish to your recordings. As long as you download and install this software, you can use it without registering.
Key features
User-friendly interface
Support different audio effects
No registration needed
Pros
Updates happen quickly, so you don't have to wait one year for bug fixes
A simple piano roll
High customization
Hardware and software latency compensation
Once you get used to it, it's easy to use
Cons
It doesn't allow time-stretching
Dithering is not an option
There is no drag-and-drop functionality between the browser and the VST
The audio editor is poor
How to choose the best vocal recording software
Many people automatically assume that freeware means "low audio recording quality." However, there are quite a few reliable programs available for free or low cost, and you can download many of them. The following can help you find your best software for recording vocals:
Purpose of voice recording software
As a professional, there is likely to be an expectation that equipment and software are of professional quality. Research the 'pros' use and find out if the program is usually free or a business expense.
Will collaborating with someone be compatible with what you have in your studio? Compatibility is key. You can't anticipate every client's requirements. But at least knowing the industry standard can help to make a good choice when selecting software.
Unless you can use the software, it is of no value to you. The steep learning curve may just be a matter of sitting down and fiddling with it if the software company provides self-help videos or support. If those resources aren't helpful or as available as you'd expect, you might need to look for another voice recording program that meets your needs.
A good voice recording app for PC will have all the tools you need in an ideal world. Almost all recording software will do what you need, but the interfaces are often filled with bells and whistles that may be helpful or can impede your workflow.
The vocal recording software you choose is compatible not just with the operating system of your computer but also with your microphone and other hardware.
It's all about quality! In the post-production phase, audio files need to be enhanced to some degree, and professional audio engineers know that to achieve high-quality audio, you must use proper recording techniques before editing. Software that allows you to edit your files without leaving noticeable artifacts may be right for you!
Poor ratings mean the program may not be worth your time or money. The voice-over community can offer sound advice here. The input of those who use the software daily is the most valuable. Join community forums to discover how the voice-over community addresses these very questions.
We hope this article has helped you consider what to look for in a voice recorder. In summary, here are some of the most important things to consider when choosing the voice recording tools for Windows 10 and macOS:
User-friendliness: make certain that the app or software you choose is easy to use and suitable for your level of expertise. While many features may be tempting, they can be challenging to use. If possible, select software that offers a free trial to ensure it is what you are looking for.
Features: choose a vocal recording app that offers all the features you require. Before purchasing the software, check out the developer's website.
Formats supported: the best software for voice recording supports the broadest range of formats, including the most common ones, such as MP3 files.
User reviews: before buying any software, it is a good idea to check out the reviews and ratings to see how satisfied other users are with it, as well as identify any issues, bugs, or problems.
Support: see what support is available – such as live chat, online, or e-mail.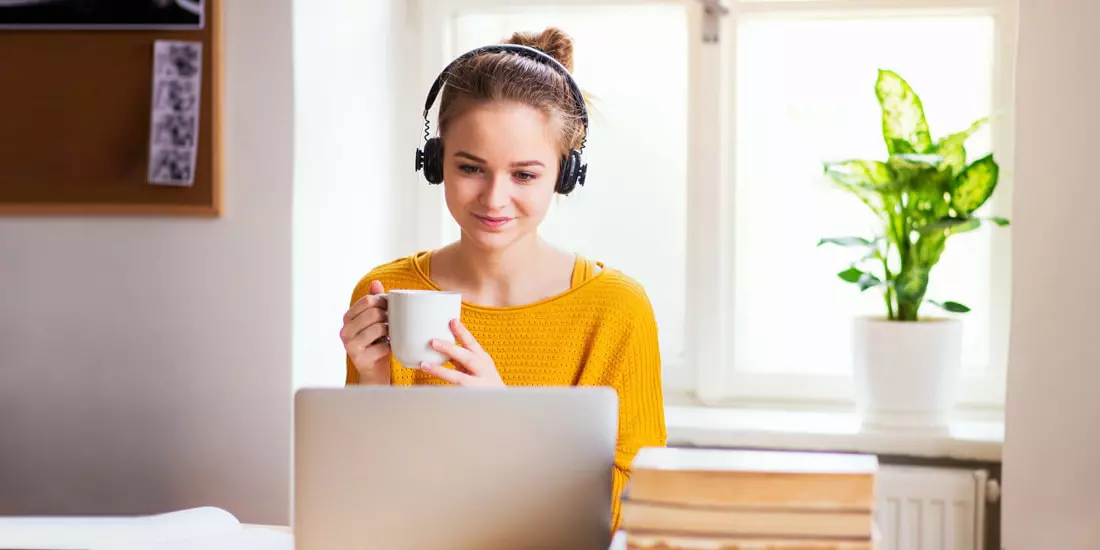 Movavi Screen Recorder
The perfect way to record from your screen
Frequently asked questions
What are the best free online audio-recording tools?
Here are some options:
Rev Online Voice Recorder
Telbee Voice Recorder
VoiceCoach
What is the best audio recording software?
Check out this list with one of the high-quality voice recorders for your PC:
AudFree Audio Capture
FlashBack
Open Broadcaster Studio
Bandicam
Icecream Screen Recorder
Check out this guide for more information:
How can I record high-quality audio from my computer?
You can use Movavi Screen Recorder to record audio from a computer:
Download and install the desktop recorder.
Launch the program and select the Screen recording button to record your screen activities.
You can also capture either input or output sound simultaneously with the program. Just make sure you highlight the active audio in green.
Click Record to record the software you're using, then click Stop to end the recording.
Choose the saving settings and save your recording.
Sign up for news and special offers