Download

Download

the Webex recorder
Adjust the screen capture parameters
Record the meeting
Save the result
Don't waste precious time - record important things now!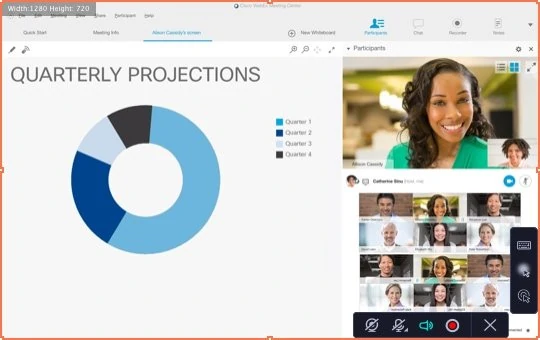 How to Use the Free Webex Recorder
Cisco Webex is well known in the business world. If you're reading this article, you probably use this software and need to record Webex sessions. Perhaps you're going to participate in an important conference call and, as an attendee, want to capture the video, upload it to the corporate cloud or save it on a PC for future needs. Or maybe you often make online presentations via Webex and want to record them to create tutorials.
Whatever your goal, you're looking for a Webex screen recorder. And we have one of the best solutions – Movavi Screen Recorder. It's a simple tool that allows you to grab a Webex call on Windows or Mac for free. In addition to video recording, this app has a specific Webex audio recording option that can grab both internal audio and external voices or other sounds. When the capture process is over, you can convert Webex recording to MP4 locally on your PC.
Let's explore how to record Webex meetings for free using Movavi Screen Recorder.
Step 1. Download the Webex Recorder for Free

DownloadDownload and install the Webex recorder. The process is so quick and easy that it takes no more than 2 minutes.

Step 2. Adjust the Capture Parameters

Choose the recording settings according to your needs. When you need to capture your own screen, you can enable Keystrokes and add visual effects to your mouse movements. All these settings are available in the Settings menu. Then, choose the recording option.

As a participant in an online conference, you can turn off Webcam and System Audio to exclude unwanted noises and images from the recording. You can also schedule the recording remotely ahead of time so it will start even if you forget about the meeting.

Step 3. Record the Meeting

When you're ready to grab the screen, press the REC button. The recording starts after three seconds.

To control the capture process, you can use the semi-transparent recording panel – a smaller version of the main panel. Because it's semi-transparent, it doesn't distract you and, at the same time, shows you that he recording is happening.

Step 4. Save the Recording

After you click Stop, the preview window appears. Hit the Save As button and you'll see the save settings. Here you can choose the format of the video, so you won't need to convert it to MP4 later.

Finish the process by clicking the Save icon.

Are you still asking yourself how to download Webex recordings? Hopefully not, now you can see that it's easier than making coffee.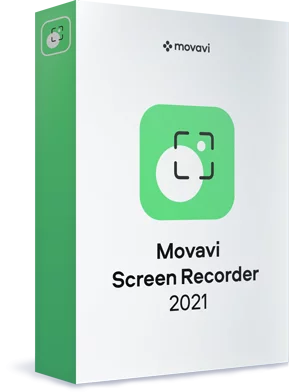 Disclaimer: Please be aware that Movavi Screen Recorder does not allow capture of copy-protected video and audio streams.
Movavi Screen Recorder
Capture video from your computer screen

Grab sound from multiple sources

Use the simple editing tools to make your recording perfect

Save videos in any popular format
Disclaimer: Please be aware that Movavi Screen Recorder does not allow capture of copy-protected video and audio streams.
Frequently Asked Questions
Where Does Webex Save Recordings Locally?
You can access your recordings online. To do this, sign in to your Webex account and go to My Webex > My Files > My Recordings. Recordings are stored on the server until you delete them, and you can download them from there. However, it may be easier to record the meeting with Movavi Screen Recorder and save it on your computer right away.
How Do I Convert a Webex Recording to MP4?
To convert the ARF file to MP4, open it with Webex ARF Player. The playback will begin immediately – pause it. Go to the File menu, select the Convert Format option, and then choose MP4. Enter the name for the output file in the dialog box. Select the Convert now option and click OK to change the file format.
If you'd prefer a simpler approach, you can record the meeting with Movavi Screen Recorder and save it as an MP4 video right away.
How Do I Record a Webex Meeting on My Phone?
To record a Webex meeting on an iPhone or Android phone, tap More (the three dots at the top-right corner of the screen) and then tap the Record button. During the recording, you can tap More > Pause to pause the recording, and More > Resume to continue recording. When you want to end the recording, tap More > Stop to stop recording. You can access your recorded videos on the Webex website in the My Recordings section.