Best Paid and Free Streaming Audio Recorder Products 2021
Streaming has already transformed how we enjoy audio and video resources. Instead of buying what we want in a brick-and-mortar store, a few clicks on your computer or mobile phone can give you the tracks and recordings you're after.
But nothing's perfect, right? You may still need to listen to music when you're offline. What will you do if an internet connection suddenly goes down? Not to worry, because that's where audio recorders come in, and we'll show you the best nine on the market today. There are four different types, so you can pick what suits your lifestyle:
Desktop apps
Online tools
Browser extensions
Mobile apps
The how-to guide on Audacity will also make you a pro in using this software type in no time.
Streaming Audio Recorders for Windows 10 and Mac
With a desktop app doing the recording for you and saving it on your hard drive, you'll have the tracks on hand to listen to from your device while you work. It's a safe method, but just note that tracks may get corrupted, and sometimes the apps can cause a PC to crash. This is why it's important to pick quality apps.
G2 rating: 4.5 out of 5 stars, 44 reviews
You can use Movavi as a streaming audio recorder Windows 10 and Mac owners can utilize:
Windows 7, 9, or 10
Mac OS 10.9 or higher
This is a screen video recorder, but it's a practical solution whether you want to record streaming music, a video chat's audio, your system's audio, or the audio from almost any other sound source. You can save the tracks as MP3s, making it easy to export to other devices and listen to your music anywhere.
A nifty feature is a 3-second countdown, so you don't have to fear losing those precious first seconds of a podcast or song ever again.
Here's a short step-by-step guide for working with Movavi:
Step 1. Install the Movavi Screen Sound Ripper
You need to download an installation file. After running it, you can install the streaming music recorder.
Step 2. Set Up Audio Capture
Now run Screen Recorder but remember to define a capture area. You can make adjustments with the cursor. Ensure System Audio is activated.
Step 3. Capture the Audio Stream
Press the Record button to start the recording and Stop when you've reached the end of the desired track or audio snippet. Hotkeys work too:
Pause: F9 or ⌥ ⌘ 1
Stop: F10 or ⌥ ⌘ 2
Step 4. Save the File
A preview window automatically opens so you can review the segment. Use Save As for extraction of the audio and opt for MP3. Now you can export your audio file.
Tools to Record Streaming Audio Online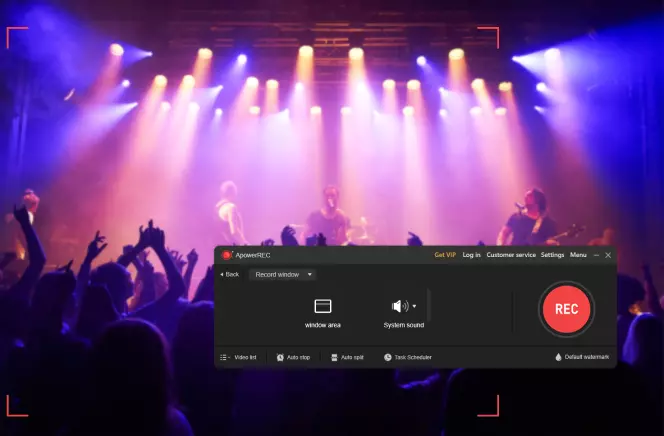 Rating: 4.3 out of 5 stars, 44 reviews
Here's another downloader that will work on Windows or Mac, and it has an impressive list of file formats you can export to:
You simply download its launcher, and then it's available for use.
It's user-friendly and practical since you can add ID3 tags and artwork to organize your tracks on your PC after you recorded them.
We were impressed with the informative website, where you can find handy tutorials to optimize the use of this resource.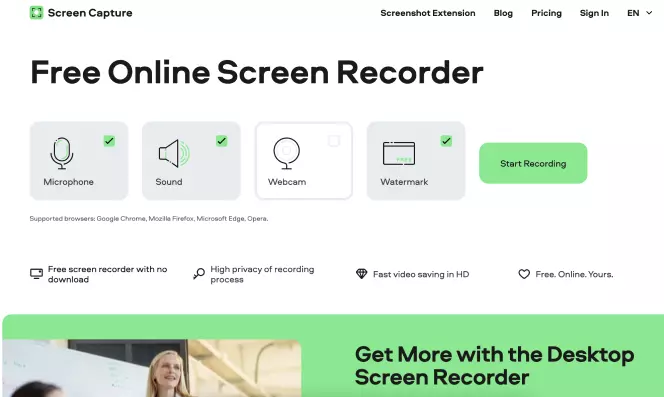 Trustpilot rating: 4.6 out of 5 stars, 63 reviews
This recorder requires no download, so you can start using it straight away. You can record streaming audio online or your voice, so you can add your narration to a track if needed. You just have to switch between Microphone and Sound settings.
This is a free audio streaming recorder which you can use as many times as you like – no limits. The paid-for version allows you to remove the watermark of the video you're recording. If it's only the audio you're concerned about, a watermark isn't a big problem, though.
Tip: there is a desktop version of this live stream ripper, and it has even more features to play around with.
Users find this freeware easy to work with, and you won't have a long learning curve before you feel comfortable using it.
Browser Extensions to Download Streaming Audio
Browser extensions also enable you to access the resource no matter where you are or which device you're using. Of course, the functionality may be affected when you have a bad connection. Audio may be muffled at times.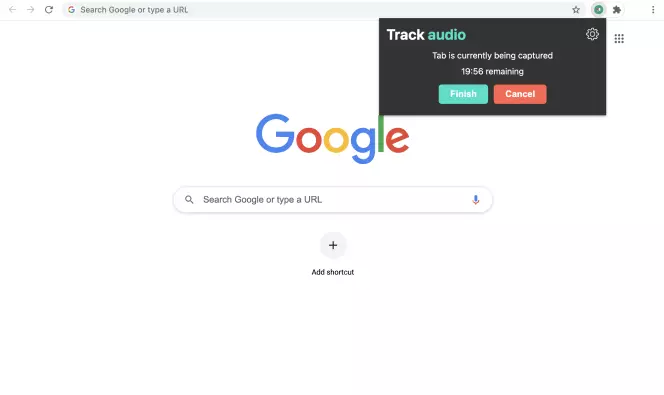 Rating: 2000+ users
This is a browser extension, but the file you save will be available on your computer itself. With this resource, you can opt for MP3 or WAV files.
The extension lets you either record a single tab's audio or multiple tabs. As with many other products, you can opt for MP3 or WAV exports.
As a browser extension, it's easy to access.
How to Record Streaming Audio with a Smartphone App
We all tend to use our mobile phones more and more for general tasks than our desktops. So, sooner or later, you'll want to rip streaming audio from your smartphone, and that's what these apps are excellent for.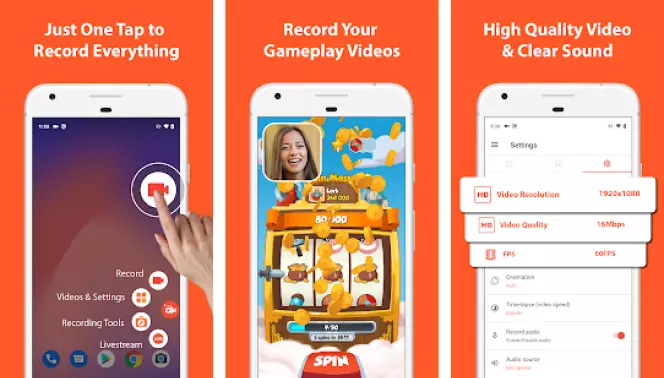 Rating (App Store): 4.3 out of 5 stars, 377 reviews
Rating (Google Play): 4.5 out of 5 stars, 1.4 million reviews, 50 000 000+ installs
With a recorder on your mobile device, you can record everything that's happening on the screen itself, but audio too. It's often the best way of how to record streaming audio. Also, it's easy to share your recordings with your friends straight from your mobile device.
For your iPhone, you'll need iOS 12.0 or later. With Android, you can use features like recording internal sound from Android 10.
It is mainly focused on users who want to record videos of themselves, but it works well for recording streaming audio. With Android, there's no root required, and you have unlimited recording time.
How to Record Streaming Audio with Audacity
Want to know how to record streaming music with Audacity? Luckily, it's known for its user-friendliness, so here's all you need for how to record streaming audio.
Step 1. Set Up Your System
Connect devices such as your microphone and your headphones to record streaming audio online. With a splitter, you can even have additional headphones so you and a friend can listen while you record.
Step 2. Ready the Program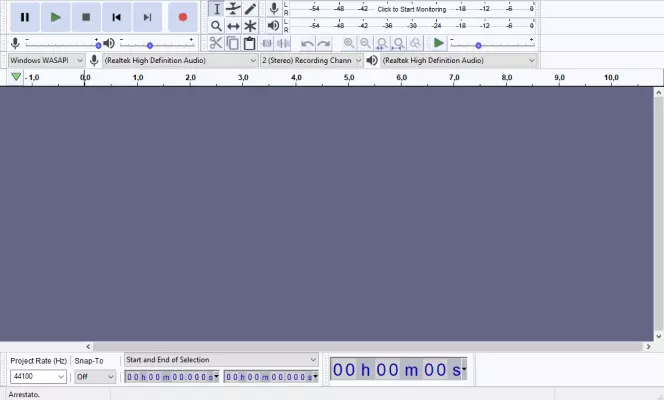 To capture streaming audio, you must open the Audacity program and navigate to the preference settings. In most cases, you'll use Built-in input as your input option.
Step 3. Play the Audio and Record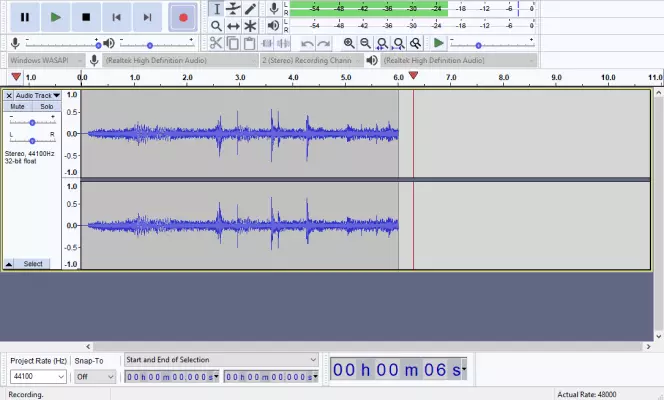 Go to the tab from which you're streaming the audio. You can first press the Record button and then start streaming if you don't want to leave out any of the audio.
Once the audio has played through, you can stop the recording. Your first option is to export it as a WAV file, but with the suitable encoder, you can also opt to save it as an MP3 on a PC.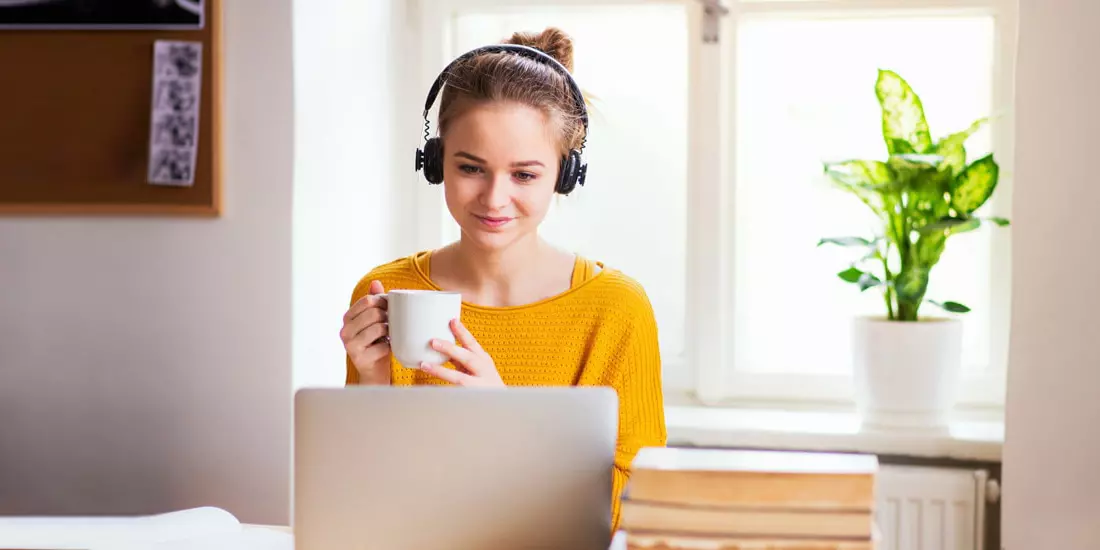 Movavi Screen Recorder
The perfect way to record from your screen
Frequently Asked Questions
What is the best streaming audio recorder?
The best streaming audio recorder depends on your requirements. If you want it available offline, it's best to pick something like Audacity that doesn't require an internet connection. If you usually listen and watch podcasts on your phone, the AZ Screen Recorder is a handy option.
How can I record a streaming audio?
Software like Movavi makes it easy to record streaming audio. You simply download the software and run it. Make sure to set it up to record system audio. Play and record the audio you want to capture and then save it in a file format you prefer.
Can you use Audacity to record a streaming audio?
With Audacity, it's simple to copy audio since you simply play the track and hit Record on the software interface. It will record all you're streaming. The program will do the rest, and once you've stopped recording, you can export it to WAV files.
Sign up for news and special offers