Two Easy Ways to Record a Zoom Meeting
You'll be surprised how many ways there are to start Zoom call recording. We've explored many different apps and picked out our two favorite approaches to how to record a Zoom meeting – with the built-in tool and with Movavi Screen Recorder. The latter is an advanced screen recording program with some key benefits for capturing.
Advantages of Movavi Screen Recorder:
Available both for Windows and Mac
Records screen and audio, either simultaneously or separately
Offers a choice of formats for saving: MP3, MP4, AVI, MOV, MKV, GIF, JPG, BMP, PNG
Lets you share files via links to Google Drive or YouTube
Has a screenshot function and editing tools
Provides specific settings that you can customize according to your needs: shortcuts, effects for mouse and keyboard, time scheduler, size of capture area, and much more
Movavi Screen Recorder can be used not only for Zoom video conference recording but for any screen and audio grabbing. Now let's take a look at the program in use.
Step 1. Install the Software

Install Movavi Screen Recorder for WindowsWindows or MacMac. For installation you'll need just 280 MB of available hard disk space, and 2 GB more for ongoing operations.

Step 2. Adjust the Capture Parameters

First, check the Settings menu to customize the recording parameters. Here you'll find effects for mouse and keyboard, time scheduler, control panel settings, etc. If you have no preferences and you need just a simple recording, you can skip this step.

If you want to include your face and voice, you need to activate Microphone and Webcam. You'll find these buttons on the main recording panel. To include voices of other participants, enable System Audio, too.

Step 3. Record Your Zoom Webinar

Start recording by hitting the REC button. The process starts automatically after three seconds. Hit the same icon to stop capturing.

If you want to grab screen captures, use the Screenshot icon.

Step 4. Save the Recording and Share It With Colleagues

When the meeting is over and you have the recording, you can edit the video. You can trim it with Scissors and Trash Can.

Click on the Save As button and choose the format for saving. If you want to share the recording with other participants, you can do so right in the preview window using the Share icon.

That's it! Now you have your Zoom meeting recorded, saved and shared in high resolution.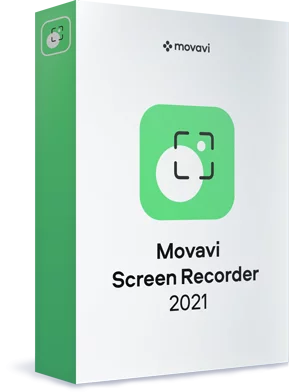 Disclaimer: Please be aware that Movavi Screen Recorder does not allow capture of copy-protected video and audio streams.
Movavi Screen Recorder
Capture video from your computer screen

Grab sound from multiple sources

Use the simple editing tools to make your recording perfect

Save videos in any popular format
Disclaimer: Please be aware that Movavi Screen Recorder does not allow capture of copy-protected video and audio streams.
The Built-In Tool for Zoom Video Conference Recording
We promised to tell you about the built-in Zoom recorder. It's a nice tool if you don't want anything fancy or to install any other programs. First, we'll give you a short guide on how to use it. Then, we'll discuss the potential pitfalls that may not be obvious to Zoom users.
To record a Zoom meeting, follow these simple steps:
You'll see the Record button on the bottom of the menu bar. Click on it.
When recording starts, all participants will be informed of it with a sound. While capturing is active, everyone will see the recording button blinking.
Stop the Zoom meeting recording using the same button.
The file will automatically be saved to your computer. By default, the file will be saved in MP4 format and named Zoom_0.mp4.
Though local recording software is easy to use, it has some limitations that you should be aware of.
Cons For the Built-In Function:
Local recording is not available for iOS and Android.
The function records only Zoom conferences. You won't be able to record any other programs or webinars.
Zoom can't take screenshots.
If the meeting is interrupted, the recordings can't be saved or recovered.
The software supports a limited range of formats for saving.
Cloud recording is available only for paid accounts.
If you decide to get a paid version of the program, you'll have to pay each month because Zoom accepts only subscription payments.
If you're not okay with the limitations and payment conditions, try Movavi Screen Recorder. You might find it will satisfy your needs better than the Zoom recorder.
Frequently Asked Questions
Where Do Recorded Zoom Meetings Go?
Meetings recorded with the Zoom app locally will be saved to Documents in a Zoom folder. You can also access the recording directly from the app – select Meetings and open the Recorded tab. Find the necessary recording and hit the Open button to open the folder containing the file.
Can I Edit a Zoom Recording?
Yes, Zoom meetings can be easily edited with special editing software. If you record a meeting with Movavi Screen Recorder, you can use built-in tools to remove unwanted segments from the recording.
If you need advanced editing options, we suggest using Movavi Video Editor – this handy app contains a lot of editing features, titles, transitions, filters, etc.
Can I Record a Zoom Meeting on an iPhone?
You can record a meeting on your iPhone using cloud recording in the Zoom app. Note that cloud recording is available only for paid accounts and can be started by a host or co-host of the meeting.