How to Record Skype Video Call Using a Built-In Skype Recording Feature
Have you been wondering how to record Skype calls? Then try the app's built-in features! You can record Skype calls, capturing both audio and video. What's more, you can share your recordings with others and save them to your downloads folder for viewing later. The built-in Skype recording feature also allows you to save and download to any of your folders on your computer.
By being able to capture and save your Skype calls, you'll be able to view essential calls again. This is useful when you've been in an interview or meeting that needs to be reviewed later for reporting purposes. You can also hold onto memories from a call with those special people in your life.
Call recording on Skype is cloud-based, and everyone on your call session is notified, via a pop-up banner, when recording starts. This prevents anyone from being caught unawares during a call. When a video call is recorded, everyone during the session is captured, as well as any screens shared during the call. You can save and share this recording for 30 days after the call was made.
The built-in Skype screen recorder also gives you the option of downloading your video calls both on your computer and your mobile device, so you don't lose your recordings once the 30-day period lapses.
You can make call recordings on either your desktop, laptop, and your mobile. You can also record at any time during the call session. Use this step-by-step guide to show you how to record a Skype video call in a few clicks.
Step 1. Start a Skype Call
A Skype call can be made on both your mobile devices and computer once you've downloaded the Skype app. Start the call when you're ready.
Recording can be started at the beginning of the call or at any time during the call. If you're making a Skype call from your desktop or laptop, click the More button on the right-hand bottom of your screen. From the menu, select the Start recording option.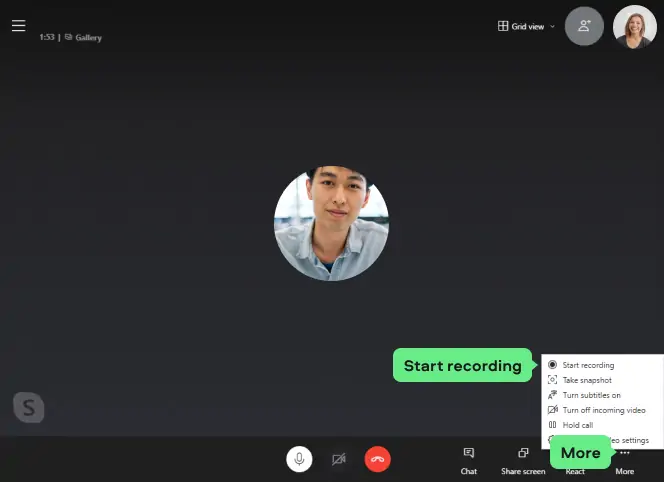 When using your mobile during a Skype call, look on your phone screen for the Start recording option. You'll see it easily enough at the bottom of your mobile screen. Tap on it, and this will start the recording.
A banner will pop up when you're recording, whether you're using your computer or mobile. This notifies other callers that the session is being recorded.
When the call session has ended, you can click on Stop recording. You can also simply end the call, and the recording will automatically stop as well.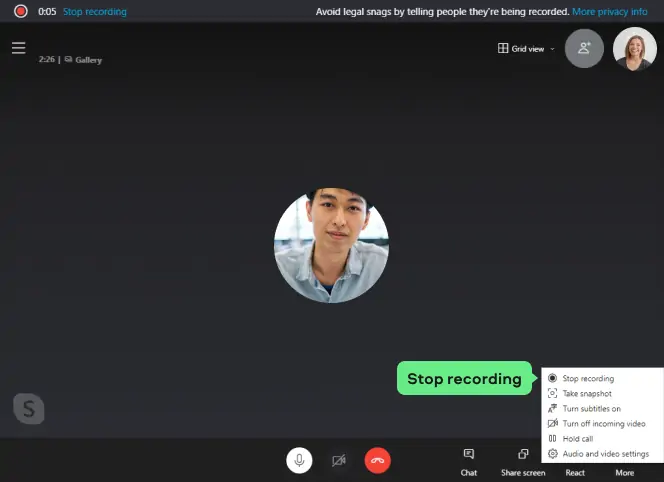 Step 4. Save and Share the Call for 30 Days
Once the call has ended, the recording is finalized. It gets posted to your chat, and you can view it anytime for the next 30 days. You can also share it with any of your contacts during this period.
Everyone else on the call can also save the recording for later viewing and sharing within the 30-day period.
To share a recording from your computer, select the Forward tab from the More button. The Forward tab gives you a list of suggested contacts you can share your call recording with.
When sharing a recording from your mobile device, tap and hold the call. Tap Forward from the options available. When you see Forward Message, select the contacts you wish to share the recording with and click Send at the top of your screen.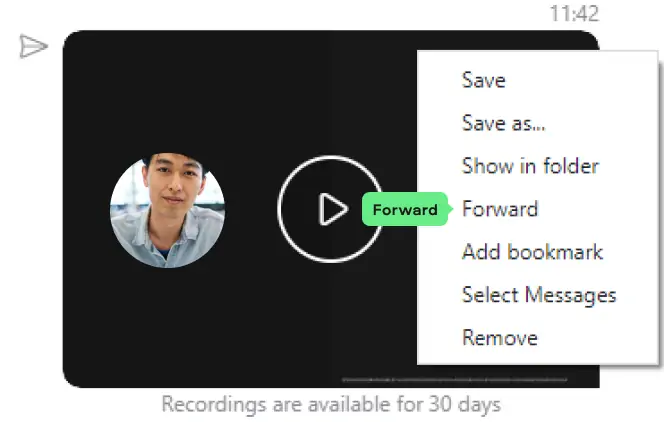 Step 5. Save to Downloads Folder
You can also save your Skype video call recording by downloading it. This can be done on your desktop, laptop, and your mobile devices.
To save a call recording done on your computer, go to your chat. Click on the More tab. Select the Save to Downloads option. The recording will be saved in your Downloads folder.
You can also save the recording to one of your folders on your computer. Simply click Save As and pick the folder you wish to save the recording in. Your recording will be saved in an MP4 format.
To save a call recording made on your mobile, navigate to chat. Tap on the recorded call and hold. A menu will be displayed, and you can tap on Save. Your recording will download and automatically be saved as an MP4 file in your gallery.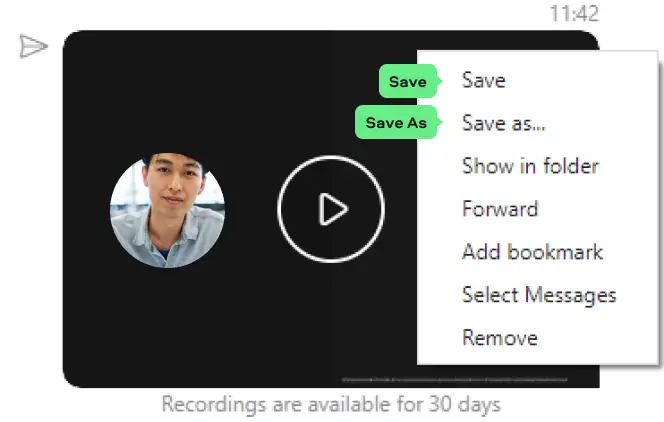 How to Record Skype Conversations with the Free Alternative – Movavi Screen Recorder
Now let's talk about how to record a Skype video call with Movavi Screen Recorder. You can download this call recorder for free and use it for capturing webinars, grabbing streaming videos as well as record your Skype conversation. It's also very useful for capturing video instructions and tutorials.
Movavi Screen Recorder is a powerful video capture software that allows you to not only record calls but also capture any screen activity. For all screen capture on Windows, you can install this free screen recorder for Windows to do the work for you. It can capture sound, edit the videos, and allows you to save for sharing. It's simple to use, too, with minimal effort needed from your side.
The computer version of Movavi Screen Recorder is compatible with Windows 7, 8, and 10. If you're operating with a Mac, the screen recorder is compatible with Mac OS x 10.9 or higher.
Movavi Screen Recorder makes it so simple to capture all your Skype calls on Windows and Mac. What's more, you can use it to upload videos to YouTube and Google, share screenshots via social media, and make your videos more engaging by drawing on the video during recording. You also have the option of recording sounds from your computer or microphone without screen recording.
Movavi Screen Recorder is one of the best ways to cut and convert your recordings. This optional feature allows you to remove any segment of the call you don't want to keep. You can convert audio calls to an MP3 file easily too.
Follow this step-by-step guide showing you how to record Skype conversation with the free alternative the next time you want to make a video call recording on a PC.
Step 1. Install the Skype Recorder on Your PC
Download the free program from our website. Open the downloaded file and follow the on-screen instructions to install the video call recorder.
Step 2. Adjust the Recording Parameters
Launch the Skype video recorder. Select the recording option on the pre-recording panel and position the recording frame over the Skype window. The frame may also be manually resized later. You can record your Skype call in full-screen mode (in HD) by stretching the frame over the entire screen.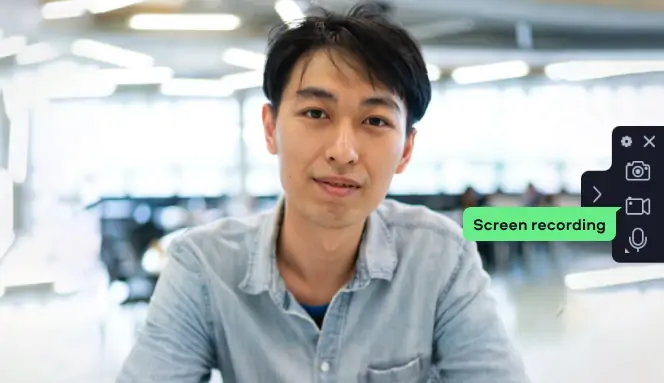 When the main recording panel appears, the System Audio and Microphone icons should be highlighted in green. This tells you that the call recorder will capture both the sound of your voice and the other person's voice in the conversation. You can choose an audio input device by opening the list above the Microphone icon and clicking on the appropriate device from the list.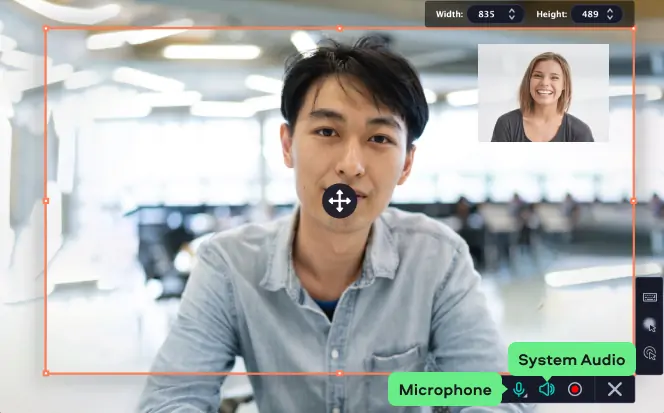 Step 3. Capture Your Skype Session
To make a recording of a Skype call, click the REC button. The recording process can be controlled by clicking on the Pause or Stop buttons in the program interface. You can also use the compact control bar, which can be found on top of the capture frame.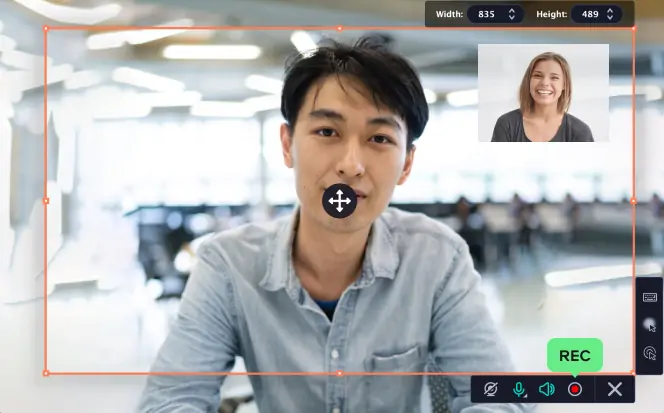 Using the hotkeys is another option available to you:
If you have Windows, press F9 to pause/resume recording and F10 to end the capture process.
On a Mac, press ⌥ ⌘ 1 and ⌥ ⌘ 2, respectively.
As soon as the recording stops, your video will be automatically saved in MKV format and will open in the preview window.
Movavi Screen Recorder can also be used as an MP3 Skype recorder. If you need to record a Skype audio-only, capture your call as described above. Convert the file to an MP3 file as described in the next step.
Step 4. Cut and Convert the Recording (Optional)
You can cut out unnecessary sections by positioning the marker at the beginning of the unwanted part of the video. Click on the Scissors button, set the markers at the beginning and the end of the unwanted segment, and click the Trash Can icon to delete it. Repeat if necessary.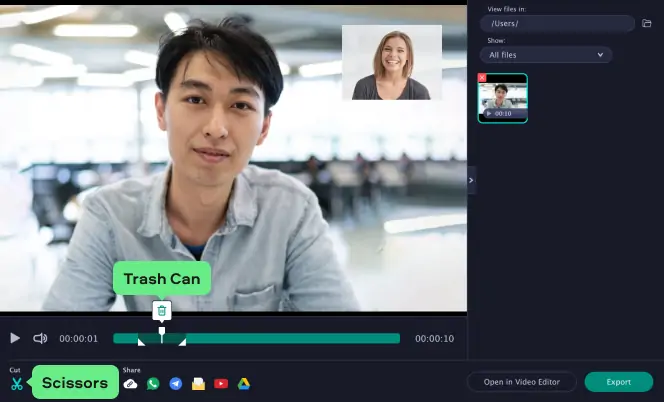 Click Export to continue. You can choose a format for your recorded video by selecting one of the format options. Choose MP3 to save your audio recording file and MP4 for video recordings. Click the Save button.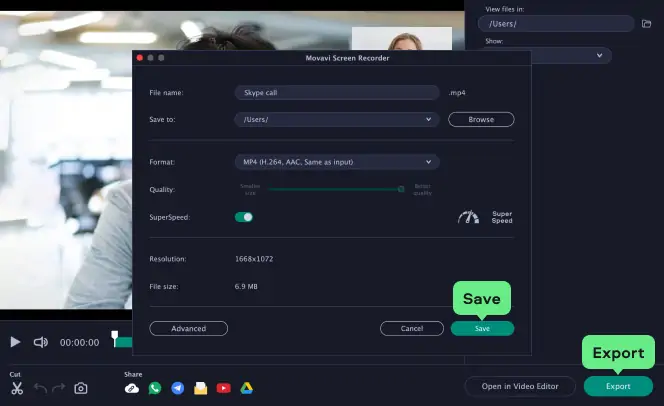 That's it! Now you know how to use Movavi Screen Recorder, so make sure you download the free version for recording all your Skype voice and video calls.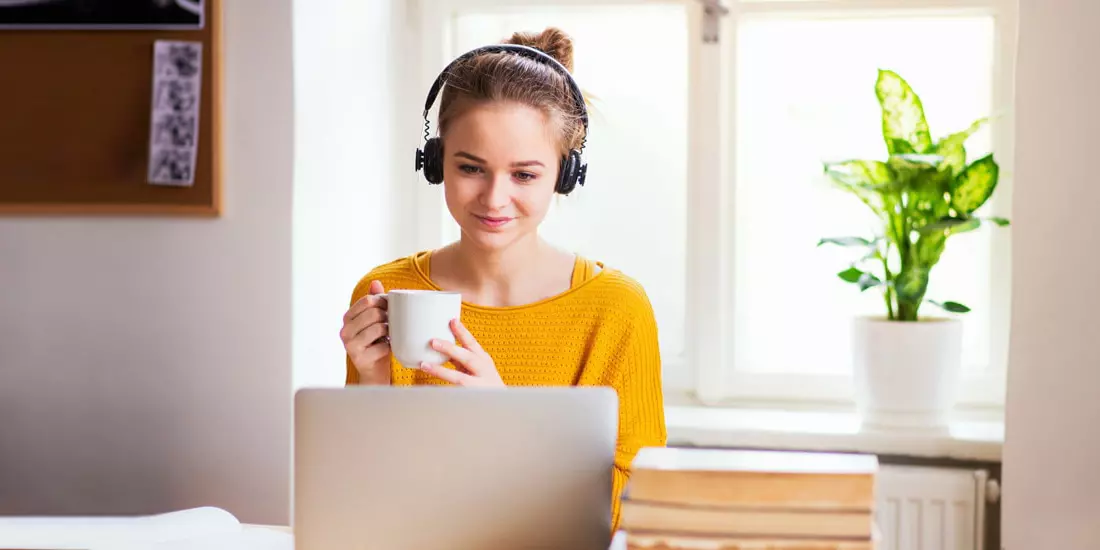 Movavi Screen Recorder
The perfect way to record from your screen
Disclaimer: Please be aware that Movavi Screen Recorder does not allow capture of copy-protected video and audio streams. Learn more
Sign up for news and special offers