How to Remove Skin Blemishes, Spots, Scratches, and Other Photo Imperfections
You take your camera with you wherever you go because you know that spontaneous pictures are often more evocative than formal studio shots with makeup and other artificial components. Photo correction can take care of any spots, scratches, and skin imperfections later; all you need is a photo blemish remover. Movavi Photo Editor can turn your photos into perfect portraits in a heartbeat, and you won't have to master complicated photo editing software to get there.
Learn how to remove acne and other blemishes from faces, edit out unwanted reflections, and fix other imperfections in your images using Movavi's handy blemish photo editor. This tutorial applies to both the Windows and Mac versions of Movavi Photo Editor. Just download the version for your OS, install the program, and follow the steps below.
Download Photo Editor for WindowsDownload Photo Editor for Mac
Step 1: Add your picture to Movavi Photo Editor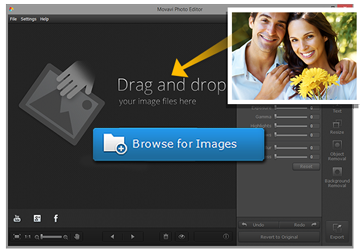 Launch the remover program on your computer and add the image you want to fix. To open a photo for editing, click Browse for Images or simply drag and drop the desired image onto the working area of the Photo Editor.
Step 2: Mark and erase blemishes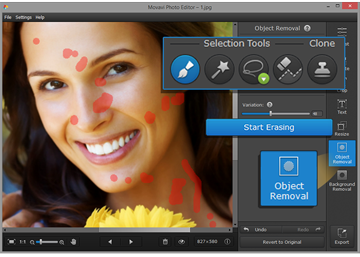 Open the Object Removal menu, select the Brush tool and mark the element you want to remove – it should be fully covered with the red highlighting for best results. You can also use the Lasso or Magic Wand tools for blemish selection, if that's easier for you. If you highlighted more than you needed to, you can clear the excess with the Selection Eraser tool. Next, click Start Erasing to remove the blemish. Repeat this step with every blemish you want to get rid of.
Movavi Photo Editor is a wrinkle remover
Erase accidental flashes of light
Fix other image imperfections!
Step 3 (optional): Use the Clone Stamp tool for seamless blemish removal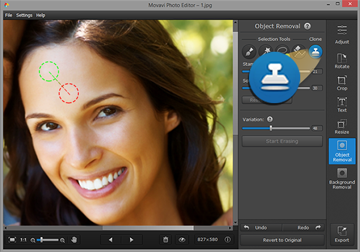 Automatic removal may not be enough on complicated backgrounds. In such cases, you can copy another part of the image to cover up the blemish and merge it with the background. Select the Stamp tool from the editing panel and left-click on the area you want to copy while holding down the Alt key, then just paint over the blemish with the selected sample.
Step 4: Save the retouched picture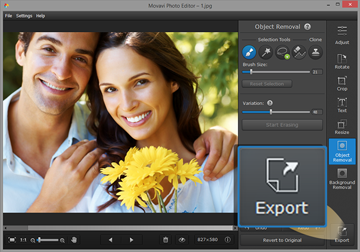 After removing all scratches, spots, wrinkles, and other imperfections, you need to save the photo. To do this, click the Export button, then choose the name of your image and the saving format. Image retouching has never been so easy – and that's the beauty of it!
See what else Movavi Photo Editor can do for you:
Movavi Photo Editor
Remove unwanted objects
Enhance picture quality automatically
Crop, rotate, and resize images
Use manual color correction
Save to widely used image formats
Download for Windows
Download for Mac
Software Trusted in 150 Countries
Movavi has been developing video processing software since 2004. Our programs are trusted in 150 countries including the US, Japan, and Europe. We guarantee high quality of our software and safety of payments on our website.
Email us
Knowledge Base
Subscribe on YouTube
Watch video tutorials on the Movavi's official channel:
Movavi Official