How to Convert a Video for Instagram
The popularity of Instagram lies in its simplicity as it's mainly built around the concept of sharing visual content. Initially, the service was more focused on photographs, but now its video segment has improved a lot. This has inspired many users to share their GoPro footage, travel videos, recordings of music concerts, etc. However, there are still a few technical limitations in terms of resolution, quality, and length, which can cause problems for users.
First of all, you should be aware that there are three types of videos you can upload to Instagram: feed video, story, and IGTV video. Depending on how you want to publish your clip, you need to prepare it differently. Let's have a closer look at these three kinds of Instagram video:
Feed video. When uploading a video to your feed, Instagram suggests cropping it by default to an aspect ratio of 1:1, which is a square format. However, it also allows for uploading in 16:9 or 4:5 if it is not possible to fit all the necessary details of the video into a square frame. The video in your post must be no longer than 60 seconds, otherwise you will have to trim it to that length.
Story. Video stories on Instagram are short 15-second clips which are kept in your profile for 24 hours only and then are archived. Story videos use the full screen area of your phone, thus allowing you to upload clips with a 9:16 aspect ratio in portrait orientation. Note that you can split one long video into several 15-second clips as they will be automatically played one after another.
IGTV. If you like the story format but you want to upload a longer video without splitting it into smaller clips, that's when you need IGTV. Basically, it has the same parameters as the story type but with the maximum length increased to 10 minutes instead of 15 seconds. Users can also upload widescreen videos with a 16:9 ratio in landscape orientation to IGTV, which can easily be watched with your phone turned horizontally.
You should also bear in mind that the app supports only few video formats, meaning that you may also have to convert your video for Instagram. But if you think that all this information is too difficult to handle, you just need to find a decent Instagram video converter to help you get the right aspect ratio, orientation, and format. In this case, it would be a good idea to try Movavi Video Converter. Using this powerful yet user-friendly software, you'll be able to not only convert your videos into the most appropriate format but also crop and rotate them. Take a look!
Download Movavi Video Converter for PC or Mac and read the guide below to learn how to easily prepare your Instagram video.
Install Movavi Video Converter
Launch the downloaded file and follow the instructions to install the program. Double-click the desktop icon to launch the converter.
Add a File to the Program
To add a video, open the import menu by clicking Add Media, choose Add Video, and browse your system's folders to find the video you want to work with. Remember that you can convert a GIF to a video for Instagram as well. To do this, click Add Media, choose Add Image, and browse for the animation file on your hard drive. Alternatively, you can simply drag and drop your media file directly to the program interface.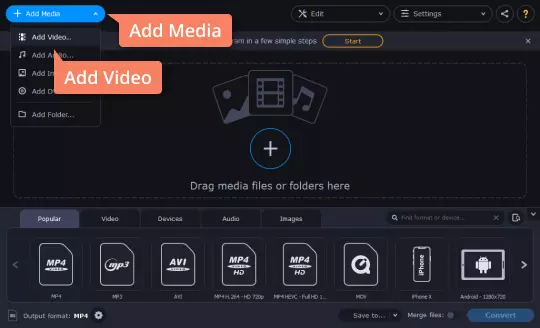 Make a Video for Your Instagram Feed
To make your video square with an aspect ratio of 1:1, you need to crop it. Click the Edit button, located to the right of the video you're working on, to open the editing tools.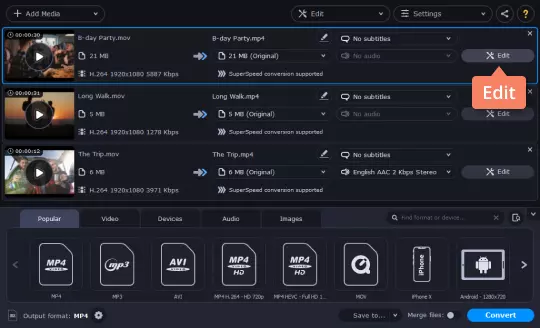 Go to the Crop tab and in the preset list, choose 1:1. Change the size of the area selector by dragging its edges and move the frame to the desired place on the preview. Make sure that the width of the selected area is equal to its height (for example, 720 × 720). When you're done, click Apply and Done.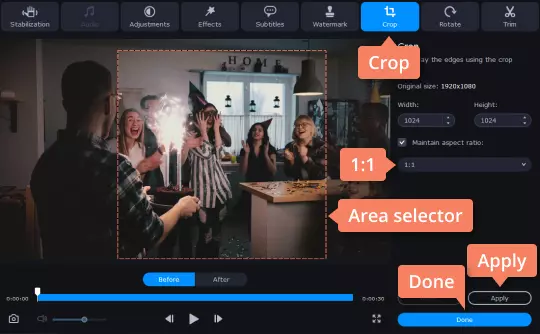 Make a Story or an IGTV Video
If you want to publish your video as a story or IGTV video, you will need to change the ratio to 9:16. There are two ways of doing this, depending on how you want your video to look.
Crop Your Video
When you try to upload a 16:9 video as a story or IGTV video, Instagram crops it by default but only to the center of the video, so you won't be able to move the focus to any elements on the left or the right side of the video. In this case, you can crop it manually. To do this, click the Edit button.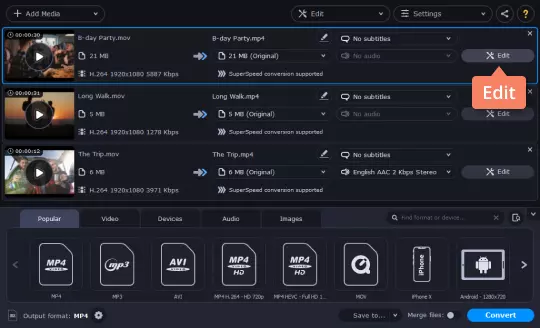 Go to the Crop and choose the 9:16 preset. Move the area selector to the position you want to crop, then click Apply and Done.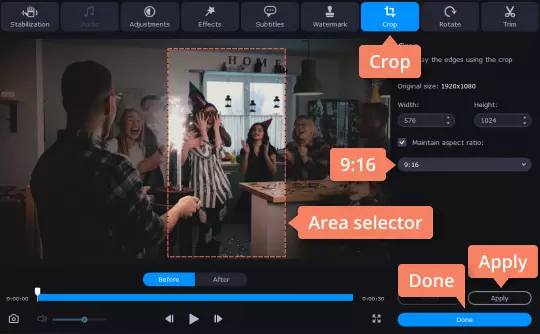 Rotate Your Video
If you don't want to crop your video because you want your friends to see the full view, you need to rotate the video. When you rotate a 16:9 video, it changes the aspect ratio to 9:16, but now you will have to flip your phone to the landscape mode to watch it. In the Edit window, go to the Rotate tab and choose Rotate clockwise. Click Apply and Done to go to the next step.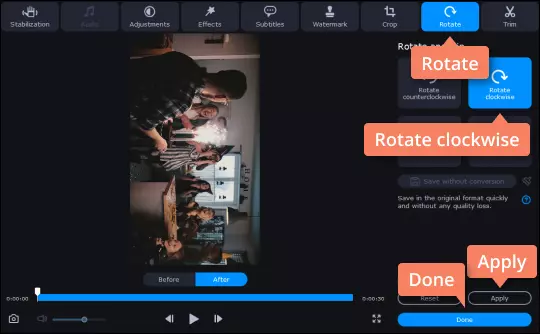 4. Change the Output Format
Instagram is a mobile app, which means it works better with the video formats used in smartphones and tablets. So if your video is saved in MOV, AVI, or MKV, you'll need to convert it to a more accessible format like MP4. To do this, go to the Video tab, choose the MP4 group of presets and select the MP4 H.264 - Original Size preset. If your original file was in Full HD or even 4K quality, it shouldn't be a problem as Instagram works well with such files. However, the app does compress all files by default, so there's unfortunately no way to upload your video without losing quality.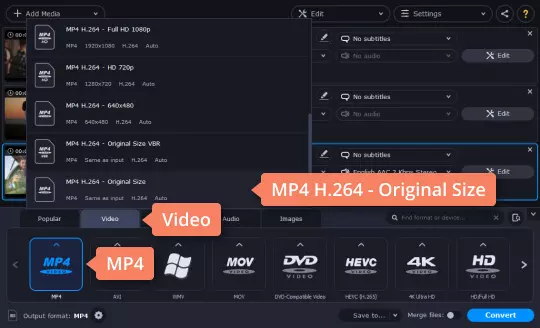 5. Convert Your Instagram Video
When all the editing is done and the format has been chosen, select the destination folder by clicking the Save to button. Now click the Convert button to save the final result. When the conversion is complete, the folder containing your file will open automatically. Now all that's left to do is to transfer your video to your device and upload it directly to your Instagram account.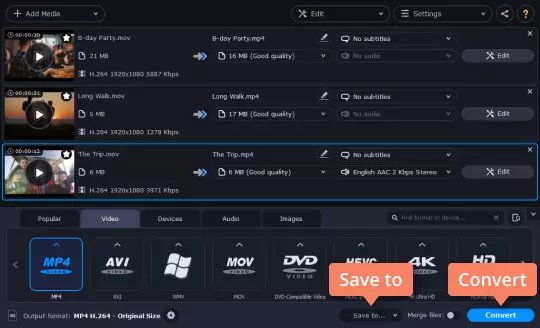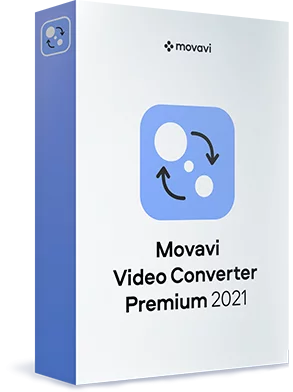 Movavi Video Converter
The ideal way to get your media in the format you need!
Convert video, audio, DVDs, and image files

Enjoy lightning-fast conversion without quality loss

Improve quality, adjust sound, trim and join files before converting

Save video and audio clips for easy mobile access
Frequently Asked Questions
Which Video Format Is Best for Instagram?
The best video format for your Instagram posts, Stories, and IGTV is MP4. The most appropriate video and audio codecs are H.264 and AAC respectively.
What Aspect Ratio Is Best for Instagram?
1.91:1
The aspect ratio recommended by Instagram is 1.91:1. But, of course, there are more options. For instance, photos can have an aspect ratio of 1.91:1 (1080 × 608), 1:1 (1080 × 1080), or 4:5 (1080 × 1350); videos can have an aspect ratio of 1.91:1 or 4:5. Two options are available for Instagram stories – 1.91:1 or 9:16 (1080 × 1920). The best aspect ratio for IGTV videos is 16:9 or 9:16.
How Do You Post a GIF on Instagram?
As Instagram doesn't support GIF files, you have two options: you can either create an IG story and add one of the GIFs from the GIPHY library, or you can convert a GIF to a video for Instagram and then add it to your feed.
How Long Can Instagram Videos Be?
A video for an Instagram post cannot be longer than 60 seconds. You can upload a video that is longer, but you'll have to select a 60-second segment from it to post.
A video for a Story can be up to 15 seconds long. If you upload a video that is longer than one minute, the clip will be shortened to four 15-seconds long pieces.
A video for IGTV can be up to 15 minutes long if uploaded from a mobile device or up to 60 minutes long if uploaded via the web version of Instagram.
How Do You Post a Long Video on Instagram?
If you have a longer video you want to post on Instagram, you have two options. You can upload your long video and select a 60-second segment from it. To do this, select your video, tap Next, then Trim, then hold and drag your video until the length is 1 minute.
Another option is to cut your video into multiple 1-minute-long clips and post them as a carousel. A carousel post can contain up to 10 videos. You can cut your video into parts with Movavi Video Converter.
See Other Useful How-to Guides