Three Ways to Compress Videos: Choosing the Best for You

Nobody wants to delete a favorite movie just because of its file size. When a video file takes up too much space on your hard drive or doesn't fit on the memory card for your portable device, you'll need to compress it. And you'll want that compression to be lossless, i.e., without any significant loss of quality.
If you like watching films on your multimedia player, smartphone or tablet, you'll definitely want to find the best way for downsizing large video files because data storage is usually quite limited. Plus, to transfer any video clip to a specific portable device, you may also need to convert it to a video format supported by that device.
In addition to mobile device usage, you also need to compress movies when you're preparing them for web upload since many online video sharing sites limit the video size and format of footage you upload.
Here's a short summary of some circumstances in which you might consider video compression.
Videos take up too much space
Even if your storage is really huge, there will come a day when you won't be able to download one more movie without first doing some cleanup. Store all your archives and favorite videos by compressing them, and there will be enough space for new ones.
Videos upload too slowly
If you want to send a video to your friend via email or transfer a movie to a flash drive, you might encounter a problem: large videos take too much time to upload. Speed up the process by compressing the files. Time is money!
It costs too much to store videos in the cloud
Cloud services ask to pay for additional storage. If you have too many files in the cloud, you'll need to buy more space – or compress the files. In the latter case, you can keep everything you need and will still be able to upload more files.
The tutorial below explains how to compress video files. There are several ways to do it, each with its own pros and cons. In this article, you'll learn how to reduce the size of your video using any of the options: a free app, multifunctional shareware, or an online compressor. We've also included some answers to frequently asked questions about video compression. Click one of the links below to get to the information you need:
Here, you can see some examples of video compression with the help of Movavi software. Of course, these numbers are just the average – actual results depend on the compression options you choose when working with the program.
| Video | Before compression | After compression |
| --- | --- | --- |
| Movie | 5.5 GB | 3 GB |
| Clip | 450 MB | 210 MB |
| Short phone video | 30 MB | 12 MB |
How to Compress Videos on a Desktop
With Movavi Video Converter, you won't need a degree in video engineering to convert even HD movies for playback on your mobile device or compress videos for web upload. The program provides a wide range of conversion presets for most mobile devices and websites.
To reduce the file size of your videos with the Movavi video compressor, follow the simple steps below.
No time to watch a video? Here's a text guide that will help.
Add a Video File
Click the Add Media button and then Add Video in the upper left corner of the program interface. Choose the video you want to convert from the Open File dialog box and click Open.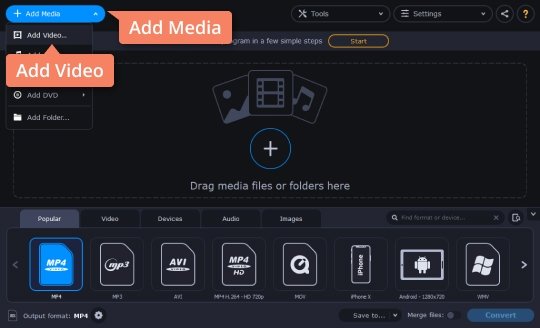 Choose the Format or Device Preset
Choose the desired video format or target mobile device from the ribbon of presets. You can also use the search function to quickly find the format or device you need. Alternatively, if you connect your device to the computer and click the Cell Phone icon to the right of the search bar, the program will detect your device automatically and suggest the appropriate preset.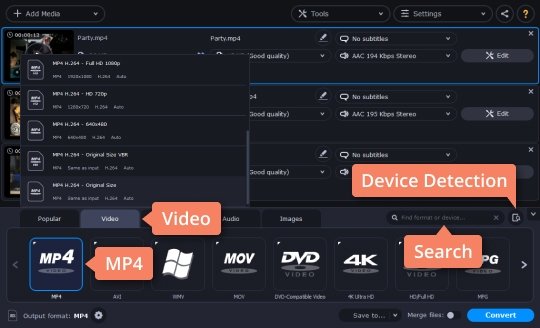 Define the Compression Rate
Return to the source file list and click on the file size in the output information. This will open a new dialog box. Move the File size slider to the desired output file size and bitrate. You can click the Convert sample button to check how a small segment of the file will look like after conversion.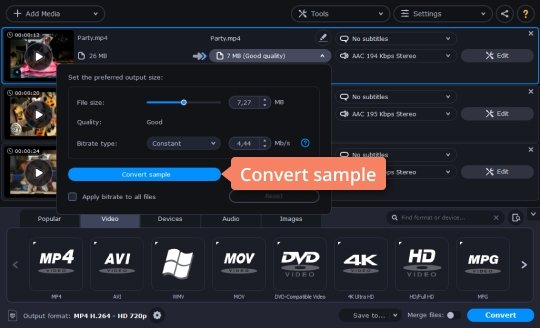 Compress the Video
Choose the output folder for the compressed videos by clicking the Save to button at the bottom of the interface and selecting the desired destination. By default, the output video will be saved in the Movavi Library folder.
Press the Convert button to start the compression process. After the operation is complete, the output folder with the converted video will open automatically.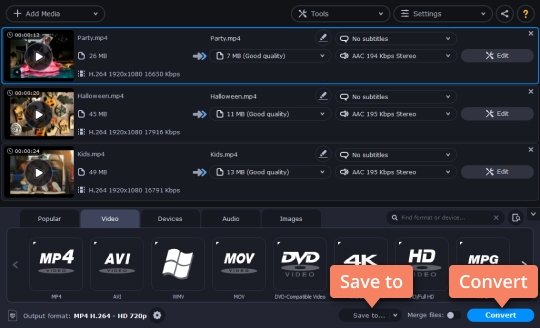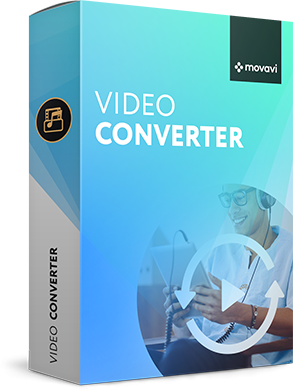 Movavi Video Converter
The ideal way to get your media in the format you need!
Convert video, audio, DVDs, and image files

Enjoy lightning-fast conversion without quality loss

Improve quality, adjust sound, trim and join files before converting

Save video and audio clips for easy mobile access
Differences between Desktop and Online Converters
Online Video Converter
Long-time wait
Limited file size
Popular formats supported
Slow compression speed
Movavi Video Converter
0-second wait
No size limits
180+ formats, presets for 200+ devices
Fast compression speed
Online user support
How to Reduce Video Size with an Online Video Compressor
Sometimes you would rather not download anything – for example, if you're out of storage or don't have root privileges to be able to install any new software, but still need to compress a file or two. Using an online tool will solve these problems. Here's how to compress a video online.
Go to the Compressor Website
The link below will get you to the right place:
Upload Your Clip and Define the Compression Properties
Click Add Your Media button. In the window that appears, find your video file and hit Open. Please note that the file size is limited and you can upload only one file at a time.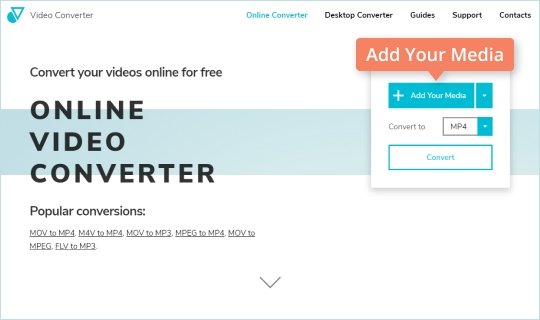 Compress the Video
Click the Cogwheel icon to open the Options menu. Lower the video resolution of your clip to make the file smaller. Hit Convert to start the compression process. After it's finished, the compressed file will be downloaded automatically; otherwise, just click the Download button.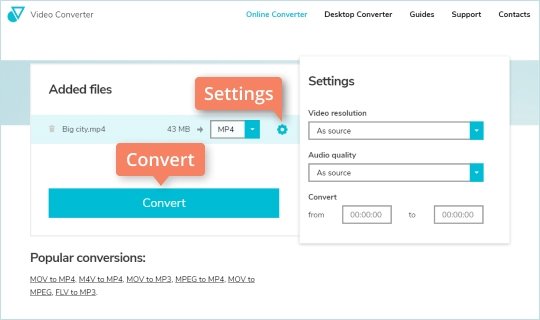 How to Use a Free Video Compressor
Of course, there is also free software that can reduce the size of your video files. Our recommended alternative is VLC Media Player, and it has several options for file compression. First, get the software by clicking the link below:
Download the appropriate version of VLC
Install and run the program. From the Media menu, select Convert / Save, then hit the Add button to import your files. Click Convert / Save again. In the new window, click the Wrench icon and go to the Video codec tab. Here, you can change the codec, resolution, or bitrate of your video, making it smaller. After you finish your modifications, hit Save, choose the destination folder by clicking the Browse button, and then hit Start to launch the compression. Wait for a short while until your video is ready. Now you know how to compress the video to a smaller size for free.
Frequently Asked Questions
What is a Video Compressor?
A video compressor is a program that helps you to reduce the size of your video files. The compression rate depends on the video codec and bitrate. Different video formats may use different codecs, so changing formats may help to lower the file size.
How to Compress a Video File on Mac?
The programs described above are also available for macOS users, and the online service works on any operating system.
What is the Maximum Size for a Video on WhatsApp?
You can send a video via WhatsApp if the file doesn't exceed 16 MB. If it is larger, the program will offer to trim the video for you to make it smaller. The length of a 16 MB video is approximately 1.5-3 minutes so, if you have a one-hour video, it would be better to upload it somewhere and send out a link to it.
What is the Smallest Video Format that Retains High Quality?
Video properties depend on codecs and bitrate, and different formats may use the same codecs, so choose the codec, not the format. H.264 and VP8 are good in compression, so WebM and MP4 offer good quality while maintaining a manageable video file size.
How to Compress a Video for Email?
If you want to email a large video, consider using a video compressor for your file to meet the size restrictions. This guide will help:
See Other Useful How-to Guides