Although we've largely moved away from physical media, there are still a lot of DVDs out there. These discs will eventually wear out over time, and making an MP4 backup of them is important. This is especially true if you've previously burned any family videos onto a DVD. A good Mac DVD-to-MP4 conversion will keep your memories safe for a long time. If you are wondering how to convert a DVD to MP4 on Mac, this post will help you discover some great tools that will allow you to do so.
How to Convert DVD to MP4 on a Mac with Movavi Video Converter
With Movavi Video Converter, it is easy to convert a DVD to MP4 on Mac. You don't need to understand how video formats work or what settings are best. By just selecting a preset and pushing a button, you can rip a DVD to your computer. Here are the simple steps from start to finish.
Step 1. Download and Install Movavi Video Converter
The installation file for Mac is in the DMG format. After it is downloaded, open it up. The DMG will mount and a Finder window will pop up. Follow the instructions in the window to move Movavi Video Converter to your "Applications" folder.
Step 2. Launch the Software and Add Your DVD
Double-click on the program in your "Applications" folder to open it. You can also find it from Launchpad. When it is open, you'll see a button in the upper left corner that says Add Media. Click on that and select Add DVD, then Open DVD. From there, navigate to your DVD drive and locate the "VIDEO_TS" folder. Highlight it and click Select Folder.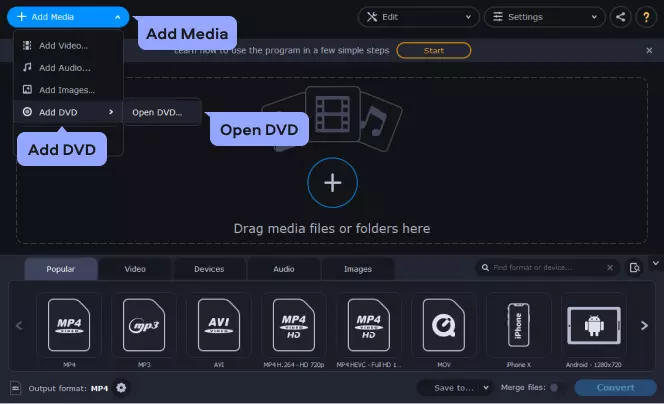 In the lower section of the screen, you'll find the Video tab. Go to tab and find the MP4 group. From that group, select a preset that best fits your needs.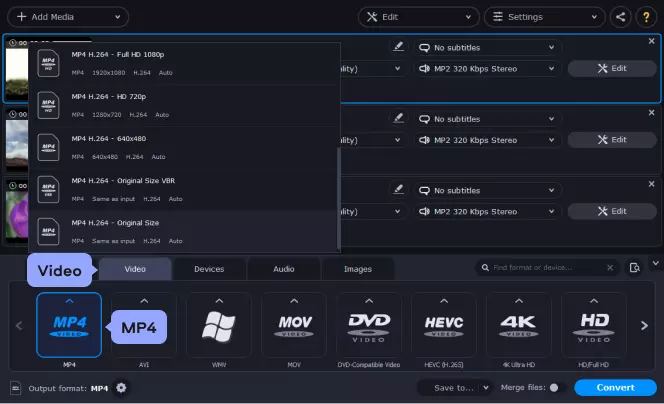 Step 4. Start the Conversion
Look for the Save to button in the bottom right of the window. After clicking on that, you'll be prompted to specify a location to save your converted files. Pick on location and press Convert. Now you just need to wait for it to convert the DVD to MP4.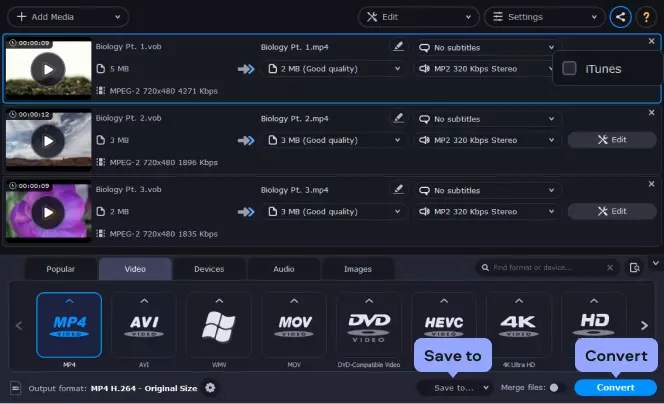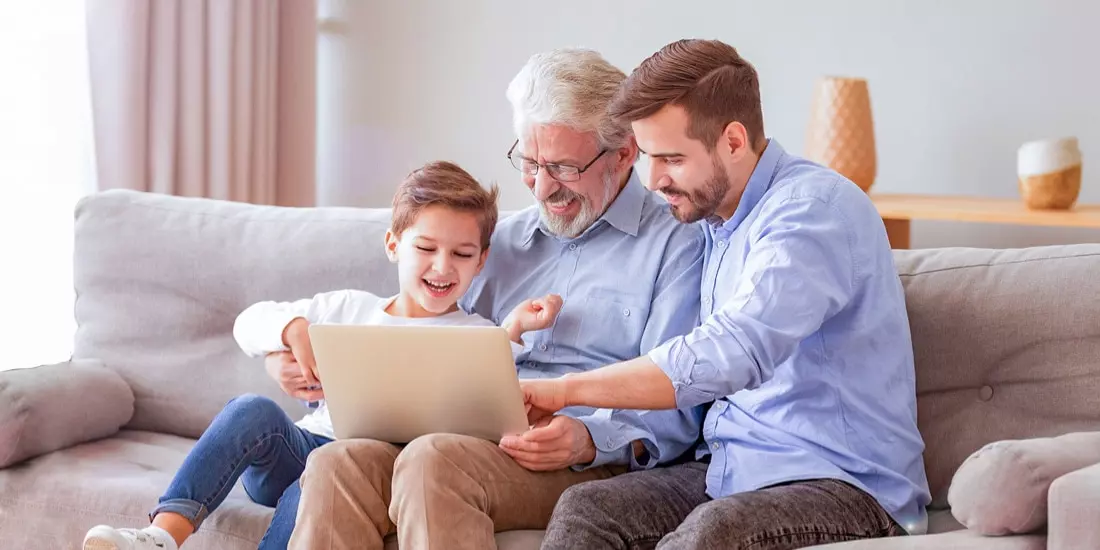 Movavi Video Converter
The ideal way to get your media in the format you need!
How to Convert DVD to MPEG-4 (MP4) on a Mac for Free
There are also free options available that will let you convert a DVD to MPEG-4 on a Mac. These options often lack features of commercial products, or are harder to use, but they are often good enough for basic needs. The list below should help you find the free DVD-to-MP4 converter for Mac that fits your needs.
How to Convert DVD to MP4 with VLC on a Mac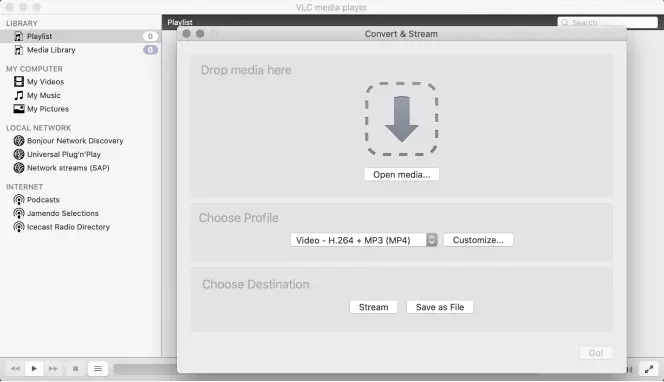 VLC is one of the most popular media players in the world. Because it supports nearly every file format ever made, it has become a standard download for users of Mac and Windows and comes pre-installed on most Linux distributions. You will no doubt find it worthy of replacing QuickTime as your media player of choice on your own Mac. But VLC is more than just a media player. It can also rip from DVD video folders and convert the result to MPEG-4 (MP4) format, or nearly any other format you want. Because it is useful as far more than a DVD ripper, this free download makes an excellent choice when you need a DVD-to-MP4 converter for free on Mac. Here's how to convert DVD to MP4 on Mac with VLC:
After downloading the software from the VideoLan website, open the DMG file and install it into your applications folder.
Go to the VideoLan website
From the menu bar, open the File menu and select the Open Disk option. Next, switch to the Disc tab and press the Open VIDEO_TS / BDMV Folder button. A dialog will open that will let you browse to your DVD drive and select the "VIDEO_TS" folder.
At the bottom of the dialog, you'll see a checkbox marked Streaming/Saving. Select the checkbox and the Settings option will become enabled. Open that.
Click on the Save as File button to select where you'd like your converted DVD to go.
To start the conversion process, simple click on the OK button and wait for the conversion to finish. You'll then be able to browse to the destination folder and find your video.
You can read more about what makes VLC a great media player below:
VLC review by TechRadar
How to Rip DVD to MP4 on a Mac with Movavi Free Video Converter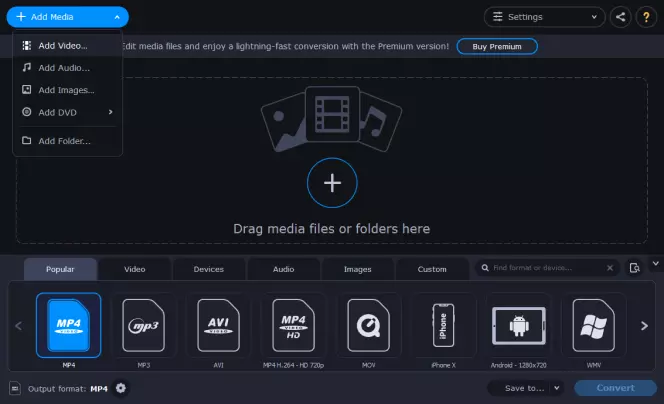 Movavi Video Converter, described above, also has a free version available for Mac. Convert a DVD to MP4 just as easily as the paid version, and don't pay anything. For basic needs, the free version of Movavi Video Converter will serve you just fine. If you find that you frequently need more advanced features, such as automatic conversions, online subtitle searches, basic editing tools, and much faster conversions, you can upgrade to the paid version at a later date. The process to rip from DVD to MP4 on Mac is the same as the paid version:
Download and install the free version of the Movavi Video Converter.
Go to the Movavi Free Video Converter website
Launch the software and then click on Add Media, followed by Add DVD, and then Open DVD. In the dialog that opens, select the "VIDEO_TS" folder of your DVD.
Select a preset that matches your desired output specifications.
Click the Save to button in the lower part of the window and tell the software where to save the file.
Press Convert to begin the process.
How to Rip DVD to MP4 on a Mac with HandBrake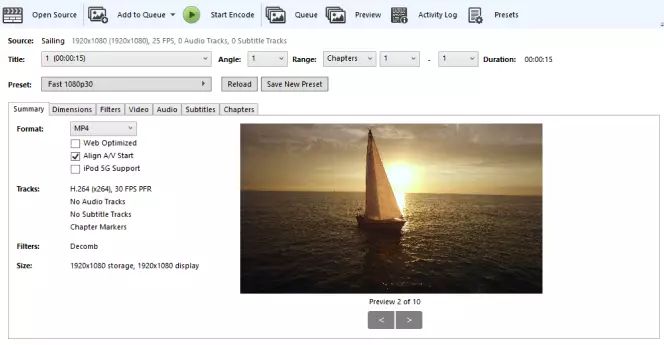 As the use of physical media has declined over the years, HandBrake has rebranded itself as more of a general video conversion tool, but this long-time open source product was originally designed for Mac to rip DVD to MP4 files. This means you'll find several DVD-specific features in this program that you might not find in other non-commercial software. Available as freeware for Mac, Handbrake makes an excellent choice for those looking to use a Mac to rip a DVD to a more modern format. You'll find step-by-step instructions to convert DVD to MP4 on Mac below:
You'll find the HandBrake installer on the program's website. After you've downloaded and installed it, launch the program.
Go to the HandBrake website
Look for the Open Source button on the top left of the screen once the program starts up. Press and select the contents of your DVD drive.
Near the top of the screen, you'll see a text field that lists a destination. Next to the text field is a Browse button. Click on that button to select the location you'd like to save your converted file to.
Underneath the destination text field is a dropdown list that allows you to select a preset for saving your file. Choose the one that best suits your needs.
The lower half of the HandBrake screen has several tabs that will allow you to adjust your output settings. Browse these and make any changes you want to customize your conversion.
Back at the top of the screen, you'll see the Start Encode button. Press that button to begin the conversion process.
You can read more about HandBrake's DVD conversion features below:
TechRadar review of HandBrake
How to Use QuickTime to Convert DVD to MP4 on a Mac for Free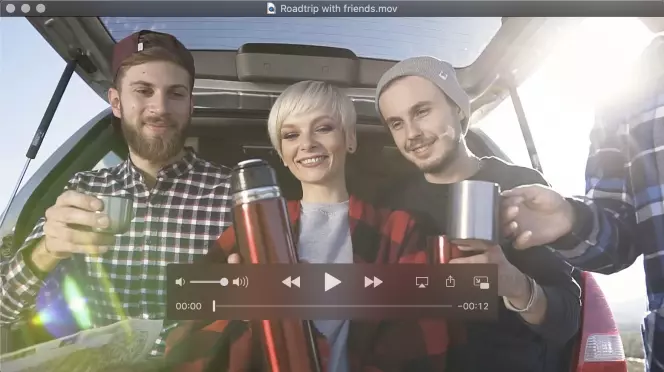 QuickTime comes pre-installed on every Mac for free and you may have heard that the MP4 format is actually based on the QuickTime format, so it would seem like the perfect tool to convert a DVD to MP4 on a Mac for free. Unfortunately, the number of media file formats that QuickTime supports is limited, and VOB files, which are used by DVDs to encode video, are not included in that list. So while QuickTime can make an excellent MP4 converter on Mac for some file formats, you'll have to look elsewhere when looking for Mac DVD converters. Thankfully there are some great free options on this list that will convert DVD to MP4. VLC even makes a great replacement media player for QuickTime, due to its extensive media codec support, and it can rip from DVD to MP4 on Mac.
To read user reviews of the program, follow the link below.
Reviews on MacUpdate
How to Use AVC as a DVD-to-MP4 Converter on a Mac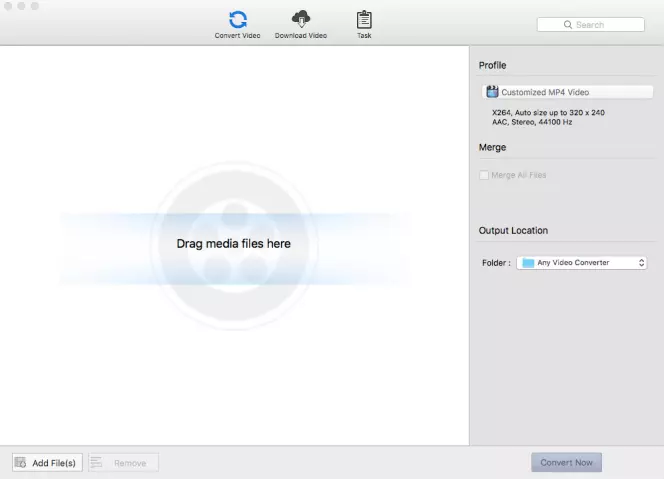 Any Video Converter (AVC) comes in several versions. Any Video Converter Pro and Any DVD Converter Pro both cost money and bring additional features to the free version. While both of them will bring more configuration options and an easier process for converting a DVD to MP4 on Mac, the free version can do the job. It works because it supports VOB files, the format used by DVDs, as input format. Here's how to convert those VOB files to MP4 using Any Video Converter Free:
First, download the macOS version of Any Video Converter Free and then install the software onto your Mac.
Go to the Any Video Converter website
Click on the Convert Video panel. Use the Add Files option from the File menu to bring up a file browser dialog. Navigate to your DVD driver and find the VOB file you want to convert from the DVD's "VIDEO_TS" folder.
From the Profile dropdown lost on the right of the screen, select one of the MP4 presets that best matches your goals.
Select a destination for the file from the Output Location dropdown list. If you do not see the location you'd prefer, you can use the Choose... dropdown to set a specific folder as the destination.
Press the Convert Now button to begin the conversion process. You'll be able to track the progress of the conversion from the Task panel.
You can read more about AVC's free version at the link below:
AVC review by Lifewire
How to Use MacX DVD Ripper Mac Free Edition – DVD-to-MP4 Freeware for Mac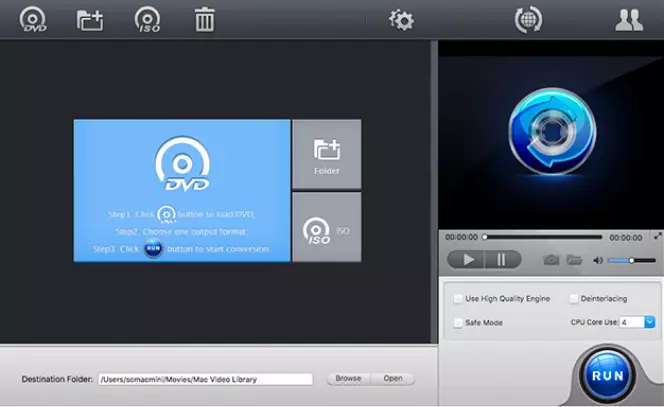 Like HandBrake, this software is specially designed for Mac to rip DVD to MP4. There is a paid version, but the free version is very capable. In addition to ripping DVDs, MacX gives a basic editor for creating effects, resizing the video, and adding subtitles. To use your Mac to convert DVD to MP4 with MacX DVD Ripper, follow these simple steps:
Download the software from the MacX DVD Ripper Free web page. After you have installed it, open it up.
Go to the MacX DVD Ripper website
Click on the DVD button to load the DVD that you want to convert.
You'll now be presented with a dialog that asks you to choose an output profile. Choose the MP4 preset that matches your target device.
Look in the lower part of the screen for the section that shows the destination. Change that location to your own desired output directory.
Press the Run button in the lower right corner of the window to start the conversion.
You can read more about the different versions of MacX DVD Ripper below:
Macworld review of MacX DVD Ripper
How to Choose Software to Convert DVD to MP4
At the core, a DVD-to-MP4 converter for Mac is just like any other video conversion software. This means that you'll want to look for the same set of features that make video conversion software worth using. The biggest thing is to look for software that is both easy to use when you want it to be, and powerful when you need it to be. This means that the best DVD-to-MP4 converter for Mac is going to have a lot of presets to let you choose an output format without much technical knowledge. It will also have a lot of settings so you can tweak those presets to match your exact specifications if the need arises.
Frequently Asked Questions
Is ripping a DVD legal if it's for personal use?
Every DVD that contains copyrighted works opens up with a warning that it is illegal to copy the disc. In most cases, it is true that performing a DVD-to-MP4 conversion will violate copyright laws. If you are only copying the DVD for personal use, and do not distribute the converted files, however, it is unlikely that the authorities will pay any attention. To be safe, we suggest you always check with your local laws before you use a DVD-to-MP4 converter on Mac for copyrighted DVDs.
How long does it take to convert a DVD to MP4 on a Mac?
Many people ask how long it takes to rip a DVD to MP4 on Mac. The problem with the question is that it varies depending on a lot of factors. The speed of your hardware, the size of the DVD, the performance of the software's algorithms, and more can all play a role in determining how long the conversion will take. In general, we recommend planning on a conversion taking somewhere between 40 minutes to an hour and a half.
How do I save a video from a DVD to my Mac?
Sometimes, you don't want your Mac to rip a DVD to MP4, but rather want an exact digital copy of the disc on your Mac. It is easy to perform this task using Disk Utility:
Insert the DVD into your computer. Mac will automatically launch the DVD player. You can exit out of that.
Go to the "Utilities" sub-folder in your "Applications" folder and open Disk Utility. On the left, you'll see an entry for your DVD drive, and then an indented entry for the DVD itself. Select the latter one.
Click on Save As and tell the program where you'd like to save the file. While in the dialog, set the Image Format to DVD/CD Master.
You now have an exact copy of the contents of the DVD on your Mac.
Sign up for news and special offers