How to Convert Videos to HD
Cameras, smartphones, and HDTVs that support high-resolution videos are now widely available, as well as hosting sites offering 4K and 8K clips. If you've downloaded a high-resolution video from the Internet and want to watch it on a PC, you may encounter several problems. Videos of such high quality may lag and buffer a lot on PCs with low performance. One of the best solutions would be to use an HD video converter. This can reduce the file size significantly, without seriously impacting the quality of the video. Try Movavi Video Converter to change the format and resolution of your videos in a fast and easy way. Check out this guide to learn how to convert a video to HD.
How to Convert a Video to HD Using Movavi Video Converter
Using Movavi Video Converter doesn't require any special skills. Anyone reading this guide can convert their videos to HD – just follow the simple steps below.
Install Movavi's HD Video Converter
Download the installation file and install the software following the instructions on your computer screen. The program is available for Windows and Mac.
Add Files to the HD Converter
Launch the app. Сlick the Add Media button, then Add Video and choose the files you want to convert. The video converter supports batch processing, so you can add and convert multiple files at once.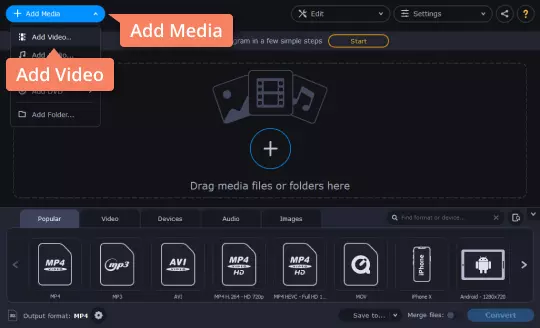 Specify the Output Format
Open the Video tab in the lower part of the program window. Locate the HD Video preset group and select the appropriate preset. If you want to convert 8K video to 4K or 2K, then choose the 4K Video group and select the appropriate preset.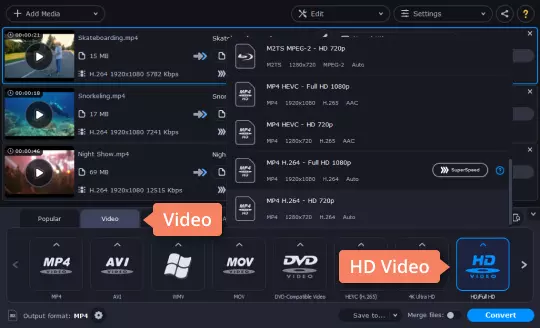 Start the File Processing in the HD Converter
To change the destination folder for your converted files, click the Save to button. After you select the desired folder, hit the Open button. Next, click Convert to start the conversion.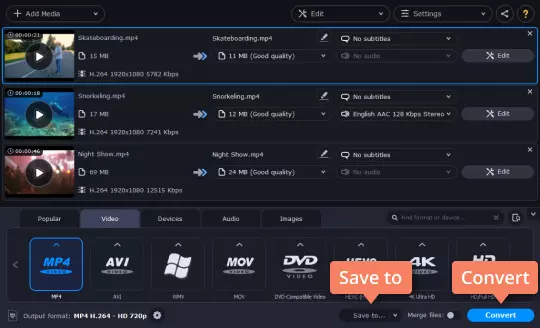 Now you know how to use Movavi's video converter for HD-quality movies. With this program, you can also convert files to many other popular formats, including MP4, AVI, MKV, 3GP, change the format of videos from Blu-ray discs and DVDs to watch on a computer, and much more.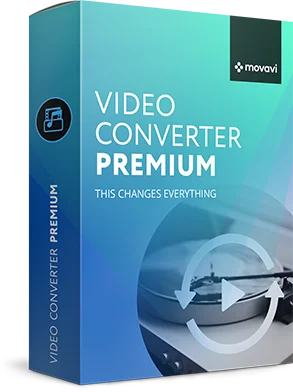 Movavi Video Converter
The ideal way to get your media in the format you need!
Convert video, audio, DVDs, and image files

Enjoy lightning-fast conversion without quality loss

Improve quality, adjust sound, trim and join files before converting

Save video and audio clips for easy mobile access
Resolutions Description Table
| Name | Resolution | Alternative names | Devices |
| --- | --- | --- | --- |
| 720p | 1280&nbsp×&nbsp720 | HD, High Definition | TVs, smartphones |
| 900p | 1600&nbsp×&nbsp900 | HD+ | TVs, monitors, smartphones |
| 1080p | 1920&nbsp×&nbsp1080 | Full HD, FHD, HD, High Definition | TVs, monitors, smartphones |
| WUXGA | 1920&nbsp×&nbsp1200 | Widescreen Ultra Extended Graphics Array | Monitors, projectors |
| 2K | 2048&nbsp×&nbsp(undefined) | — | Projectors, smartphones |
| UW-FHD | 2560&nbsp×&nbsp1080 | 1080p Ultrawide | Monitors |
| UHD | 3840&nbsp×&nbsp2160 | 4K, Ultra HD, Ultra-High Definition | TVs, monitors |
| 4K | 4096&nbsp×&nbsp(undefined) | "Cinema" 4K | TVs, projectors, Sony smartphones |
| 5K | 5120&nbsp×&nbsp2880 | UHD+ | Monitors |
| 8K | 7680&nbsp×&nbsp4320 | 8K UHD | TVs |
Frequently Asked Questions
720p can be translated as 1280x720 and is usually known as "HD''.
Can You Convert 720p to 1080p?
You can easily convert 720p to 1080p with the help of Movavi Video Converter. But note that converting a video from 720p to 1080p means scaling up the video image to fill a 1080p format, so the quality of the video will likely be lower.
Is 1080p Better Than 720p?
Yes. 720p has an image resolution of 1280 pixels by 720 lines, whereas 1080p has a 1920х1080 resolution and provides a picture made up of 2.07 million pixels.
How Do I Convert an MP4 Video to HD on a Mac?
To create an HD MP4 video, download Movavi Video Converter and follow the simple steps below.
Launch the installation file on your computer and follow the instructions on the screen. Once the installation is complete, the program will open automatically.
Click Add Media, then Add Video, and select the files you want to convert.
Click Video, then select the HD Video presets and choose one of the suggested formats.
Click the Save to button and specify the folder in which the files will be saved, then hit Convert. The folder containing the converted files will open automatically.
Converting to HD makes sense when the input video file resolution is higher than the output file resolution desired. If you want to create an HD video from a video in a lower resolution, remember that the result will be of a lower quality.
What Does "HD Camera" Mean?
HD cameras have a resolution of 720p or 1080p. These devices are used not only for personal purposes, but also for surveillance in the security industry.
See Other Useful How-to Guides