How to Convert a Video to HD
Today, high-resolution video is a lot more common than it used to be, with many smartphones, video cameras, and HDTVs out there that can play and produce HD videos, including 4K and 8K videos. Suppose you have a high-definition video file on your Mac or Windows computer and want to watch it on your device. In that case, you may experience certain problems.
If you want to play top-quality videos on your computer or any other device, an HD video converter can help make sure your videos are compatible with your operating system and hardware. An HD converter can reduce your videos' file size while preventing any loss of quality. You can also use these converters to change your videos' resolution, whether you want to enhance the quality or reduce the resolution to produce smaller file sizes.
There are several free HD video converters out there you can try, along with more premium paid versions that offer more features. Depending on what you're looking for, you can try an HD video converter online via a website or download software and freeware from trusted developers. With the right solution, you can convert your favorite videos to play them on any device without issue.
Regardless of what you're looking for, the options listed below can help you meet your HD video conversion needs based on your individual preferences.
How to Use HD Converter by Movavi
One of the most reliable tools to convert video to HD file formats is Movavi Video Converter, which you can download for Windows or Mac computers. Using this tool doesn't require any expertise, and it's easy to pick up and use for anyone. Some of the advantages of Movavi Video Converter that you won't find with other software include:
The ability to perform batch conversion of multiple files of any size and number
Lighting-fast conversion speed
Simple file compression and editing with basic video editing features
No loss of quality, even when converting 4K video files
If you would like to use this high-quality video converter, the following is a step-by-step guide for how to convert video to HD quality using Movavi Video Converter. You may find our tool to be the best HD video converter to meet your file conversion needs, whether using it for PC or Mac devices.
Step 1. Download and Install the HD File Converter
First, download and install Movavi's HD video converter on your Mac or Windows computer. You can follow the instructions that appear on your computer screen to install the program.
Step 2. Add Your HD Videos to Convert to HD File Formats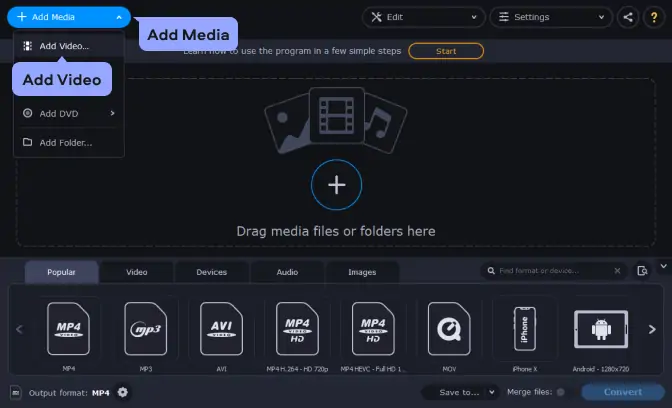 After installing the software, open it. From there, add files to convert by clicking Add Media and Add Video, at which point you can select your files and add them to the conversion queue. Movavi Video Converter supports batch processing, which means you can convert several files simultaneously if needed.
Step 3. Choose the Output Format for Your Videos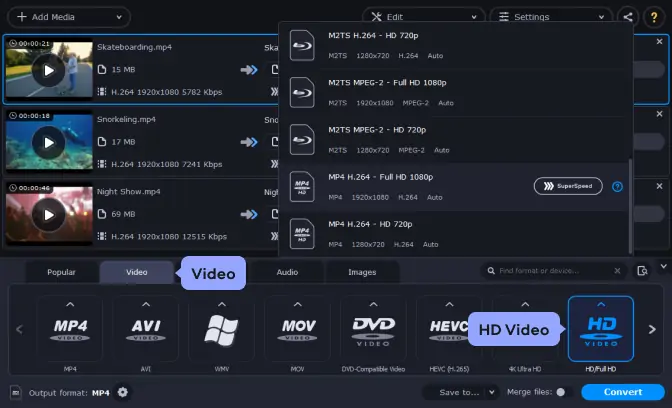 Select the file format you would like to convert your videos to by opening the Video tab toward the bottom of the window. For HD videos, you would select the HD Video preset group and click on the compatible preset. If you want to convert 8K video files to 4K or 2K formats, you can select the 4K Video group and locate the matching preset.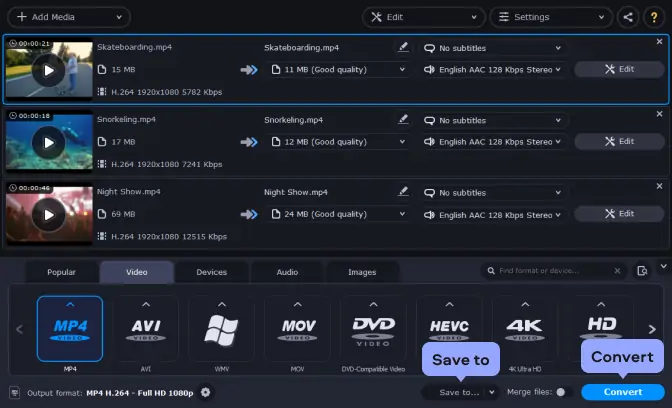 You can select a save destination for your converted files by clicking Save to. In the next window, select the appropriate folder to save the file and click Open. To start the file conversion process, click Convert and wait for the conversion to complete. Once the file has been converted, you can access it in the save folder and play it with a media player or move it to another device.
Using Movavi Video Converter, converting HD videos is easy, and you can also convert files in many other formats such as MP4, MOV, 3GP, MKV, and AVI. You can also convert Blu-ray and DVD formats into other file formats to watch them on nearly any computer or mobile device.
Top Video Converters to HD (1080p) Online & Free
If you would rather use an HD online video converter without downloading any software to your computer, there are many options available to help you convert your videos. Unlike software, online HD video converters allow you to upload your files to the converter's website, where servers perform the conversion and will enable you to download the file from the website to your device. An online converter is often ideal if you want a solution that's compatible with every device, whether you're using a Mac or Windows operating system. Using an online converter, you can also avoid inadvertently downloading any malicious software that you may risk with software solutions. On the other hand, you will need a reliable internet connection to use conversion websites.
With so many online converters out there, it can be challenging to locate the right one for you. To help you find the appropriate solution, the following are some HD-quality video converter websites worth trying.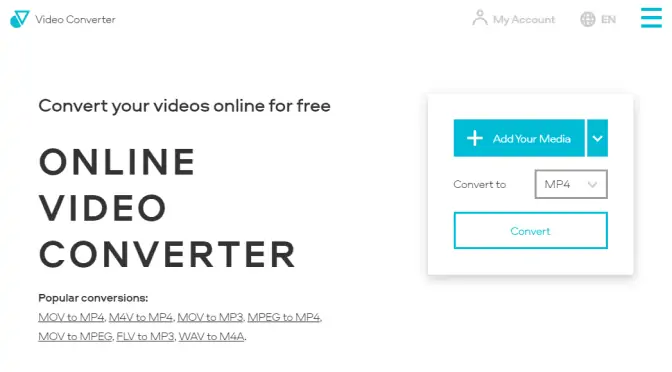 For a dependable 1080p video converter, consider using Online Video Converter. You can use this tool to convert videos of 1080p and even higher resolutions, and it supports many file formats. It's entirely free to use as a video or audio converter, with 24/7 online access without any need to download software. Simply access the Online Video Converter website, upload the video you would like to convert, select an output format, and begin converting. For even more convenience, you can download the Google Chrome extension to convert right from your browser at any time.
Online Video Converter supports over 40 media formats, offering over 2,000 different media combinations depending on whether you want to convert video to video, video to audio, audio to audio, or audio to video. The website uses incredibly powerful servers to keep conversion fast without quality loss. It's also safe and secure to use, as the website immediately deletes your converted files after you've downloaded them. In addition to uploading files from your computer, you can convert files from your Dropbox or Google Drive account.
If you're wondering how to convert low-quality video to HD, Online Video Converter also includes some enhanced conversion settings. You can compress videos, adjust video resolution, and change audio quality, depending on your preferences.
The biggest disadvantage you'll find with Online Video Converter is that the free version is limited, as you'll need to pay for the paid version and desktop converter if you want access to more features and higher file size limits.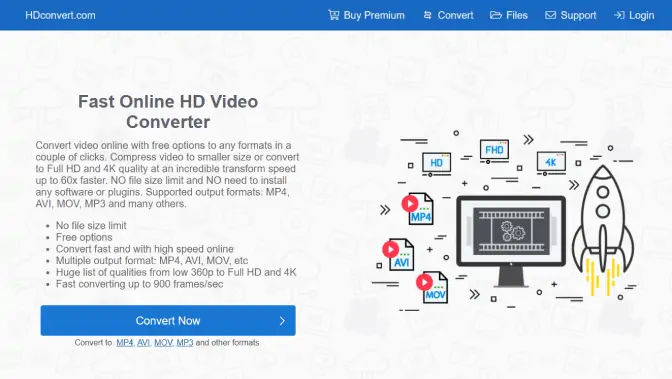 Another video converter to HD 1080p online for free is HDconvert, which makes it easy to convert videos to full 1080p or 4K quality without any file size limit and any need for any type of software or plugins. You can use HDconvert to convert your videos online, with the ability to compress videos to smaller file sizes or convert high-quality videos at some of the fastest speeds available. The converter supports a wide range of video file formats, including MP4, MOV, and AVI.
What makes HDconvert so efficient is that it's entirely cloud-based, enabling you to upload your video files to the website's cloud services and convert them at high speeds without client-side resource allocation. Using HDconvert, you can convert files anywhere and from any device, experience conversion speeds of up to 900 frames-per-second, and choose from several output qualities and formats. To protect users' privacy and data security, the server will delete your files 24 hours after saving your converted videos. For high-resolution videos, quality options range from 720p to 4K Ultra HD but keep in mind that the output quality will depend on the quality of the original file. You can also compress files to resolutions as low as 240p if you want to reduce quality and file size. HDconvert also offers customer support if you have any questions about the converter or need assistance.
The only problem with HDconvert is that the free version comes with certain limitations. For example, all converted videos using the free version will feature an HDconvert watermark. HD conversion of 1080p and higher resolutions is also only available with the paid version starting at $4.99, but each plan comes with a one-time payment as opposed to regular monthly or annual rates.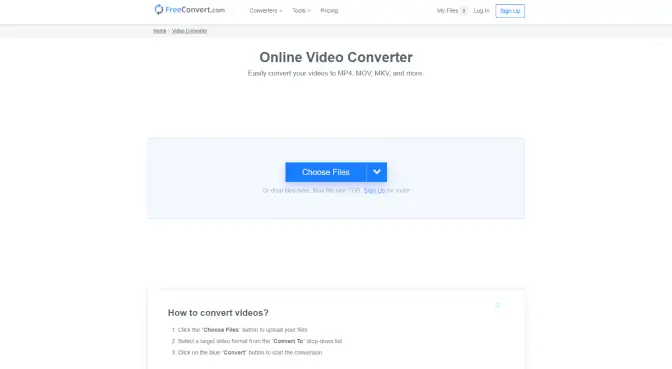 For a convenient video converter to HD quality that can convert video to HD 1080p and other resolutions, FreeConvert.com is another solid choice. It's a simple website that features a basic converter design to have you convert your favorite videos in short order. Simply upload your file to the website, choose a target format from the dropdown, and convert and download the completed file.
FreeConvert.com supports over 60 different file formats, including MKV, MP4, WebM, AVI, and many others, whether you're looking for a 1080p converter or another quality level. When it comes to quality, FreeConvert.com allows you to convert to 1080p and other resolutions, offering you the ability to adjust resolution, bitrate, and other settings before converting. It's also entirely secure, boasting 256-bit SSL encryption, and the platform also automatically deletes converted files after 2 hours, which helps ensure your data will never fall into the wrong hands.
Some downsides you may find with FreeConvert.com may include the lack of editing features, as you can't do much to modify your videos beyond basic adjustments. If you want to access additional features such as increased maximum file sizes, unlimited conversions, and batch conversion capabilities, you will need to pay for one of their premium versions, which start with a basic plan at $9.99 per month.
Top Free HD Video Converters
While online video converters can be excellent for performing HD file conversions, it may be better to have software that you can freely access on your device. With a downloadable free HD video converter, you don't have to worry about having a strong internet connection or uploading your video to a server – simply convert your video files offline without any compromise in the security of your data. The only risk that can come with using software to convert video to HD quality is potential adware, spyware, malware, or user tracking. Still, you can easily avoid these issues with the right developer. You may also find that certain software is only compatible with certain computers, with many options exclusively available for Windows or Mac operating systems.
The following is a list of trusted and reliable free HD video converter software to help you find a safe and effective platform to convert to HD video.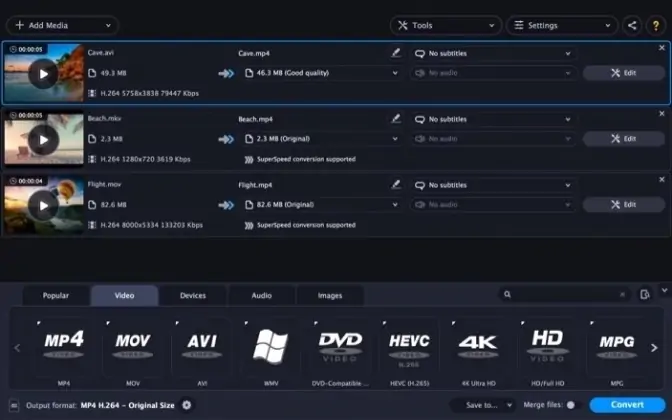 For an efficient and consistently reliable conversion software, try Movavi Free Video Converter. Download this HD video converter for free and use it for completing many types of file conversions. You can use it as an HD to MP4 converter, for instance, or you can convert to many other types of files with over 180 support formats. You can also reduce file sizes without any loss of quality, or you can reduce the resolution and use it to convert video to 720p or lower resolutions.
With Movavi Free Video Converter, you can benefit from top-quality and fast media conversion free of charge, access a library of a wide range of file formats for nearly any device, and convert images, audio, and other file types beyond video. The converter features over 200 presets for the latest devices, including smartphones, cameras, and computers from brands like Apple, Samsung, Sony, Xiaomi, and many others. The program can also automatically detect your device using an automatic recognition feature. The software is very user-friendly and features an intuitive design that's easy to navigate – you'll experience no confusion or headache when using this program.
Regardless of the conversion, you can enjoy your favorite media in its original quality, with the ability to compress videos without errors and choose from several predefined settings for added efficiency. The software is also safe and secure to use, with years of work going into this program to minimize the risk of troubleshooting issues. If you ever experience any problems with the software, you can also contact customer support to receive immediate assistance. If you want to convert multiple files, batch conversion is also available to process recordings from different smartphones and cameras simultaneously.
While Movavi Free Video Converter is highly convenient and ideal for simple file conversions, you will need to obtain the premium version to access more features. The paid version of Movavi Video Converter enables users to enjoy even faster conversion speeds, and you can edit your videos with the ability to crop, trim, rotate, and adjust the quality of your videos.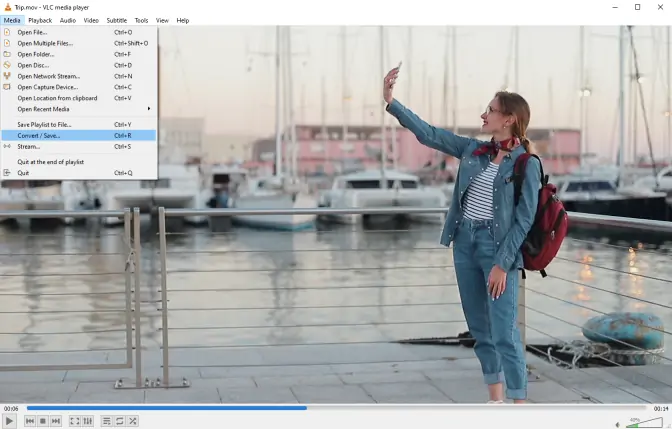 For an HD video converter that also functions as a universal media player, consider using VLC, also known as VideoLAN Client. VLC is a free open source multimedia player designed for multiple platforms, including Mac, Windows, and Linux operating systems. It can play media files along with DVDs, VCDs, and CDs, and you can also use it for streaming videos. In addition to playing media, you can also use it as an HD to MP4 video converter or use it to convert media to many other supported formats.
VLC is one of the most well-established pieces of software out there, which means that it's both reliable and safe to use. You never need to worry about downloading any ads, spyware, or user tracking along with the program, and it's incredibly easy to install and use on any device. The main advantage of VLC is that it plays a majority of codecs without the need to download any additional codec package, as it's compatible with MPEG-4, MPEG-2, H.264, WebM, MKV, and others. You can also customize the software with added skins or create skins using the VLC skin editor, which helps you create the look you want for your VLC player.
If you want to use the player to convert HD videos to other formats, it's a perfectly capable converter that can convert nearly any file format. Whether you want to use it as an MP4 to HD converter or work with other formats, it's user-friendly and consistently dependable. After many years of updates, you can also count on this player to come with minimal issues compared to other free software that hasn't been around as long. It's also fast and can complete high-quality conversions quickly.
There are a couple of problems that may deter users from relying on VLC. For one, the somewhat outdated design isn't the most appealing for many, and it's not the most intuitive. Some users have also reported issues when using VLC to play DVDs. Also, many editing features are absent if you want more advanced software to adjust video quality or make other changes.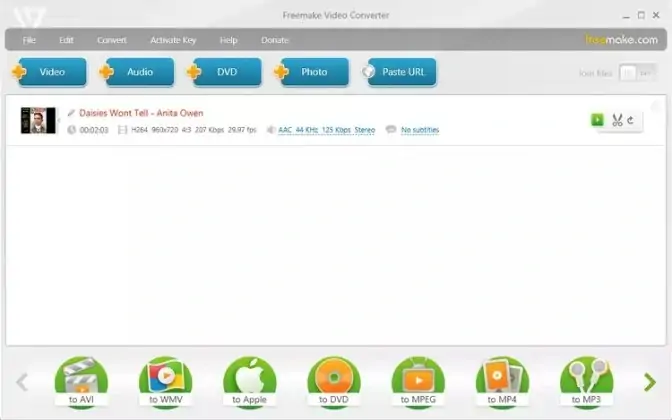 If you're looking for a 100% free converter that can convert nearly any HD format, including Blu-ray video, Freemake Video Converter is another reliable option. It's one of the most versatile converters out there, with other 250 file formats supported, including 1080p and 720p HD MP4, MTS, TS, MKV, MOV, and more. If you want to use it to change your videos' resolution, you can also use it as a 1080p to 720p converter or other resolutions. At the same time, you can also use it to convert videos without any loss of quality.
Freemake Video Converter specifically recommends converting to video formats using H.264 codec, which includes MP4, MKV, and AVI. You have the option of choosing either 1080p or 720p presets. It's easy to simply upload your video, select the output format, and begin the conversion. In addition to conversion, Freemake also offers free DVD burner software if you want to use it to burn high-quality DVDs. You can count on Freemake Video Converter to help you convert your favorite videos of nearly any quality and format, including video to SWF and DVD to MP4 conversions.
While Freemake Video Converter is very convenient, versatile, and easy to use, it's also missing a lot of editing features that you may look for in addition to a basic converter. There isn't a premium version of this software, so if you want to get more than a bare-bones converter, you may want to choose another option.
Download and Try Movavi Video Converter Today
If you're trying to find the best tool to convert video to HD quality file formats, you may find Movavi Video Converter to be the most reliable and efficient option. You can use it to convert files of nearly any quality. Any movie, TV show, or another type of video ranging from 720p to 8K can work with this software, giving you consistent results with every use. Download Movavi Video Converter and give it a try today to see if it's right for you and be on your way to converting HD video with ease and efficiency.
With the help of Movavi Video Converter, you can not only convert HD videos of nearly any format and resolution, but you can also edit them to optimize your conversions further. Regardless of your conversion needs, our software is capable of meeting them with a comprehensive, easy-to-use solution.
Resolutions Description
| Title | Resolution | Devices |
| --- | --- | --- |
| 720p (HD, High Definition) | 1280 × 720 | TVs, smartphones |
| 900p (HD+) | 1600 × 900 | TVs, monitors, smartphones |
| 1080p (Full HD, FHD, HD, High Definition) | 1920 × 1080 | TVs, monitors, smartphones |
| WUXGA (Widescreen Ultra Extended Graphics Array) | 1920 × 1200 | Monitors, projectors |
| 2K | 2048 × (undefined) | Projectors, smartphones |
| UW-FHD (1080p Ultrawide) | 2560 × 1080 | Monitors |
| UHD (4K, Ultra HD, Ultra-High Definition) | 3840 × 2160 | TVs, monitors |
| 4K ("Cinema" 4K) | 4096 × (undefined) | TVs, projectors, Sony smartphones |
| 5K (UHD+) | 5120 × 2880 | Monitors |
| 8K (8K UHD) | 7680 × 4320 | TVs |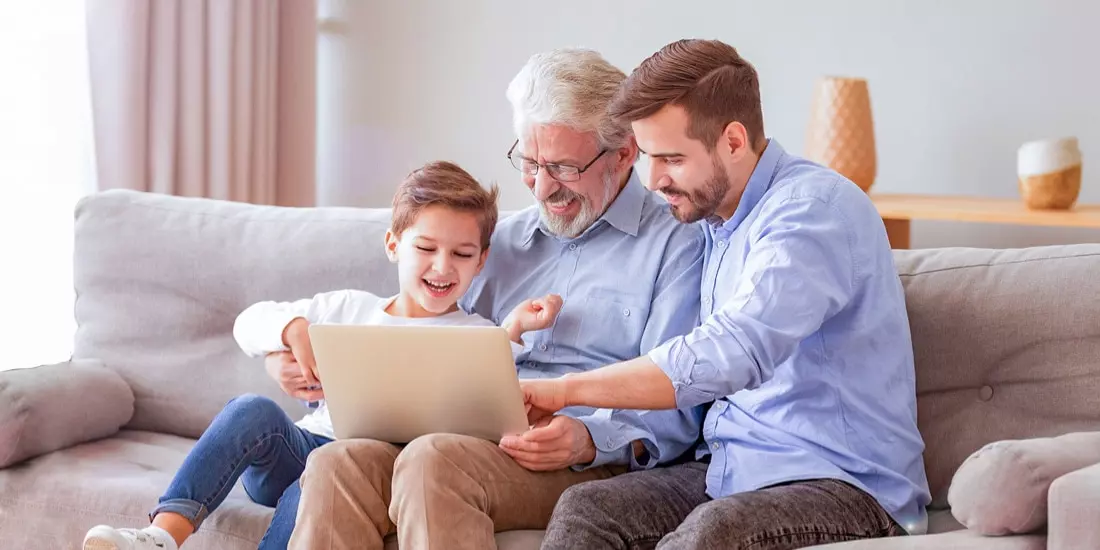 Movavi Video Converter
The ideal way to get your media in the format you need!
Frequently Asked Questions
What is 720p resolution?
720p can be translated as 1280x720 and is usually known as "HD''.
Can you convert 720p to 1080p?
You can easily convert 720p to 1080p with the help of Movavi Video Converter. But note that converting a video from 720p to 1080p means scaling up the video image to fill a 1080p format, so the quality of the video will likely be lower.
Is 1080p better than 720p?
Yes. 720p has an image resolution of 1280 pixels by 720 lines, whereas 1080p has a 1920х1080 resolution and provides a picture made up of 2.07 million pixels.
How do I convert an MP4 video to HD on a Mac?
To create an HD MP4 video, download Movavi Video Converter and follow the simple steps below.
Launch the installation file on your computer and follow the instructions on the screen. Once the installation is complete, the program will open automatically.
Click Add Media, then Add Video, and select the files you want to convert.
Click Video, then select the HD Video presets and choose one of the suggested formats.
Click the Save to button and specify the folder in which the files will be saved, then hit Convert. The folder containing the converted files will open automatically.
Converting to HD makes sense when the input video file resolution is higher than the output file resolution desired. If you want to create an HD video from a video in a lower resolution, remember that the result will be of a lower quality.
What does "HD camera" mean?
HD cameras have a resolution of 720p or 1080p. These devices are used not only for personal purposes, but also for surveillance in the security industry.
Sign up for news and special offers