Video Filters and Color Adjustment Tools
Applying video filters can help you enhance your movie and make it truly impressive. You can even completely change the look and the mood to match your creative ideas. Movavi Video Editor Plus has a great collection of video editing filters and tools – whatever you need to create the perfect clip. To enhance your video with a specially tailored atmosphere, you can apply artistic effects, add a contrast filter, or simply change the color parameters. Whatever you do, the difference will be amazing!
See what effects and tools you can find in Movavi Video Editor Plus:
Artistic
Find creative ideas for your video among the collection of artistic effects: Camera shake, Oil painting, Vertigo, VHS, and more.
Flying Objects
Create a joyful or romantic mood by choosing from the wide range of animated effects: Hearts, Gifts, Snowflakes, Stars, Autumn leaves, and more.
Retro
Give your video that evocative old movie look with Sepia, Grayscale, Vignette, and other retro effects. Or try the stunning Pop art filters.
Adjustments
Completely change the look of your video: invert, posterize, or sharpen the footage.
Blur
Make a blurred video to give the impression of speed, or mystery. Add diffusion, or apply the Tilt-shift effect.
Mosaic
Use mosaic generators of different sizes and styles: simple Mosaic, Glass, or Pixels.
Noise
Create a lo-fi effect by adding noise in an appropriate amount.
Automatic and Manual Adjustment Tools
Apply Auto saturation, Auto contrast, or Auto white balance correction. Try the Magic Enhance option to automatically enrich the colors. Adjust the brightness, contrast, saturation, hue, and many other visual parameters manually by moving the corresponding sliders.
How to Put a Filter on a Video with Movavi Video Editor Plus
Add Your Video File
Launch the program and choose Create project in full feature mode. After that, click the Add Media Files button and select the video you plan to work with; it will appear on the timeline. Alternatively, you can drag the file from the folder to the program's working area.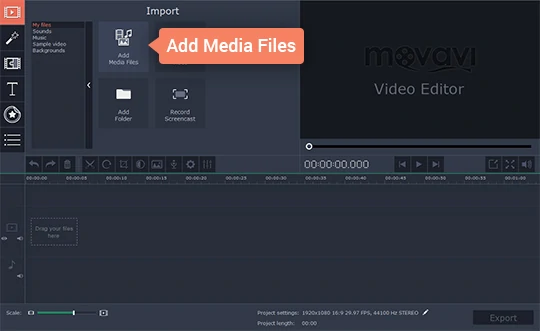 Use Filters and Tools to Enhance Your Video
To view the collection of video filters, open the Filters tab. Click on the filter you'd like to apply, and you'll see how it will look in the preview window on the right. Drag and drop the filters of your choice onto the video on the timeline.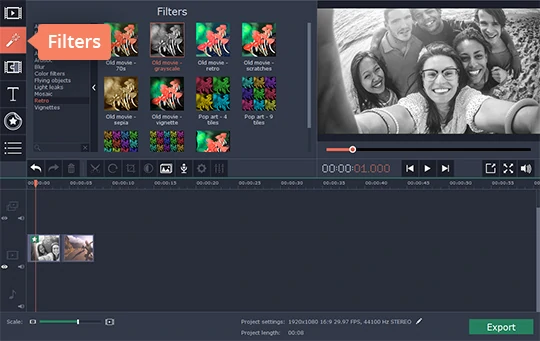 To adjust colors, select your video on the Video Track and click the Color Adjustments button as shown in the screen image. Make auto adjustments by marking the appropriate items, or click Manual Adjustments and move the relevant sliders to change the look of your video.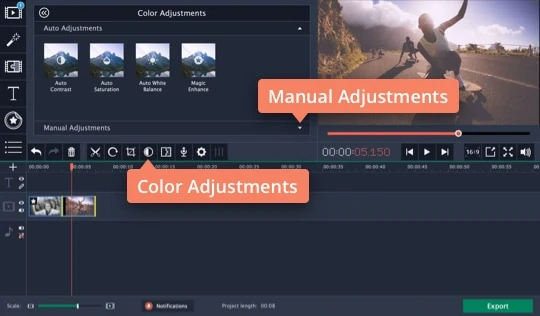 Save the Result
Click Export, choose the format, folder and name for your file. Then click Start. Now you know how to add filters to a video with Movavi Video Editor Plus!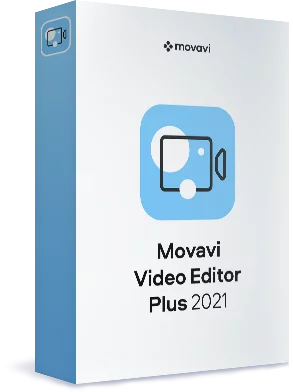 Movavi Video Editor Plus
Your next step in video-making
Edit video clips, images, and audio on a timeline

Add transitions, filters, titles, and stickers

Animate objects using keyframes, use more built-in media

Export videos in any popular format
* The free version of Movavi Video Editor Plus has the following restrictions: 7-day trial period, watermark on the output videos, and, if you're saving a project as an audio file, an ability to save only half the audio length. Learn more
Frequently Asked Questions
📼 How Do I Create a VHS Effect?
You can apply a VHS effect to your video using Movavi Video Editor Plus. Import your video into the program and open the Filters tab. In the Retro group of filters, find VHS, then drag and drop the filter onto your video.
📽 How Do I Create a Black-and-White Effect in My Video?
To make your video black-and-white, you can use Movavi Video Editor Plus. Add your video to the program, go to Filters, and select the Retro section. You'll see a black-and-white filter called Old movie - grayscale. Drag and drop it onto your video to apply the effect.
Read the guide linked below to learn about other effects that can make your video look like an old movie.
💡 How Do I Make an Aesthetically Pleasing Video?
Here are a few tips to help you make an aesthetically pleasing video.
Don't use a lot of different filters in a single video – choose a few that look good together and that create the desired atmosphere. For example, cooler tones will work well to create a dramatic atmosphere, while warm colors are better for fun videos.
Make sure all the titles and captions in your video are of the same style. These details also add to the general atmosphere of a movie, so invest some time in choosing a style that will create the desired impression.
Use ready-made templates. All colors, effects, and captions have been selected to match well in a template, so you don't have to worry about making the right choices. Just pick an appropriate template for the theme of your video and the atmosphere you want to convey.
See Other Useful How-to Guides