Best Free Glitch Effect Generators
It is undeniable that today's photo and video effects market is driven by social media likes and shares. When photos and videos enhanced with glitch effects the first time, they got hundreds of thousands of views and likes, leading to the birth of a new branch of the special effects movement.
The glitch is a popular artistic effect, although developers are still perfecting the glitch editor. Because the effect is new and it takes time to build from scratch, many video editors have not caught up.
As the digital age evolves, a growing number of filmmakers, as well as video content creators, are using glitches in their work. They are commonly applied in the opening titles or used sparingly as old TV effects in the film. This is what keeps driving the popularity of this effect higher.
Since glitches do not match all styles of pictures and videos, it pays to learn and practice with a popular editor such as Movavi Video Editor Plus. This will help you find what works for your project by doing away with those that do not fit.
Glitch Filter in Movavi Video Editor Plus
Glitch art has a special place in a human's artistic mind. This is why it is a whole genre in modern art. The interference and manifestation of noise in art portray a dysfunction associated with virtual reality or even a technological apocalypse.
There are many types of image and video glitches. You may recognize some of them from popular music videos, ads, and TV series. A few examples of the effects are circuit bending, data bending, and datamoshing.
Read on to learn more about the glitch video effect in Movavi Video Editor Plus.
Easy Glitch Effects
Movavi Video Editor Plus makes it very easy to add a glitch effect to a video. Simply upload your video and select the desired filter from the library of built-in filters, then click Apply to see the RGB glitch effect.
If you wish to apply the effect to only a part of a video, first split the fragment you wish to apply the glitch picture effects. You can do this easily using the Split tool.
Movavi Video Editor Plus is popular for many reasons, but its ease of use is among the top. The simplistic video editing tracks make it very easy to add a glitch effect to a video to multiple clips during editing. The video glitcher tool combines various glitch effects just as you would edit a video by adding different effects.
Glitch Transition
Movavi's glitch transition feature is a bit more complicated but offers more functionality to personalize the glitch effect. To apply transition glitches, you will need to use the same glitch filter on both ends of the transition clips.
Cut off small fragments lasting about 0.1 to 0.2 seconds at the end of the first and beginning of the second clip. Adding a glitch filter to both clips to apply the transition glitch effect. Under clip properties, you can adjust the settings of the glitch effect, including effect intensity.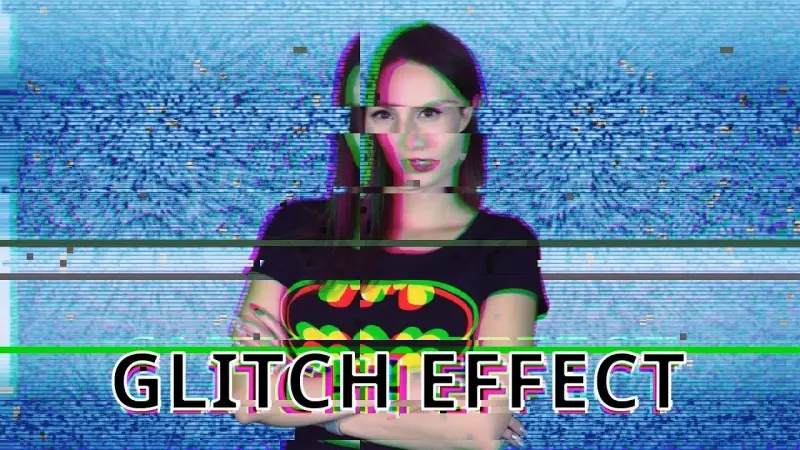 Top Editors to Apply Glitch Photo and Glitch Video Effects
When the demand for photo and video glitch effects shot up, various companies arose to meet that need. Today, there are glitch effect online tools that hobbyists can use to generate glitch effects for their social media posts and art projects.
The popular glitch tools are easy to use and require no specialized video editing skills. All a user does is upload a photo and use automated tools to add the effects.
Here are seven of the top video glitching effect tools that you can use today if you are looking for easy ways on how to make an image look glitchy.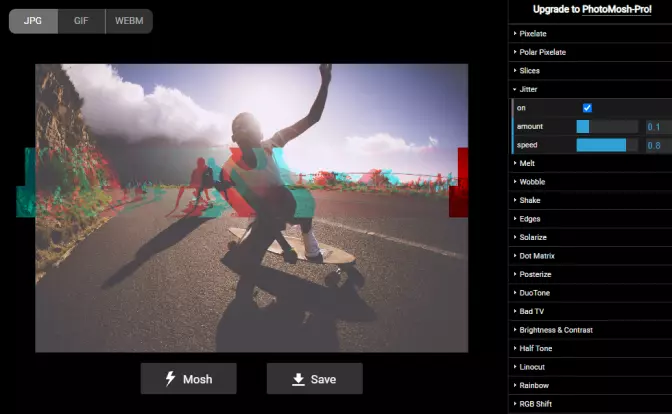 If you are looking for a curated list of glitch effects to apply to your photos or short video clips, PhotoMosh may be just the tool you need. This free online tool contains a selection of twenty-seven effects you can use to generate a glitch image from any image file format. Simply upload a JPG, JPEG, GIF, PNG, or WebM file, then click on an effect to apply.
To the right of the PhotoMosh glitch photo editor, there is a list of available glitch effects. Check the box to try on the effect or uncheck to disable. Each effect also an intensity adjustment setting whose effects you can see on the preview image in real-time.
PhotoMosh has a special feature that most other glitch effect generators do not: it can analyze an image or video and apply a random effect. With the push of a Mosh button, the program can apply the most suitable effect to your photo or video.
Pros
Offers a large selection of glitch effects
User can download and save the edited file on to their computer
It is easy to apply image and video glitcher effects
Supports a range of file formats, including WebM
Mush button lets users use the platform's capability to create outstanding glitch effects
Cons
Due to limited caching storage, it creates low-res videos and images
Offers no way to share created files online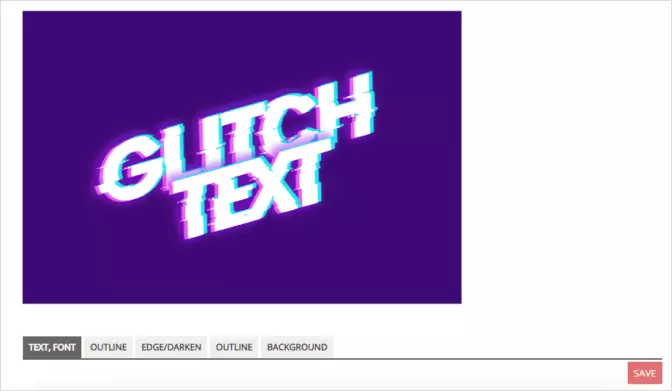 GFTO is a popular cool text effects generation platform developed to create beautiful text encryption. It offers a text glitch effect generator as one of its hundreds of special text effects templates. You can use the glitch effect template to create personal and business content such as banners and ad texts.
It is straightforward to create text with glitch effects using GFTO. Simply replace the generic text with your own text and customize the template to look the way you want. You can adjust the screen position of the text, colors, text sizes, and font styles.
Are you creating promotional text for your business? Perhaps you already have a business font and would like to use it on the glitch banner? GFTO has got you covered. With this online platform, you can upload your own fonts, personalize text styles, and even apply gradients to your graphics.
Pros
A wide selection of fonts and text styles
Export graphics as PNG images
A wide selection of unique glitch templates
Popular for use in creating glitch video titles
Cons
The platform is not so intuitively designed
It cannot add a glitch effect to an image or video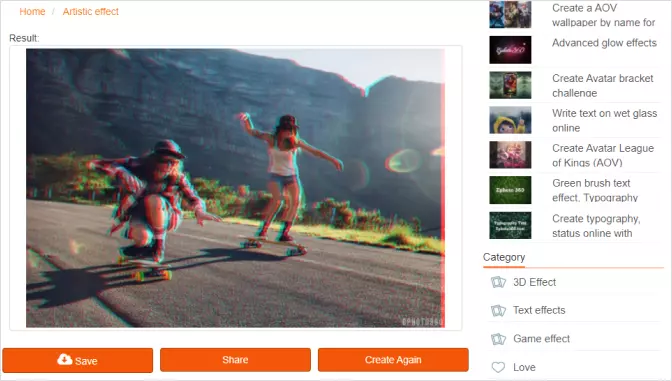 Ephoto360 became very popular among TikTok users when it released its glitching effect pack because it applied the effect on images and clips so well. If you are looking for an easy-to-use tool to add glitches to short clips, then this tool is worth a try.
You do not need an account to add glitch effects to your photos with this glitch effect generator. Simply go to the online platform and find the Text Effects category. Among the many effects, find the 'Tik Tok Text' filter and click on it to apply.
Generating a unique glitch effect with Ephoto360 is straightforward. Once the effects page loads, you can enter text into the text box and apply. The platform will automatically generate an image that contains your custom text with special glitch effects.
Once you are done editing, share the image on social media, copy a link to download later, or download and save it for offline use.
Pros
Very easy to generate glitch text effects
Offers a wide selection of effect templates
Images can be downloaded in JPG format
Excellent file sharing options
Cons
All Ephoto360 generated images have a watermark
It generates images automatically with minimal customization options
ImageGlitcher markets itself as a flexible image editing tool that you can use to add high-quality glitch effects easily. While the platform's website looks old and out of maintenance, the tool itself still works, and you can use it to glitch a picture then save the resulting image.
Drag and drop an image from the computer onto the online platform. ImageGlitcher recommends that you upload pictures with a maximum of 1024 x 1024 pixels to be able to preview effects.
Next, select from the list of glitch adjustment options to apply. You can adjust the glitchiness effect as well as the brightness options of the image and effects. ImageGlitcher also allows you to toggle the scan line on the glitch effect options. Once done, click to apply and wait for the download to be ready.
Pros
Easy to use basic image glitching tool
Supports JPG images
Download the edited image to the computer
Cons
Cannot handle high-resolution images
The website is basic and difficult to navigate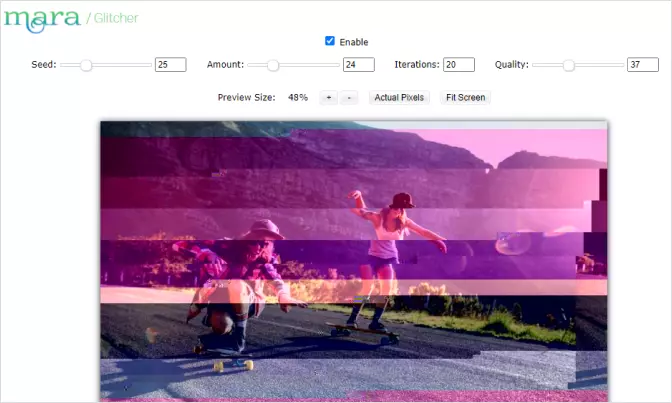 Mara is an online image editing and painting suite of software that offers many tools to edit graphics. The free-to-use platform is popular for the more traditional image editing features, including resizing, cropping, auto-fixing, enhancement, and painting. Later, the developers added dozens of filters and effects, support for all kinds of images, and hundreds of fonts, frames, overlays, and stickers.
If you are looking for a reliable glitch GIF maker, Mara allows you to add a photo from the computer, dropbox, or by typing the image URL. You can then add the glitch effect and adjust the seed, iterations, amount, and quality properties to your preference.
Mara offers a ton of photo editing tools that no other glitch online editors provide. For instance, after adding glitches to your graphics, you can use the editor to polish the pictures and smoothen the glitch effect. This makes the final result professional-quality and social media-ready.
Pros
It is free to use. No registration and no limited features
A rich portfolio of photo editing tools and filters
Mara a robust glitch effect generator for an online platform
Handy social media sharing options
Cons
The glitch effect could be better with more options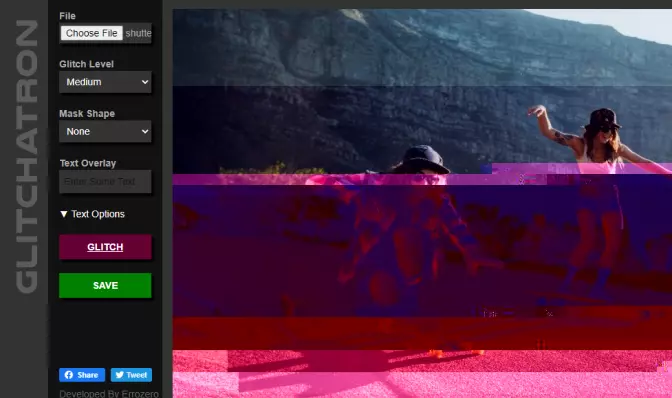 Glitchatron is made to be easy to use. To add a glitch effect to your photo using this tool, simply upload your image and choose from the four levels of glitches:
Low glitch level
Medium glitch level
High glitch level
Extreme glitch level
Destroyed glitch level
You may have to play around with the various options Glitchatron offers before you can find one that suits you. Try the triangular or circular masks, then add text glitch photo effects as a layer. Once you have added the text, you can adjust many parameters, including alignment, text size, text theme, and font style.
Glitchatron glitch maker is an ideal platform for hobbyists and people looking to create fast but dazzling glitch effects for social media posts. If you make memes, you may also want to try Glitchatron's other effects applied alongside glitch effects.
Pros
Very easy to use. No need to learn image editing
You can adjust various parameters of the glitch, including intensity
Offers text overlay options
Glitchatron makes it easy to share results to social media and other platforms
Cons
Glitchatron has limited photo editing tools
Overlay text can only be black or white. There is no flexibility in customizing text color.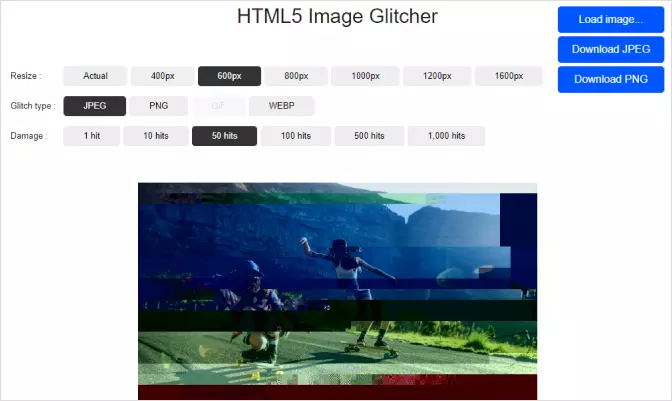 As the name hints, HTML5 Image Glitcher is a simple online image generator that is written in the HTML5 language. It is a very straightforward tool that simply adds a glitch effect to an image you provide it with. You can then adjust the glitch type as well as the intensity of the glitch effect.
You can select any image from your computer and upload it to the HTML5 Image Glitcher to add a glitch. It will let you adjust and resize the image, select a glitch type to apply, and image format to download - JPG, GIF, PNG, or WEBP. Select the intensity of the glitch by adjusting the damage value between 1 hit and 1000 hits. As you make the adjustments, the effects of the glitch are previewed on the preview window.
Pros
Popular for adding glitchy effect on GIF files
HTML5 Image Glitcher makes it easy to understand adjust glitch intensity and effect
Supports most popular image file formats
Lightweight and compatible with many devices
Cons
Provides basic glitch effect settings
Limited options for sharing edited images
What Program to Use for Creating a Glitching Video
The glitching video and image effect, when done right, looks great. However, just like any other effect, there is always a tool that produces better and more professional results. If you are looking to add a TV distortion effect to your clips or use a VHS glitch effect on a project, you need a better tool.
Movavi offers powerful easy to use tools that add cool glitching effects to your videos and images. After all, it is one of the most popular video editors for the speed they add new features such as this to their editor.
If you would like to discover more of the glitch effect on an easy-to-use video editor, try Movavi Video Editor Plus today.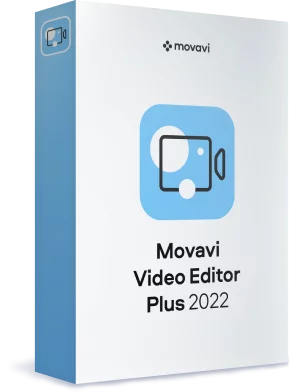 Movavi Video Editor Plus
Your next step in video-making
Edit video clips, images, and audio on a timeline

Add transitions, filters, titles, and stickers

Animate objects using keyframes, use more built-in media

Export videos in any popular format
* The free version of Movavi Video Editor Plus has the following restrictions: 7-day trial period, watermark on the output videos, and, if you're saving a project as an audio file, an ability to save only half the audio length. Learn more
Read Other Useful Articles