How to Improve Video Quality with Video Enhancer Software
When you're focused on shooting a video, do you always remember to check the settings on your camera? When you're reviewing captured video, how often do you find it's too dark or the focus is blurred? Digital video is great for ease of use, but you still have to pay attention to settings as well as pressing the button. So, sometimes you may find yourself looking at the low-quality footage you've just filmed and wondering: "How can I improve the video quality?"
In this article, we've gathered top programs for improving video quality. Look through this list and choose the best video restoration software for you.
With Movavi Video Editor Plus – a full-featured video-editing program – you can enhance low-quality CCTV footage, fix old videos, and correct other flaws in just a few clicks. Plus, you can apply artistic effects and turn your home movie into a work of art. So, how to enhance video quality? Download Movavi Video Editor Plus for Windows or Mac OS and read the guide below to learn how to make a low-quality video look better.
OS compatibility: Mac and Windows
Features
4K video support
A wide variety of editing effects including slow motion, reverse, and chroma key
A library of filters and other features to enhance video quality
Step 1. Download and Install Movavi Video Editor Plus
Download the Movavi video enhancer to your computer. Then open the downloaded file and follow the on-screen prompts to install the program.
Step 2. Add a Video Clip You Want to Enhance
Launch the video quality enhancer and click Add Files. Сhoose the video to enhance, then drag and drop it onto the Timeline.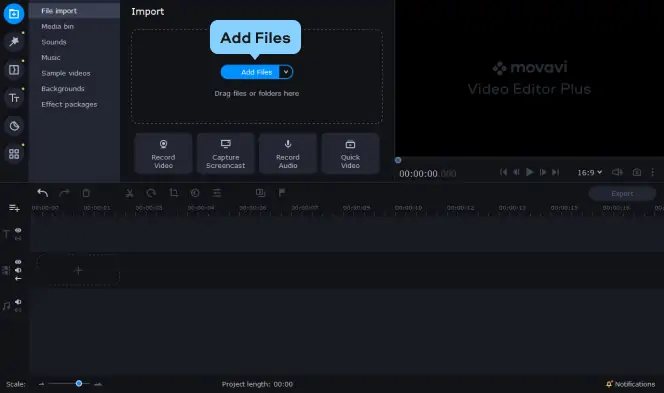 Step 3. Adjust Your Video
Click More Tools and then choose Color Adjustments to start editing the video automatically or manually. For instance, use the Magic Enhance tool in the Easy tab to improve brightness and contrast of the video automatically.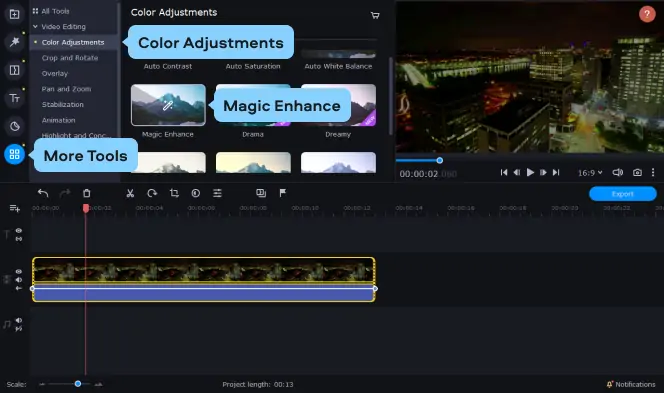 If you want to adjust the video parameters manually, open the Advanced tab. Here, you can move the sliders adjusting different parameters precisely (Brightness, Contrast, Saturation, and much more). You can also fix the color temperature of your video, darken it or adjust the color tint.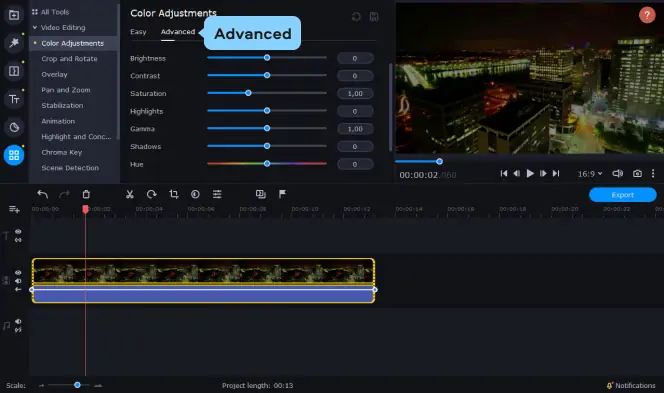 Step 4. Save the Edited Video
Click the Export button and select the appropriate option: choose the output format, pick a ready-made preset for your mobile device, or upload your video directly to the Web. Then select the folder and a name for your video file. Click Start to save the video.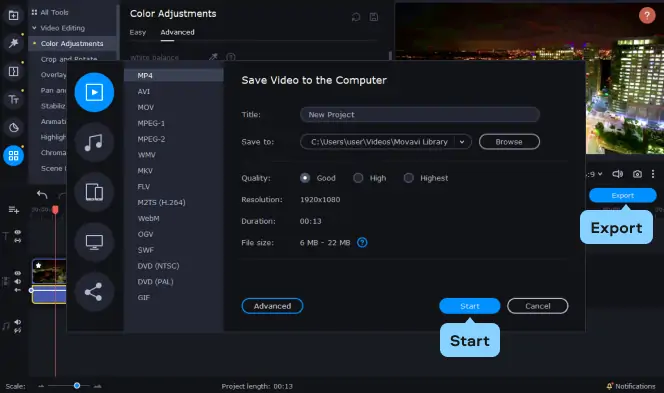 Now you know how to lighten a video in a few simple steps! With Movavi Video Editor Plus, you can easily edit your clips, brighten dark videos, fix blurry ones – and much more. Just download this video enhancer to your PC or Mac and learn how to improve video quality easily!
Adobe Premiere Pro's color correction software, Lumetri, has gone through a lot of developments over the years since the launch of Premiere Pro. You can use the Color panel to use various effects unique to Lumetri, along with traditional tools such as color wheels. You can also save your favorite presets for future color-grading projects, and, perhaps best of all, Lumetri is free if you subscribe to Adobe Premiere Pro through Adobe Cloud. Keep in mind that this isn't the cheapest option, but if you're in the market for a professional video enhancer, you can't go wrong with Adobe.
OS compatibility: Mac and Windows
Price: starts from $20.99 per month
Features
Save presets for future projects
Automated tracking masks for targeted filtering
A variety of traditional and unique color correction tools
Another rather expensive option that includes many features that professionals love is Vegas Pro. Quality and efficiency are both infused in this video quality enhancer to give you everything you need to improve video quality and accomplish much more. As can be guessed from the name, Vegas Pro is software for pros who need advanced video processing tools like superior image stabilization, motion tracking, and even HDR color support for Hollywood movie quality. Beginners will most probably find this video enhancer overwhelming, while experienced users will appreciate a continuously developing set of features added. It is possible to try Vegas Pro for free, but after a trial period, you will need to decide if the price asked coincides with your needs.
OS compatibility: Windows
Price: $599
Features
A wide variety of powerful editing tools
High processing speed without any quality loss
Crop OFX and Picture-in-Picture plugins that enable multi-image overlay within a single frame
Blue FX Filter 5 Ultimate package includes 26 effects for color correction and light adjustment
Like the other choices on this list, Lightworks has a variety of features that you can take advantage of. These features include easy timeline editing and trimming, a large library of royalty-free audio and video content, and the ability to export your video in standard definition, high definition, or simply to video platforms (like YouTube or Vimeo) in 4K. In addition, the Lightworks video quality fixer includes a simple and intuitive user interface. This means that this video quality enhancer may be easier to use if you are a beginner in video editing. You can access a free 7-day trial by downloading Lightworks. The video enhancer works for PC, Mac or Linux. Best for those who want to master professional video editing.
OS compatibility: Mac, Windows, and Linux
Price: $437.99 for an outright version
Features
Video enhancement to HD, Full HD, 2K, and 4K
Supports Adobe After Effect plugin
Chroma key, video routing, and effect keyframe features
Final Cut Pro X is one of the most popular video quality enhancers on the market. The software is known for its various functions, e.g. B. multiple editing options, editing 4K videos and more. Also worth mentioning is an intuitive user interface that makes video upscaling quick and easy. It's nonlinear, which means you can freely arrange all kinds of media in the timeline. If you're in need of professional software, Final Cut Pro X is likely to meet or exceed your expectations. Final Cut Pro X might be pricey, but it's worth it if you want a premium video enhancer that can give you everything you need to improve video quality.
OS compatibility: Mac
Price: $299.99
Features
Supports many file formats
Non-linear timeline for fewer limitations
Color enhancement
360-degree video support, along with 360-degree effects and graphics
Best Video Enhancer Freeware
Sometimes you might come across a video with great content, but the quality just doesn't cut it. Or you might create your own video, but your ability to capture high-quality video is limited. Maybe you have a large DVD collection you've treasured for years, but you want to be able to watch your favorite movies in higher quality without the need to purchase Blu-ray versions.
In any case, you might be wondering: "Is there an app to improve video quality for free?". Thankfully, there are plenty of video quality enhancers out there that you can use to improve nearly any type of video. Read the list below to learn how to fix the quality of a video for free.
Avidemux is a free and easy video enhancer that can restore your clips. It was developed for cutting and coding multimedia content. While this video editor isn't as simple as some commercial options, you can still edit files in a few steps by manually choosing the settings. Encode 3D stereoscopically to 2D, delete unwanted video and convert files. You can even change video files with the built-in subtitles without any quality loss. If you have any questions, check out the tutorials on the website and learn how to create and edit videos. The program supports popular file formats like MP4, ASF, MPEG, DVD, and others. Avidemux is available for Linux, Microsoft Windows, Mac OS X and BSD. Best for those who need a simple video editor without having to pay for it.
OS compatibility: Windows, macOS, Linux
Features
You can remove any section from your video or combine several different clips into one
Re-encoding changes the format or codec of the video you are editing
Extract its audio track from a clip, eliminate the desynchronization of video and sound
Many useful features, including color correction, noise and pixelation removal, sharpening, subtitling and your logo, and much more
Windows Movie Maker (for Windows 7 users)
The best video editing programs for beginners in this field include the famous Movie Maker, which is also the easiest to master. With Windows Movie Maker, you can quickly make a video of high quality with simple drag and drop controls. With this video editor you can add effects, titles, transitions and music. However, Windows Movie Maker hasn't been updated since 2012 – this program is no longer included in Windows 8 and Windows 10.
OS compatibility: Windows
Features
Basic editing features to improve videos
Ability to share on YouTube
Add video tracks, trim videos, and modify audio
If you own a Mac, you may not even need to download software to improve video quality. This video maker is one of the easiest to come by. Any interested beginner can download and install iMovie for free on a Mac or iOS device. Features available include quality filters, studio-style titles, additional effects, built-in sound effects, voiceover recording, and much more. iMovie makes it easy to quickly improve video quality with a decent selection of editing features. iMovie also supports 4K videos, which you can then share on various platforms including Vimeo, YouTube, and Facebook. If you're a Mac user, iMovie is a good choice that may help you get videos of better quality.
OS compatibility: macOS and iOS
Features
A variety of editing features to add visual effects and more
4K support with the ability to quickly upload to YouTube and other platforms
Use various filters, record audio, or trim to enhance video quality
Video Enhancer Apps to Use Online and on Your Smartphone
A smartphone is one of the main tools for taking photos and videos for a modern person. This is not surprising – the gadget is always at hand and it is much more convenient to use it than a regular camera. Therefore, many of us, going on a trip or to a gala event, prefer to shoot what is happening on a smartphone camera. You may notice that smartphone videos sometimes appear dark when shooted in a place with poor lighting. Don't worry – you can correct them even if you don't have access to a PC. Below, you'll find video adjusting tools that you can use on the go – an online service and a smartphone app.
Clideo is one of the simplest online video management services. With its help, you can easily lighten the picture by adjusting just one slider. However, it is worth mentioning that in Clideo, as in any other similar solution, the finished project in the free version is saved only with a watermark. Consider this even before starting processing.
OS compatibility: web-based
Price: $9 for a Pro version, basic features are free
Features
Merging, compression, and trimming
Adjusting the video parameters
A tool to create video memes and slideshows
Adobe Premiere Rush is advertised for people who create videos for social networks like YouTube, although, of course, any app can do that "plus." As a cross-platform editing software, it does not have as many features as some apps but is known for an easy interface (a customary trade-off). Cropping, rotating, resizing, color correction, volume control, speech enhancement, and noise reduction are all standard features and Adobe Premiere Rush has them.
OS compatibility: macOS, Windows, iOS, and Android
Price: $9.99 per month
Features
Import your videos, trim, crop, or rotate them
Add transitions or titles using built-in templates
Correct colors
Add music or create a voice-over
With lots of great video enhancer apps out there, anyone can create and produce professional videos. If you are unsure about the best video editor to use, you can try Movavi Video Editor Plus on your Mac or Windows device and see the results. You can do more than increase video quality and work with special effects. There are plenty of additional video-editing options in the program. Split your video into multiple parts, add stunning transitions between the sections, create a unique atmosphere by adding breathtaking music, improve the video resolution, and save the final video on your computer's hard drive in any popular format (AVI, MP4, MOV, etc.).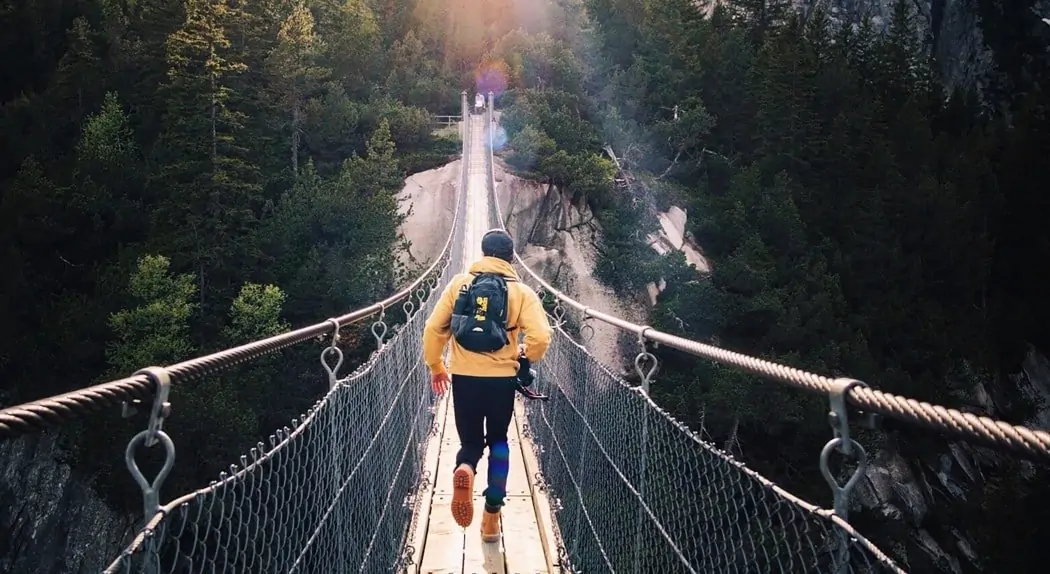 Movavi Video Editor Plus
Make videos. Create. Inspire.
* The free version of Movavi Video Editor Plus has the following restrictions: 7-day trial period, watermark on the output videos, and, if you're saving a project as an audio file, an ability to save only half the audio length. Learn more
Sign up for news and special offers