How to capture streaming video on Mac
If you are a Windows user, please refer to the tutorial on using Movavi Screen Capture Studio for Windows.
Today there are many streaming services that let you watch all kinds of TV programs, movies, and music clips on multiple devices. Alas, most popular websites that stream video don't provide any downloading options, so what do you do if you still want to save a streaming video from the internet to your Mac so you can enjoy it offline? You need a video stream downloader! Movavi Screen Capture Studio is a powerful video ripper that will easily copy web video to your Mac. Just download the program and follow the simple instructions below.
Step 1: Install Movavi's Video Recorder
Download and open the executable file and follow the installation instructions.
Step 2: Set the Capturing Parameters
Go to the streaming site and cue up the video you want to download. Launch Screen Capture Studio and adjust the yellow capture frame to fit the size of the video area on the screen. You can also open the Select Capture Area list and choose a preset frame size.
If you don't want to sit in front of your Mac and watch the recording process, you can click the little alarm clock icon and set the timer. The program will stop recording after the designated amount of time has passed, so you can leave the computer and get on with your life while the recording is happening.
Step 3: Rip the Streaming Video
Click REC and get ready to play your video – you have five seconds. You can manage the video capturing process by clicking the Cancel, Pause, and Stop buttons, or by pressing ⌥ ⌘ 1 to pause/resume the recording and ⌥ ⌘ 2 to stop capturing.
Step 4: Edit and Save the Video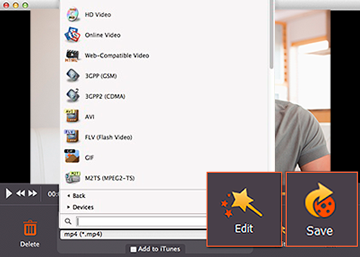 If you want to edit your video after capturing (e.g. to improve the video quality, add transitions and music, etc.), click the Edit button.
Once you're ready to save the video, or if your video doesn't require editing, open the Save as list, click Video and audio formats and choose the format for saving. You can also click Devices to choose from the convenient preset formats for portable devices. Then click Save.
Now you know how to record live streaming video on Mac. Downloading web content onto your Mac has never been so easy!
See what else Movavi Screen Capture Studio for Mac can do for you:
Disclaimer: Please be aware that Movavi Screen Capture Studio does not allow capture of copy-protected video and audio streams.
Movavi Screen Capture Studio for Mac
Capture screencasts, online video
Record sound from any device
Capture the keyboard and mouse actions
Edit your footage in the built-in video editor
Save video in popular formats
Download
Software Trusted in 150 Countries
Movavi has been developing video processing software since 2004. Our programs are trusted in 150 countries including the US, Japan, and Europe. We guarantee high quality of our software and safety of payments on our website.
Email us
Knowledge Base
Subscribe on YouTube
Watch video tutorials on the Movavi's official channel:
Movavi Official