The best speech-to-text software for Windows, Mac, iOS, and Android
Here are the 4 best speech-to-text software programs:
Finding the best speech-to-text software is helpful for adding convenience to your busy everyday life. These programs will quickly turn spoken words into written documents. Using them is quicker than typing out the speech. Also known as transcription software, they free you from spending valuable time transcribing long speeches, interviews, and more. For those who may not have the ability to type or experience pain in their wrists or hands when typing for too long, this software is a useful solution that helps to transcribe documents without requiring extensive typing.
With the best voice-to-text software, you can make a voice recording of a meeting and then use the software to create minutes or notes afterward. This means no more missing valuable information because you were too busy trying to keep up with writing everything being spoken. Want to just make a quick note to self? These programs are the ideal tools for documenting your shopping list, or a to-do list, etc., and have it turned into text for you to use as a reference.
There are many options for finding the best speech-to-text software to meet your various needs. We've gathered some of the most popular programs on the market for you to compare.
Speech-to-text software: Free options
You shouldn't have to pay for convenience. That's why developers have created speech-to-text software for free so these programs are accessible to anyone. You will still want to make sure to choose the best option that will meet your needs in dictatings and automatically transcribing your audio.
Here are some free talk-to-text software for your consideration.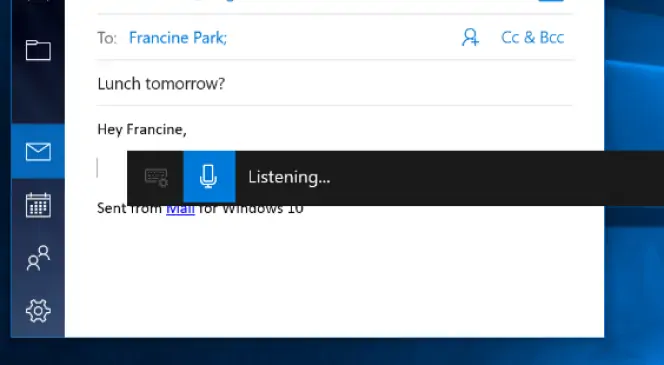 Best for: Controlling your Windows computer with voice commands and dictating documents
Windows 10 Speech Recognition makes it easy to use voice-to-text in Windows 10 and works anywhere as long as there is a text input field. In addition to converting spoken words to written words, the software can also control various functions. For example, you can use a voice command to control the cursor within a document and select a particular word or phrase.
Microsoft makes it easy to get started with your audio recording and text documentation, as they have a useful tutorial page on their website, making this program suitable for beginners. Being built into the Windows 10 software, this is a great option when you can't or don't want to type.
Pros
Comes preinstalled on Windows 10 computers or tablets
Able to transcribe speech-to-text in several languages
Honors voice commands to help with editing and creating a document
Cons
Limited functionality
Requires "training" the software to improve accuracy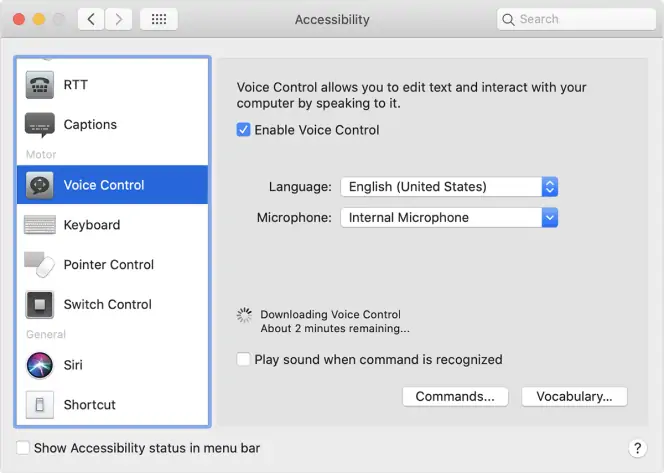 Best for: Controlling your Mac computer and transcribing short text using speech
For Mac users looking for a way to control their computer with voice commands rather than needing to use a mouse or keyboard, Apple Dictation is the way to go. It is built into the OS, making it easy to get started. This Apple software tends to be reasonably accurate and is based on the same technology powering Siri, Apple's voice-controlled digital assistant. Meant more for controlling functions and taking short notes. It isn't capable of capturing longer dictation tasks as an entire document.
Pros
Built into Apple's OS ready for immediate use
Involves grid numbering of desktop layout for easier voice control of a cursor
Available customizable vocabulary and commands to allow the program to understand what you're saying and asking it to do
Cons
Doesn't handle longer dictation
Available for U.S. English only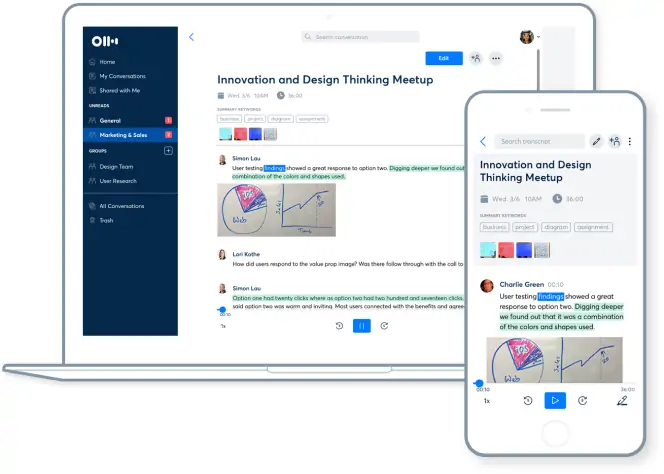 Best for: Transcribing multiple voices
G2 rating: 4.5 out of 5
Otter offers a real-time transcription service that uses AI to create accurate transcriptions of meetings or interviews quickly. It can recognize different voices, which is useful when recording a session. The company aims to be an enterprise-ready solution, and while it's a decent option, the limitations make it better suited to non-critical tasks. The company offers both free and paid plans, with the free version being limited to 600 minutes of transcription time per month.
Pros
Recognizes multiple speakers
High accuracy levels
Real-time transcriptions
Integrates with Zoom to transcribe video meetings
Cons
Takes some time for the final text from audio recording to be completed
Time limitations for monthly usage (maximum 600 minutes of audio recording)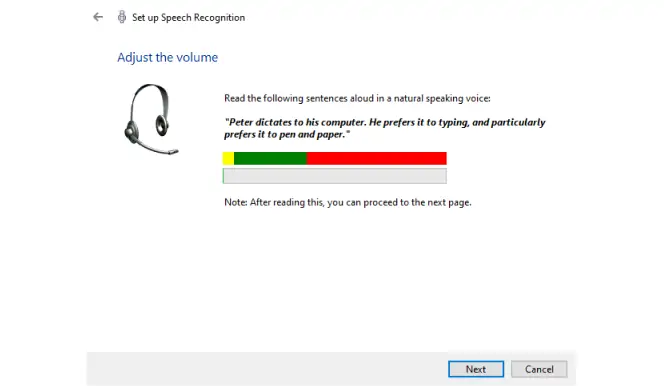 Best for: Hands-free computer use
Voice Finger allows you to control your computer without touching the keyboard or mouse at all. This makes it a great solution for people with injuries or disabilities. This hands-free approach also makes it ideal for gamers who want to control their computer for a task but need their hands to control the game. The voice-activated mouse controls include controlling left, middle, and right mouse buttons. Although it excels at managing the computer through voice commands, this isn't a transcription service, so you'll need to find additional software to avoid typing documents like essays, school assignments, meeting minutes, and more.
Pros
Useful for computer control for people with repetitive strain injury sufferers or physical disabilities
Complete hands-off mouse control requiring just one-step commands
Allows shorter and quicker commands than the built-in Windows Speech Recognition controls
Cons
Windows only
Not intended for document transcription services
Best voice-to-text software: Paid options
With paid voice-to-text software, you can expect more advanced features that enable you to fully control your computer without requiring additional software to be downloaded. You can dictate your long texts, control your mouse and keyboard as well as your computer settings. Paid options are more accessible and convenient. The one thing is that with their cost, you want a high reward.
Here are some program breakdowns so you can judge which paid speech-to-text software is worth the leap: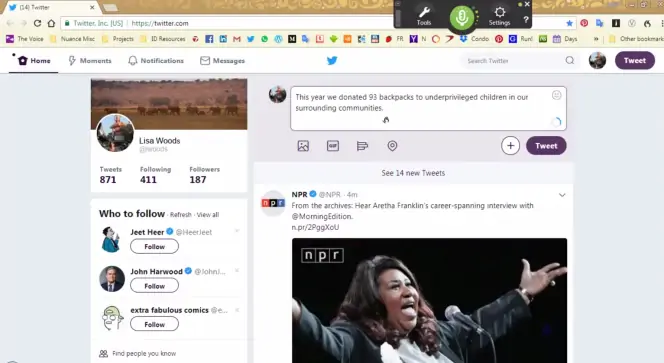 Best for: People who need a full-featured and accurate speech-to-text solution
Dragon Home is, like the name suggests, meant for home users. The company also offers more advanced versions for lawyers, law enforcement, medical professionals, and the financial industry. Users of the home version benefit from the accuracy and reliability of professional-grade software without the higher cost.
Pros
Ability to program custom phrases for often-used commands
"Speed of Thought" transcription with high accuracy
Playback feature to review dictated text in your own voice
Cons
Resource intensive - not a great option for underpowered computers
Requires practice to adjust to the command functioning and how to operate them
Limited to Windows PCs and tablets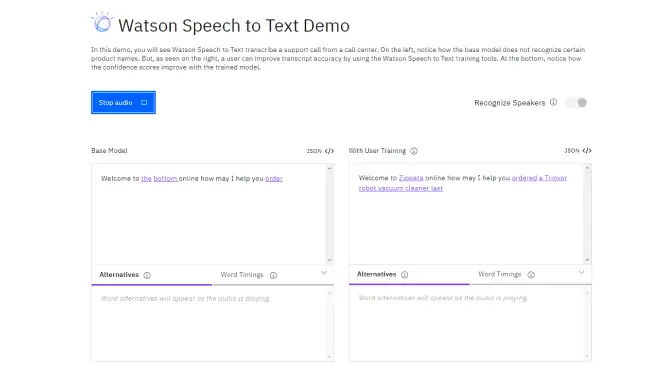 Best for: High volume, single voice transcriptions
G2 rating: 4 out of 5 stars
IBM Watson might be best known as the AI software that once went head-to-head with Jeopardy champions in a battle of trivia. What you may not know is that this software is also very strong for helping people conduct menial tasks, like transcribing your audio and shaping it into text. Using AI and digital learning, this technology applies what it knows about the way people talk to create accurate text transcriptions. If you have hours of speech that need to be formed into text, the IBM Watson may be what you're looking for. Note however, that the price reflects the advanced software of this advanced speech-to-text program.
Pros
Fast and very accurate transcription with the understanding of colloquial speech and more
Cloud-based making it deployable from anywhere, including private, public, hybrid, multi-cloud networks, and more
Can be embedded into other applications through an API
Cons
Pricey when compared to other options
Struggles to distinguish voices or understand controls from multiple voices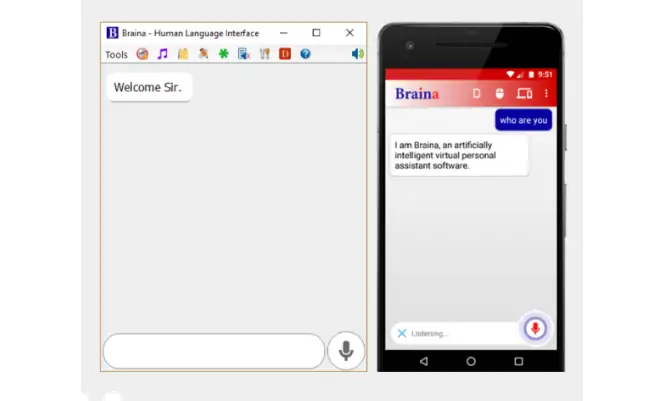 Best for: People who need multi-language support with a guarantee of accuracy
TechRadar rating: 4.5 out of 5 stars
Braina Pro is, like many voice recognition software solutions, powered by AI technology. This means that the software will only get better over time. Upon the first time using this program, you may notice the learning in action element involved in its functioning. However, what may seem to be inaccurate text when first dictating to the Braina Pro is afterward automatically corrected as the software adjusts to the voice it's transcribing. The digital brain behind Braina is smart enough to understand accents as well as multiple languages.
Pros
Flexible and very accurate voice recognition and transcription
Budget-friendly software
Good multi-purpose tool for computer control and documentation from audio
Cons
Primarily task-oriented rather than a "chat-bot" used for finding quick answers or simple computer controls
Limited to Windows PCs and tablets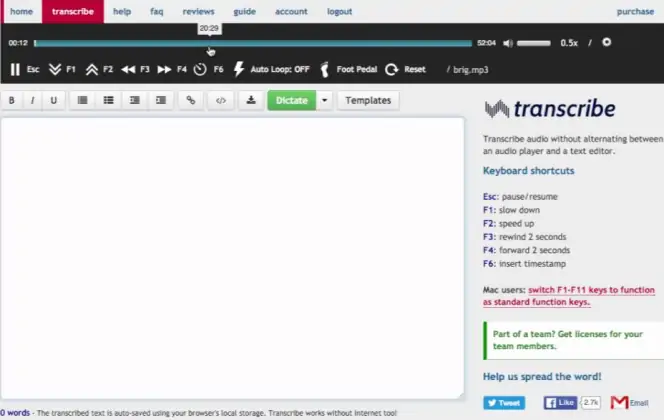 Best for: Professional users, such as journalists, lawyers, or podcasters
TechRadar rating: 4.5 out of 5 stars
Transcribe by Wreally is a web-based service, which means you don't need to download or install any software onto your computer. However, it also means you need an internet connection to use it. While the interface and design layout is quite simplistic, Transcribe earns kudos from people who can rely on it even when they have a poor internet connection. The software offers the ability to transcribe existing recordings and live dictation. This means you can upload a recording you made in the past, which helps for attending meetings, lectures, interviews, or important speeches where you can't also bring your computer.
Pros
Easy to use
Highly accurate software
Accessible for all computers
Good multi-language support
Ability to transcribe recordings
Cons
Requires annual subscription or advanced subscriptions, which include annual plus hourly costs
Requires an internet connection to use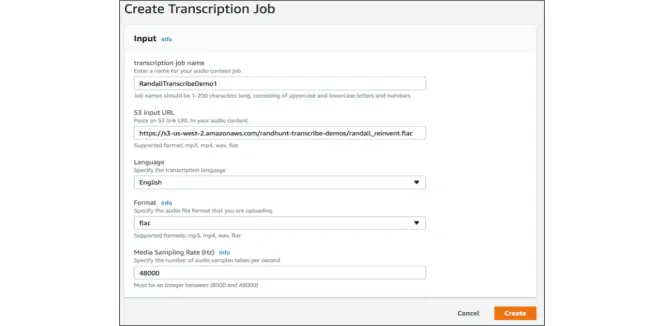 Best for: Developers who need to add speech-to-text to their apps
G2 rating: 4 out of 5 stars
Amazon Transcribe was made for app developers who wanted to incorporate the best speech-to-text software capabilities into their products. Amazon claims their transcription service is ideal for writing customer phone calls, creating automatic subtitles, and other uses that require turning spoken words into text. The service offers real-time transcription as well as the ability to transcribe pre-recorded audio.
Pros
Recognizes multiple voices
Includes time stamps on recording texts
API means it can be integrated with custom apps
Cons
Adding industry or task-related vocabulary is tedious
Requires careful proofreading after dictations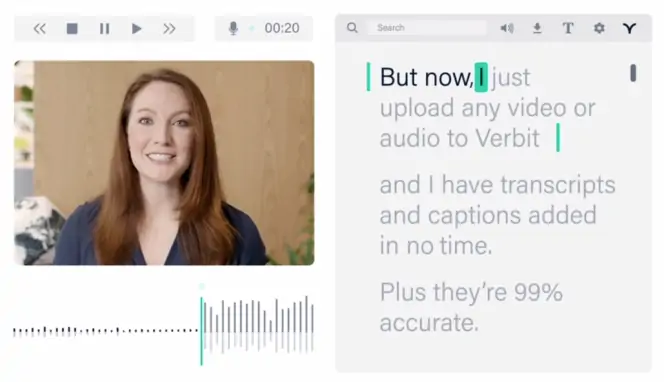 Best for: People who need highly accurate transcriptions in professional or learning environments, but not immediately
G2 rating: 4.5 out of 5 stars
Verbit claims a more than 99% accuracy rate, making it ideal for those times when accuracy is critical or when you don't want to comb through the text to fix mistakes after it's been created. Real-time transcription services are available, along with proofing and editing options, although it will take a few hours for the final version to be delivered. The service is used by court-reporting agencies, which by necessity must be very accurate, meaning it will also be sufficient for plenty of other uses.
Pros
Easy to operate
Cost-effective compared to other solutions
Good customer service
Cons
Delays in receiving final transcribed text with proofing
Proofing is not automated, which leaves room for human error and possible delays in delivery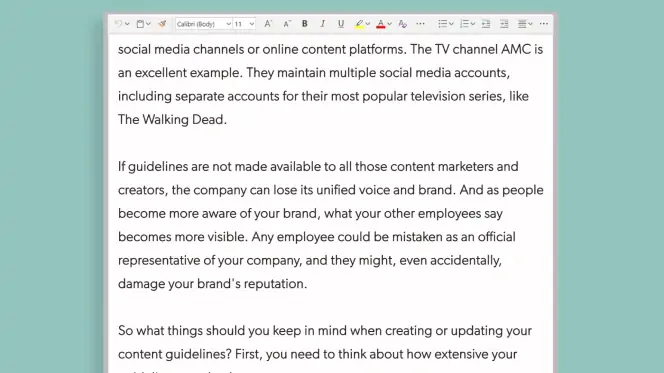 Best for: Businesses requiring transcription services
Capterra rating: 4.5 out of 5
Speechmatics is able to transcribe real-time or prerecorded audio and video files. It takes into account dialect and punctuation when transcribing and can handle multiple speakers and languages. The software was trained using speech from 40 countries. After processing tens of billions of words spoken in English from around the world, it is able to understand multiple accents. This makes it especially useful for international companies who need to transcribe meetings and have found other software unable to deal with the various accents.
Pros
Ability to understand numerous English dialects and accents
Enterprise-ready
Accuracy has been deemed among the best among the long line of voice-to-text products
Cons
Document outputs to a pdf, which can be difficult to edit or manage
Has trouble with mumbled speech, making this less effective for users with speech impediments
Best online voice-to-text Windows 10 apps
Over 1 billion users rely on Windows 10 software on over 1 billion devices. With a high majority of computer users being registered with Windows, it's important for these users to find the best audio-to-text programs that will help them control their computer functioning, use windows apps, and transcribe emails, documents, presentations, and more. These apps are useful for anyone. People with strains or disabilities, or who are often on the go, or regularly recording important sessions, meetings, and interviews rely heavily on these audio documentation programs on their Windows PCs and tablets. That's why quality matters when finding the programs with speech-to-text for PCs.
Here are the top online voice-to-text Windows 10 applications: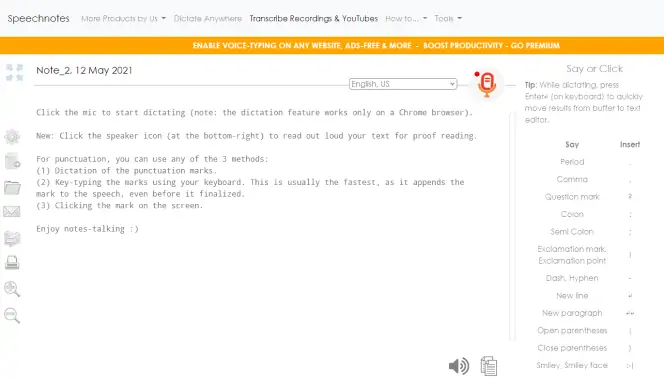 Best for: Quickly jotting down voice memos
G2 rating: 4 out of 5 stars
Speechnotes is a browser-based app that works somewhat like a notepad. You just click the microphone icon, start talking, and your words appear as text in the browser window. It's fairly accurate when you speak clearly at a moderate pace. Fast talkers will find it more error-prone, so speaking at a slower pace is best for this program to catch everything being said. This is a free, web-based tool ready to help you jot down your thoughts.
Pros
Easy to operate
Browser-based, requiring no installation
Works well enough for home or casual usage
Cons
Functioning tends to be delayed and less helpful for fast-talkers
Requires an internet connection for use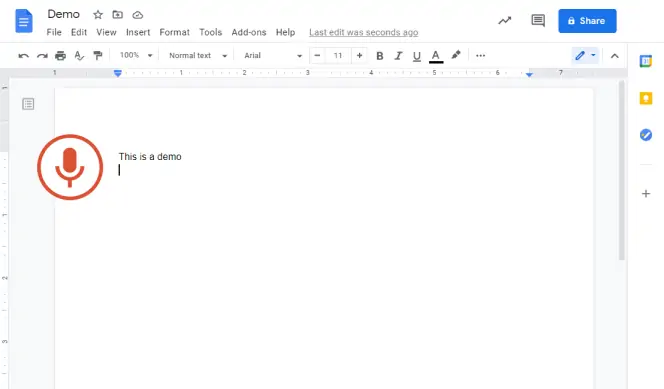 Best for: Creating text documents, like essays or blog posts, using your voice
Google Docs Voice Typing is a function within Google Docs, as opposed to being a standalone app. As such, it requires a Chrome browser on your Windows PC to be uploaded. The Google Docs Voice Typing works well and has the ability to decipher speech correctly when background noise is loud enough to require slightly raised voices. For slow typers who need to write an essay or web post, this service has the potential to be a real time-saver.
Pros
Works well with distinguishing voices from background noise
Accurate and fast typing-to-audio speed
Allows the ability to create long text documents without using the keyboard
Cons
Only available in Chrome Browsers
Requires editing to add punctuation and formatting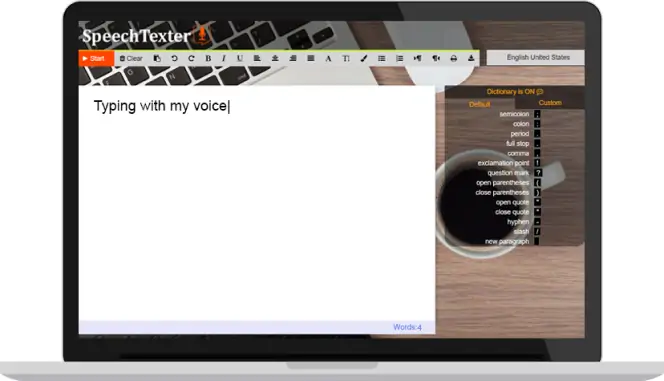 Best for: Hands-free typing of various documents
Capterra rating: 4.6 out of 5 stars
SpeechTexter is targeted for people who need to create documents but aren't able to type or want to write texts without the delays or physical strains of excessive typing. This makes it ideal for people with hand trauma or those with dyslexia and other impairments that make typing difficult. Accuracy levels are claimed to be between 90 and 95% for American English users. The software also supports more than 60 other languages for recording and typing along to. Note that this is a browser-based program.
Pros
Supports 60 languages
Simple interface for easy operation
Quick and fairly accurate speech-to-text functioning
Cons
Only works in Chrome browsers
Punctuation will need editing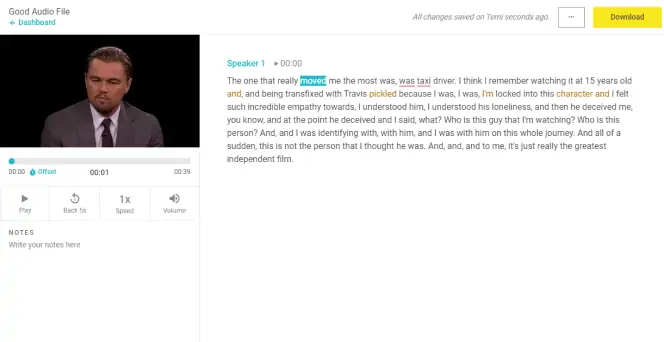 Best for: American English users who don't need a highly accurate transcription
TechRadar rating: 3 out of 5 stars
Temi works well when used in an environment free of background noise, and the person speaking has an American Accent. In other instances, such as noisy places with non-native English speakers, you may experience some roadblocks with the app. Designed for use with pre-recorded audio, the interface is easy to use if you have a meeting that you recorded and need transcribed, or a long interview that needs to be documented. Simply upload a file, check a few boxes about audio quality, and that's it.
Pros
Inexpensive
Accepts multiple file types for uploading pre-recordings
Also has a mobile app for audio transcription on the go
Cons
Doesn't work well with non-American English accents
Struggles to distinguish voices from background noise
Talk-to-text apps for smartphones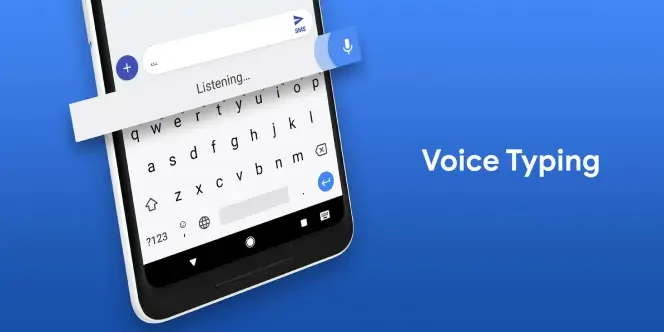 Best for: Making quick notes on the go
Google Play rating: 4.5 out of 5 stars
Gboard is a keyboard app for Android users that offers increased functionality when compared to a mobile device's built-in touchscreen keyboard. Voice typing, as Google calls it, allows you to compose hands-free text messages or notes. The app also adds swipe functionality to the keyboard for ease of typing.
Pros
Easily writes dictated texts and short messages from anywhere
Includes a translate function
Allows convenient texting and note-taking without requiring touchscreen keyboard tapping, which can often be challenging for typing
Cons
Does not fully understand slang language or colloquialisms, which are often included in text messaging
Commonly experiences delays or lags in recording audio and writing the text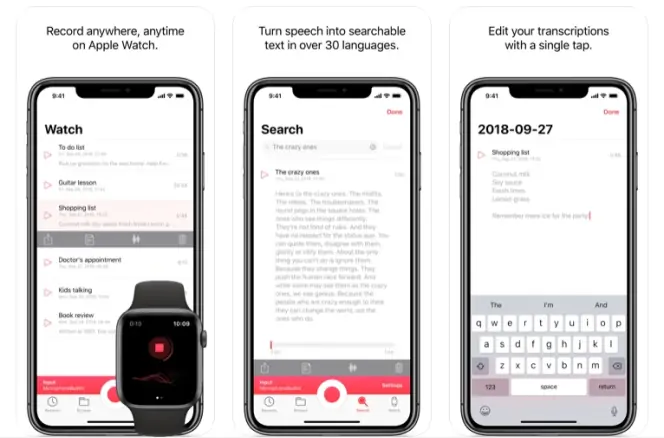 Best for: iPhone users seeking a simple recorder
Apple App Store rating: 4 out of 5 stars
This is a simple app that uses your phone's built-in microphone to record audio. As the name says, it is easy to use as it just includes a record button that you tap to capture speech. The app then creates a text transcription of the dictation. The app also backs up files in iCloud.
Pros
Simple to operate
Works with Apple Watch
Can edit audio-to-text results in the app for one-stop usage
Cons
Not 100% accurate when recording audio and turning to text
Punctuation needs to be dictated, which adds more time to the process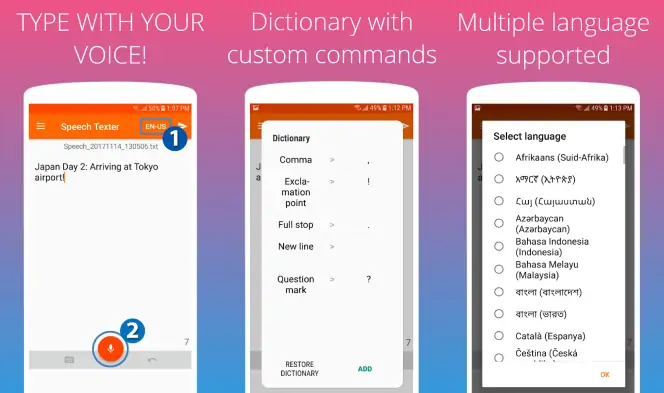 Best for: Fans of the desktop version who need a mobile solution
Google Play rating: 3.8 out of 5 stars
Like the desktop version, the app is simple and easy to use. It tends to be fairly accurate, but the lack of punctuation means you'll have to edit the transcribed text to make it grammatically correct. There may still be some flaws in the system, as users have reported a tendency for the app to crash and delete their files. When it works, however, it can help with accurately transcribing speech.
Pros
Good for quick notes to yourself
Simple to use
Uses Google's voice-to-text engine
Cons
Tends to crash or delete files occasionally
Advertisements on the program can be intrusive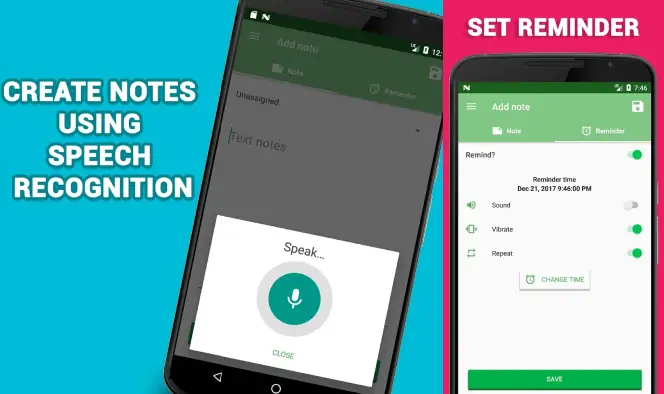 Best for: Making short notes on the go
Google Play rating: 4.4 out of 5 stars
Voice Notes is meant for short recordings and is ideal for capturing ideas on the go. This makes it a good option for creatives who need to record thoughts on the go with their voice quickly but need the idea written down as well. The app also includes an option to set reminders, making it operate similarly to an alarm clock for meeting or event reminders. The app also has an option to share notes with people through social networks or email.
Pros
Accurate speech recognition
Works well as a quick way to capture ideas and notes
Intuitive interface
Cons
Stops recording after a short pause in speaking
Can experience delays or lags in registering audio and turning to text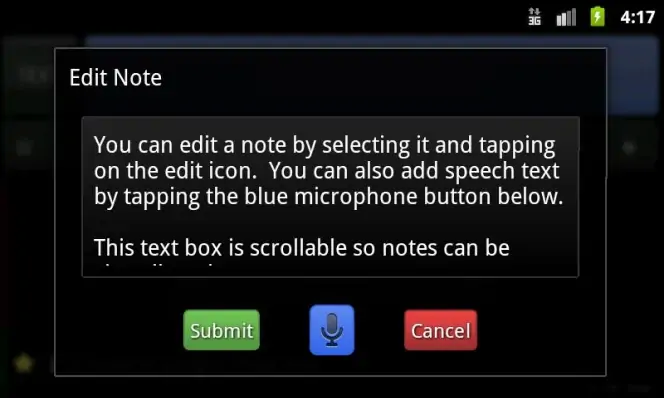 Best for: Quick notes and to-do lists
Google Play rating: 4.1 out of 5
ListNote, like the name implies, works best for tasks such as list-making and jotting down quick ideas. The interface makes organizing or categorizing notes relatively easy, and notes can be color-coded to easily find them later. Because it's made as a note-taking app and optimized for shorter text lengths, it's not a good choice for dictating more extended texts.
Pros
Password protected notes
Easy to quickly make notes
Good speech recognition
Cons
Ads on the app can be distracting
Has a tendency to crash
Compare talk-to-text software and choose the best solution
| Program | OS | Pros | Cons |
| --- | --- | --- | --- |
| Windows 10 Speech Recognition | Windows 10 | Comes preinstalled on Windows 10 machines | Requires "training" the software to improve accuracy |
| Apple Dictation | iOS, macOS | Built into Apple's OS | Not effective for long text dictation |
Voice Finger
Windows 10
Complete hands-off computer control
Not intended for transcription services
Dragon Home
Windows 7, 8.1, 10
Ability to program custom phrases for commonly-used commands
Requires practice to get used to the commands and how to use them
IBM Watson Speech to Text
Requires API

Fast and very accurate

Easy to use

Cloud-based

Has trouble distinguishing and dictating multiple voices
Braina
Windows XP to 10, app works on Android and iOS
Good multi-purpose tool
More task-oriented than helpful for long text transcription
Otter.ai
Android, iOS, Chrome, Safari, Firefox
Integrates with Zoom to transcribe video meetings and transcribes multiple speakers
Time limitations for monthly usage (maximum 600 minutes of audio recording)
Transcribe
Google Chrome on Windows, macOS, and Linux
Recognizes multiple languages with accurate transcription
Browser-based, so requires an internet connection to use
Amazon Transcribe
Meant for developers using AWS
API means it can be integrated with custom apps
Requires careful proofreading and takes time training program to understand industry-related language
Verbit
Requires API
Cost effective compared to other solutions with good customer service
Can take days to receive final error-proofed transcribed text results
Speechmatics
Windows
Ability to understand numerous English dialects and accents
Has trouble understanding mumbled speech, making it less effective for people with speech impediments
Speechnotes
Chrome Browser
Browser-based, so there's nothing to install
Delays in voice recognition and transcription for fast-talkers
Google Docs Voice Typing
Chrome Browser
Works well with distinguishing voices against background noise
Requires editing to add punctuation after a document is transcribed
SpeechTexter
Chrome Browser
Supports 60 languages
Punctuation will need editing after the document is transcribed
Temi
Chrome, Safari
Accepts multiple file types for pre-recorded audio file upload and also has as a mobile app
Doesn't work well with understanding accents or distinguishing voices from background noise
Gboard
Android
Includes a language translate function and reduces the need to use a touchscreen keyboard
Delayed transcription and often has trouble understanding slang or colloquialisms
Just Press Record
iOS
Works with Apple Watch and simple to use for recording notes on the go
Not always accurate in speech-to-text functions, and punctuation will need to be dictated
SpeechTexter
Android
Good for quick notes to yourself using Google's voice-to-text engine
Tends to crash, and ads can be intrusive
Voice notes
Android
Works well as a quick way to capture ideas and notes with an intuitive interface
Stops recording after a short pause in speaking and often delayed in transcription
ListNote Speech-to-Text Notes
Android
Password protected notes for securing important documents with strong voice recognition
Ads can be distracting and has a tendency to occasionally crash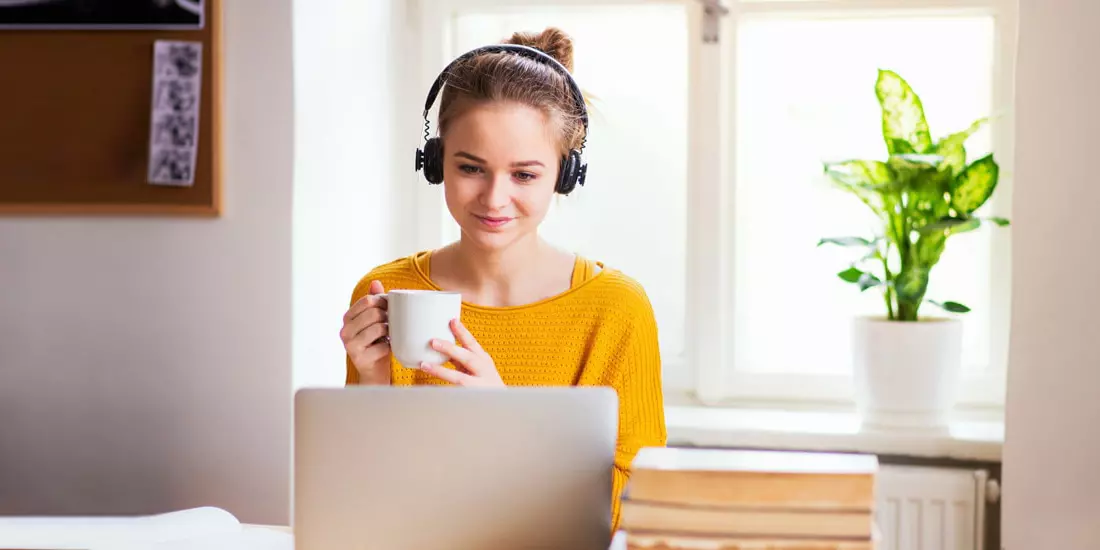 Movavi Screen Recorder
The perfect way to record from your screen
Disclaimer: Please be aware that Movavi Screen Recorder does not allow capture of copy-protected video and audio streams. Learn more
Frequently asked questions
What is the best speech-to-text software?
Here are the top audio-recording transcription and voice control software options for you to consider:
Free options
Windows 10 Speech Recognition
Apple Dictation
Otter.ai
Paid options
Dragon Home
IBM Watson Speech to Text
Braina
Web-based options
Speechnotes
Google Docs Voice Typing
SpeechTexter
Smartphone options
Gboard
Just Press Record
Voice notes
What is the best free speech-to-text software?
These are the top choices for this software that won't cost you a penny:
Windows 10 Speech Recognition
Apple Dictation
Otter.ai
Voice Finger
Does Windows 10 have a speech-to-text feature?
Yes. Windows 10 includes built-in speech recognition software that can be used to convert spoken words into text in any app with a text input field, such as word processing documents, web browsers, email software, and more. It can be used to control various functions, like moving the mouse around a document, or it can be used as a dictation device for writing emails, taking notes, or writing documents.
Sign up for news and special offers