Best Free Music-Making Software for Beginners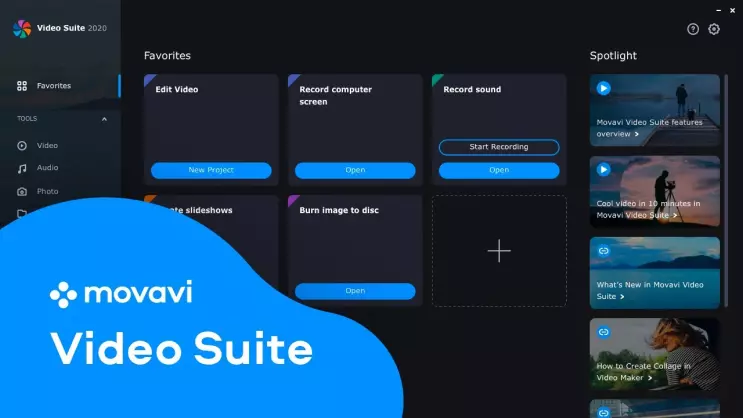 Looking for the best free music-making software to get your music career started? or better yet, to take your hobby to the next level? Look no further! We understand that the beginning of anything can be pretty overwhelming. You are excited to start something new, but there are a ton of other things you will need to figure out and maybe spend on.
The global music industry today is growing at a fast pace, taking only the smart ones with it. Starting out in such crowded industry can be way beyond daunting. But the truth is mastering the art of music production is a marathon you may have to run for the rest of your life. Like every marathon, it all begins with the first step. Don't be afraid to take the baby steps.
To help you scale through this initial stage, we took the time to compile a working cheat sheet showing some of the top free music-making software for beginners. Yes, you do not have to shed out hundreds or thousands of dollars to kick start your music career.
These music makers are perfect for the creation of just about any gig or beat you want to jump on. And they come at no cost at all. Let's get the tape rolling already!
Wait a Minute. Cut!
Before we rush into these astounding free digital audio workstations (DAWs), it is important you make some crucial decisions that would guide the selection process.
First off, you have to decide why you need a free music maker. Is it just to mashup a sound? Or to create an entire beat? It may sound far-fetched but the free attached to these monster apps does not make them any less effective. You can totally get everything you need to create an entire song, clean up an audio, mix some beats, and loads of others. So, before you get lost in ecstasy, it is critical to streamline your need so, you can get the best for that particular function.
Secondly, it is also critical to check the compatibility of your PC before jumping on a DAW. What operating system does your PC run on? Windows? Mac? Linus? Some of these music making apps are exclusive to a particular OS. Be sure to check if your favorite free music mixing app is compatible with your computer before clicking download.
Thirdly, do you need a full pack to last your entire music career? Most of these options may be best for beginners, however, a few free music makers are packed with tons of features to last your entire music career. They perfectly skirt the gamut between beginners DAWs and those left to the pro. Depending on your taste, you may keep an eye out for such fully-packed music creator or jump on anyone for the meantime and get the full version down the road. Your choice!
What Are the Best Free Music Production Software for Your Music Needs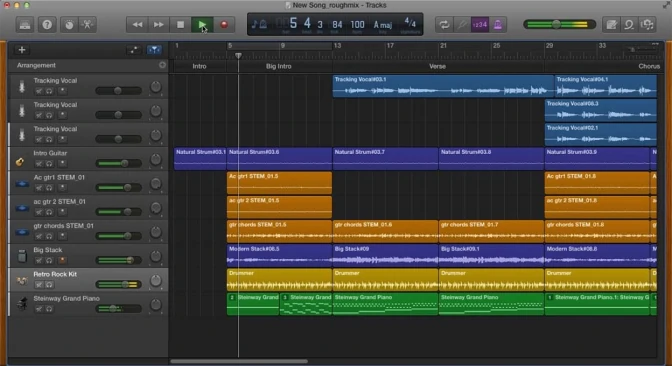 If you really want to get things started on a high groove then you may have to jump on this app. This mac-only music production software is packed full with everything a beginner needs to navigate his way through today's music industry. Made in 2004, GarageBand has come a long way. It now houses everything from multiple sessions drummer to presets for guitar and voice and loads of instruments. Like the name implies, this music making app gives you all you need to create music right from your garage. As a beginner, you will find this app very easy to use. It also allows you to record up to 255 tracks per song. Created for today's internet life, GarageBand is expertly designed to allow you make music anywhere and at any time. Simply sync your files across your devices from your online iCloud account and start making music on the go. Make incredible music with ease!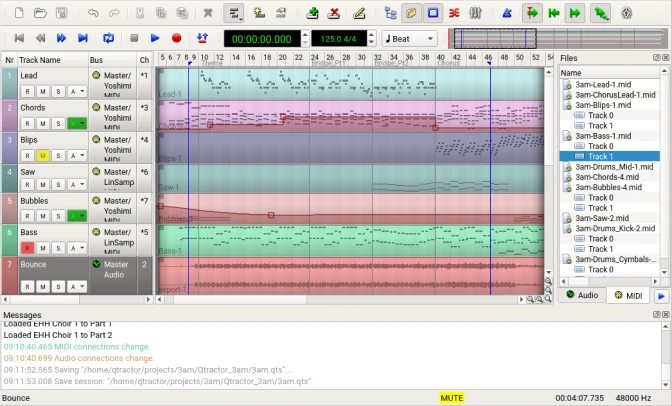 Qtractor is a Linux-only free DAW that comes with every single feature and tool necessary to get you started on your musical career. Besides being extremely easy to use, this music maker boasts a ton of features and effects including standard MII file support, non-linear editing, multi-track tape recorder control, unlimited number of overlapping clips for each track, and multi-track audio & MIDI sequencing and recording. Qtractor also allows you to easily export your files in any preferred file format.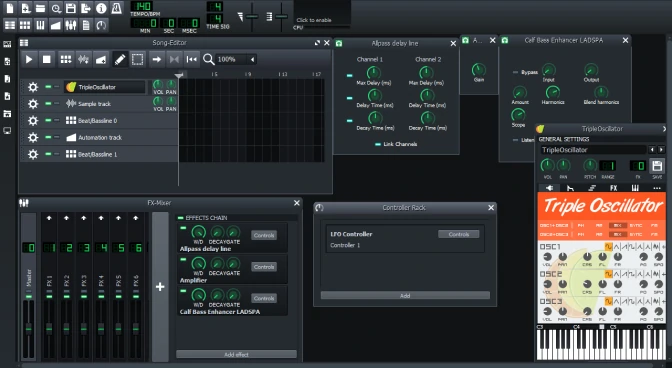 LMMS has proven to be an amazing electronic music production tool since its inception. The free music maker is fashioned with numerous pro features that would leave you wondering if it is actually free. And yes, it is. With this music making software, you can create an entire song without sweating it. Like the website rightly puts it, "making beats has never been easier." The LMMS app runs on all existing OS and it is very easy to use. The Beat + Baseline Editor is yet another feature to kill for. Your producing can't go south with LMMS. It is indeed "made by musicians, for musicians!"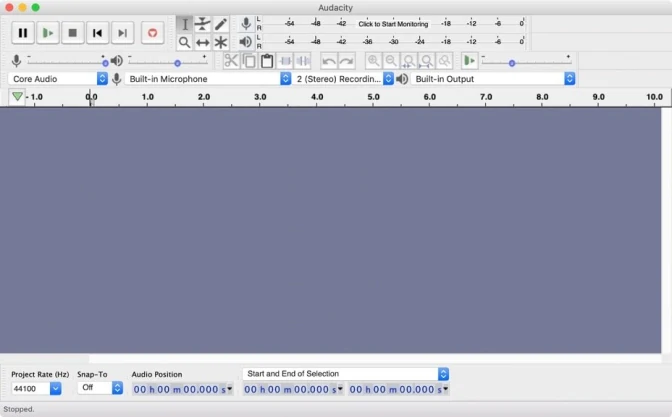 Having spent about two decades in the market, it is no doubt that Audacity is one of the best free music production apps for beginners. This open-source music maker is an all-rounder, perfect for PC of all operating systems. It depicts several essential features that allow any beginner or pro to record both in studio and live mode. Thanks to its amazing sound quality and editing tools, you are sure to make top-notch songs without breaking the bank. Furthermore, Audacity is outrageously easy to use and it comes equipped with Export/Import function that allows you to record your music in any file format. The spectrogram view mode is yet another astounding feature that allows you to visualize and toss between frequencies. It is simply amazing!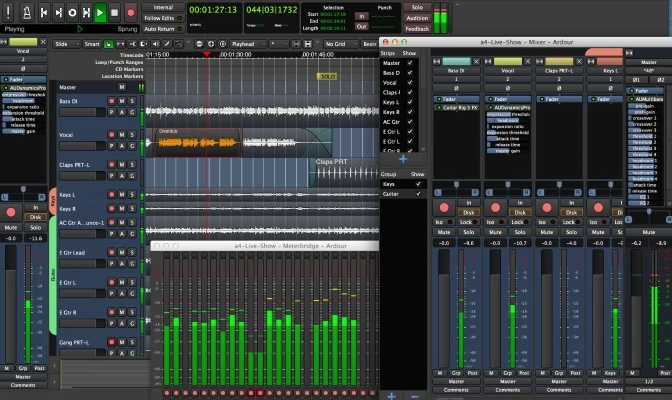 Recording, cutting, editing, and mixing has never been easier. This free music maker dubbed Ardour is a great way to skyrocket your music career from the bottom to the top in no time. The app consists of a wide variety of tools and plugins that earned it a seat among the best free music making DAWs on the planet. You would be forgiven if you mistake it for high-end DAWs such as Apple's Logic, Nuendo, and ProTools. It totally feels like one of them. The carefully designed music creation tool can run on Linus and OS X only. You may have to seat this one out if your computer runs on Windows OS. Otherwise, it is a great way to go! The software provides you with everything from a powerful signal routing to incredible editing and mixing tools. You can even use the app to create soundtracks for films and do other sound-related tasks.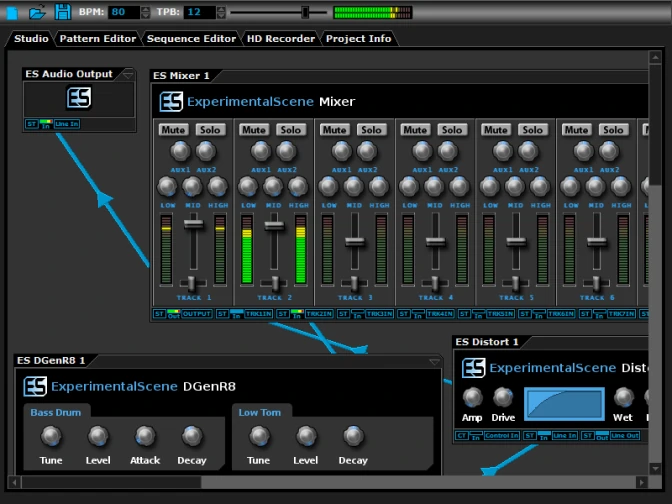 Packed with a plethora of professional music production features, DarkWave Studio may be too much for a beginner but it gets easier as you go. This open-source music creation app is exclusively created for Windows OS, running from Windows XP through Windows 10. It is furnished with several plugins and features that makes it undoubtedly one of the best music production software out there. With the DarkWave Studio, musicians get to enjoy excellent features such as sequence editor, multitrack hard disk recorder, virtual studio, pattern editor, and lots more. Besides the recording and editing options, you also enjoy the opportunity to stream your audio live. Let's ride the wave from the studio!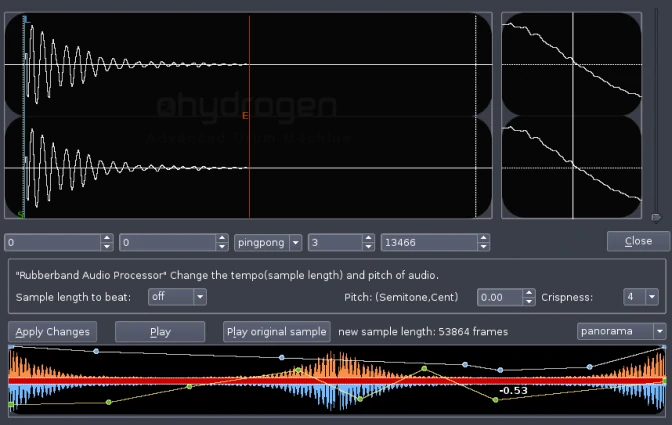 If your computer runs on Linux and you are looking for a great music production tool at no cost whatsoever, then you will definitely find Hydrogen as a lifesaver. Hydrogen was curated to meet the needs of newbies venturing into the music industry, hence the simple and intuitive interface that makes making music so much fun. Like the free music makers outlined above, Hydrogen is packed full with a wealth of features, perfect for creating all genres of songs and from the comfort of your home. The top-notch mixer features and line sequencers are just a few of the many highlights of this fun buddy. You also get to enjoy playlists with embedded scripting functions and the all-new pro tab-tempo.
Although the market is filled with high-end music making software that boast a ton of magnificent functions, it is without a doubt that there is a truckload of free music production software that also bring the prize home. Don't allow money to be a hurdle in chasing your dreams. You can do so much more than you think possible with these apps listed in our best free music software guide for beginners.
Do You Want More?
Then quickly run to Movavi Video Suite to download this amazing movie and audio sound maker. With this app, you get to enjoy a wide range of features that would leave you stunned at the result. The all-new Movavi Video Suite is indeed "next step in video making."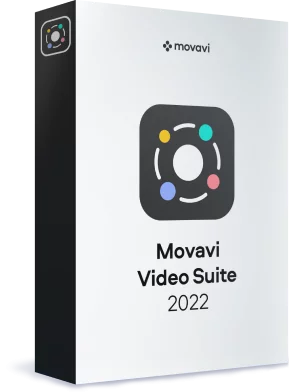 Movavi Video Suite
Everything you need to create and edit multimedia files
Edit videos and create slideshows

Capture screencasts or streaming web videos

Save videos for viewing on mobile devices

Convert media files and DVDs
* The free version of Movavi Video Suite has the following restrictions: 7-day trial period, watermark on the output videos, and, if you're saving a project as an audio file, an ability to save only half the audio length. Learn more
See Other Useful How-to Guides