5 Best Free Watermark Makers for Mac and Windows
A quick round-up review of the best watermark softwares on the market.
Why Do You Need One?
Protecting your photographs from plagiarism and outright cyber thieves is imperative when using your images online. Including copyright metadata in your image files is fine, but this can be stripped out using computer software and shouldn't be relied upon for fully protecting your intellectual property.
A great option for safeguarding your work is to use your own signature or logo laid on top of your images to make it more difficult for the cyber pirates to steal. This is called watermarking. Watermarks are designed to deter thieves but not detract from the photograph so most users opt for a transparent graphic to make them appear near-invisible.
All you need is a free watermark creator to get going, and that's why we've rounded up 5 of the best free watermark software available for Mac and Windows systems. They're easy to use either for single images or in a batch. The first step is to download them and be fast on your way to using your own digital watermark. Let's look at the first watermark maker for photography which supports the latest version of macOS and Windows 7 and 10.
Check These Out Before Choosing the Best Free Watermark Software
Adding watermarks using photo editor software is great for protecting your still images, but they're also useful for branding your photos on video. Timelapses and slideshow videos that appear on YouTube are easily reuploaded under other channel names and although the EXIF information may be stripped out, the watermark should still be visible. So take a look below to see how to add a watermark with our 5 favourite and free watermarking softwares.
5 Best Free Watermark Creators for Windows and Mac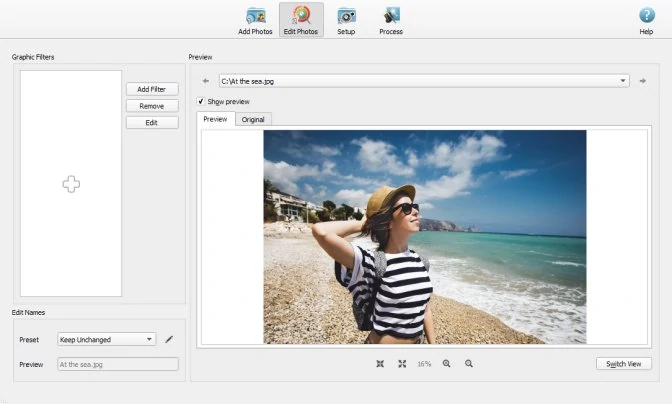 We're starting things off with a comprehensive watermarking software that's not only cross-platform on both Windows and Mac but also works on mobile devices (iOS only). It boasts batch watermark processing, including text effects such as shadow and stroke. You can place several layers of watermarks on images and even export at full original resolution - meaning no loss of image quality. The software is well updated and is well reviewed across the internet. Though the free version isn't restricted there is a paid-for full version which comes with some handy extra tools.
Pros
Can export a file without quality loss
Supports batch editing
Cons
The full version requires purchasing
The interface might seem a bit old-stylish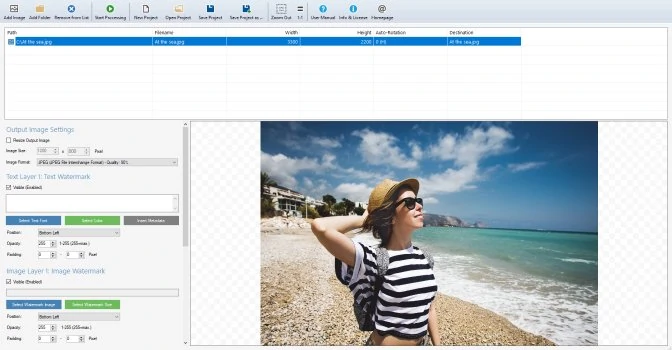 Arclab have done a good job at putting plenty of functions into their Watermark Studio software with multiple layering supporting as well as adding the ability to resize and convert image file types (JPEG, PNG, TIFF and BMP). It also exports to web-optimized sizes in its interlaced mode. The former actions can be done on a single image or in batch processing mode for multiple photos.
Pros
Able to resize and convert files to some formats
Many great watermark designs
Cons
The trial version adds its own watermark
Managing a batch of files might be hard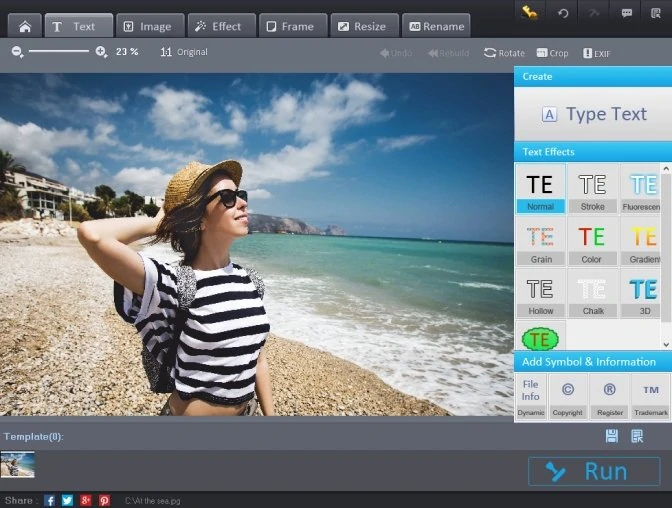 A key feature that comes from Watermark-software is its ability to add a QR code as a watermark. This is especially useful for retail users that want to redirect viewers to their website. EXIF watermarking is also supported allowing users to input their own EXIF metadata onto the photographs during export. They also have a video version called video-watermark. Both versions are available to try for free and for purchase.
Pros
Can add a QR code as a watermark
Supports invisible marks (EXIF)
Cons
Hard to additional guides if needed (because of the program name)
The full version is not free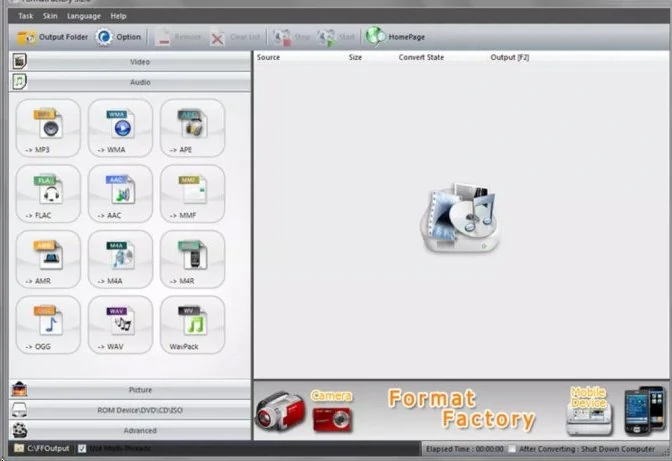 Format Factory is a multi-functional media processing software which can convert pictures, video and audio into multiple file types. It doubles up as a watermarking software for photos and video and would be a particularly attractive download to those working with video as well as still images.
Pros
Has many useful functions apart from creating watermarks
Free
Cons
Windows-only
Might install extraneous software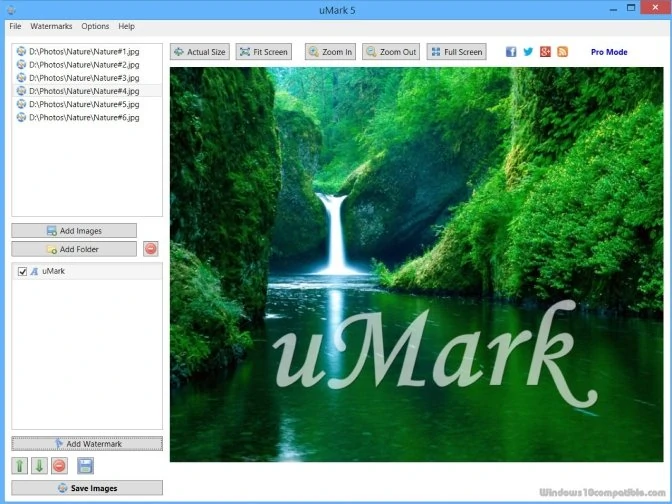 uMark offers good features alongside its ability to place, resize and alter watermarks on your images. Its simple user interface makes batch processing easy, and can also add barcodes and QR codes to photos, as well as adding frames and border shadows to make photos stand out. It also supports 8 languages for users across the globe.
Pros
Can add barcodes or QRs
Supports batch processing
Cons
In the free version, adds the uMark logo
Might be hard to work with several folders
How We Chose the Winner
We had some strict guidelines to follow for all the watermarking software looked at in this article. The software had to be easy to use, powerful enough to process batch files quickly and be stable and free from bugs. Below is a short run-down on how we chose the winner:
Up-to-date release versions
Compatible on wide variety of systems including Windows and macOS
Simple but effective graphical user interface
Consistently provided a good result
Stable operation, not showing glitches or problems when processing larger files
Single and batch processing-capable
FAQ
How Can I Add a Watermark to My Photos?
In any watermarking software listed above the first step is to load your desired photo/s into the software of choice.
Next select the watermark function and either type your desired text or upload a logo/graphic.
Now alter the watermark, changing its size, colour, transparency and position on the photo. You may want to tile the design so the watermark appears across the entire photograph.
Once you're happy with the placement apply the watermark to all of the uploaded photos (if working on a batch process).
Export the images, paying attention to convert or resize the exported photos to your desired output (i.e. web-optimized sizes and formats for online use).
How Can I Add a Watermark to My Video?
The process for adding watermarks to video is similar to the photo option above. For an in-depth look at how to do this, and to watch a video which demonstrates how to do this in Movavi Video Editor Business take a look here:
Is It Illegal to Remove Watermarks?
A watermark isn't necessarily a proof of ownership, because anyone could download your images or videos and place their own watermark on it. However, if the watermark is placed on there by the copyright holder of the intellectual property and someone else were to purposefully remove some or all of it by way of cropping or cloning the image, this infringes the Digital Millennium Copyright Act and is seen as unlawful and the offender could receive a fine if found out. Copyright is something that changes between territories and countries, so if you're in doubt search for your local copyright law online to make sure. The World Intellectual Property Organization's website is a good place to start.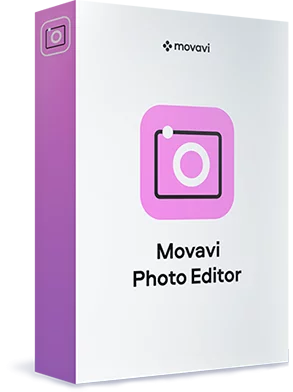 Movavi Photo Editor
The easiest way to turn any snapshot into an eye candy
Improve quality and retouch blemishes

Add effects and filters

Crop, straighten, and flip pictures

Change image backgrounds and remove objects
See Other Useful How-to Guides