Alternatives to Windows 10 Photo Viewer
Nowadays, we take pictures almost every day. It has become a hobby for some people, and a job for others. So it comes as no surprise that photo viewers and image browsers have gained popularity over the last years. This kind of software comes in handy to view, sort and edit images. One of the most popular picture viewers is no doubt Windows Photo Viewer. A large number of users loves it for its simplicity, basic editing features and operation speed. In Windows 10, however, Microsoft replaced Windows Photo Viewer with the Photos app. Even though it has some nice features, many users still cannot get used to the new software. The Photos app does not provide a lot of useful features. Basically, it is a good software suitable only for watching pictures, unlike the previous Photo Viewer that supported basic editing. Not to mention that Photos works slower than the previous photo viewer. As a result, some users are now looking for the photo viewer to replace this one.
| | Free / Paid | Pros | Cons |
| --- | --- | --- | --- |
| Movavi Photo Manager | Free trial version | The built-in AI analyzes photos to ohelp you optimize your collection | Only basic photo editing features |
| Apowersoft Photo Viewer | Free trial version | Running the software takes up little resource of the PC | No built-in image converter |
| FastStone Image Viewer | Freeware | Reads TIFF and RAW files in addition to basic formats | The website looks hard to navigate |
| IrfanView | Freeware | Has a ton of plugins to make your life easier | The interface may seem outdated |
| XnView | Freeware | Can read about 500 image formats | Some users call the installer's interface confusing |
| Nomacs | Freeware | Can work with geodata of your images | Hasn't been updated since 2018 |
| Google Photos | Free | Provides up to 16 GB of cloud storage | Requires internet connection |
Top 7 Photo Viewers for Windows 10
In the guide below, we will cover top 7 photo viewers for Windows 10. They may become a good alternative to the Photos app. Some of the programs listed below are not only image viewers, but picture browsers as well. Moreover, all of the programs from the list can be used for editing pictures. If you want to pick the image viewer that works the best for you, just keep on reading the article. Please, note that all the photo viewers in the article below are listed in no particular order.
Movavi Photo Manager
This program is a convenient image viewer which can offer much more. Movavi Photo Manager will help you manage your entire photo collection, including images in RAW, JPEG, PNG, and many other formats. If you value your time as much as your photo collection, then this photo managing tool is a must-have! Apart from viewing and storing photographs, Movavi Photo Manager helps with automatic album creation, photo tagging, geolocation, duplicate search, and much more. Thanks to its batch editing feature. you can work with individual photos or edit multiple photos simultaneously. This program feels like something every Mac or PC needs by defaults.
This program is also listed in out top-10 photo organizing software. To read it, follow the link below.
The Best Photo Organizing Software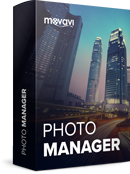 Movavi Photo Manager
Photo management made easy
Organize images at the click of a button

Quickly find photos by tag, date, and location

Edit multiple images simultaneously

View pictures in many popular formats
Apowersoft Photo Viewer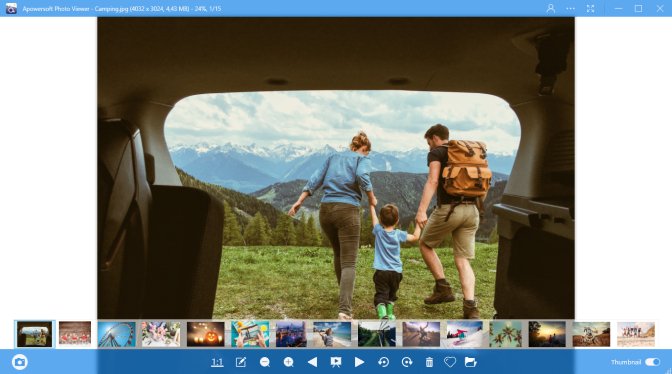 This photo viewer is no doubt one of the best photo viewers for Windows. The navigation is pretty easy. You can simply drag your photo to a program window to open it. This image viewer also provides some basic editing options – add effects and text, resize an image, rotate it, delete unwanted parts, and many more. After you done editing your pictures, you can upload them to a cloud or share to your social accounts. With this photo editor, you can easily take a screenshot. There is also a thumbnail gallery at the bottom part of the program window which is very helpful when you work with multiple photos. You can also sort your pictures by adding them to the favorites folder.
Apowersoft Photo Viewer is also one of the top picks in our top-10 photo managers. To read the full guide, click the link below.
The Best Photo Management Software
FastStone Image Viewer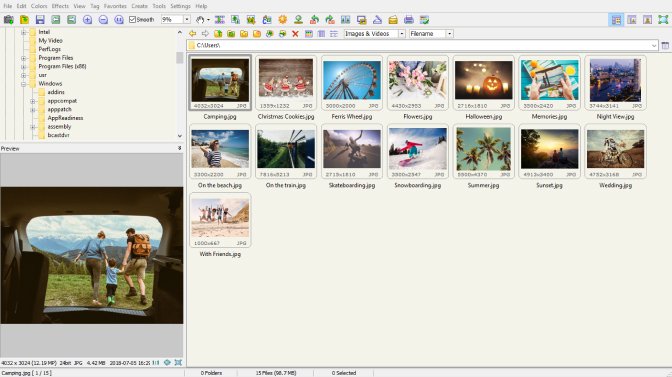 This photo viewing app is another good alternative to Windows Photo Viewer. This software is very useful not only for watching pictures from your photo gallery, but also for browsing and organizing them. It allows sorting your pictures by date, event or location. This photo viewer is available for multiple platforms. The program interface is rather simple. It provides a small preview window on the left part of the program window. The software offers a set of useful tools for photo editing. You can adjust colors and lighting, reduce noise, add different effects, watermarks, and texts, remove red eyes, and many more. Another handy option is the comparison of selected images. The software provides acquiring images from scanner, printing selected images and sending them by email. This image viewer is available free of charge for personal use. But keep in mind that for commercial use, you are required to purchase a license.
IrfanView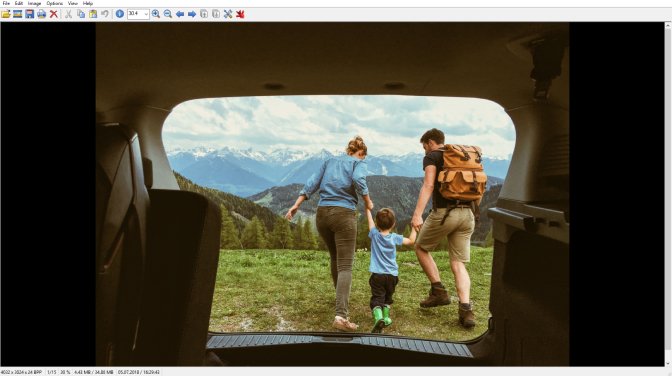 IrfanView is one of the best photo viewing software on the market. The app has a simple interface so it is easy to use even for beginners. IrfanView provides several useful features – you can rotate and flip images, add borders and frame, change color depth. With this program, you can also set a picture as your desktop wallpaper. If you want to view a large image, use the full-screen mode. Moreover, this software provides batch processing that allows processing media files very fast. The latest version of the app is available to download and install for free. And what's more, the software developer also provides a set of additional plugins. It'd be better to download them to your PC if you want to enjoy all the features of the photo viewer.
XnView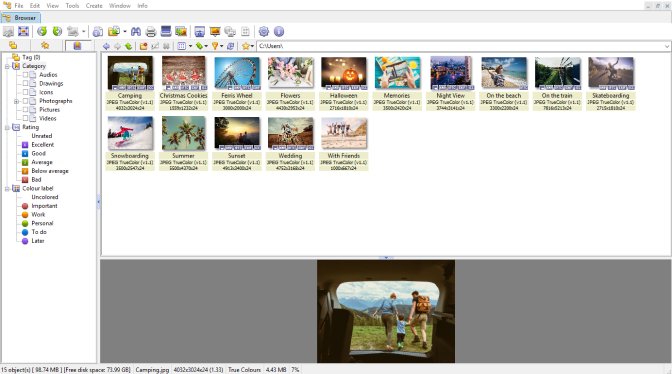 This software is another example of a good Windows picture viewer. XnView is an image viewer and a picture browser with a user-friendly interface. You can enable picture preview to display images in folders. This image viewer supports many popular formats, such as JPEG, PNG, TIFF, RAW, and more. Moreover, it allows you to open video files as well as audio files. The most popular formats are available for loading and saving by default. If you want to open files in another format, you need to change the program settings first. Here are some program features that are worth mentioning: you can watch selected pictures as a slideshow, add texts and watermarks to images, convert to grayscale, correct and swap colors, send your pictures by email, capture screen, and many more. The program also allows to view and edit HD pictures. This software may become a good replacement for Windows 10 Photo Viewer.
Nomacs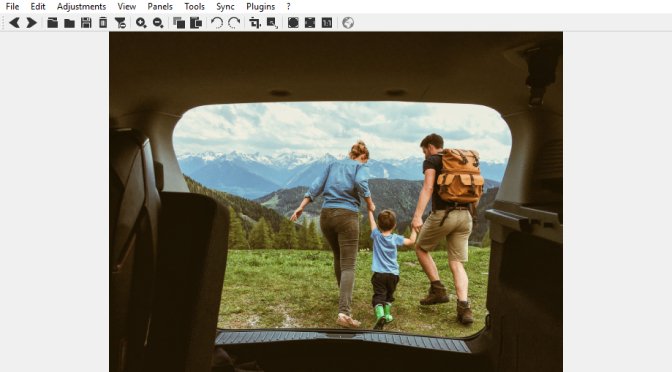 Nomacs is a Windows 10 photo viewer available free of charge not only for private use, but for commercial as well. The software allows you to view your images in full-screen mode and frameless mode. Another useful feature is taking notes. It allows you to add notes to the selected pictures while you work with them. The software provides extracting multipage TIFF files, as well as extracting media files from the archive. You can also edit your pictures. Nomacs provides a wide range of picture editing tools – enhance image quality automatically, normalize and sharpen your pictures, rotate and flip them, resize and crop, adjust hue, saturation, exposure, and more. Batch processing of files is also available.
Google Photos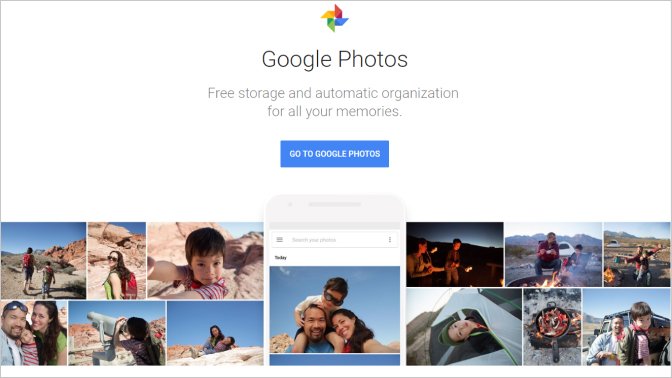 If you need storage space outside your PC, Google Photos should be your go-to. This online photo manager not only allows you to view your pictures and catalog them but also stores them in its own cloud, which you can access from any device which has internet connection. You can take pictures with your smartphone, upload them to Google Photos, and then edit on your PC.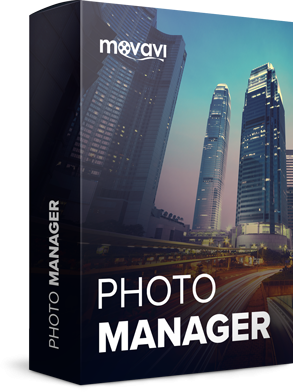 Movavi Photo Manager
Photo management made easy
Organize images at the click of a button

Quickly find photos by tag, date, and location

Edit multiple images simultaneously

View pictures in many popular formats
Read Other Useful Articles