You might require a screen recorder for your PC for various reasons like online classes and meetings. Getting a Windows 11 screen recorder is not that complex. Here are some of the options that you can choose from.
Best screen recorders for Windows 11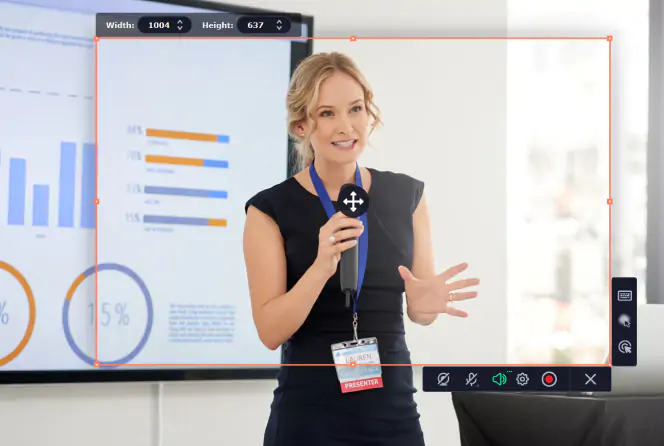 Best for: easy-to-use UI
Price: free trial, $57.95 for the full version
G2 rating: 4.5 out of 5, 50 reviews
If you need a screen recorder for your PC, you can try Movavi Screen Recorder. It's considered by many users the best screen recorder for Windows 11 on the market. You can use this software to capture from a webcam, make screencasts, and record multiple streams at once. Also, you can take screenshots with the help of Movavi Screen Recorder. It can make your task of recording the screen much easier. The UI of this application is simple and easy to use. Even if you are a beginner with screen recordings, you will not find any difficulty with this. The only drawback of this application is the certain limitations with the free trial version. Overall, it is a great screen recorder for Windows 11 with audio for hassle-free screen recording.
Key features:
Can capture the whole screen or only a part of it
Audio-only mode
Record from webcam
Pros:
Easy-to-use UI
Record system audio
Easily share recorded videos
Cons:
The free trial version provides limited features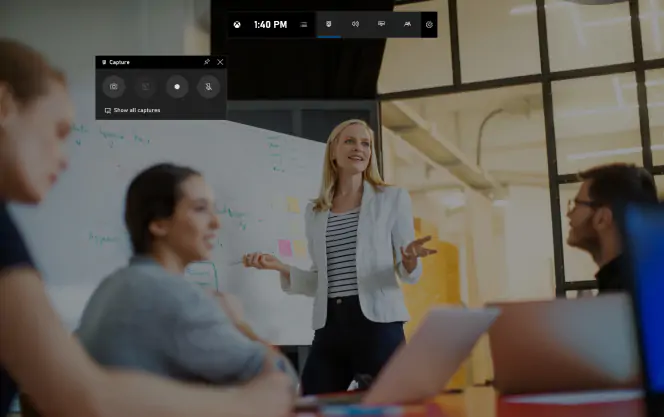 Best for: recording gameplay
Price: free
Xbox Game Bar is a free screen recorder for Windows 11 that is mainly for recording game streaming. But you can also use this to record all kinds of videos on your PC. You can capture system audio and video at once. It belongs to the team of the best screen recorders with an audio recording facility. The interface is not that complex. You can access plenty of widgets to ease your task of recording and sharing. You will have to keep in mind that Xbox Game Bar is primarily for gaming. It might not be perfect for you if you want universal screen recording software for Windows 11. It is free, and you can use it smoothly on your Windows 11 system. If you want a free and quick solution, Xbox Game Bar can meet your needs.
Key features:
Screen capture apart from recording games
Simple UI
Pros:
Easy to use
Allows audio recording
Cons:
The interface might lag at times
Performance is not constant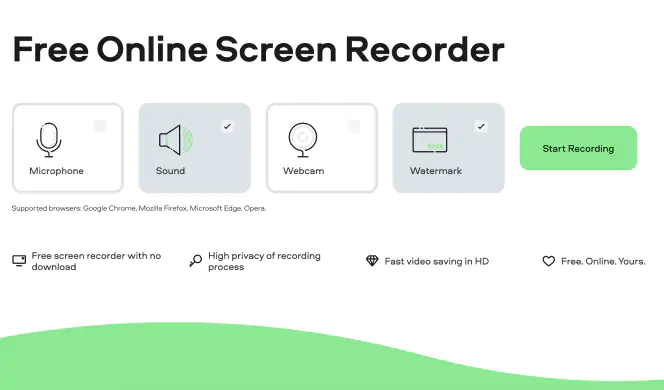 Best for: superb privacy
Price: free, $9.95/month for a paid version
Trustpilot rating: 4.7 out of 5, 595 reviews
Screencapture.com is a web-based screen and audio recorder that is pretty basic and easy to use. It does not need any kind of extra plugins or software. If you want a screen recorder that won't use up system storage space, Screencapture.com is a great choice. It allows users to record from the webcam and other screen activities without hassle. Also, you can record the system and microphone audio with a click. You can save all your recordings in HD. The best thing about this screen recording tool is that you can keep all your recordings private and extremely secure. The screen recorder with audio is great for basic needs. It is not meant for you if you want a tool that is rich in features. The free version comes with a watermark. So, if you want to record without a watermark, you will need to go for the premium version.
Key features:
Quickly save videos
Great security
Pros:
No extra downloads
Easy to use
Cons:
Go to Screencapture.com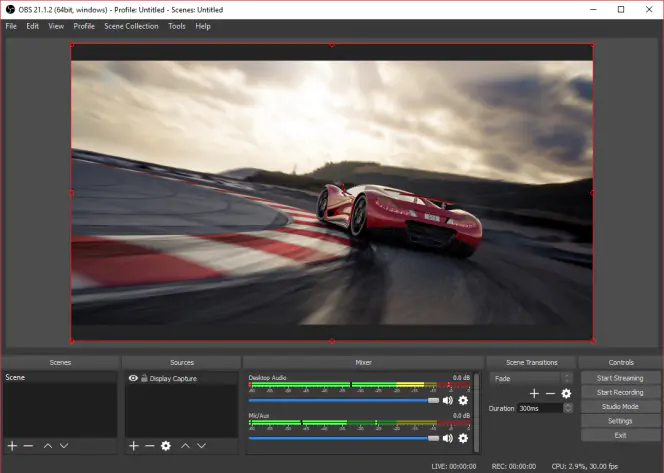 Best for: HD recording
Price: free
TechRadar rating: 4 out of 5
OBS Studio acts like a two-in-one application – a screen recorder with a video editing feature. With the help of this screen video recorder, users can record the screen and microphone or mix the two. Also, you can include footage from games and add still images. It can provide you with the best support to capture a portion of the screen or the entire window. You can record your screen HD. OBS Studio is free, open-source, and permits usage without restrictions. The computer screen recorder comes with no restriction on recording length despite being free software. You can also do live streaming on YouTube or Twitch. As the software records from the graphics card, you can capture games in full-screen mode. Also, there are customizable hotkeys to control your recording. Overall, OBS Studio is one of the best free screen recorders on the market.
Key features:
Two-in-one tool
HD recording
Pros:
No recording length
No ads
No watermark
Cons:
Setup takes time
Lack of technical support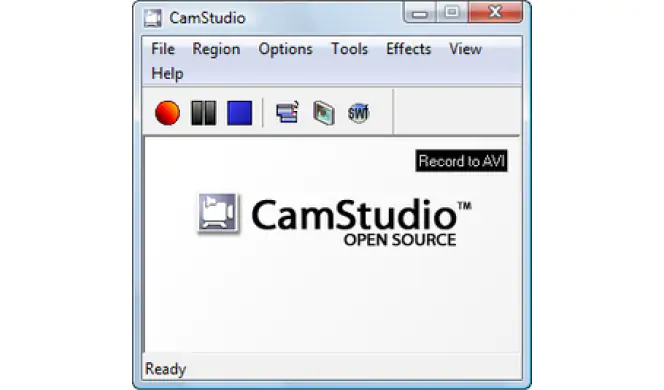 Best for: screen captions
Price: free
SourceForge rating: 3 out of 5, 242 reviews
CamStudio is a versatile screen recording tool that will let you record your screen seamlessly on Windows 11. All your recordings will convert to AVI files which you can change to SWFs or Streaming Flash videos. CamStudio is a great choice to make product demonstrations. You can create any kind of video with this application. The best thing and the most attractive feature of this tool is the scope of adding text captions to all your recordings. You can also do so with audio if you require. The recordings are high in quality, mainly because of the Lossless Codec of the tool. It can help produce sharp videos without using too much storage space. The tool is completely free to use. It offers various recording options and features regardless of being a free tool. You can record one portion of the screen, record the whole screen, and select custom cursors. Users can also adjust the video quality according to the file size they need.
Key features:
Basic editing tools
Record a portion of the screen or full screen
Easy screen captions
Pros:
Sharp video recordings
Adjust video quality
Cons:
Not suitable for recording for a long time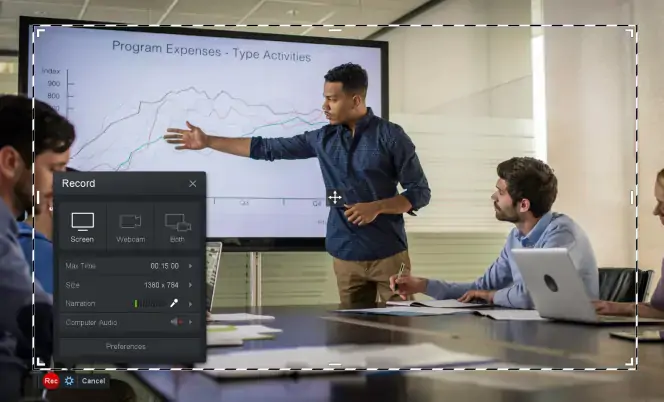 Best for: zoom while recording
Price: free, $4/month for a paid version
G2 rating: 4.3 out of 5, 61 reviews
Screencast-O-Matic is a great screen recorder that runs on a browser. Despite being a browser screen recorder, it is quite capable of basic recording needs. But the length of recordings comes with a restriction of fifteen minutes. The best thing about this screen recording tool is that you can zoom in as you record. Also, you can record as many clips as you want. You might call it a basic screen recorder, but it allows users to trim videos, add necessary captions, and then save the same on their PC. You can share your recordings using a simple link. It allows the addition of royalty-free music tracks for thirty seconds. All you need to do is open the website of Screencast-O-Matic and click on "Start recording for free." After that, click on "Launch free recorder." Prepare the screen and adjust your recording screen according to your needs. Click on the red button, and you will start recording.
You can either capture a portion of your screen or the whole screen. You can record from a webcam or screen and audio from a microphone or PC. You can upgrade to a Deluxe account to get additional features, such as drawing, scripted recordings, annotations, a video editor, etc. You can get it for $4 per month. If you go for the free version, you will have to deal with the watermark on your recordings. However, if that is not an issue for you, you can go for the free version.
Key features:
Tools for editing
No watermark with the paid version
Pros:
Easy recording
Allows annotation
Cons:
Costly according to the features
Recording restrictions with the free version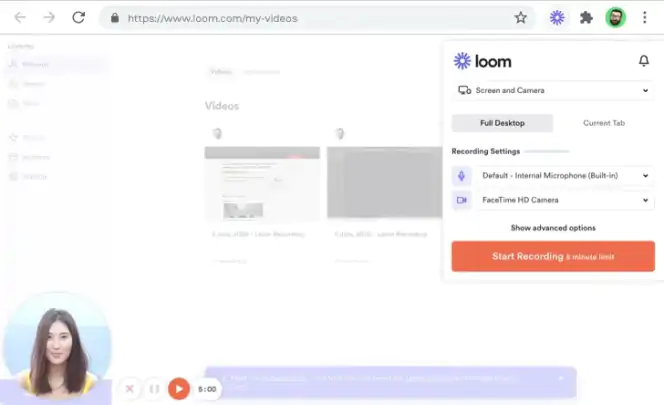 Best for: various recording options
Price: free
Chrome Web Store rating: 4.7 out of 5, 10,018 reviews
Loom is one of the easiest-to-use software to record screens. It is perfect for presentations and educational video messages. Users can create demonstrations, tutorials, training videos, etc. The application will let you record your whole screen, voice, and webcam. Also, you can share your recordings instantly with anyone you like. Loom functions as a chrome extension that you can add to your Google Chrome browser. You can get notifications when anyone reacts or comments on your videos. You can create a Loom account and access the same across various devices. The tool allows screen recording in 720p, 1080p, 1440p, and 4K. You can add camera frames, blurring effects, and different backgrounds with the help of the video editor.
Key features:
Multiple recording options
Free tool
Pros:
Easy-to-use tool
Users can record anything
No excess load on system storage
Cons:
The interface lags at times
No form of guidance or technical support is available
Today, you can find various screen recorders, and each comes with varying features. It is necessary to be sure of your needs and usage before choosing one. If you cannot decide which tool to opt for, you can choose any from the list of applications above. Here are certain tips that would assist you in getting the perfect screen recorder.
Price: there are screen recorders that come for free and recorders that come quite pricey. You might think that only the paid ones can provide you with many features, but that is not the case. There are free screen recorders that are better than the paid options. It is always good to get an application that fits within your budget. Also, the price that you pay should provide you with the necessary tools or features. Try to opt for an application that comes with a free trial option. It will let you ensure that it fits your requirements before committing.
Features: the majority of screen recorders come with loads of features. But that is not a great thing. Too many features might slow down your workflow and also creates confusion. You will have to be sure that the application you choose comes with all your required features. For instance, if you need to record from your screen and web browser simultaneously, find an application that comes with such a feature.
Usability: choosing a complex application or an application with complicated UI can easily hamper your work. Opt for an application compatible with how you use to record and is easy to use. You can check out all the application features first before you finalize one. If you cannot decide, you can look online for user reviews.
Support: a good application will always come with great support. It is always a superb idea to ensure that your application provides user support. It could be useful in all those instances when you cannot understand a feature or get stuck somewhere while using the application.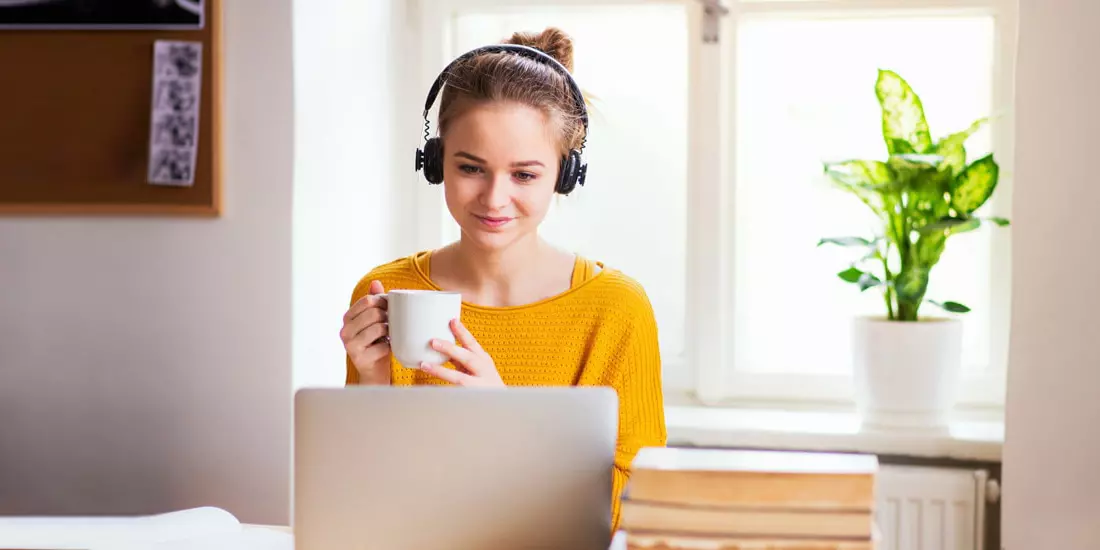 Movavi Screen Recorder
The perfect way to record from your screen
Frequently asked questions
Does Windows 11 have a screen recorder?
Yes, Windows 11 has Xbox Game Bar, a lightweight screen recorder. It is primarily for recording gameplay. However, you can use it for basic screen recording too. Another great application that you can check out is Movavi Screen Recorder. It offers plenty of recording features to make your screen recording task easier than before.
How do you record your screen on Windows 11?
You can record your screen on Windows 11 using Movavi Screen Recorder. Here are the steps to follow.
Download and install the program.

Adjust your video capture settings by selecting Screen Recording.
Select the area you want to capture and drag the cursor.
Start recording your screen by clicking on the REC button.
Click Export to save the recording.
What is the best screen recorder for Windows 11?
Here're some of the best programs to record your screen:
Movavi Screen Recorder
Xbox Game Bar
Screencapture.com
OBS Studio
CamStudio
Screencast-O-Matic
Loom
Sign up for news and special offers