How to Record Your Computer Screen on Windows 8
Do you have friends or relatives who are struggling with the user interface of Windows 8? The best way to help them out is to create video tutorials instead of spending hours trying to explain things. Movavi Screen Recorder Studio lets you capture videos of the Windows 8 interface and apps, create tutorials and share them in no time.
Record screen on Windows 8 or Windows 8.1 with ease: grab anything that happens on your computer screen. Plus, you'll be able to edit recorded videos to create user tutorials. The following easy steps will guide you through the process.
Step 1. Download and Install Movavi Screen Recorder Studio

First, downloaddownload and run the installation file for Movavi's screen recorder for Windows 8. When you launch the setup program, your PC switches to desktop mode. The installation process should only take a couple of minutes – just follow the onscreen instructions. After the installation is complete, the program opens automatically (unless you unchecked the corresponding check box in the Setup window).

Step 2. Adjust the Recording Settings

Configuring video capture on Windows 8 is fairly easy: click Record screen in the program startup window and define the area you want to record. After the recorder interface appears, you'll be able to adjust the area frame manually. Now select the desired audio device: you can record sound from your microphone (or another input device), or speakers, or from both input and output audio devices simultaneously. Simply click on the icon for the desired sound source and make sure it's green.

Another good way to make your tutorial more informative is to highlight the mouse cursor and show keyboard actions while you record your video on Windows. To activate these options, open the Effects menu and configure Keystroke Recording and Cursor Effects.

Step 3. Record Your Screen Activities on Windows

Now you're ready to record your desktop. Click the REC button or press F10, and the program will start capturing everything on your screen within a few seconds. Press the Windows key on your keyboard to quickly switch to the Start screen, if you need to. After you've recorded everything you need, press the F10 key to stop recording. Your PC will switch back to desktop mode, and the recorded video will open in a preview window. The recording is automatically saved in MKV format. If you don't need to do any further processing – that's it! Now you know how to use Movavi's desktop recorder on Windows 8.

At this point, you can also choose what you want to do with your screen recording next: save the video in a different format (click Save As), or continue working on it using the built-in video editor (click Open in Editor). Learn more about editing your video in step 4 or go to step 5 to find out how to convert your recording to a format other than MKV.

Step 4. Edit Your Video (Optional)

Click the Open in Editor button in the preview window to add the video you've recorded to the Movavi Video Editor program. The video will be automatically added to the working area, so you can edit it the way you want: trim, split into segments, insert transitions between segments, add music and titles, apply special effects, and more.

When you've finished editing, click the Export button and choose what you would like to do with the finished video: save it on your PC, prepare it for uploading to a mobile device, or share it online.

The Movavi screen recording software for Windows 8 offers ready-made presets for most popular mobile devices, so you can be sure your file is saved with the optimal parameters for viewing on a particular device.

Step 5. Change Video Format (Optional)

If no editing is needed, you can convert your MKV recording to any other video format you want in the screen recorder preview window. Hit the Save As button and select the desired preset from the quick access panel in the export dialog. Finally, click Save to export your recording.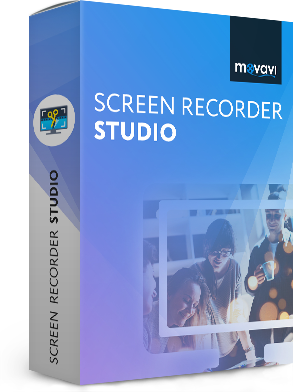 Disclaimer: Please be aware that Movavi Screen Recorder Studio does not allow capture of copy-protected video and audio streams.
Movavi Screen Recorder Studio
Capture video from your computer screen

Grab sound from multiple sources

Tweak videos with the built-in editor

Save videos in any popular format
Disclaimer: Please be aware that Movavi Screen Recorder Studio does not allow capture of copy-protected video and audio streams.