How to Record Your Computer Screen on Windows 8
Do you have friends or relatives who are struggling with the Windows 8 user interface? The best way to help them is to create video tutorials instead of spending hours trying to explain things. Movavi Screen Recorder lets you capture videos of the Windows 8 interface and apps and share your tutorials in no time!
Record screens on Windows 8 or Windows 8.1 with ease: grab anything that happens on your computer screen. The following simple steps will guide you through the process.
Step 1. Download and Install Movavi Screen Recorder

First, downloaddownload and run the installation file for Movavi's screen recorder for Windows 8. When you launch the setup program, your PC will switch to desktop mode. The installation process should only take a couple of minutes – just follow the onscreen instructions. After the installation is complete, the program opens automatically (unless you unchecked the check box in the Setup window).

Step 2. Adjust the Recording Settings

Configuring video capture on Windows 8 is fairly easy: click Screen recording on the sidebar and adjust the capture frame to cover the part of the screen you want to record. Now select the desired audio source: you can record sound from your microphone (or another input device), system sounds, or from both sources simultaneously. Simply click on the icon for the desired sound source and make sure it's displayed in green.

Step 3. Record Your Screen Activities on Windows 8

Now you're ready to record your desktop. Click the REC button or press F10, and the program will start capturing everything on your screen within a few seconds. Press the Windows key on your keyboard to quickly switch to the Start screen, if you need to.

After you've recorded everything you need, press the F10 key to stop recording. Your PC will switch back to desktop mode, and the recorded video will open in a preview window. The recording is automatically saved in MKV format. If you don't need to do any further editing – that's it! Click Show in Folder to access the recorded video. Now you know how to record video on Windows 8.

Step 4. Edit Your Video (Optional)

In addition to screen capturing, the Movavi screen recording software for Windows 8 also lets you edit your recordings. In the preview window, you can delete unneeded segments from your recording. Place the cursor at the start of the unwanted section and click Cut. Make other cuts this way if you need to. Then click on the part you want to remove and hit Delete fragment.

When you've finished editing, click the Save As button. In the dialog box that opens, you can choose the output format, change the file name, and select the export folder. Click Save.

This is how to use Movavi's desktop recorder on Windows 8. Download the program and try it yourself!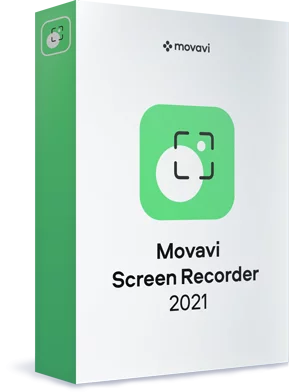 Disclaimer: Please be aware that Movavi Screen Recorder does not allow capture of copy-protected video and audio streams.
Movavi Screen Recorder
Capture video from your computer screen

Grab sound from multiple sources

Use the simple editing tools to make your recording perfect

Save videos in any popular format
Disclaimer: Please be aware that Movavi Screen Recorder does not allow capture of copy-protected video and audio streams.
Frequently Asked Questions
How Can I Record My Screen for Free?
There are a large variety of screen-recording programs you can choose from, but we recommend Movavi Screen Recorder. The demo version is free and has the most essential features needed for easy screen recording.
Does Windows 8 Have a Screen Recorder?
Unfortunately, there is no built-in screen-recording app on computers running Windows 8. If you're looking for screen-capturing software, try Movavi Screen Recorder.
Can I Record My Screen on Windows 8?
Yes, you can easily record your screen with Movavi Screen Recorder on Windows 8. First, download and install the Movavi software on your PC.
Launch the program and click Screen recording. Select the area you want to capture and adjust the camera, microphone, and system audio settings. Once everything is ready, click the REC button. The recording process will begin after a countdown. Click Stop to finish the screen capture. The recording will be automatically saved in MKV format. To locate the file, just click Show in Folder.