It's not difficult to choose a screen recorder for Windows 8 today. If you are thinking about the best solution to record a screen on Windows 8, this article is for you.
Screen recorders: Comparison
Desktop programs to record screen on Windows 8
When you want to record your screen on Windows 8, the first option you'll probably think of is software that you can download and run natively on your machine. When you download a desktop recorder, you can use it offline without opening your browser or navigating to a website. There are several good programs available for download on Windows 8 computers, depending on your preferences. Whether you want to record video only, video with audio, or even have access to basic editing features, there's an option for you. Let's now take a look at the most popular screen-recording software for Windows 8.
Best for: Video recording on Windows 8
Reviews: 4.5/5 stars, 47 reviews
Price: Free 7-day trial with the paid version of $57.95
OS: Windows, macOS
Capable of more than just basic screen recording, Movavi Screen Recorder is one of the best programs available for Windows 8. With this software, you can easily record your computer screen on your desktop computer or on a laptop. After recording a clip, you'll be able to save it in Full HD or stunning 4K resolution. The software was designed to be both easy-to-use and powerful. Setting up recording parameters, recording both video and audio, editing videos, and saving the results are all a breeze thanks to the intuitive interface of the Movavi screen-recording tool.
Although an excellent option for basic needs, the free version of Movavi Screen Recorder has some limitations. However, when you upgrade to the paid version, you get features that go above and beyond a basic screen recording. You'll be able to create screencasts, capture a webcam, pull from multiple streams at the same time, schedule recordings to start and stop at a particular time, share videos quickly, or even take simple screenshots.
For more advanced editing features, Movavi Screen Recorder integrates nicely with Movavi Video Editor Plus, a professional-quality video editor that also features an easy-to-use and intuitive interface.
Main features:
High-quality recordings
Can capture audio without video output
Option to capture system and microphone audio
Pros:
Intuitive, easy-to-use interface
Useful screen capture features
Cons:
Requires additional software for editing captured videos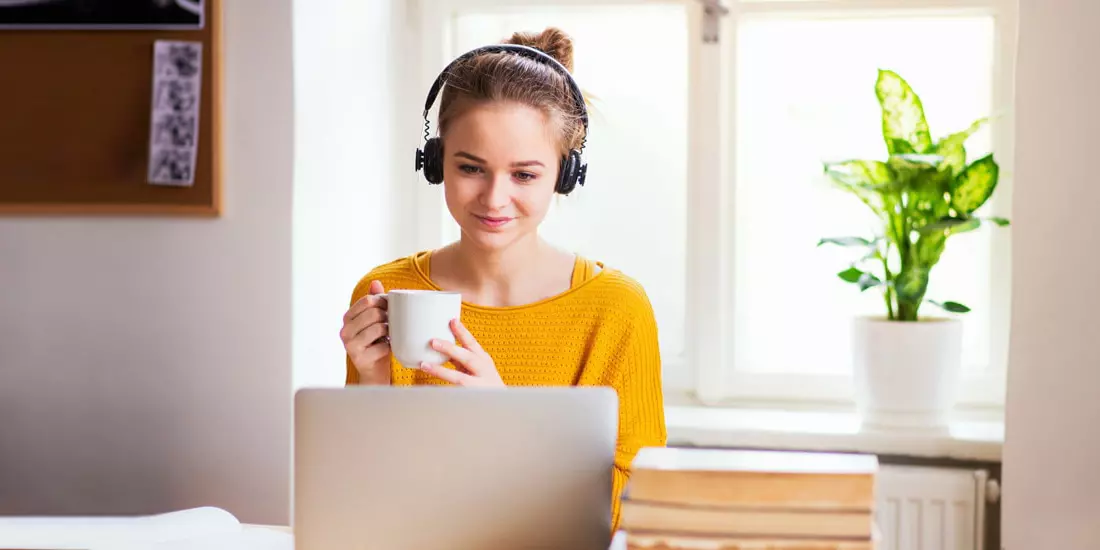 Movavi Screen Recorder
The perfect way to record from your screen
Online services to record a video on Windows 8
Desktop software is great if you plan on recording a lot of videos, but what if your needs are much less frequent? Do you really need to download and install software just to capture your screen? If you're wondering how to record your screen on Windows 8 with no download, the answer is to use online screen recorders. There are several options available that will let you record your screen on Windows 8 or any other Internet-enabled devices by merely visiting a website and performing a few simple steps. Depending on the features, though, some of these options may still require you to download and install a small helper application that will serve as a communication layer between your computer and the website.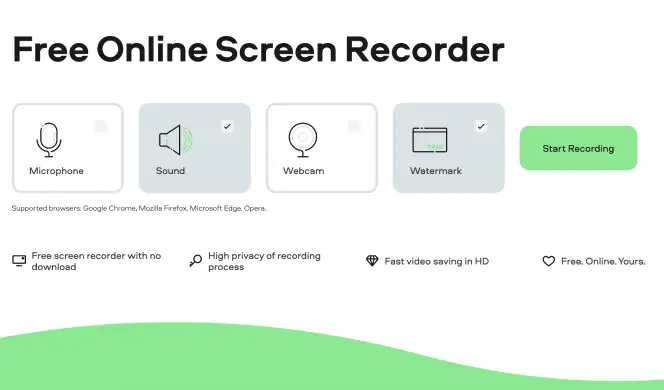 Best for: High-privacy recording
Reviews: 4.6/5 stars, 335 reviews
Price: Free with the paid version from $9.95
OS: Online
With Screencapture.com, the limitations of web-based options are gone. When you record a video from this site, you'll be able to capture the audio from your computer's speakers as well as from its microphone. You also won't need to download any external helper applications to use Screencapture.com, simply click on the record button, and you are ready to go. Like the other options, you'll be able to add footage from your webcam to your recording session. The tools will record your videos securely and privately and allow you to download them in full HD resolution.
From the website, you'll also find a bonus Screenshot extension that you can add to Firefox or Chrome. With this extension, you'll be able to quickly grab a screenshot of an entire webpage without the need for scrolling.
The video capture portion of the site is free and unlimited, although you'll need to pay a small monthly fee if you'd like to remove the watermark from the recording.
Main features:
Microphone sound capture
Can record webcam
Option to choose a part of the screen to record
Pros:
Can record system audio
Doesn't require a helper download
Cons: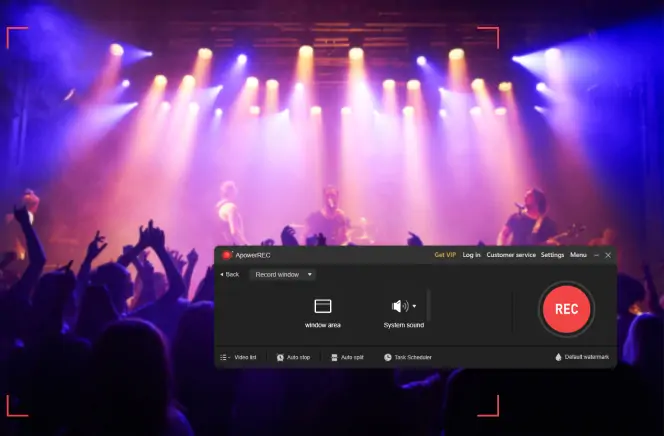 Best for: Editing screencast while recording
Reviews: 4.5/5 stars
Price: Free
OS: Online
Like all web-based options, ApowerSoft Free Online Screen Recorder makes for a quick and effective tool for recording your screen. Using the tool is as easy as pointing your favorite web browser to the site and clicking a single button to start the recording process. You can record for an unlimited amount of time and capture an unlimited amount of screencasts. When you are done, the site will give you the option to download the finished file to your computer's hard drive or upload it to popular video sites such as YouTube or the cloud storage service, RecCloud.
Despite being web-based, the tool has many of the same features you'd find in simple desktop screen recorders. You can record your entire screen, a hand-drawn portion of the screen, or select a particular window to record. You can even capture your webcam to overlay on top of the screen capture. ApowerSoft Free Online Screen Recorder allows you to record audio and video at the same time.
Editing features in the software are quite limited, and this is one of the web-based tools that require you to download a helper application before you can use it.
Main features:
Basic editing features
Flexible screen capture
Pros:
Can record with a single click
Cons:
Requires a helper application to use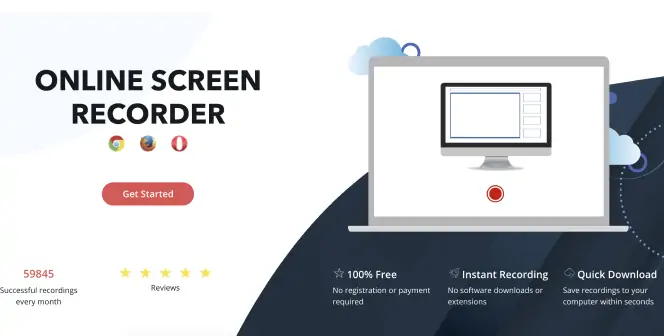 Best for: Short video recording
Price: Free with the paid version from $1.99/month
OS: Online
If you were put off by the need to download a launcher to use ApowerSoft Free Online Screen Recorder, you might want to give Screenapp.io a try instead. This web-based tool is completely free without limits and requires no additional downloads to work. With Screenapp.io, you'll be able to record your entire screen, choose a particular application window to capture or record a browser tab. After recording, you will be given the option to make very simple edits, such as trimming the unwanted sections from your captured file.
For audio, Screenapp.io allows you to record sound from the browser or the microphone. This means if you are recording an application window and want to capture the audio for it, you'll likely want to look for another tool instead. To avoid patent fees, the developers have also restricted the output formats only to support WebM files at the moment. This may be a problem if other software in your toolchain doesn't support that format.
Main features:
Can capture webcam
Option to trim your recording before downloading
Pros:
Includes basic editing features
No download required
Cons:
Only one output format and a watermark on the free version
Chrome extensions (no-download options)
Screencapture.com featured a browser extension that lets you capture screenshots from your browser, but there are also Chrome extensions that will let you record a video on Windows 8. These tools require downloading and installing the plugin, but doing so is much quicker and more convenient than downloading a desktop app. Since most people keep a web browser open at all times, it makes for a fast and convenient way to capture your Windows 8 screen. Currently, there are three primary options for turning your Chrome browser into a screen-capturing program.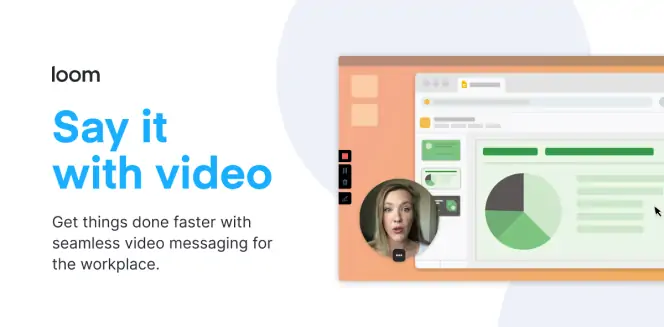 Best for: Rich customization for recording
Reviews: 4.7/5 stars, 10 055 reviews
Price: Free
OS: Google Chrome extension
Loom is as easy-to-use as nearly any browser extension. It is marketed mainly towards business users who will use it to create video messages for coworkers, presentations for management, or perhaps training videos for new hires. Despite the marketing, it makes for a useful tool regardless of your reason for recording a screen capture. With Loom, you'll have all the features you'd expect from a tool marketed to working professionals, such as the ability to add your webcam to the screen capture, audio capture through the microphone so that you can add voice-overs, and the ability to quickly share your recordings with others.
Main features:
Video library shared across devices
Users can leave time-based comments
Can record both internal and microphone audio
Pros:
Includes basic editing features
Easy to share recordings
Cons: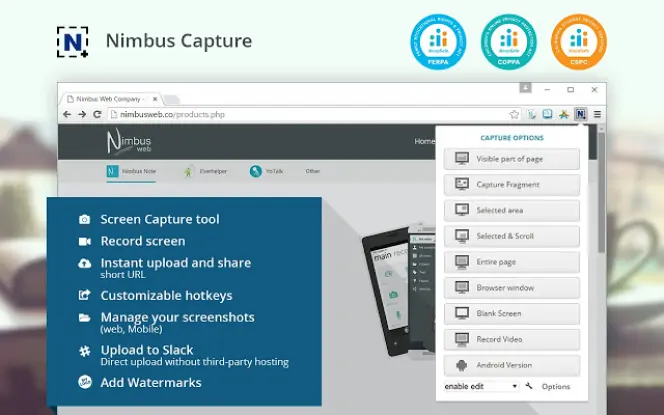 Best for: Taking screenshots and creating screencasts with one software
Reviews: 4.6/5 stars, 15 825 reviews
Price: Free
OS: Google Chrome extension
Capable of both taking screenshots and creating screencasts, Nimbus Capture has unique features that make it worth checking out. For screenshots, the software features optical character recognition (OCR) that will turn the image into editable text. Because it's designed for work, it also features collaboration via workspace and decent annotation and editing features. The software can upload to standard video services, including Nimbus Note, a cloud-based storage service designed to help you bring information from multiple places into a single cohesive place that you can use to build better documents.
Main features:
Convert videos to GIF
Quickly share videos online
Pros:
Useful editing tools
OCR for screenshots
Cons: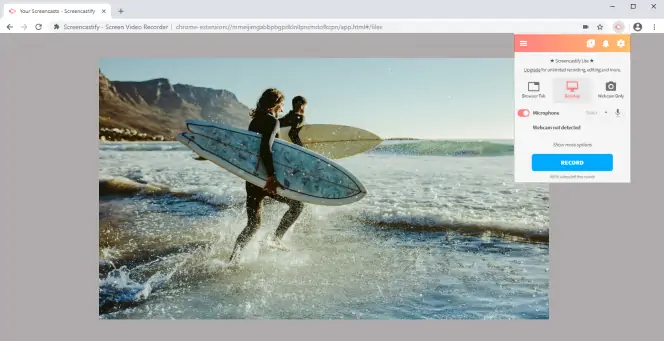 Best for: Short recordings
Reviews: 4/5 stars, 11 686 reviews
Price: Free with the paid version from $49.99 per year
OS: Google Chrome extension
Screencastify is another Chrome-based extension that is popular and easy to use. It has basic editing features that allow you to create interactive lectures or tutorials quickly. Despite being a browser plugin, the software doesn't require you to be online to use it. Once you are done creating and editing your video, it is easy to upload it to various popular video hosting sites.
There are some meaningful limitations in the free version of the plugin. Unless you pay for the premium version, you'll be limited to record for only 10 minutes at a time and will have a watermark on the final video file.
Main features:
Interactive recording via stickers and pen tool
Can merge videos
Pros:
Has basic editing features
Comes with essential drawing tools
Cons:
For editing and unlimited recording time, the paid version is required
How to record your screen on Windows 8
Movavi Screen Recorder is an excellent option for screen capturing. Below is a step-by-step guide on how to record your screen on Windows 8 with this program.
Step 1. Download and install the software
Once you have downloaded and installed the software, launch it like any other Windows 8 app.
Step 2. Bring up the software you want to record
The software records whatever is on the screen. To adequately capture the software you want to record, make sure it is the frontmost window.
Click on the Screen recording button. The icon with a picture of a movie camera on it is the button that tells Movavi Screen Recorder to start recording a video. Click that.
Drag the box where you want to record. You will now be presented with the option to drag a box over the area of the screen you'd like to capture. If you want, you can fill the whole screen.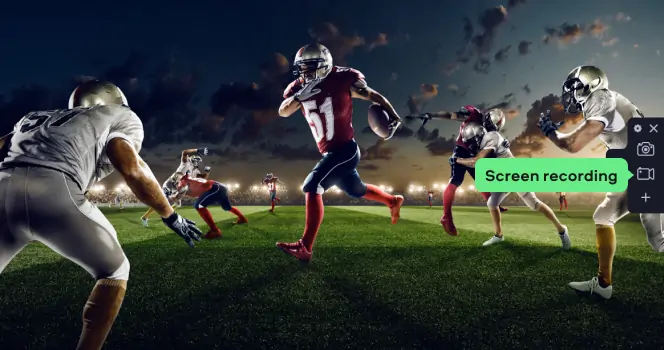 Step 3. Set the audio and display options
Next to the red REC button are Microphone and System Audio icons. Enable or disable these to enable or disable recording audio from your computer's microphone and its speakers.
Near the REC button are some more options. These allow you to show when you click the mouse, make the mouse location visible as you move around, or display keystrokes as you type.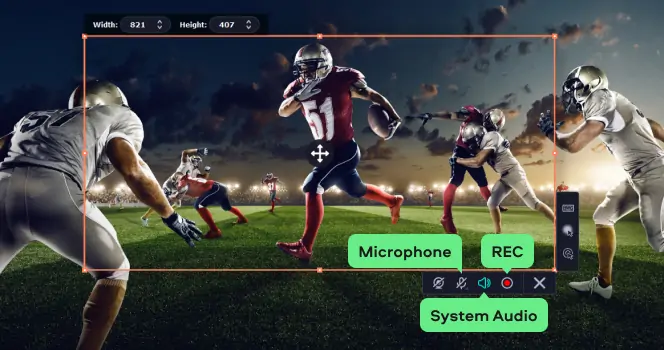 Finally, you can press the record button to start the process. A countdown timer will let you get things ready before the recording begins. The recording will continue until you press the Stop button.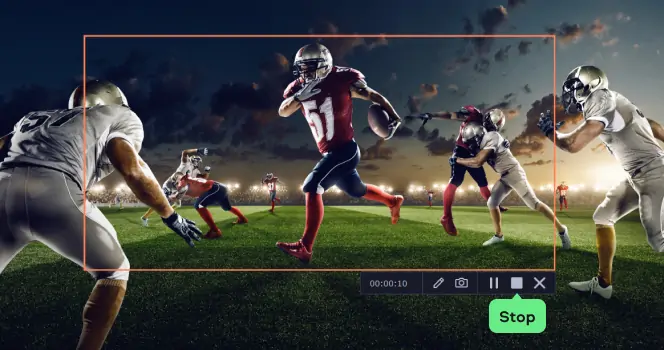 Step 4. Edit and convert the video (optional)
By default, the video will be saved in MKV format, but you can also tweak your video by removing unwanted parts and save the file in another format. To remove a segment, click the Cut button, place the markers on the timeline at the edges of the piece you want to delete, and click the Trash Can icon. Once you're happy with the result, click Export.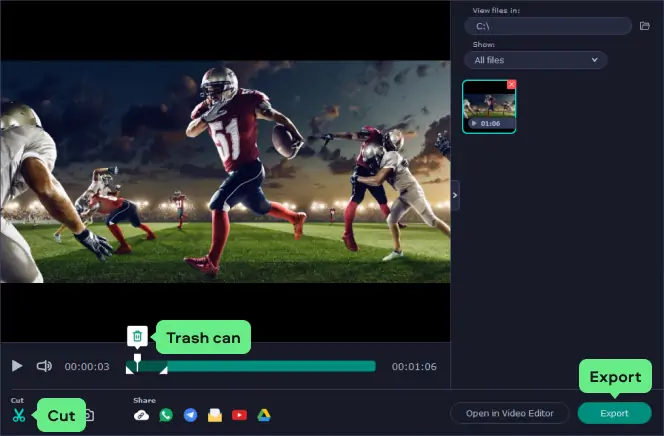 In the new export window, choose the output format and click Save.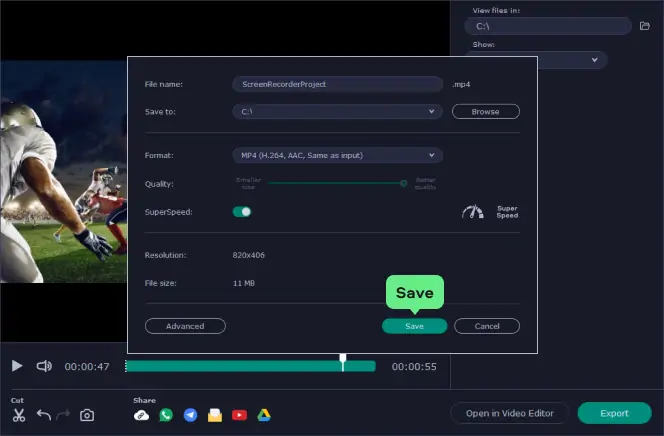 Conclusion: What to look for in a Windows 8 screen recorder
We hope this article was helpful to you in your choice of a screen recorder. In summary, here is the list of the most important things to consider when picking a screen recording software:
Usability: Before downloading, you should check if the app provides the features you need and matches your level of expertise.
Supported video formats: It's best to choose software that supports the widest range of video formats so that you won't have any problems playing back your recordings.
User reviews: You can find useful information about the screen recorder of your choice from the reviews of people who have already tried it out and have possibly discovered any issues.
Support: Check out the means of communication with customer support: online or by email.
Frequently asked questions
What is the best screen recorder for Windows 8?
When picking a screen recorder, Windows 8 users have many options. The best choice will depend on what your exact needs and preferences are. Each of the products on this page has a reputation for being great at what it does. Users just need to match the capabilities of the software with their own requirements. Here, we recommend a desktop program, an online tool, and a Chrome extension you can try out:
How do I record my screen on Windows 8 without downloading software?
Two of the web-based screen capture tools on this page allow you to capture your screen without downloading anything or installing any helper applications or browser extensions. If you need to record a screen with no download, we recommend Screencapture.com and Screenapp.io, depending on your needs.
How do I screen-record on Windows 8?
Try Movavi Screen Recorder:
Download the installation file and follow the instructions.
You can adjust the settings by clicking Screen recording. Choose the area you would like to record.
Click the REC button to start recording the screen.
Edit the recording if needed. Once you're done, click Export and save the video in the desired format.
Sign up for news and special offers