How to Convert MOV to AVI with Movavi Video Converter
The MOV video format is popular among Mac users because it was originally designed by Apple as part of QuickTime technology. But it's less useful for Windows users as they need to install additional software in order to play MOV files.
Problems related to the format may be diverse.
Can't open your MOV files?
Maybe, you just have a Windows-based device. What you can do is converting the files to a format that is more widely supported by such devices.
A clip is shown with distortions?
The file may be too large for your device to handle smoothly. You can convert it to another format with a special app. If there's no sound, try changing the audio codec.
No storage space for a film?
Apps like Movavi Video Converter can help you out – just save your file in the AVI format with a lower resolution. This way, you can free up more space on your device.
If you have a movie in the MOV format that you want to upload online and share with your friends or watch on your mobile device, it's a good idea to know how to convert MOV to AVI – probably the most popular video format.
Movavi Video Converter is one of the easiest conversion software tools for everyday use that also includes additional features for advanced users. Give it a try and enjoy the experience! Here's a short video guide to file conversion.
If you prefer step-by-step text guides, just follow the information below to turn MOV files into AVIs.
Install Movavi Video Converter for Encoding MOV to AVI
Download the program file, open it and follow the on-screen instructions.
Add MOV Files to the Program
Click the Add Media button in the top left corner of the program window, then select Add Video, and open the MOV files you want to convert. And don't worry, you don't even need to have QuickTime installed – Movavi Video Converter supports MOV conversion out of the box.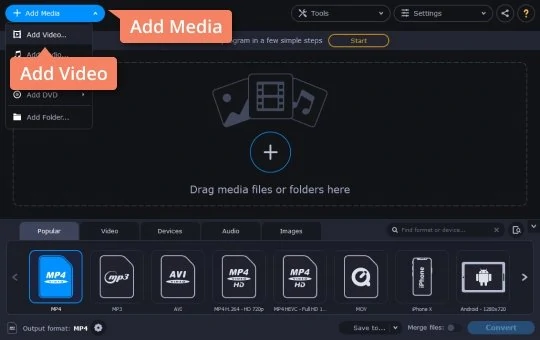 Make Changes in the Files You Want to Convert (Optional)
The app enables you to edit your files before conversion. Click Edit on the right in the file information block to open the editing tool window.
Try out the stabilization feature in the respective tab to remove shakiness in your video footage. Use the Audio tab to reduce the noise in the background or adjust the volume level in quiet clips. Open the Adjustments to change the settings of brightness, saturation, and contrast, etc. In the Effects tab, you can apply different filters from the built-in library. In the tabs Watermark and Subtitles, you can add a watermark of your choice and insert subtitles, respectively. You can also crop your footage edges, trim away elements you don't want, and rotate your clip by accessing other available tabs.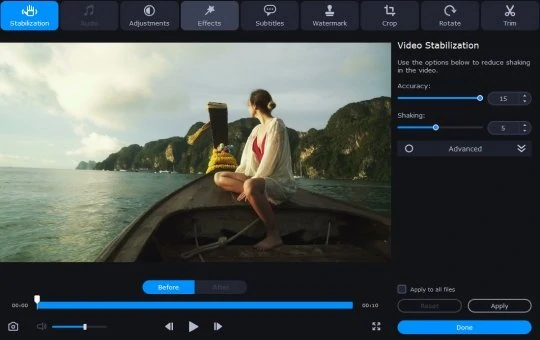 Compress the MOV Files (Optional)
There's an option to quickly compress your files if they're too large. Open the compression dialog box by clicking the size value in the file info section. Set the appropriate values for size, quality, and bitrate. Check how the end file will look like by clicking Convert sample.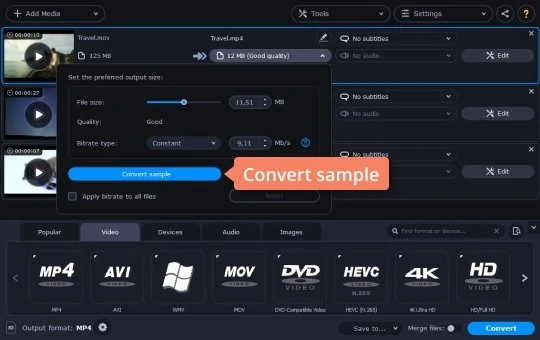 Specify the Output Video Preset
You will find AVI in the groups of different output presets at the bottom of the program interface. Select Video > AVI and choose the desired preset to change your MOV file to AVI without adjusting the bitrate or resolution or choose the AVI preset with the resolution and codec that best suit your needs. You can also use these presets to change the format of uncompressed DV AVI files from a digital camera so they can be saved as smaller AVI videos.
Note that, when you use the new SuperSpeed mode, you can change the video format without losing quality.
Run the MOV-to-AVI Conversion
Click Convert in the bottom right corner to transfer your files to the new format. You can use Movavi's converter for converting to and from more than 180 other multimedia file types.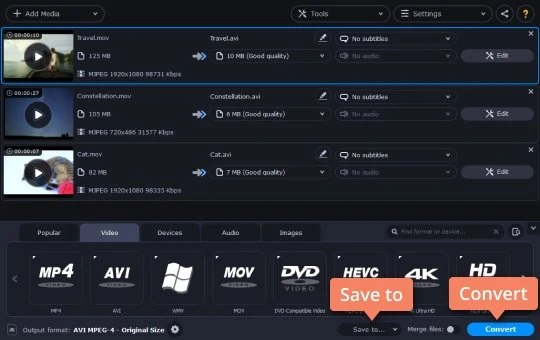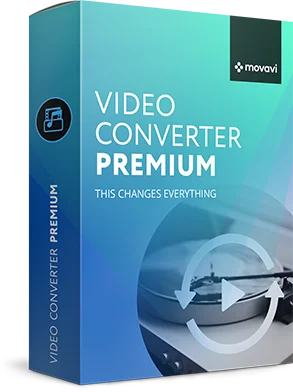 Movavi Video Converter
The ideal way to get your media in the format you need!
Convert video, audio, DVDs, and image files

Enjoy lightning-fast conversion without quality loss

Improve quality, adjust sound, trim and join files before converting

Save video and audio clips for easy mobile access
MOV vs. AVI: a Comparison
When comparing MOV vs. AVI, the first thing to know is that these two formats are intended for use on different operating systems. Apple device users mainly store their videos as MOV files and Windows users go for other formats that are more familiar to them, like AVI. Here's a short list of the main MOV and AVI characteristics so you can see the differences between these two formats more clearly.
| Comparison Parameter | AVI | MOV |
| --- | --- | --- |
| File extension | .avi | .mov, .qt |
| Introduced | Windows, 1992 | Apple, 1998 |
| Video codecs | H.263, VC-1, MPEG-1, MPEG-2, MPEG-4, others | MPEG-2 (OS X Lion or later), MPEG-4 Part 2, H.264, H.263, H.261, Apple ProRes, Apple Pixlet, others |
| Audio codecs | AAC, WMA, MP3, FLAC, AMR, others | AAC, Apple Lossless, MP3, others |
| Supported by | Windows-based devices, Linux; macOS only with special software | Any Apple devices; limited support for other systems |
See Other Useful How-to Guides