What Is AVCHD and How Do You Convert AVCHD Files?
What is AVCHD? The AVCHD video format is commonly used for storing HD video on today's digital cameras. It uses the MPEG-4 AVC / H.264 codec for video compression, which results in great video quality and a relatively small file size. However, you may encounter problems with AVCHD because of its low support.
Here are some issues you may come across.
AVCHD is not supported on your device
The AVCHD format is not recognized by most mobile devices, so if your device is one of those, convert your video to a more device-friendly format like MP4 which is much more widely supported.
It's impossible to share an AVCHD clip on social networks
AVCHD is not among the formats recommended for video uploading, at least for YouTube and Facebook. Even if you manage to upload your clip, the quality may be reduced, so it's better to convert it to a more compatible format like MP4 in advance.
There's no sound in your video
This might be an audio codec problem. Try to change it by converting your video file to another format with a different codec, e.g., MP4. The right software will help you do this without losing video quality.
In the guide below, we compare AVCHD and MP4, describe three ways to convert AVCHD files to MP4, and answer some questions you may have.
How to Convert AVCHD to MP4 without Quality Loss Using the Movavi Software
The first option to convert AVCHD videos is to use file conversion software. We recommend you try Movavi Video Converter – a fast and reliable program that supports more than 180 media formats and lets you convert video, audio, and even image files. It will help you to convert AVCHD to MP4 quickly, thanks to the ultimate SuperSpeed technology. Plus, if you have a video in a different format (AVI, MKV, MOV, FLV, etc.) that's been compressed with the H.264 codec, the decoder will help you transfer the video stream to the MP4 container without re-compression (convert H.264 to MP4). The program can also help you change the video codec for your MP4 video from MPEG-4 to H.264 (convert MP4 to H.264).
To learn how to convert AVCHD to MP4 without quality loss, download Movavi Video Converter for Windows or Mac and follow the simple guide below.
Install Movavi Video Converter
Open the downloaded installation file and follow the instructions on your computer screen to install the video encoder software.
Add the Files for Conversion
First, connect the AVCHD camera to your computer. Click the Add Media button and select Add Video. Now open the folder containing the files you want to convert, and add those files to the program.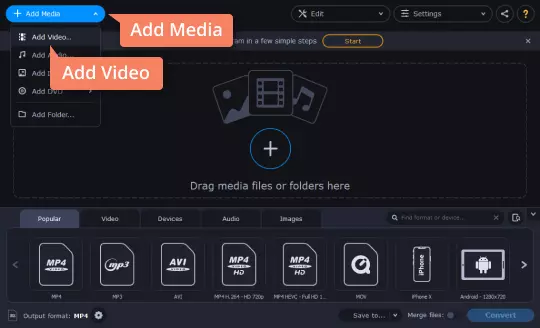 Select an Output Format
Open the Video tab, click the MP4 category, and choose the desired preset from the list. To create an MP4 video for a specific mobile device, open the Devices tab and select the preset for the target device.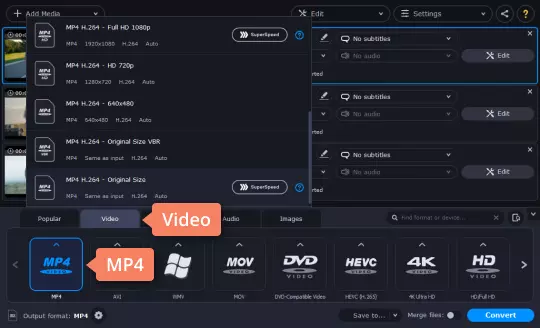 Start the Conversion from AVCHD to MP4
By default, the converted files will be saved to the Movavi Library folder. You can continue with this folder or choose a different one by clicking the Save to button.
Now all the required settings have been specified, so you can start converting your files. Click Convert to launch the conversion from AVCHD to MP4; on completion, the folder containing the converted videos will open automatically.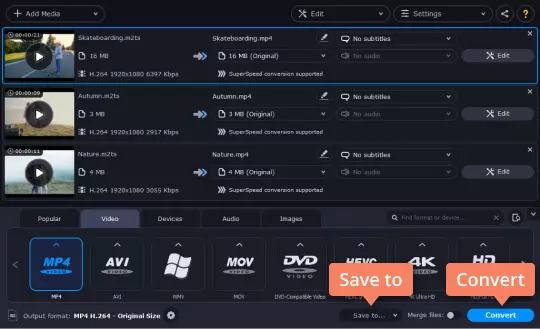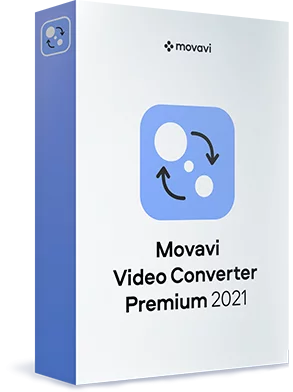 Movavi Video Converter
The ideal way to get your media in the format you need!
Convert video, audio, DVDs, and image files

Enjoy lightning-fast conversion without quality loss

Improve quality, adjust sound, trim and join files before converting

Save video and audio clips for easy mobile access
Differences between Desktop and Online Converters
Online Video Converter
Long-time wait
Limited file size
Popular formats supported
Slow conversion speed
Movavi Video Converter
0-second wait
No size limits
180+ formats, presets for 200+ devices
Converting a 2-hour HD video from MOV to MP4 within 15 seconds
Online user support
How to Use an Online AVCHD-to-MP4 Converter
Another option to convert AVCHD files to MP4 is to use an online conversion tool. It's a good option if, for example, you don't want to install any additional software on your computer.
Go to the Converter Website
Open the website by following the link below.
Add Your AVCHD File
Hit Add Your Media in the upper right corner of the screen. You can also add a file from Dropbox: just click the arrow near the add button. MP4 is the default output format for this tool, so you don't need to change it.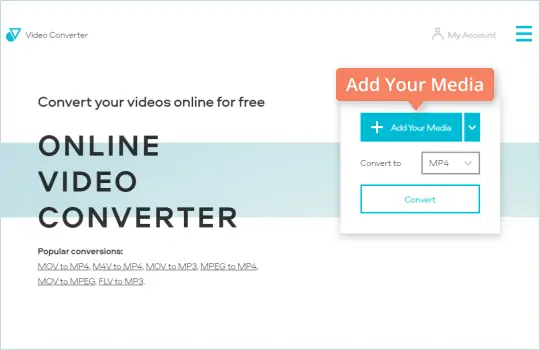 Perform the Conversion
Hit the Convert button. After the conversion is complete, the file will be downloaded automatically. If it doesn't, click the Download button to save the file on your computer.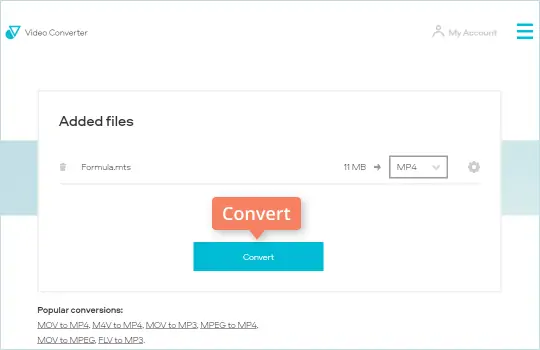 It is very easy to convert AVCHD to MP4 online, but note that you can only convert one file at a time and the supported file size is limited.
How to Transform Your Files with a Free AVCHD Converter
To convert AVCHD to MP4 for free, you can also use VLC Media Player. This program has some limitations: it can't process large files and can't be called the fastest app, but still, it works well. Check the guide below to learn how to use VLC.
Install the Free AVCHD Converter
Download the installation file via the link below:
Upload Your File
Launch the app. Upload your file: from the Media menu, hit Convert / Save.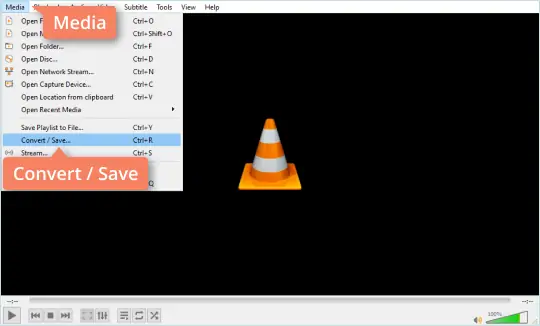 Click the Add button, locate your file and hit Open. Click Convert / Save at the bottom.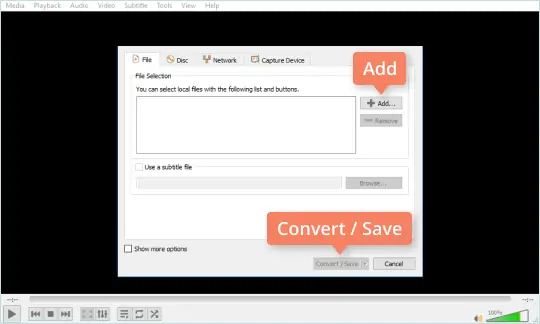 Start the Conversion
Check the output format in the Profile field: it should be MP4. Hit Browse to give your file a new name and destination folder. Click Start.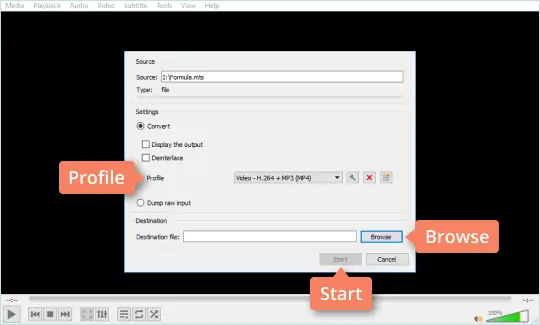 AVCHD vs. MP4 – Comparing the Formats
If you want to compare MP4 vs. AVCHD, keep in mind that these formats are used for different purposes. MP4 is mostly used to play back video, and is supported by almost all existing device types. AVCHD was developed to store video at very high quality and watch it on Blu-ray or HD TV, not on mobile devices or computers. Here's a table with the main format differences.
Comparison parameter
AVCHD
MP4
File extension
.mts, .m2ts
.mp4
Video coding formats
H.264/MPEG-4 AVC
H.264/MPEG-4 AVC, HEVC/MPEG-H Part 2/H.265, MPEG-2 Part 2, MPEG-4 ASP, H.263, VC-1, Dirac, others
Audio coding formats
Dolby Digital AC-3
MPEG-2/4 (HE)-AAC, MPEG-1/2 Layers I, II, III (MP3), AC-3, Apple Lossless, ALS, SLS, others
Video quality (resolution and aspect ratio)

1920×1080/60i, 50i, 24p (16:9)

1440x1080/60i, 50i (16:9)

1280×720/60p, 50p, 24p (16:9)

720×480/60i (16:9, 4:3)

720×576/50i (16:9, 4:3)

Any
Device compatibility
Blu-ray disc players and recorders, DVD players and recorders, HD TVs
Compatible with almost all devices
Frequently Asked Questions
Is AVCHD Better than MP4?
It depends on what you need your file for. AVCHD has better video quality, but the file size is relatively large and format support is limited. MP4 has better compression, smaller file size, and is supported by almost every device.
How Do I Convert AVCHD to MP4 on a Mac?
To change file format from AVCHD to MP4, consider using Movavi Video Converter. The app is compatible with macOS 10.10 or higher. Here's how to transform videos on your Mac:
Download and install Movavi Video Converter for Mac.
Add your AVCHD files to the program: click Add Media, choose Add Video, and select the files you want to convert. Hit Open.
Go to the Video tab and find the MP4 group of presets. Choose the one that suits you best. Click Convert. You're done!
Is AVCHD Good for Editing?
No. AVCHD is great when you want to watch a movie using your Blu-ray or HD TV, but the file size is large and you would likely need a powerful computer to process the video. The easiest way to edit an AVCHD video is to convert it to another format first. With MP4, for instance, you'll be able to edit your video faster.
Can I Import AVCHD Files into iMovie?
Yes, you can. AVCHD is among the iMovie-supported video formats, at least for macOS Mojave and Catalina. However, MP4 or MOV might work better and, to be sure your video will play correctly, consider converting the files to one of these formats.
How Do I Transfer AVCHD Files to My iPhone?
To watch AVCHD files on your iPhone, convert them to a more device-friendly format. Movavi Video Converter can help you! Download and launch the program, and add your files by dragging them to the program window (you can also click Add Media, then Add Video). At the bottom, switch to the Devices tab. In the Apple group of presets, find your iPhone's model and click on it. Then hit Convert.
To read a detailed guide on how to adapt AVCHD files for your iPhone, follow the link below:
See Other Useful How-to Guides