How to Do a WMV-to-MP4 Conversion
If you are a PC user, you're probably familiar with WMV, which stands for "Windows Media Video". Originally developed by Microsoft, this format works well on Windows and even Mac with the help of Windows Media Player, but it's not very friendly with other operating systems. So if you want to watch a video in WMV on your mobile device, it would be best to transfer it to a more compatible video format, like MP4.
WMV (Windows Media Video) is a video compression format that was initially designed for storing videos in Windows. WMV is not natively supported by many other operating systems or portable devices.
MP4 (MPEG-4 Part 14) is a video file format that can contain video, audio, and subtitles. This format is one of the most widely used and is supported by many different operating systems and devices.
These days, there are two main ways of converting WMV to MP4 – using desktop software or an online converter. So let's have a look at pros and cons of each method and also learn the difference between WMV and MP4 formats.
How to Convert WMV to MP4 Using Movavi Video Converter
The first WMV conversion method is to use Movavi Video Converter. This is a high-speed application for converting WMV files to any popular format, including MP4, MPEG, AVI, and MKV. Once you've converted your files, you will be able to watch your movies on your preferred device. Movavi Video Converter also provides batch processing and lossless conversion, for the best user experience. Download the Windows or Mac version of the program and start right away!
Follow the steps below to learn how to convert WMV to MP4.
Download the WMV-to-MP4 Converter
First download and run the installation file. Follow the simple directions on how to install Movavi Video Converter.
Add WMV Files to the Program
Hit the Add Media button, choose Add Video, and add the files for which you want to change the format. Movavi Video Converter supports batch file conversion, so you can select as many files as you want.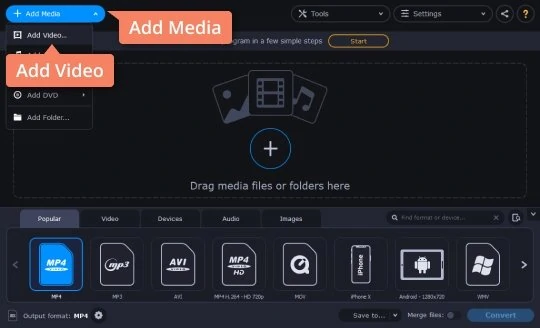 Edit the Added Files (Optional)
You can edit the files you've uploaded to the program by accessing the built-in editor via the Edit button on the right.
In the Stabilization tab, you can get rid of any shakiness in the videos. In Audio, change the sound level or remove background noise. In the Adjustments tab, alter the saturation, contrast, brightness, and other settings. Apply stylish filters from the built-in library in the Effects tab. Add a watermark or insert subtitles in the Watermark and Subtitles tabs, respectively. In the Crop, Trim, and Rotate tabs, do away with black video borders, trim away unwanted footage, and rotate your clips.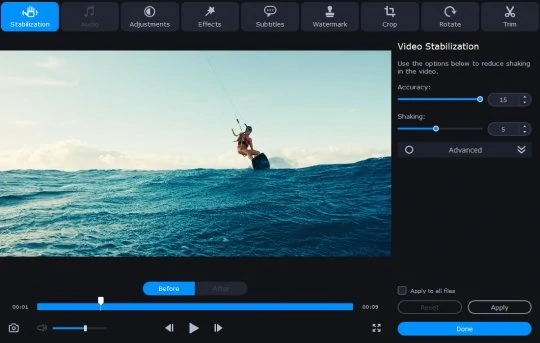 Compress the WMV Files (Optional)
Use the software to reduce the size of over-large files. You can find the size of your file in the description and click on it. Specify the size, bitrate, and quality in the box that opens. Hit Convert sample if you want to check the quality of a small part of the file before converting it.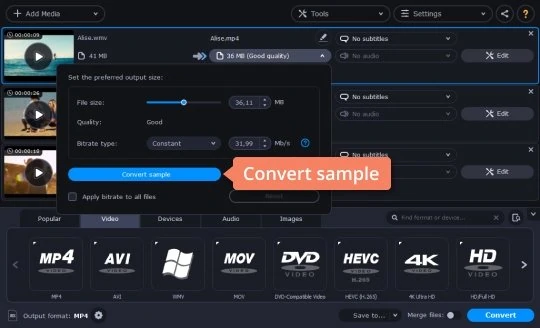 Select an Output Format
After adding your video files, open the Video tab, expand the MP4 category, and select your preset: you can choose either Same as input so that the resolution remains the same or the specific resolution you'd prefer.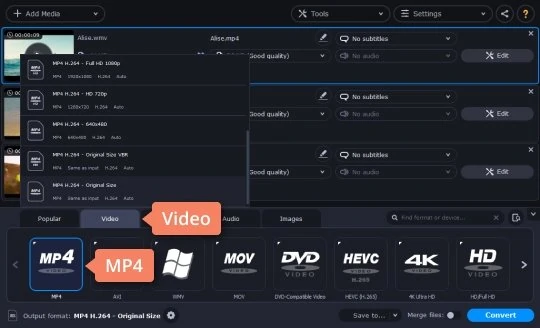 Start Converting WMV to MP4
Make sure where your converted files will be stored. If you need to specify or change the destination folder, choose a different path by hitting the Save to button.
To start the conversion, click the Convert button. The folder with your new files will open automatically as soon as the conversion process is complete.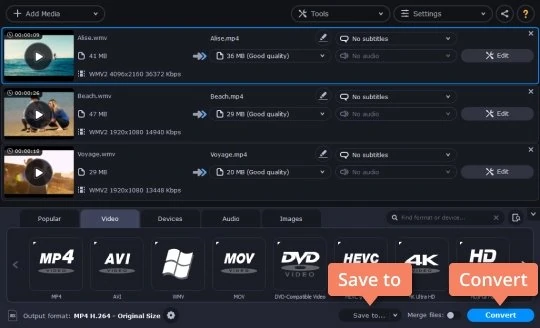 As you can see, this is a pretty simple and straightforward program. Movavi Video Converter also has another great advantage – flexibility. In addition to converting WMV to MP4, the software can help you convert your videos to any of the 180+ supported formats, and you can use it for almost all your formatting needs. Whichever multimedia files you want to convert, you'll always get the best output quality.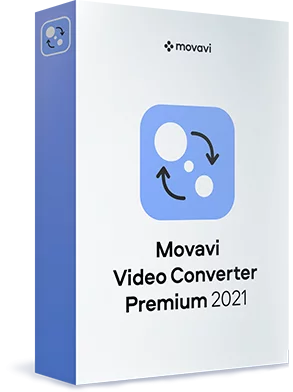 Movavi Video Converter
The ideal way to get your media in the format you need!
Convert video, audio, DVDs, and image files

Enjoy lightning-fast conversion without quality loss

Improve quality, adjust sound, trim and join files before converting

Save video and audio clips for easy mobile access
How to Convert WMV to MP4 Online
Another approach for changing the format of WMV files is to use an online service like videoconverter.com. This handy website may be helpful if you need to convert your video quickly without having to spend time installing software. First, click Add Your Media to upload the video you want to convert from your computer. In the open window, select the desired file and click Open. Then hit the Convert button to launch the process. After the file has been converted, you'll be able to download the new file in MP4 format.
Despite being so user-friendly, the service does have a couple of restrictions – the file size it can handle is limited, and you can only convert one file at a time. While it's fair to say that this online service is convenient for a one-time conversion, it lacks the editing capabilities and compression preferences implemented in the desktop software.
How to Convert WMV to MP4 for Free
Another option to change the format of your files is to use a free WMV-to-MP4 converter, such as the VLC media player. Even though it primarily functions as a video player, the VLC media player also enables file conversion to popular formats.
Download the appropriate version of VLC
Install the player on your computer and launch it. Click Media in the top left of the program window and select Convert / Save. Next, click the Add button to upload your file for conversion. Hit Convert / Save and select MP4 as the target format. Click the Browse button to choose the destination folder for the converted file and enter a file name. To convert the file, click the Start button.
WMV vs. MP4 Comparison
WMV and MP4 are both popular video formats but let's see what makes them different from each other.
WMV (Windows Media Video) is a video container format developed by Microsoft. Today it's seen as a rather old-fashioned format which is best suited for use on Windows; other operating systems may experience problems playing this video format. Its codecs and compression algorithms are less technologically advanced than those of MP4, which primarily uses H.264 and H.265 codecs.
MP4 (MPEG-4 Part 14) is a container format used for storing video and audio streams. This format provides high compression levels and relatively low quality loss, which makes it one of the most widely used formats on the internet. Over the course of time, MP4 has become a truly universal format and can be played on almost any desktop or portable device.
| Comparison parameter | WMV | MP4 |
| --- | --- | --- |
| File extension | .wmv | .mp4 |
| Video encoding formats | WMV V7, WMV V8, WMV 9, WMV 9 Screen, WMV 9 Advanced profile, MPEG-4, WMV 9.1 Image V2 | H.264, H.265, MPEG-2, MPEG-4, H.263, VC-1, Dirac, others |
| Audio encoding formats | WMA 9, WMA Pro, WMA Voice | AAC, MP3, AC-3, Apple Lossless, ALS, SLS, others |
| Device and OS compatibility | Blu-ray disc players and recorders, DVD players and recorders. Windows PC, macOS, and Linux (with the help of Windows Media Player, RealPlayer, Media Player Classic, or other media player supporting the WMV format) | Compatible with almost all devices and operating systems |
So, in the end, there is one main point that you should focus on when deciding which of the two formats to use – the operating system. If you want to play your WMV videos only on a Windows system, it's fine to keep your files the way they are without conversion. But if you're thinking of playing them on other platforms or mobile devices, then converting WMV to the more advanced MP4 format is the better solution.
Frequently Asked Questions
How Do I Convert WMV to MP4 on a Mac?
There are couple of options to convert your files on a Mac. You can use the Mac version of Movavi Video Converter, or you can also convert your files online, using a web service.
Can QuickTime Play WMV Files?
WMV isn't supported on Mac by default, so you can't open these files using QuickTime Player. One solution is to convert your WMV files to a format that is supported by QuickTime Player.
Can I Play a WMV File on a Mac?
Yes, you can. However, since WMV isn't natively supported on Macs, you need to convert WMV files to another format, such as MP4, MOV, or AVI.
Both formats have their own pros and cons. MP4 is supported by almost every device and media player. Additionally, MP4 files are smaller than WMV, so you can easily share them online. If you plan to play your videos on a PC, then choose WMV.
How Can I Play WMV Files on an iPhone or iPad?
There are two options for playing your WMV files on iOS devices. You can convert the files to a format supported on iOS using your computer and then transfer the resulting files to your device. Or you can use any of the apps that can play WMV videos on an iPhone or iPad.
See Other Useful How-to Guides