How to Convert a Regular Video to Slow Motion on an iPhone
Slow motion is a special effect that makes time appear to slow down. It is indeed one of the most popular video effects, often used to emphasize certain actions or key moments in movies. Today this technique is available not only to film directors, but also for smartphone users. All you need is your iPhone, an app, and a few minutes to create a slow-motion video.
Want to turn your regular video into a slow motion one? Use Movavi Clips! Just download the app and read the step-by-step guide below to learn how to make a slow-motion video on an iPhone.
Download Movavi Clips
First, you need to install the Movavi's slow-motion video maker app. Go to the App Store, find Movavi Clips and download it to your iPhone 5, 6, 7, 8, or X. When the download is complete, tap the icon to launch the app.
Add Your Video to the App
Tap the Plus button at the bottom of the screen and select Video.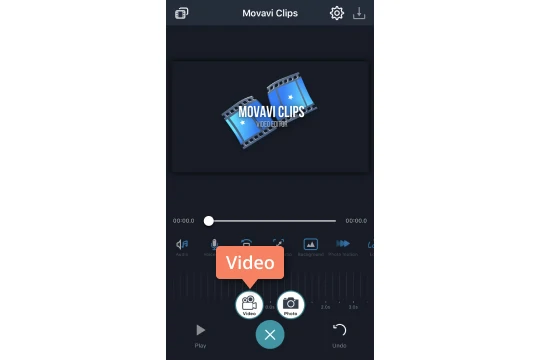 Choose the aspect ratio for your video from the pop-up menu and tap OK. Then select the normal video you want to slow down and tap the Start editing button.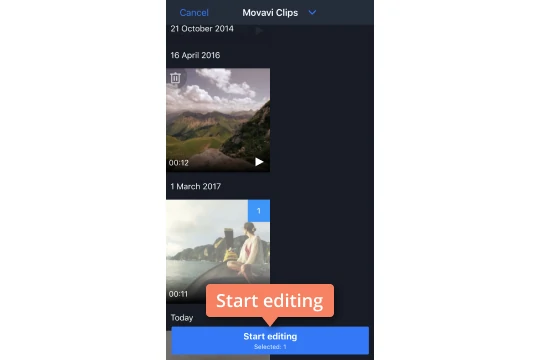 Apply the Slow-Motion Effect
If you want to slow down only a part of your video, then you need to isolate this part first. Scroll the video so the vertical marker is at the beginning of the target video segment. Tap the Scissors icon – this will split the video into two parts. Cut the video the same way at the end of the segment. Scroll the video so the vertical marker is at the point where you need to slow the video down.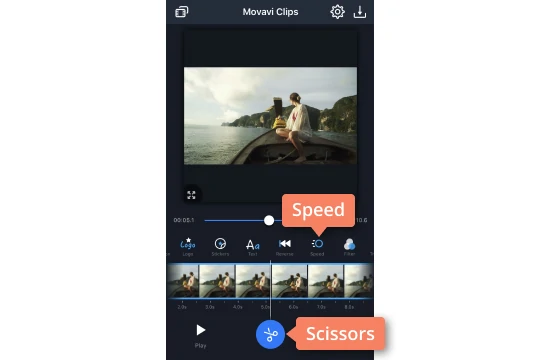 To convert the video to a slow motion one on your iPhone, scroll the toolbar to the right to locate the Speed icon. Tap this icon and select the appropriate speed for your video (or a part of it). Next, tap the Apply icon.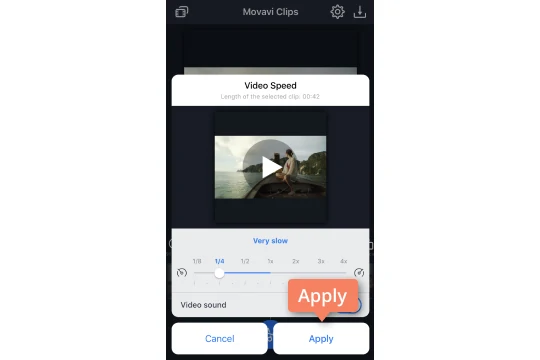 Save the Video
To save the edited video, tap the Save icon at the top right of the screen. Preview your video on the new screen and tap the Save button.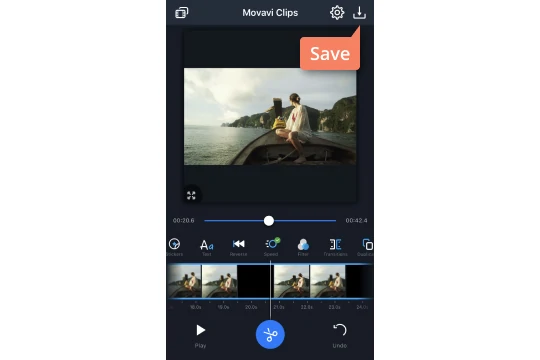 Now you know how to slo-mo a video on an iPhone. With Movavi Clips, you can also rotate and crop your videos, add audio and voice-overs, apply filters and stickers, and much more!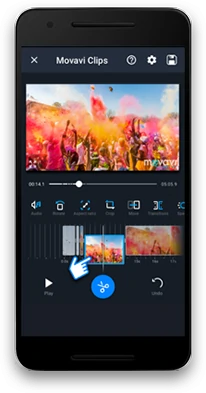 Movavi Clips
Processing and editing videos and photos
Add transitions, music, and stickers

Choose the desired frame fragment

Cut and merge clips

Speed up and slow down videos