How to Rotate a Picture
If you are into traveling and photography, you probably have a ton of amazing photos from many fascinating places. Just as likely, some of those photos appear to be rotated by 90 degrees to the left or the right. It's hard to look at these photos on a computer or mobile devices, and it's even worse when the photograph has a tilted horizon line as well. But you don't need to dump those photos and instead take a tripod with you everywhere! You can easily fix these problems with the help of the right photo editor.
We recommend Movavi Photo Editor – a handy program that will help you not only rotate pictures by 360 degrees and straighten a horizon line, but also change color settings, overlay text onto pictures, remove unwanted objects from a photo, and much more. Thanks to the user-friendly interface, you can easily do it all even if you have no experience with photo editing. Just download our Photo Editor and follow the instructions below, which work for both the Windows and Mac versions of the program.
Install the Software
Open the downloaded file and follow the on-screen instructions. After the installation, launch Movavi Photo Editor by double-clicking the program icon.
Upload Your File
Click Browse for Images and choose a photo to edit, or simply drag and drop the image file into the program window.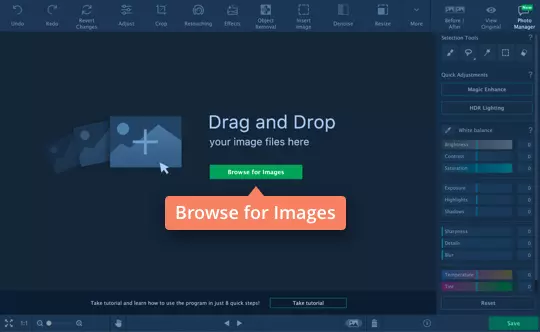 Rotate a Picture
Click Rotate at the top of the program window. Under Rotate, you will see two buttons; press the left or right one to rotate the photo by 90 degrees in the corresponding direction. The buttons under Flip will flip your image vertically or horizontally.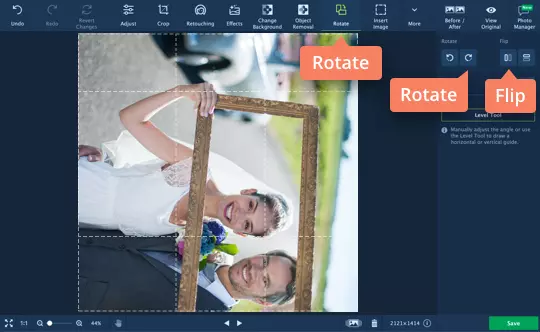 There are two ways to straighten the horizon line in Movavi Photo Editor. The first is to adjust the angle manually. To do this, drag the slider on the Straighten bar in the appropriate direction to tilt the image. The small box on the right shows the degree of rotation. You can also enter an exact tilt angle if you wish.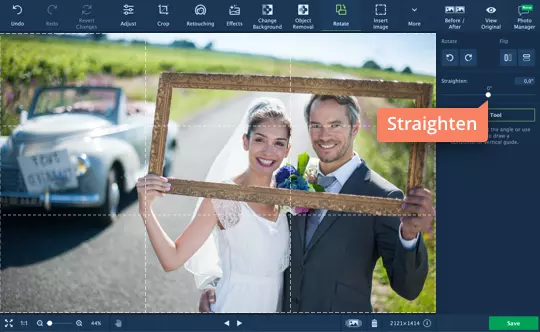 Another way to fix the tilted horizon is to use the Level Tool. First, look at the photo and locate a straight line that needs to be perfectly horizontal or vertical – perhaps a chain holding a heavy lamp, the side of a building, or the horizon itself. Click the Level Tool button and trace that line on your photo. The image will be automatically rotated until this line is perfectly horizontal or vertical.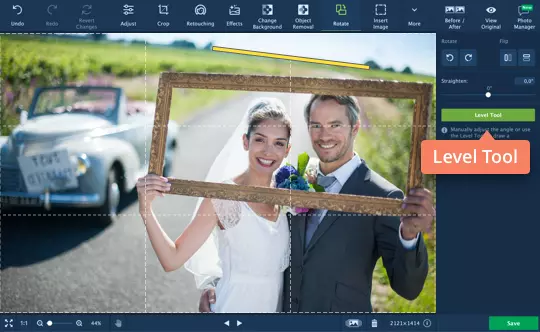 Save the Edited Image
Click Save in the lower right corner of the program window. Choose a folder and save your image in the desired format.
Congratulations! With Movavi Photo Editor, rotating images and straightening a horizon line is a matter of just a few clicks!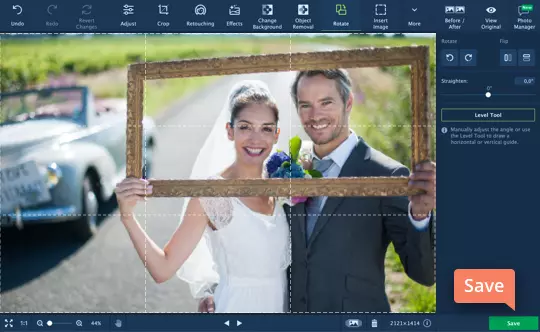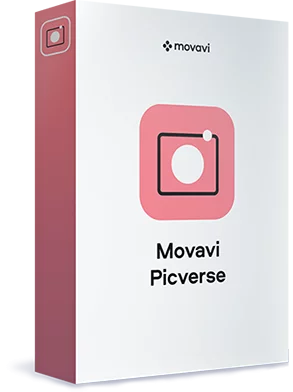 Movavi Picverse
The easiest way to turn any snapshot into an eye candy
Improve quality and retouch blemishes

Add effects and filters

Crop, straighten, and flip pictures

Change image backgrounds and remove objects
See other useful how-to guides