How to Use the Movavi's Video Zoomer
Want to focus your audience's attention on specific details in your video? There's an easy way to do it: just apply a zoom-in effect to the video to bring those scenes closer to the viewer. All you need to do this is a powerful video editor with zoom function – like Movavi Video Editor. It's a multifunctional video editing and processing tool that will let you quickly and easily zoom in or zoom out a video, apply other special effects, add audio, titles, and transitions, and save the result to any of over 180 media formats.
Zooming effect is rather easy to add. See how to do it with the help of this simple guide.
Install the Video Zoom Software
Download the program file and open it to launch the installation. Follow the onscreen guide and the program will be ready to edit your clip in just a couple of minutes.
Add Your Video
Launch the program and choose Create project in full feature mode in the welcome window. After that, click Add Media Files and pick the clip you want to edit. The selected video will be added to the Timeline automatically.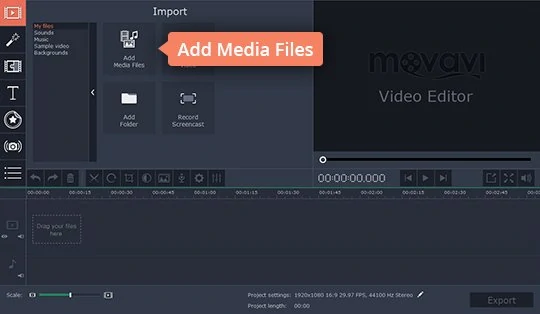 Apply the Zoom Effect
To zoom in on a video, use the Pan and Zoom tool. Click the More tab and choose the corresponding option.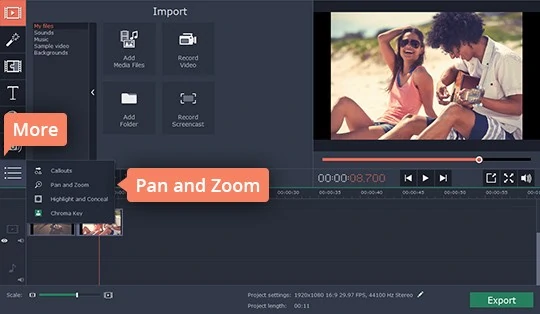 In the Pan and Zoom section, choose Zoom in. You can see the effect by clicking the Preview button. To apply zoom, click Add after you select the effect. In the Preview Window, adjust the orange frame to select the image area you want to zoom in on.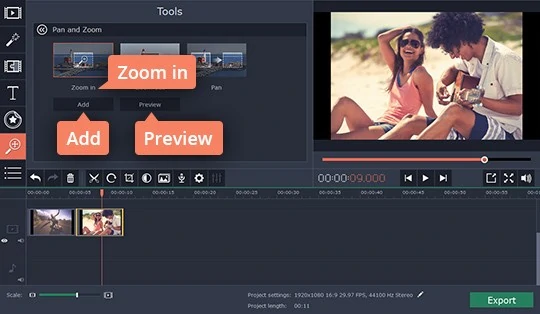 Once you've added the effect, you'll see an arrow with a start and an end point on your video on the timeline (the keyframes). Move the arrow to change the position of the applied effect on the timeline. You can adjust the duration of the effect by stretching the arrow – drag the keyframes to the right or left as needed. To edit a particular keyframe, right-click on it and choose Edit Keyframe from the context menu. You can also remove any individual keyframe (or all keyframes at once) by selecting the appropriate options from the menu. If you want to restore the initial zoom level, select the Zoom out option and add the effect the same way you did with zoom-in. You can apply zoom effects multiple times to any segment of your video – each time you do this, keyframes with an arrow will be added to your footage on the timeline.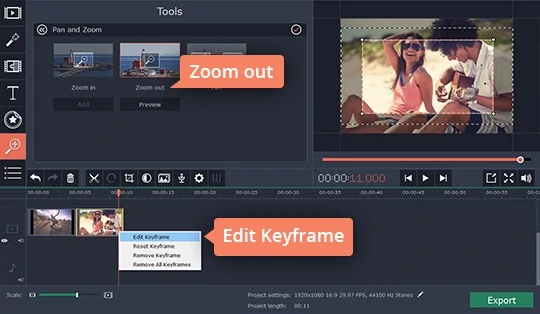 Save Your Clip
Click the Export button and choose the tab that's best for your requirements. You can save the clip on your computer, export it for viewing on a specific mobile device, or prepare your movie for uploading to the Internet. Once you've chosen the desired option, click Start.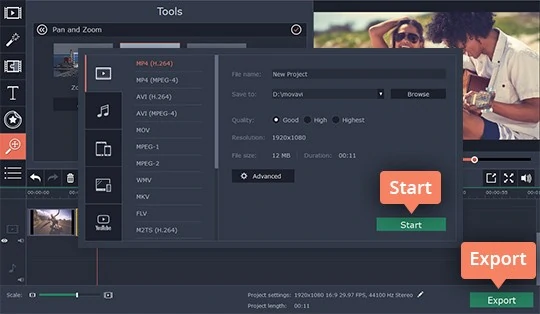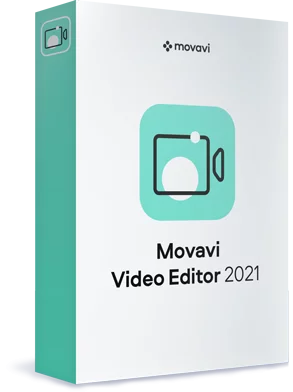 Movavi Video Editor
Creating videos has never been so easy!
Edit video clips, images, and audio on a timeline

Add transitions, filters, titles, and callouts

Use special effects like Chroma Key and Slo Mo

Export videos in any popular format
* The free version of Movavi Video Editor has the following restrictions: 7-day trial period, watermark on the output videos, and, if you're saving a project as an audio file, an ability to save only half the audio length. Learn more
See Other Useful How-to Guides