Whether you want to record a Skype call to ensure you don't forget anything or you want to release a conversation as a podcast or learning materials, there are many simple methods of Skype video recording.
In this article, we've included 12 free options in 3 different categories – desktop apps that you can install, built-in tools on your computer or the software itself, and online services that let you record Skype calls. All 12 work with the Mac OS X.
Desktop Apps for Skype Recording on a Mac
If you are looking for a Skype call recorder for a Mac, you may go for a desktop app. This method involves installing some free software that runs locally on your computer and can record the internal audio as well as video of what is on your screen. This includes Skype calls.
Pros:
Desktop apps often have more control over settings
You aren't relying on another site's server being up all the time
Cons:
It will take up space on your computer
Some options restrict features on the free versions
Movavi Screen Recorder is a flexible and free piece of software for recording Skype calls as well as any other desktop video. As well as having screen recording and casting options, you can change the audio and video inputs so you can use your own microphone if needed or even a webcam feed.
Pros:
Free and flexible, you can change inputs with ease
Easy to edit and share videos after recording
Cons:
Some of the better file settings can take up more hard drive space. Upload them to the cloud to solve this issue.
To learn more about what people think of Movavi Screen Recorder, follow the link below.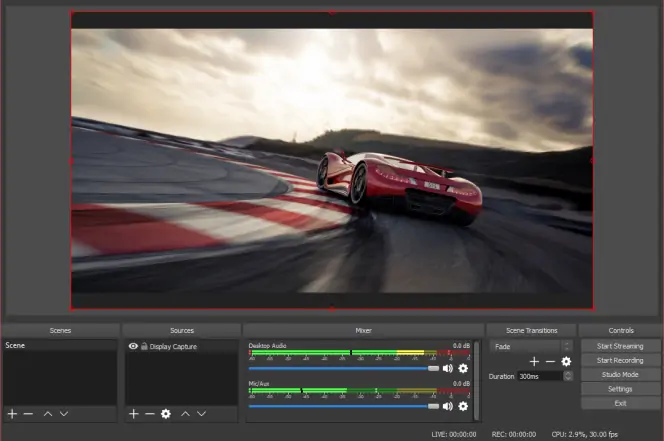 OBS stands for "Open Broadcaster Software". It works on Mac, Windows, or Linux. It's great for broadcasting or streaming live, so as well as Skype video recording, it can share in real-time.
Pros:
Lots of controls over the settings and area of the screen you are capturing
Allows transitions and advanced video editing
Cons:
Quite difficult to get used to the interface, especially for beginners
You can click the link below to see the review of OBS by G2.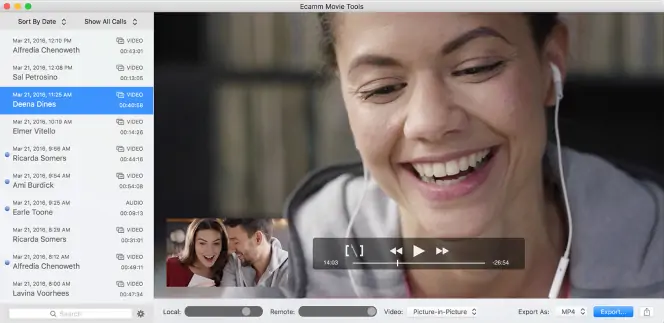 This is one of the tools made specifically for recording Skype calls. It lets you record Skype conversations as you see them but also has a split-screen mode. It also has a great focus on audio capture, meaning that you can edit individual tracks, even after you have made the recording. You can convert to MP3s for podcasting, as well as using HD video for YouTube.
Pros:
Easy to integrate with Skype video calls
One of the best options for split-screen and audio editing
Cons:
Only works with video calls, not for any type of screen capture
No support with the free version
Check out the Capterra review of Ecamm below.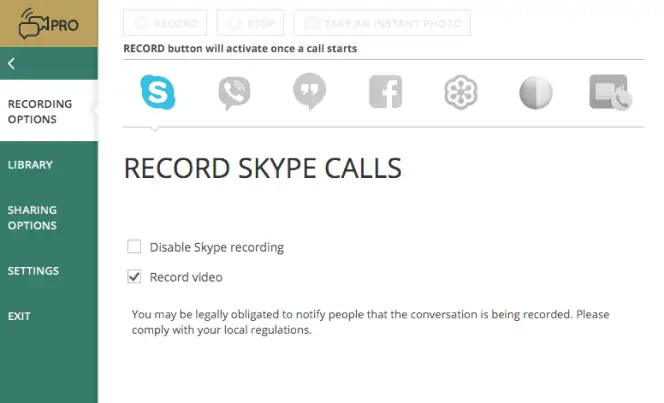 Callnote is a free method of recording conversations from Skype, but also Viber and some other online platforms. It integrates with the cloud, and the free version lets you store directly on Dropbox for convenience and save hard disk space. This software has inbuilt transcription too, but it is far from perfect.
Pros:
Easy integration with Dropbox
Easily edit or include highlights or notation
Cons:
Use on some other video call software, like Zoom, incurs a fee
Limit of 10 recordings monthly
Check out the review of Callnote below.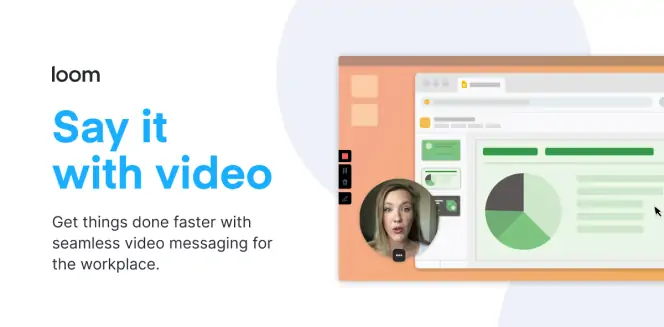 Loom can be used as a browser extension or as desktop software. It has become well-known due to the fact that it has a really quick and easy way to share your "Looms" so you can create short screen captures and share with friends and colleagues. This is good for onboarding staff or giving quick tutorials.
Pros:
Easy to edit and share short videos
Viewer insights (see who has watched your videos)
Cons:
The free plan limits videos to 5 minutes
Check out the review of this popular free screen capture and Skype recorder for a Mac below.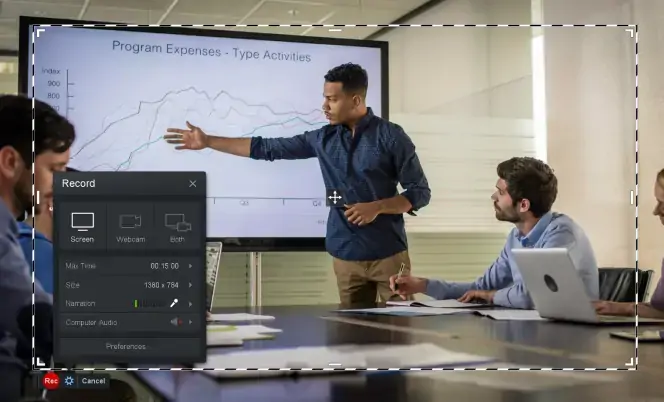 Screencast-o-Matic makes it easy to blend your webcam feed with what is on screen, and you can capture up to 15 minutes of Skype video recording on the free plan. The editing features are strong, allowing you to make changes or add narration to a video before you download or share it online.
Pros:
Easy to edit and share videos
Free stock media such as background music to use
Cons:
You can only record up to 15 minutes on the free plan
Many of the advanced editing features aren't enabled on the free plan
Check out an in-depth review of Screencast-o-Matic here.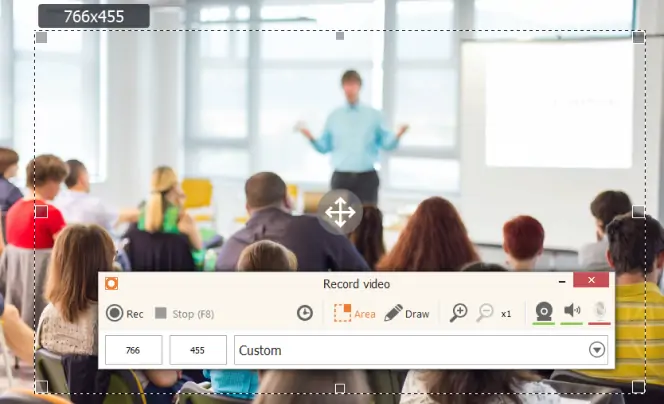 This is one of the simplest pieces of software on the list to install and use. It's a Skype call recorder for Mac that you can download directly from the App Store. It lets you control the recording via hotkeys and easily trim your video to a certain area of the screen (such as the Skype video feed).
Pros:
Icecream Screen Recorder has a very simple interface and control panel
Cons:
Videos limited to 5 minutes and WebM file type unless you pay for "Pro"
Videos are also watermarked on the free plan
Icecream Screen Recorder has been reviewed in full by G2.
Built-In Skype Call Recorder for a Mac
All you need for a Skype video recording might already be on your computer. We look below at the inbuilt tools for recording your conversations, with your computer's inbuilt software and a recording option within the Skype app.
Pros:
Using built-in apps means you don't have to download any new software
These apps will be consistently updated and patched for security
Cons:
Not as many editing options with built-in tools
A Built-In Recording Feature in Skype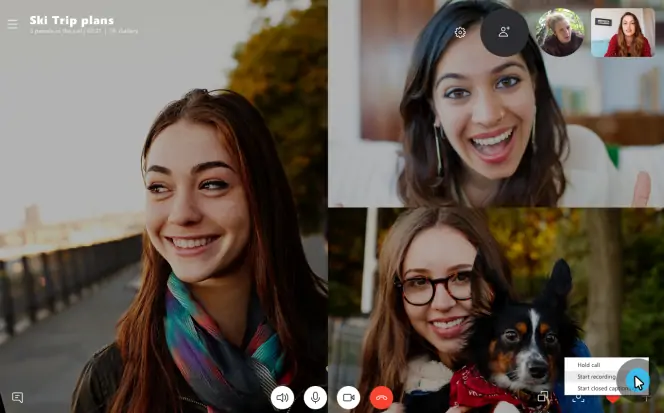 Skype has its own cloud-based platform for storing your chats as video files. Under the More Options button, you can simply press Start Recording. To solve legal hassles, Skype automatically notifies everyone on the call that it is being recorded. After the call, it sends a cloud-based video to your chat. Remember to download this within 30 days, otherwise, it will be deleted.
Pros:
Doesn't automatically take up space on your Mac
No need to install additional software or plugins
Cons:
Videos are only stored on the cloud automatically for 30-days, you need to save them elsewhere manually
Skype's recording features don't have many edit options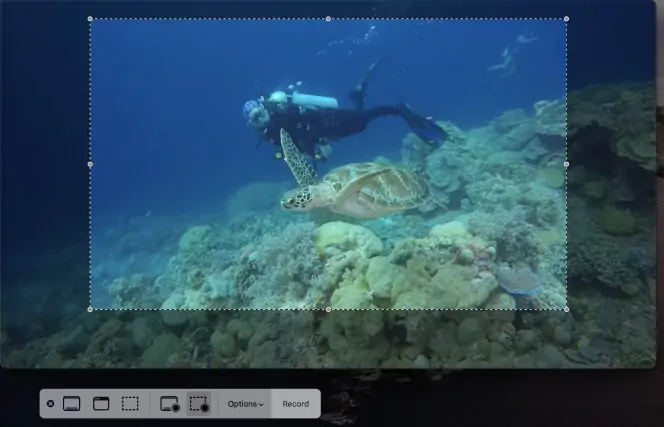 QuickTime might be the fastest way to make a recording, and you don't even have to download any specific software as it is automatically on your Mac by default. The controls are as simple as opening QuickTime Player and clicking File and then New Screen Recording. Hit record and then stop when you're ready.
Pros:
No need to install any new software
No limits and caps on how long the video you record can be
Cons:
No inbuilt editing features
No cloud integration
Online Tools for Skype Video Recording
There are some simple and convenient tools that can be used online to create a Skype recording. This means you don't even have to download software on your computer. Instead, the recordings are made from within your browser, but they can still record your Skype conversation video and audio.
Pros:
No need to download software
Cons:
Very few editing options for online tools
Some of these services may not be totally secure
Videos are often watermarked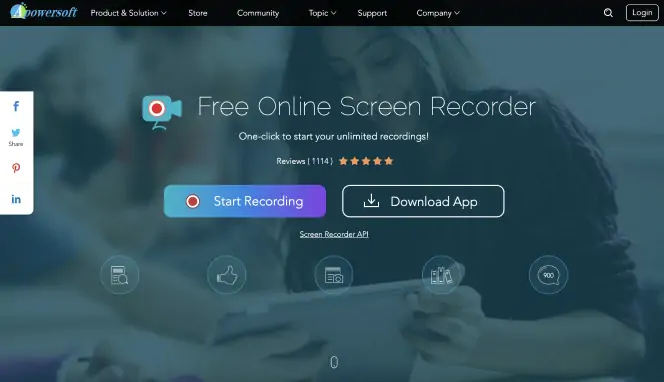 Apowersoft Free Online Screen Recorder is a simple and effective way to start recordings in one click, without any downloads needed. It allows for real-time annotations and edits, but once you have finished the recording, it doesn't give you many editing options. It's easy to download or share the video directly on the cloud, though.
Pros:
No need to download or install software
Switch from screen input to webcam input during recording
Cons:
Check out what TechRadar had to say about Apowersoft Screen Recorder below.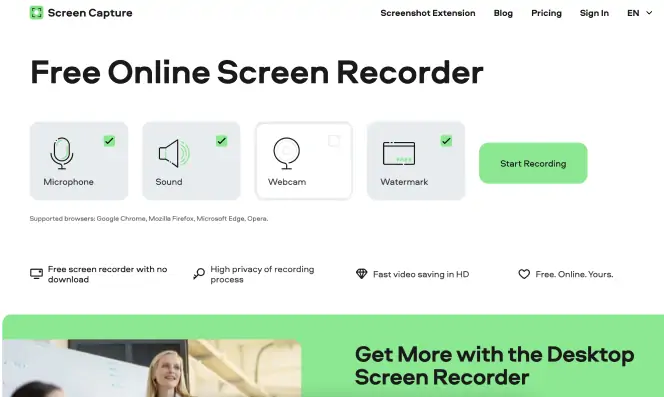 This is another simple option that lets you easily record from your system audio and video with the click of a button. It allows HD recordings without having to install any software specifically. Unfortunately, these videos are watermarked unless you upgrade to a paid app, so people will see the Screencapture.com logo when you share or upload.
Pros:
Makes HD recordings
Safe and private recording process
Cons:
Watermarked videos
Not many editing or annotation options
Inspect the safety and functions of this app by checking the review below.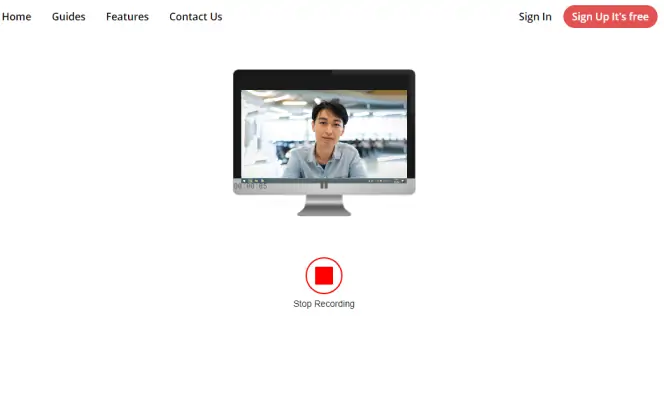 ScreenApp is yet another browser-based Skype video recorder for Mac OS X. It's simple to use, but unlike some other voice and screen recorders, it restricts some of the features on a free account, so if you make more than ten recordings, you'll be prompted to get a paid account. The support section of the website is also a little bit light on information.
Pros:
Cons:
Only ten free captures are allowed on the free plan
No cloud integration
Skype Video Recorders Comparison Table
| Software | Supported formats | Pros | Cons |
| --- | --- | --- | --- |
| Movavi Screen Recorder | MP4, AVI, MOV, MKV, GIF, MP3, PNG, BMP, JPG | Easy sharing and editing | Some file sizes are large |
| OBS Studio | MP4, AVI, MKV, FLV, TS, AVI, WebM | Live streaming and real-time editing | Not easy to use for beginners |
| Ecamm Call Recorder | .callrecorder file format | Split-screen video editing | No screen capture other than Skype |
| | | | |
| --- | --- | --- | --- |
| Callnote | MP4 | Easy cloud integration | Restricted features for free version |
| Loom | MP4 | Easy sharing and viewer insights | Free videos limited to 5 minutes each |
| Screencast-o-Matic | MP4, AVI, FLV | Free stock media to use | Restricted editing features on free plan |
| Icecream Screen Recorder | WebM | Simple interface | Videos restricted to 5 minutes on free plan |
| Skype built-in recording feature | MP4 | No additional download needed | Only stores on the cloud for 30 days |
| QuickTime Player | MP4 | No limits or caps on video length | Not many editing options |
| Apowersoft Free Online Screen Recorder | MP4, WMV, AVI, FLV, MPEG, VOB, ASF, GIF | Easy to switch video inputs | Limited editing options |
| Screen­capture.com | MP4, AVI, MOV, MKV, GIF, MP3, PNG, BMP, JPG | HD recordings without software download | Limited editing options, watermark |
| ScreenApp.io | WebM | No watermark | Only 10 free recordings until you are prompted for payment |
How to Record Skype Calls on a Mac Using Movavi Screen Recorder
Skype recording on a Mac couldn't be simpler. Follow the steps below to learn how to record Skype calls on your Mac.
Step 1. Install Movavi Screen Recorder
First, download and install the Movavi Skype recorder by following the onscreen instructions.
Step 2. Set the Recording Parameters
Run Skype and launch the software for Skype video recording. Click Screen recording on the tab in the right part of your screen. Hover the mouse cursor over the Skype window you want to capture, then click on it once. You can also change the target area later.
Make sure the System Audio and Microphone icons are highlighted in green – this indicates that the program will record sound from your input and output audio devices – both your voice and that of the other party. Then expand the menu above the Microphone icon and select the appropriate device for recording.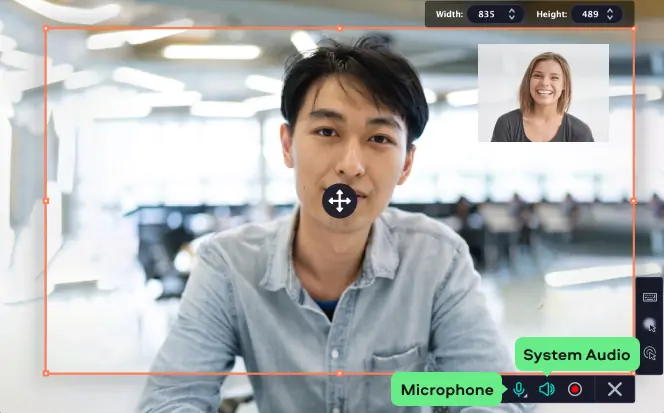 Step 3. Record Your Skype Meeting on Your Mac
Hit the REC button in the Screen Recorder interface to start recording your call. If you want to pause the capture at any time, press ⌥ ⌘ 1 on your keyboard. To stop the capture, press ⌥ ⌘ 2. To manage Skype video calls recording on your Mac, you can also use the buttons in the call recorder control panel.
When the recording stops, your Skype call video will be automatically saved in MKV format to the default folder on your hard drive and open in a preview window. If you want to delete any unwanted footage or convert the recording to a different format, go to the next step.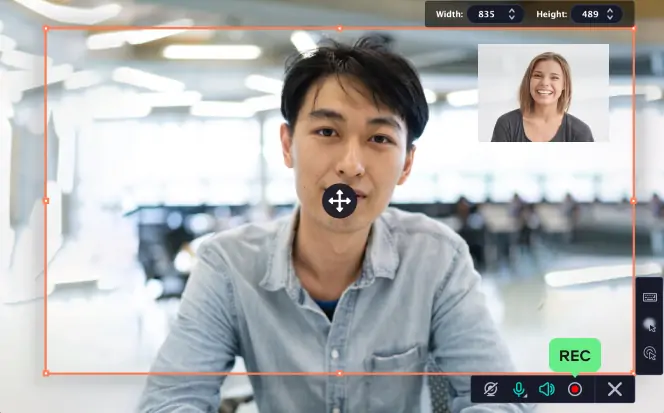 Step 4. Cut and Convert Your Recording (Optional)
If there are any unwanted segments in your recording, you can remove them easily. First, position the marker on the timeline at the beginning of the unwanted segment and click the Scissors button, then do the same to mark the end of the segment. Now select the isolated segment on the timeline and hit the Trash Can icon. To save all changes and convert the video, click Export.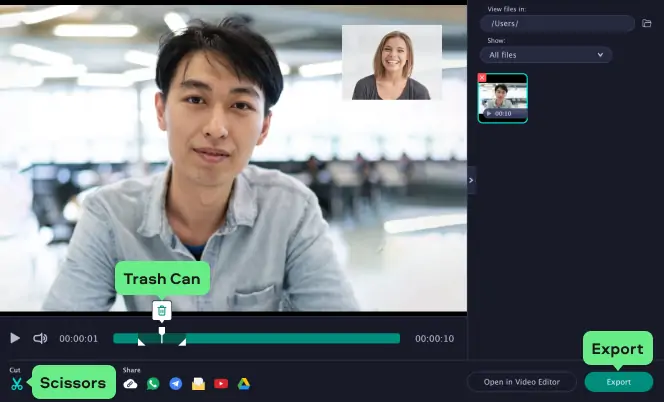 Select one of the formats listed at the top of the new export window. You can choose from a lot of format options, including MP4, AVI, MOV, MP3, and more. After selecting the required format, just click the Save button; your video will be ready for viewing in no time! Now you know how easy the process of Skype recording on Mac can be!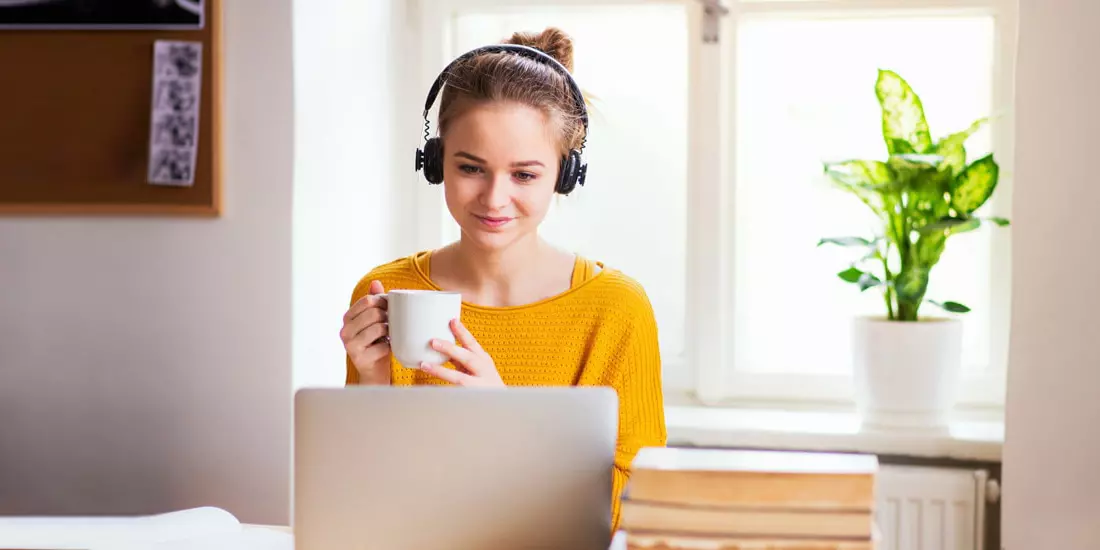 Movavi Screen Recorder
The perfect way to record from your screen
Disclaimer: Please be aware that Movavi Screen Recorder does not allow capture of copy-protected video and audio streams. Learn more
Frequently Asked Questions
Can you record a Skype video call on a Mac?
Learning how to record Skype calls on Mac is easy with Movavi Screen Recorder. Simply download the Movavi Screen Recorder software, adjust your parameters, set up your Skype call and then cut the recording. You can then choose your output format and save the screen capture.
Where does Skype recording go on a Mac?
After you have made a recording within Skype, it is automatically posted on the chat involving the participants. From here, you can choose to save the file. Right-click and select Save to Downloads. On a Mac, it will automatically save to the Downloads folder unless you specify otherwise. If you want to, you can choose to save it elsewhere. Files on Skype are only stored on the cloud for 30 days.
What are the best Skype recorders for a Mac?
You have many options for recording Skype conversations on Mac, but some Skype video recorders can leave you frustrated as they may add watermarks or limit the free use. For instance, Loom limits videos on the free plan to just five minutes. Movavi Screen Recorder is a free and simple way to record, edit, download, and even share a video, or audio, that you've made from a Skype meeting.
Sign up for news and special offers