Try one of the fastest video converters for Mac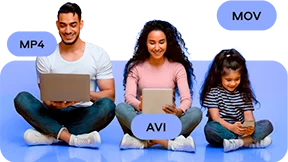 Converting to all popular formats
Instantly convert your movies, music, and photos in batches. Save media files in any format for any device or platform.
See all formats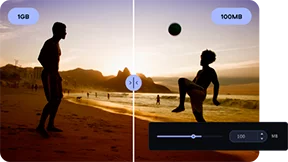 Compressing your media
Reduce the size of your video files without quality loss to make more room for your special moments.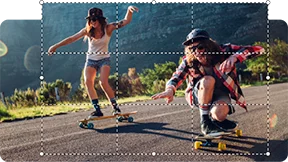 Editing your creations
Cut and trim your footage. Enhance your videos, tweak colors, and add effects. Merge multiple media files into one.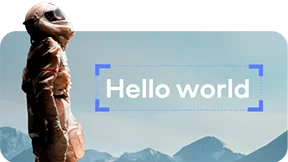 Finding and adding subtitles
Search online for movie subtitles directly from the Mac converter or upload them from your desktop.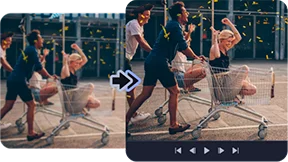 Discovering AI quality upscaling
Try the new AI-powered feature to upscale the quality of your videos.
Get your free download of an all-purpose Mac video converter
Looking for an app that can reliably convert any media files on Mac OS X? Movavi Video Converter for Mac is one of the fastest ways to painlessly export your video, audio, and image files to any desired format. Try this video converter for Mac for free and experience your multimedia without format limitations!
The Mac video converter from Movavi supports all popular formats, including MOV, MP4, MKV, AVI, WMV, GIF, VOB, DVD, RAW, MP3, and many others, for the latest device models from the top manufacturers – Apple (iPad, iPhone, MacBook, MacBook Pro, etc.), Samsung, Sony, Xiaomi, Huawei, and other leading brands.
You don't need to be a tech expert. If you have a system from Apple, this video converter could be just what you're looking for. Download our movie converter for Mac and change your files the way you want them.
Drag and drop your media into the window in this media converter for Mac.
Click the icon for the desired format.
Hit Convert to launch the process.
Drag and drop your media into the window in the video file converter for Mac.
Click the file size value and change the settings as needed.
Hit Convert to save your files.
Drag and drop your media into the window in the video file converter for Mac.
Click Edit and modify your files.
Hit Convert to save your files.
Drag and drop your media into the window in the video file converter for Mac.
Hit the subtitles section. Search for the correct subtitles and insert them into your files.
Hit Convert to save your files.
See what our users have to say
We read all your feedback about the app! Here are some examples.
The program is great! and your support is amazing! I experienced a bug on the steam version on with I was not able to merge subtitles with the video, but I contacted the support and you guys sent me a licence key for the website version of the program! This versions works flawless!! this is one of the best video software that I've ever used! thanks for the great product and the amazing support! keep the great work!
Johnny Green
video enthusiast
Nice product. I did not think it would help me because initially, it did not do what I thought it would (to transfer a video into a .jpg with individual pictures. But today, I needed to incorporate a DVD into a video and it worked perfectly.
Excellent program and does just what I need in the way of converting the mts files I am using to the Quicktime format I need for the finished product. Also the editing tools are simple and intuitive for helping me pick out the scenes and getting them ready for converting.
It is very helpful it has helped reduce my space in my PC. Thank u and i recommend every one to use this video converter
Great, simple and so easy to use. Keep developing.
awsome application and software really like it so much thank you guys
The fastest and most intelligent software, a life saver.
Our goal is to make your life easier!
Our team is committed to making your experience with one of the best video converters for Mac as seamless and enjoyable as it can be. We would appreciate any kind of feedback from you – all of it helps achieve a better product.
Thank you for choosing Movavi!
Movavi Video Converter 2023
Operating system
Mac OS X® 10.13 or higher
Processor
64-bit Intel® processor
Graphics card
NVIDIA® GeForce® series 8, Intel® HD Graphics 2000, AMD Radeon™ R600 or higher graphics card with up-to-date drivers
Display
1280 × 768 screen resolution, 32-bit color
Hard drive space
140 MB available hard disk space for installation, 750 MB for ongoing operations
* The free version of Movavi Video Converter has the following restrictions: a 7-day trial period; a watermark on output videos; when converting audio files, an ability to convert only half the file length; and, when working in the SuperSpeed mode, an ability to convert only half the video file length. Learn more
Disclaimer. Please be aware that Movavi Video Converter does not allow you to convert copy-protected media files and DVDs.
Sign up for news and special offers
Your email address was successfully added. Thank you for your interest in Movavi!