How to Convert Video Files
Most users feel the need at some point to change the format of a video file – for example, to view a movie or clip on a mobile device or upload them to the Internet. This article tells you about the most common problems you can encounter working with video files and about a few effective solutions you can try.
Here are some issues you may be familiar with.
The file is played with distortions?
This may be due to a too large file size or an incorrect audio codec used. Just reduce the size of your file or change the codec using a handy conversion app.
Videos take up too much space?
All you need is to compress the videos so that they fit on your smartphone, tablet, or USB stick. Just use the right kind of app and go on with working remotely.
Movavi Video Converter enables you to handle any of these issues in seconds. You don't have to know anything about video formats and features. The software has an intuitive English language interface, so you can easily use it even if you're a newcomer to video editing and conversion.
Movavi Video Converter supports all popular video and audio formats: AVI, MP4 (MPEG-4), MOV, 3GP, FLV, MKV, WMV, MP3, WAV, and more. In addition to encoding video into other formats, the program lets you rip DVDs (convert VOB files) into regular digital files. If there are multiple audio tracks and subtitle tracks on the disc, you can easily select the ones you need in the output files before you start the conversion.
Saving Videos for Mobile Devices
Smartphone / tablet / media player owners often face the problem of unsupported multimedia formats. If you don't have a dedicated program to do this, you need to learn all sorts of specialized information like video resolution, aspect ratio, video codecs, etc.
Luckily for you, there's Movavi Video Converter, which offers more than 200 ready-made presets for a wide range of mobile devices, including the newest models of Apple iPod, iPhone, iPad, Samsung, Nokia, Sony PSP, Android phones, Windows Phone 8, and more. All you have to do is select your device from the list and click Convert.
Preparing Video for Uploading Online
Want to show a video clip to your friends on Facebook or YouTube or maybe embed a video into your blog post? Fortunately, there is no need to learn all the technical stuff about web‑compatible formats because Movavi Video Converter can automatically choose the right options for your footage. The program includes ready-made presets for multiple websites. Plus, the Windows version of Video Converter can help you upload your converted videos to iTunes using the built-in application:
How to upload a video to iTunes directly from Movavi Video Converter
How to Change Video Formats
To change a video format using Movavi Video Converter, just download the program for Windows or Mac and follow the simple guide below. If you prefer to watch video instructions, here's a short movie about file conversion.
If you prefer reading to watching, here's the step-by-step text guide.
Add a File to the Program
Just click Add Media and select Add Video. On your hard drive, locate the file or files you want to convert, then click Open to add them to the conversion queue.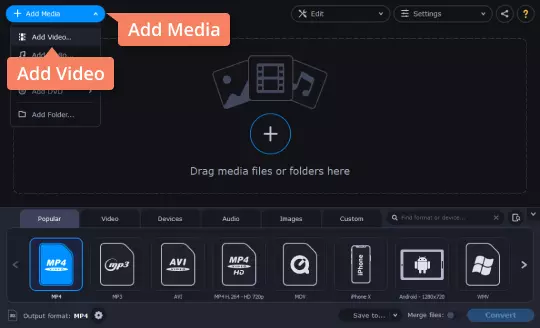 Choose a New Format
In the lower portion of the interface, choose the desired output format for your video. You can locate the appropriate preset using the search box or browse the Video, Devices, and Audio tabs.
Start the Conversion
Click Convert in the bottom right corner to start the encoding process. When the file is ready, the folder with the output file will open automatically.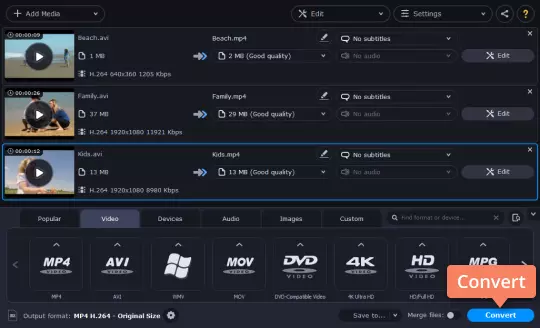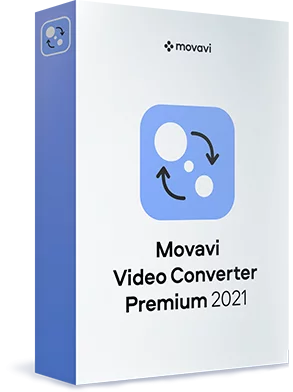 Movavi Video Converter
The ideal way to get your media in the format you need!
Convert video, audio, DVDs, and image files

Enjoy lightning-fast conversion without quality loss

Improve quality, adjust sound, trim and join files before converting

Save video and audio clips for easy mobile access
Frequently Asked Questions
How Can I Change Video Resolution Online?
Some online video conversion platforms can also change video resolution. Follow the link below to get to one of these platforms.
On the website, click the Add Your Media button to upload your video. Open the list of formats and select the desired video format. Then click the Cogwheel icon, open the Video resolution list, and select the desired value. When you're done, click Convert.
How do I Convert Video Files to MP4?
Use Movavi Video Converter. Here's a guide on how to convert videos to MP4 using this app.
What Is the Smallest High-Quality Video Format?
There may be multiple answers to this question since everything depends on the compression method and your experience. Generally, the H.264 video codec is considered one of the best in terms of size and quality. So, if you want the best quality with a small file size, you can choose any container that supports H.264, such as MP4, AVI, or MKV. We recommend using MP4 since it's widely supported by players, devices, and websites.
What's the Best Video Format?
The answer to this question depends on the purpose of your video. If you want it to be available on the majority of today's devices, MP4 is undoubtedly the best choice. M2TS is best for Blu-ray players. The Matroska video format lets you insert multiple subtitle tracks, which is great for anyone studying languages. And QuickTime works great for Apple devices.
Which Video Formats Are Lossless?
Lossless video formats are not widely used, because these files would be far too big to store on most devices. However, there are still some lossless video codecs out there for special purposes, such as MSU, CamStudio, Flash Screen Video, Fraps codec, and others.
See Other Useful How-to Guides