How to Capture Video on PC
This tutorial refers to Screen Capture Studio for Windows.
If you use Mac, please try our Screen Capture Studio for Mac.
Want to capture video from a DV or MiniDV camera? Or save a TV show to watch on your computer? Or maybe you'd like to record video from your webcam or capture your computer screen? To do any of these, you just need to download one piece of multi-functional video capture software – Movavi Screen Capture Studio! It's a simple yet powerful tool that can help you convert recordings from your camera, TV tuner or other analog device into digital video, as well as capture onscreen video on your PC or laptop.
You just need to download the program and follow the simple instructions below.
Step 1: Install Movavi Screen Capture Studio
Open the download file and follow the installation instructions.
Step 2: Capture Your Video
Step 2.1: Capturing Video from Cameras, TV Tuners, and VCR Players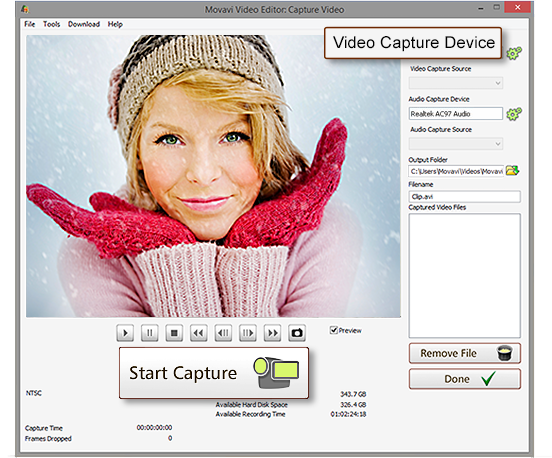 First, plug your device into the computer and wait until it is recognized by your operating system. Then locate the Screen Capture Studio folder on your computer and open the VideoCapture.exe file. Choose your camera/TV tuner from the Video Capture Device list and click Start Capture. You can stop the capture at any time by clicking the Stop Capture button.
When you've stopped recording, the program will ask you if you want to open the Video Editor. Click Yes if you want to edit or work on quality improvement for your recorded video.
Step 2.2: Screen Video Capture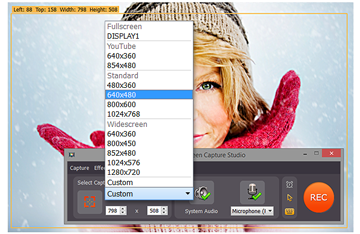 If you want to capture online video, manually adjust the capture frame to fit the size of the video on your screen or open the Select Capture Area list to choose from different preset sizes. If you're recording a tutorial video and need to capture all the activity from your desktop, it's best to choose Fullscreen. For more information, check our guide on how to record from your computer screen.
When you're ready, click the REC button and start playing your video. Use the Cancel, Pause, and Stop buttons to control the recording process. You can also use hotkeys: press F9 to pause/resume the recording and F10 to stop capturing.
Step 3 (Optional): Edit the Recordings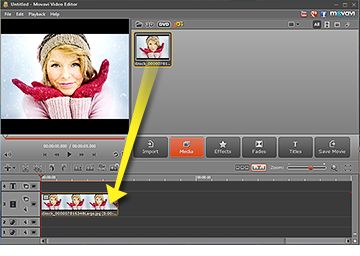 The program includes a full-featured video editor that will help you perfect your videos. To open the editor, click Yes in the dialogue box that appears when you finish capturing your video from an analog device, or click the Edit button if you've been capturing video from your screen.
To start editing your video, first drag it onto the timeline. Now you can choose from the many available editing tools: use the scissors button to cut out unwanted fragments, click Effects to apply special effects, use the Fades and Titles buttons to add animated transitions and captions – there are many ways to express your creativity.
Step 4: Save Your Video
Step 4.1: Saving from Screen Capture Studio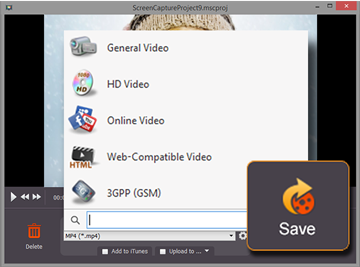 Open the Save as list, then click Video and audio formats and choose the format in which you want to save the file. Click the Save button when you're finished.
Step 4.2: Saving from Video Editor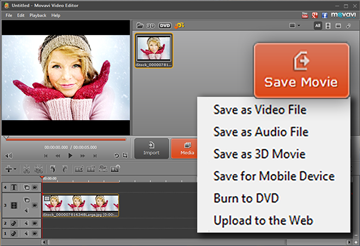 Click the Save Movie button and choose what you want the program to do with your video: save it for viewing on your computer or a mobile device, burn it to DVD, or upload to YouTube, Facebook or Vimeo. After you've made your selection, click Save.
You might also find the following articles useful:
Disclaimer: Please be aware that Movavi Screen Capture Studio does not allow the capture of copy-protected video and audio.
Screen Capture Studio
Capture screencasts, online video
Create videoguides with captions
Record microphone or speakers audio
Record webcam video
Add special effects and filters
Burn video to DVD
Download
Software Trusted in 150 Countries
Movavi has been developing video processing software since 2004. Our programs are trusted in 150 countries including the US, Japan, and Europe. We guarantee high quality of our software and safety of payments on our website.
Support for Leading Technologies
Our programs are designed on the cutting edge of video technology.
Email us
Knowledge Base
Subscribe on YouTube
Watch video tutorials on the Movavi's official channel: