How to Grab Video
This tutorial refers to Screen Capture Studio for Windows.
If you use Mac, please try our Screen Capture Studio for Mac.
Do you want to create a video software tutorial or demo presentation to promote your project or website? Or maybe you'd like to make a video short using webcam material? Perhaps you just want to save your favorite online movie to your hard drive?
Screen Capture Studio can do it all! Create video clips while browsing the web, watching online videos, chatting via Skype, or working with a new application.
Download Screen Capture Studio right now and review this guide to learn how to use Movavi's ultimate video grabbing software.
Step 1: Install the Video Grabber
Once you've downloaded the program, install it according to the on-screen instructions. The software is compatible with Windows XP, Vista, Win 7, and Win 8, so you shouldn't encounter any installation or run issues.
Step 2: Set the Ripping Parameters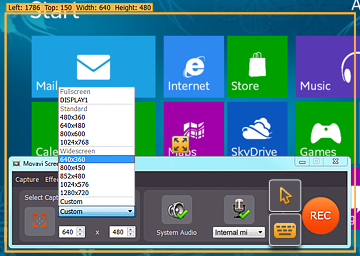 If you need to rip your video at full screen, open the Select Capture Area menu and select your monitor from the Fullscreen section. You can also choose between standard and widescreen formats, and adjust the size of the capture area manually by pulling on the edges of the yellow frame.
Now set the audio preferences. By default, the program captures sound from your output sound device. If you also want to use an input device (microphone or other), click the microphone icon so the green checkmark will appear over it, and make sure you have your device plugged in. Then open the drop-down list under the microphone icon and pick your device name.
For a more informative video, you can ask the program to memorize keyboard and mouse actions. To do this, just click the appropriate buttons in the user interface.
Step 3: Grab Your Video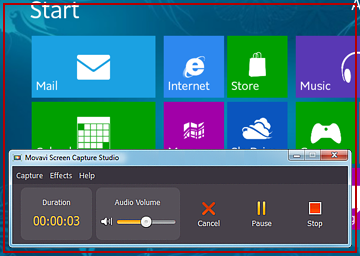 Now click REC, and the program will start grabbing your video. You can manage the process by clicking the appropriate buttons on the program's control panel, or you can use hot keys: press F9 to pause/resume the process and F10 to complete it. To take a screenshot, hit F8.
Step 4 (Optional): Edit the Footage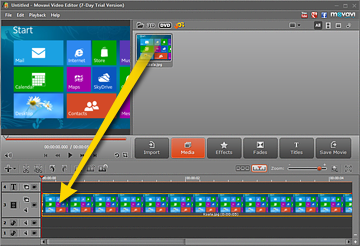 After you've finished grabbing your footage, you can click Edit to open the built-in video editor. Now you can apply filters and special effects, add captions, change audio tracks, and transform video in many other ways. Just place your video on the timeline and start experimenting!
Step 5: Save the Video in Any Popular Format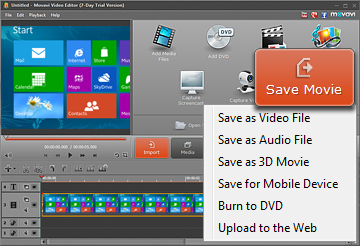 Whether or not you used the video editor, you can save your video in any format to watch it on DVD, personal computer, media player, smartphone, or tablet. Inside the video editor, you can simply click the Save Movie button and select Save as Video File or Save for Mobile Device. If you're saving the recorded video from the preview window of Screen Capture Studio, choose one of the presets for formats or devices in the Save as list and click Save.
Screen Capture Studio is the best tool that will help you save any video to your hard disk.
You might also find the following articles useful:
Disclaimer: Please be aware that Movavi Screen Capture Studio does not allow the capture of copy-protected video and audio.
Screen Capture Studio
Capture screencasts, online video
Create videoguides with captions
Record microphone or speakers audio
Record webcam video
Add special effects and filters
Burn video to DVD
Download
Software Trusted in 150 Countries
Movavi has been developing video processing software since 2004. Our programs are trusted in 150 countries including the US, Japan, and Europe. We guarantee high quality of our software and safety of payments on our website.
Support for Leading Technologies
Our programs are designed on the cutting edge of video technology.
Email us
Knowledge Base
Subscribe on YouTube
Watch video tutorials on the Movavi's official channel: