How to Do a Screen Capture
This tutorial is relevant for the Windows version of Movavi Screen Capture.
If you use Mac, please try our Mac OS screen capture
Almost all of us know how to grab desktop screenshots in this or that way. But what if you need a video and audio recording of your screen? Perhaps, you're going to create a video software tutorial or a demo presentation to promote your project or website? Or you want to create a clip based on some webcam recordings?
Screen Capture Studio can do it all! Capture the computer screen while browsing the web, watching online videos, chatting via Skype, or working with some new desktop application.
Download Screen Capture Studio right now and check this guide to learn how to record the screen with Movavi's ultimate capturing software for Windows.
Step 1: Install Screen Recorder
Once you've downloaded the program, run and install it according to the instructions. Screen Capture Studio is Windows XP, Vista, Win7, and Win8 compatible so you won't encounter any troubles with it.
Step 2: Set the Parameters of Recording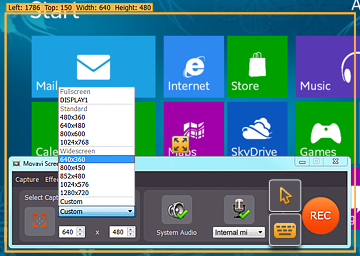 At first, customize the capture area. If you need to record at full screen, just open the Select Capture Area menu and pick the name of your monitor in the Fullscreen section. You can also choose between standard and widescreen sizes as well as adjust the capture frame manually. Move it to the exact area of the screen you want to record.
Once you've selected the appropriate capture area, set audio preferences. By default, the program captures sound from both input and output devices. In the list of input devices you can choose the device to be captured. If you also need to record sound from headphones or audio set, click the System Audio icon (green checkmark will appear over it). If you don't need sound recording, simply uncheck both icons.
For more informative video you can turn on capturing actions of your keyboard and mouse. To do it, simply click the corresponding buttons (they are shown on the picture).
Step 3: Capture Video from Your Desktop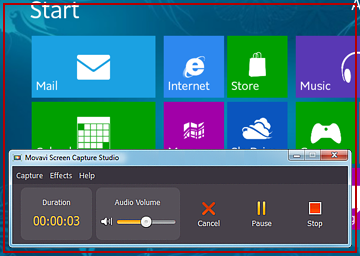 Now click REC, and the program will start capture your screen. You can manage the process via the buttons in the program screen, or use the hot keys: press F9 to pause/resume the recording, or F10 to finish it. To grab screenshot during the recording, hit F8.
Step 4 (Optional): Edit the Captured Material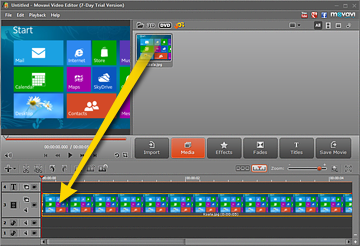 After you've captured what you intended, click Stop or press F10 to finish. When you see the preview interface, click Edit to be able to open your screencast within a built-in video editor which enables you to apply filters and special effects, add captions, change audio tracks, and transform video in many other ways. Place your video on the timeline and start improving it!
Step 5: Save Video in Any Format or Convert for Mobile Device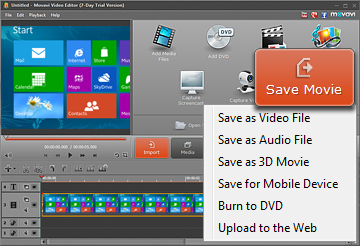 No matter whether you used the video editor or not, you can save the recording in any video format to watch it on DVD, desktop computer, media player, smartphone or tablet. If you are in the video editor, click the Save Movie button and select Save as Video File or Save for Mobile Device. If you're saving the recorded video straight from the preview window, choose one of the presets for formats or devices and click Save.
Now you know how to record your pc or laptop screen without any additional hardware. Record video from your screen and improve your video editing skills with Screen Capture Studio.
You might also find the following articles useful:
Capture screencasts, online video
Adjust recording settings
Save clips in any format
Share game video online
Learn more
Download
Capture screencasts, online video
Capture webcam
Edit recorded video, use special effects
Save for mobile devices
Upload videos online
Learn more
Download
Software Trusted in 150 Countries
Movavi has been developing video processing software since 2004. Our programs are trusted in 150 countries including the US, Japan, and Europe. We guarantee high quality of our software and safety of payments on our website.
Support for Leading Technologies
Our programs are designed on the cutting edge of video technology.
Email us