The Best Photo Organizing Software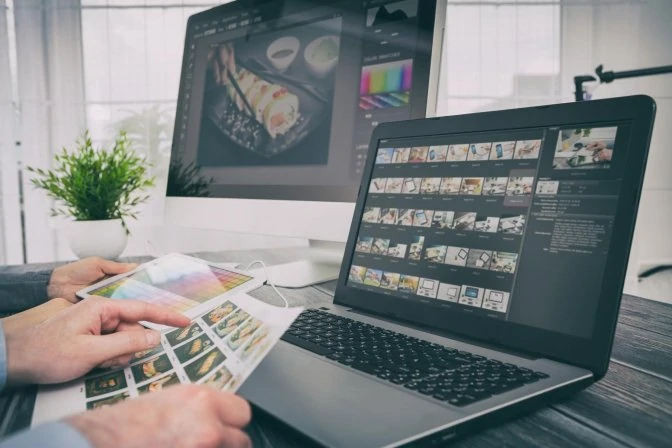 The advent of smartphones and the proliferation of DSLR cameras has pushed digital photography into a spiral. Social media joined the fray and sent photography right through the stratosphere. Instagram, for instance, receives millions of pictures every day. The implication here that individuals are taking countless photos on a daily basis.
However, it is a little different for a professional photographer, who is likely to have thousands of images; hence, the need for the best photo organizing software to help put things in perspective. Your Windows PC, or Mac, may have a good program for organizing photos but will run into a glitch when it comes to a large number of image files, especially saved in RAW. So, what should you do? Get the best free photoorganizing software.
The 10 Best Free Photo Organizing Software
Operating on a shoestring budget? No worries. You can still find a suitable photo organizing and editing program. The best free photo organizing software should make it easy to filter and tag images in your portfolio. Take a look at the following: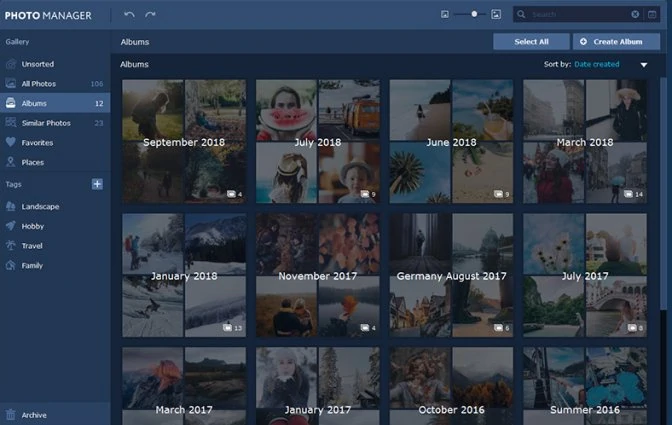 Compatibility: Windows 10, 8, 7 or Mac OS X 10.10 or higher | Hard drive space: 500 MB | RAM: 4 GB | Min. resolution: 1280 × 768
Price: Full version costs $39.95
Key feature: Automatically selects similar photos
Pros
Simple interface
Facial recognition
Cons
The trial period lasts only three days
When it comes to easily organizing your photos into folders, Movavi Photo Manager for Windows and Mac won't disappoint. This app will help you manage your gallery and edit the images to the desired levels. Movavi is at home for whichever kind of file, whether RAW, JPEG, or PNG.
You can view and edit your pictures, find and delete duplicates, create albums, tag photos – all in one place, thanks to the user-friendly interface of this program. Of course, you need to lay your hands on the paid version to limitlessly enjoy all the benefits, but a free trial period is available to give you a sneak preview of the features of this app.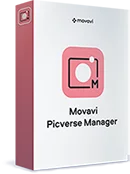 Movavi Photo Manager
Photo management made easy
Organize images at the click of a button

Quickly find photos by tag, date, and location

Edit multiple images simultaneously

View pictures in many popular formats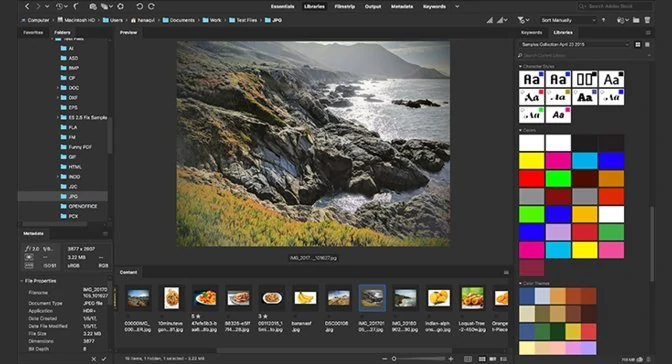 Compatibility: Windows 10, 8, 7 or Mac OS X 10.13 or higher | Hard drive space: 2.1 GB | RAM: 2 GB | Min. resolution: 1280 × 768
Price: Included in any Adobe Creative Cloud plan, starting at $9.99
Key feature: Advanced publishing tools
Pros
Cons
Paid cloud storage can be expensive
Adobe Bridge CC makes it to the list of the best free photo organizing software because it offers access to all the resources and files needed to work with creative projects. You can edit several images at once, also known as batch editing, add watermarks, adjust color settings, and upload pictures to Adobe Stock.
Working on both Windows and Mac OS, Adobe Bridge CC has the necessary tools to simplify photo workflows. The only problem you may experience with this software is the paid cloud storage, which may become expensive in the long run.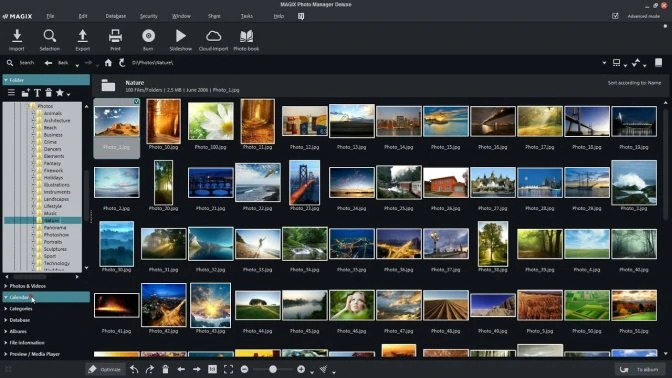 Compatibility: Windows 10, 8, 7, Vista | Hard drive space: 600 MB | RAM: 512 MB | Min. resolution: 1024 x 600
Price: $34.99 for a Deluxe version
Key feature: Facial recognition
Pros
Allows to restore deleted photos
Simple interface
Cons
This app is quite convenient for those working from a Windows-based computer. It does not have support for other platforms as yet. It can help you to organize your photo and video collections, find and save them to optimize your library.
Magix Photo Manager Deluxe offers the possibility to quickly organize your photos, and give detailed information about each shot. You will also love its simple interface and the auto photo setup. However, the free version has limited functions, so you may have to upgrade to the paid version. This app also does not support cloud storage; thus, limiting you to the local storage on your device, and which may not be enough.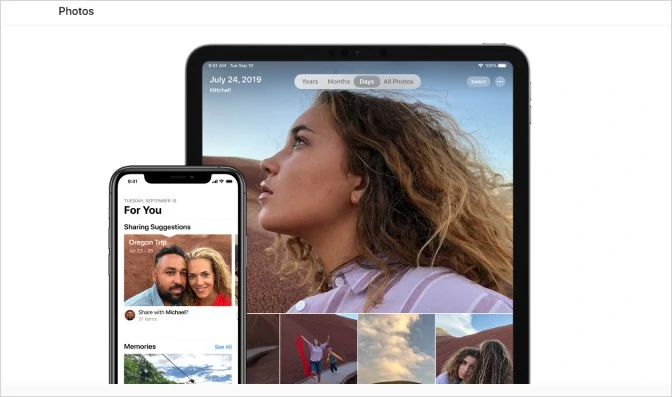 Compatibility: iOS 8 or higher, iPadOS, OS X Yosemite or higher, watchOS, tvOS 10 or higher
Price: Free
Key feature: Allows to edit RAW images
Pros
Synchronizes your photos through iCloud
Simple and effective
Cons
Available only on Apple products
Apple Photos is the equivalent of Google Photos for iOS devices. It packs lots of photo editing features to make every shot a memorable experience. These features include Auto Enhancement, for applying the best corrections to your images, exposure and contrast, and brightness. If your iOS device has an A9 chip, you will be able to edit RAW files straight from Photos on your iPhone or iPad.
Apple Photos also showcases scene and object recognition via an advanced machine learning technique. This technique lets the app identify photos by the objects present in them. You can then use those objects to quickly search for any given photo. For instance, if you search "beach", the app will display all the photos with a beach in them.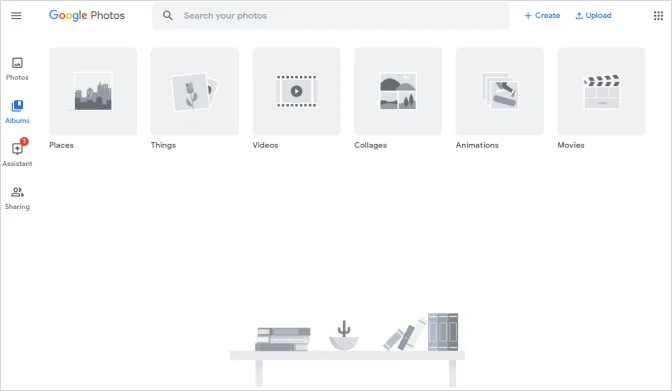 Compatibility: Windows, macOS, iOS, Android
Price: Free up to 15GB storage space
Key feature: Automatic backup
Pros
Easy sharing
Photos are available on any device
Cons
Only basic photo editing tools
If you need a free program that works with both photos and videos, meets all modern standards, and is compatible with Windows, Mac, and Linux, Google Photos is the app for you. And with unlimited access to Cloud storage, you will never worry about your device running out of space.
Google Photos has a search function that allows you to fetch back any photo or video uploaded to the Cloud within the shortest time possible. This program also lets you share your creations with anyone, as well as importing images from your smartphone.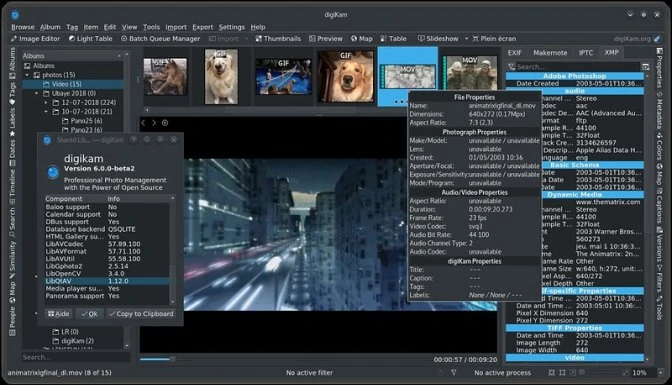 Compatibility: Windows 10, 8, 7, Vista, XP; Mac OS X 10.6 or higher, Linux | Hard drive space: 2 GB
Price: Free
Key feature: Can handle over 100,000 photos
Pros
Supports RAW files
Open-source software
Cons
Image export is complicated
Supported by both Windows and Mac OS, digiKam Photo Manager will catalog and edit your photos via the built-in graphics editor. It provides detailed information about each photo; thus, making it easy to organize them into related folders.
If your device has ample storage, the little matter of this program not supporting cloud storage may be of little concern to you. However, digiKam is still under construction, and may not be so stable in the Windows environment.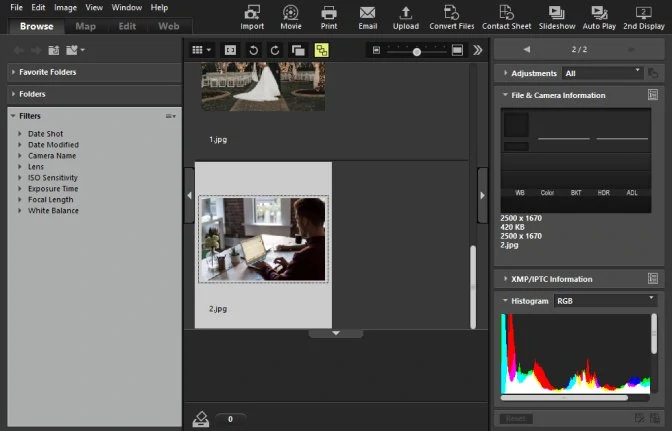 Compatibility: Windows 10, 8; macOS Sierra or higher | Hard drive space: 1 GB | RAM: 4 GB | Min. resolution: 1366 x 768
Price: Free
Key feature: Powerful image processing
Pros
Cons
The interface may seem unintuitive
You know Nikon for its top-of-the-range imaging products. This company has also produced a photo manager to help you to organize the photos you take using whichever camera you are flaunting. Nikon ViewNX-i photo manager does much more than help transfer photos from Nikons to your computer.
ViewNX-i can also read impeded location data and tell where the photos were taken, and help group them according to their geo-location. It also featured an inbuilt movie editor for editing any video footage you may have taken.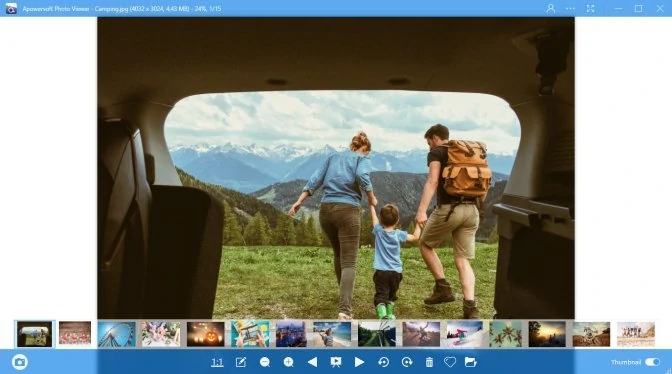 Compatibility: Windows 10, 8, 7
Price: $69.95 for a lifetime license
Key feature: Screenshot tool
Pros
Low lag photo viewing
Allows to view and convert HEIC images
Cons
Doesn't include a photo management feature
This app uses efficient computing technology, enabling you to view any image file the moment you click on it. It has a convenient interface and is compatible with Windows and Mac. Apowersoft also features an inbuilt graphics editor, so you can apply different edits to your photos without any challenge.
The easy and intuitive interface, coupled with in-depth information about each file, helps you to quickly organize photos in folders. Nevertheless, you may not like its no-support for cloud storage quite limiting.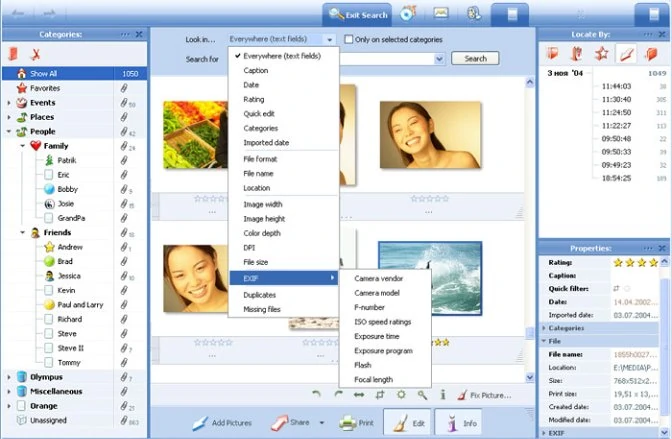 Compatibility: Windows 10, 8, 7, Vista, XP
Price: $59.95 for a full version
Key feature: Advanced categorizing of photos
Pros
A lot of sharing options
Imports photos directly from the camera
Cons
The interface seems a bit outdated
PicaJet is a photo management software built for Windows only. It offers batch processing of photos, which is fast due to the ability to harness the capabilities of the 3D video card accelerator. You can also create video shows and web galleries as an added advantage.
This free photo organizer offers a variety of great features ranging from direct importation of photos from your camera and sharing via mail to automatic image enhancement and printing options. Should you choose this app, be sure you can do without cloud storage. And if you have no problem with the rather outdated interface design, then this software can attend to your needs.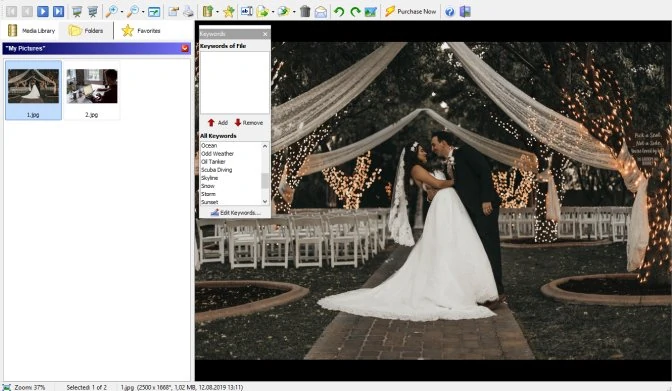 Compatibility: Windows 10, 8, 7, Vista, XP | Disc space: 10 MB
Price: $49.50
Key feature: Batch conversion tool
Pros
Many ways to organize photos
Wide range of print templates
Cons
Doesn't support some image formats
Limited sharing options
Smart Pix Manager can let you create slideshows and organize your images in several ways. It also features a wide range of printing templates, so you can produce spectacular photos for your portfolio. However, you may experience problems with its user interface, and some file types, which may not be compatible.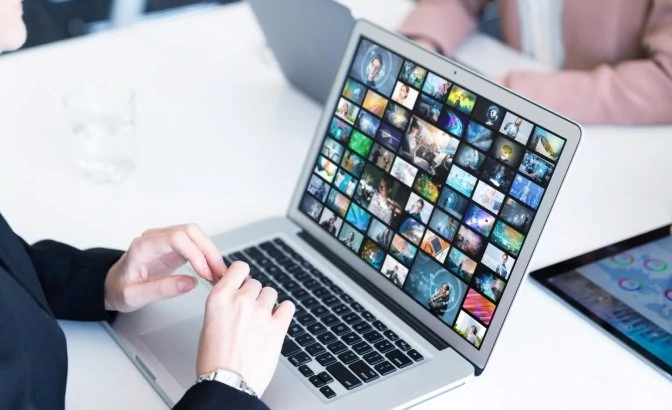 The best photo organizer should help sort, filter, edit, and search for any photo file present in your gallery with ease. The photo organizing software in this review are all great in their own way, but if you are looking for a program to help you manage your large collection of photos, and edit them as well, consider downloading and installing Movavi Photo Manager.
Best Ways to Organize Photos
Printed Photos
You can easily organize printed photos, by following instructions below:
Buy a set of photo albums and photo boxes.
Sort photos by date or any other identifying feature.
Get rid of low-quality photos.
Put the sorted photos to photo albums.
Digital Photos
In addition to photo organizing software, you can manage your photos like this:
Create custom folders in your camera's storage and name them according to the date or event to which the photos are related.
If your camera doesn't allow you to create such folders, do this at your favorite device.
Sort your photos appropriately and put them in the folders.
Frequently Asked Questions
💸 What Is the Best Free Photo Organizing Software?
It's hard to choose the best photo organizing software that will be suitable for everyone. However, if you want to find the photo organizing program that is best for you, choose from the list below.
📂 What Is the Best Way to Organize Photos?
Digitize printed photos. If you have printed photos you want to save, use a scanner to sort and preserve them in digital format.
Use a single device to store the photos. Choose a device where you want to store all of your digital photos. You can also use cloud storage to access the photos from any device.
Divide your photos into folders to organize them. Division can be based on events, dates, people that are present on the photos, etc.
Make backup copies of your photos. If it's not convenient for you to use online cloud storage as your primary storage location, consider saving backup copies of your photos there.
💻 What Is the Best Photo Manager for Windows?
You can choose a Windows-compatible photo manager that is the most convenient for you, from the list below.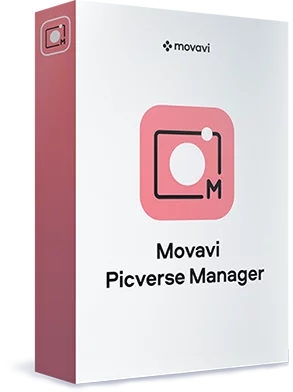 Movavi Photo Manager
Photo management made easy
Organize images at the click of a button

Quickly find photos by tag, date, and location

Edit multiple images simultaneously

View pictures in many popular formats
See Other Useful How-to Guides