In this guide, we're looking for the best screen recorder for iPhone, as well as ways to record your iPhone using your Mac or PC. There are many screen recorder options besides the inbuilt iPhone recording feature.
Best iPhone screen recorder apps
Built-in iOS screen-recording feature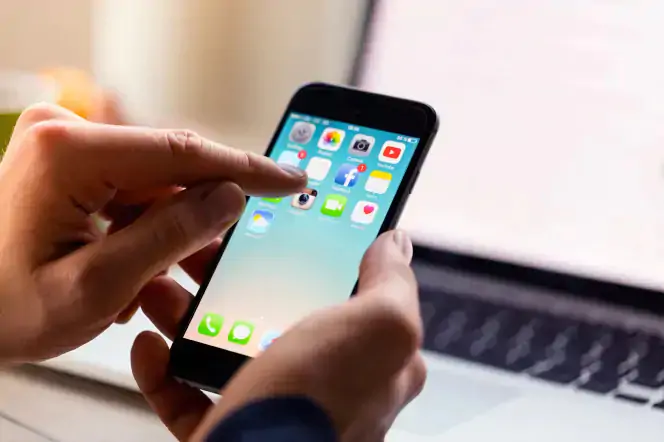 Best for: no installation needed
Price: free
The iOS screen recorder is one of the best screen recorders for an iPhone that's free. This is a convenient way to quickly make recordings on your iOS device, it will be already installed on the operating system, and it can be launched in a matter of seconds, so you can record whatever is going on your screen for that time. The iPhone screen-recording app can be launched from your Control Center.
Key features:
Already installed on your iPhone
720p recordings
Simple to launch from Control Center
Pros:
No need to pay or download third-party software
No time limit on the recording
One of the best iPhone screen recorder apps that's free
Cons:
Takes up memory space on your phone
Limited editing capabilities
Records in 720p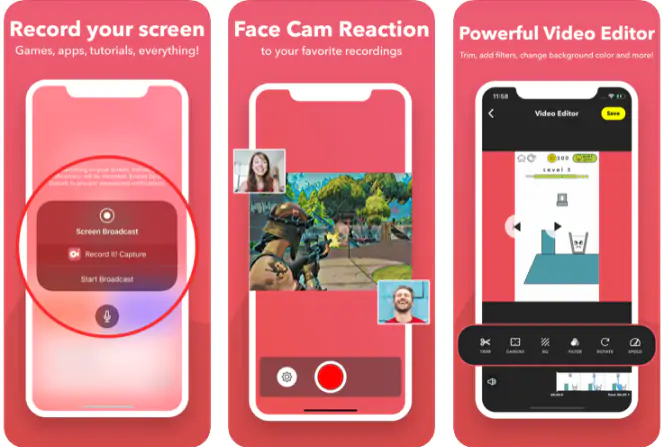 Best for: reaction videos
Price: free, $4.99 for pro version
App Store rating: 4.6 out of 5, 290.5K reviews
Record It! is one of the great apps that records your phone screen but it also gives you the option of adding recording of your screen as a picture-in-picture. It's great for reaction or commentary videos, where you can add your face in the corner of the screen.
Key features:
Picture in picture with webcam recording
Option to use a one-tap recording setting
Audio only commentary recording
Editing functions
Pros:
Easy to perform basic edits
Can add commentary to existing camera-roll videos
You can get this iPhone screen recorder for free
Cons:
The pro version comes at a cost ($4.99)
Limited to three minute recordings on the free version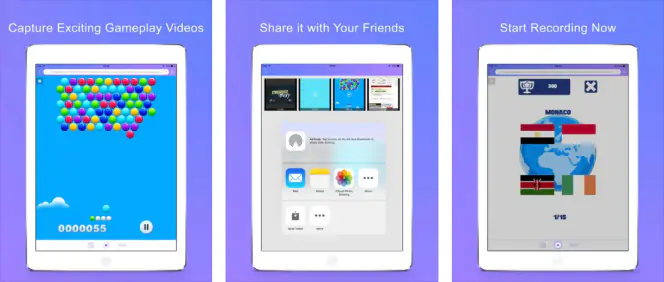 Best for: browser capture
Price: free
App Store rating: 3 out of 5, 1.2K reviews
This is an app that is designed to record directly from web browsers, so rather than get everything going on on the screen (including notifications) you simply end up with whatever was happening in the browser. It isn't as reliable as some other options, but it is nice to have the option to record directly from one browser screen nonetheless.
Key features:
Capture straight from a browser
Bookmark system within the app
Easy to launch
Pros:
Great for recording one browser
Cons:
Not good for recording audio, the quality is low and the audio degraded
The app doesn't seem to be updated much
Screen Recorder – Livestream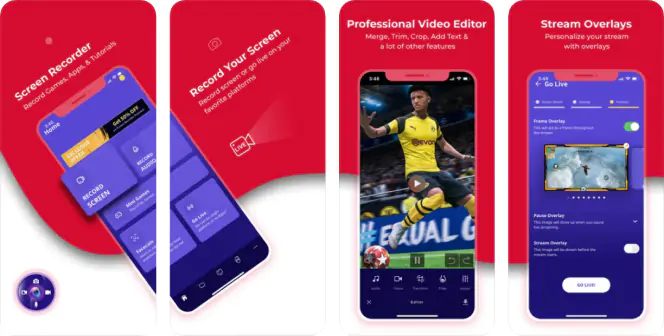 Best for: going live
Price: $9.99 monthly or $99.99 yearly
App Store rating: 1.3 out of 5, 23 reviews
This is another good screen recorder for your iPhone that also allows you to go live on streaming platforms, using a feed of your screen as well as your microphone to stream to fans on some of the biggest platforms. You can use screen overlays and other screen recording options, so you don't have to make live videos.
Key features:
Go live on some top platforms
Detailed video editing
Includes mini-games
Pros:
Easy to go live on multiple simultaneous platforms
Can also be used on Mac and iPad
Cons:
One of the more expensive options
Some users have reported bugs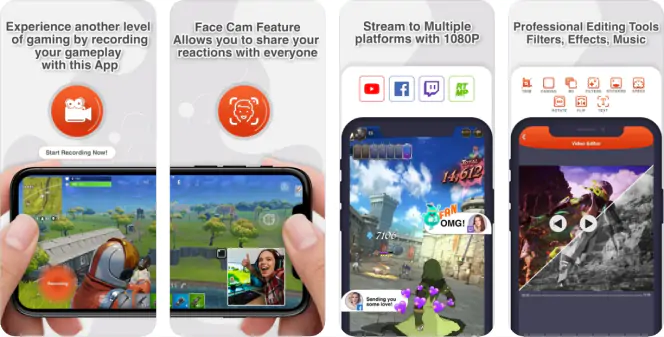 Best for: video recording options
Price: $9.99 monthly or $29.99 yearly
App Store rating: 3.7 out of 5, 2.1K reviews
The RecPro screen recorder for iPhone is good for people who want a good level of control. If you are wondering what app to use to give you control of things like the dimensions of the recording or the frame rate, this Screen Recorder gives you a huge number of options. There are a lot of filters and "stickers" too, which can be fun, but there is a coin system to buy these, which isn't necessarily worth it.
Key features:
Flip and rotate video, plus choose size
Record at a variety of FPS and Mbps rates
Unlimited time recording
Pros:
Great control over the look of the video
Easily add text and edit the video
Cons:
The coin system to buy upgrades is annoying
Expensive if you pay monthly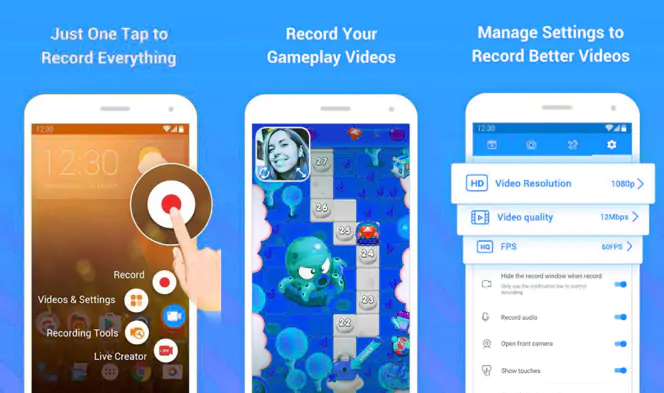 Best for: video editing
Price: free with premium upgrades
App Store rating: 4.5 out of 5, 54.6K reviews
This easy-to-use software is great for taking recordings as well as going live, allowing you to stream directly to Twitch, Facebook, and YouTube. DU Recorder also has some exceptional features when it comes to editing, and you can add music, filters, and crop, to make a professional looking video. You can get this iOS recorder free, but it does rely on paid upgrades to unleash all the features.
Key features:
Record audio and video
Stream straight to the biggest platforms
Choose the resolution of streams
Pros:
Easy to go live on a number of platforms
Supports Replaykit and RTMP addresses
Cons:
The FPS doesn't seem particularly high
Audio records in formats that don't preserve quality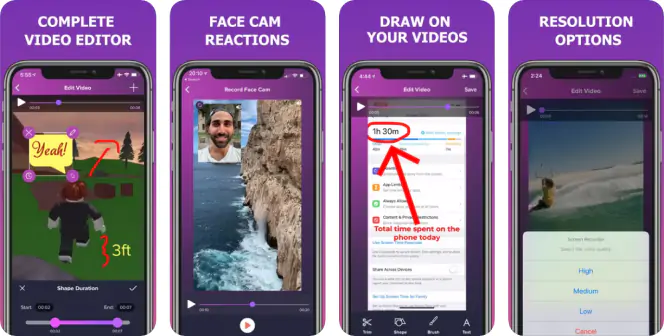 Best for: annotating videos
Price: $4.99 weekly, $9.99 monthly, $39.99 yearly
App Store rating: 4.6 out of 5, 19.5K reviews
This iPhone screen recording app is great for making face cam reactions as well as annotating your activity and whatever is on your iPhone screen. You can create tutorials and other styles of video pretty easily, and the excellent option to annotate live is a welcome addition. There is also a fairly sophisticated set of editing features to polish your video.
Key features:
Annotate and edit your video in real time
Record from your face cam as well as screen
Pros:
Simple interface
Make a variety of gaming videos and tutorials with annotations
Cons:
Not as much control over settings as some other iPhone screen recorders
Free functionality is very limited
Best iPhone screen recorders for a Mac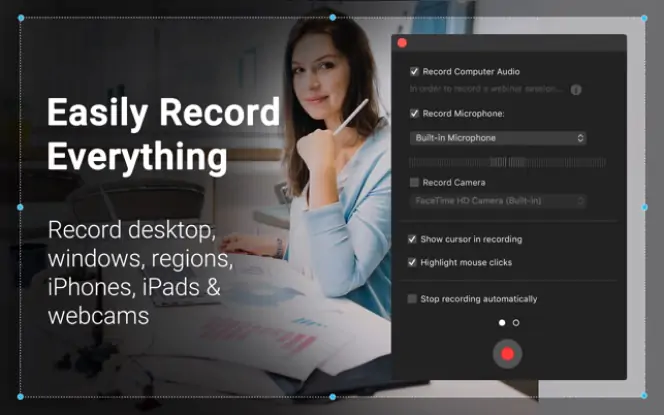 Best for: advanced editing and sharing
Price: $26.99
Mac App Store rating: 4.4 out of 5, 297 reviews
Capto has a clever system of allowing you to record screens from a variety of devices and from your browser or iPhone screens as required. It's one of the best iPhone screen recorders for Mac, and even has a smart file manager to make it easy to label and collect your videos for future use.
It also makes it simple to connect with servers, and with sites such as Facebook, Evernote, and more. The capture and editing features are impressive with a lot of options, including timed recordings, that you don't get from even the best screen recording apps for iPhone.
Key features:
Smart system of storing and tagging videos
Advanced editing functions
HD capture
Pros:
Simple one-time payment
Use multiple input sources for your video and audio capture
Cons:
Can be more complicated to get used to the controls and features
Not many file type options to choose from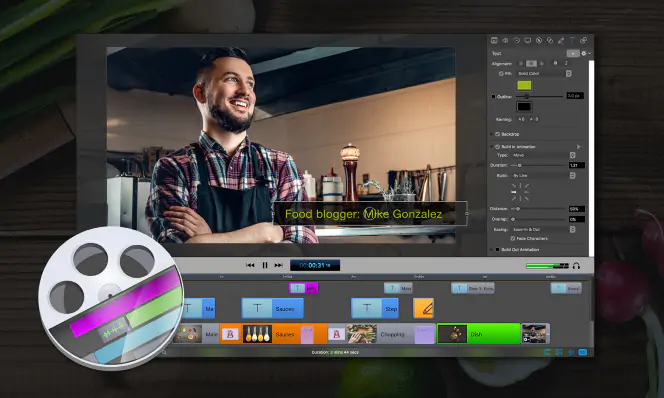 Best for: professional editing
Price: from $149
TechRadar rating: 4.5 out of 5
This is a more expensive option, but with that you get more professional features including advanced editing and layering techniques plus the option to add stock graphics and titles. ScreenFlow functions like a professional video editing program but it also has the option to capture directly from your screen on an iOS device, just connect it and set it as the input.
Key features:
Includes stock footage
Auto background remover
Supports numerous file types and recording settings
Record multiple apps at once
Pros:
Lots of options to make professional videos
Relatively simple to use
Create tutorial videos and presentations
Cons:
Higher initial outlay than many options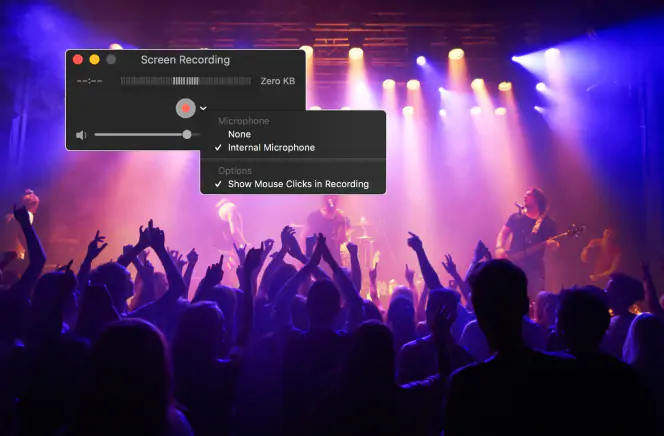 Best for: easy screen recording on a Mac
Price: free
QuickTime Player is a multimedia player developed by Apple. It's a built-in app, so you don't have to download and install it on your device. Besides opening media files, QuickTime Player also offers a screen-recording feature that may come in handy for recording your iPhone screen.
Key features:
Capture the full screen or a part of it
Simple editing tools
Pros:
Doesn't require installation
Very easy to use
Completely free
Cons:
Best iOS screen recorders for Windows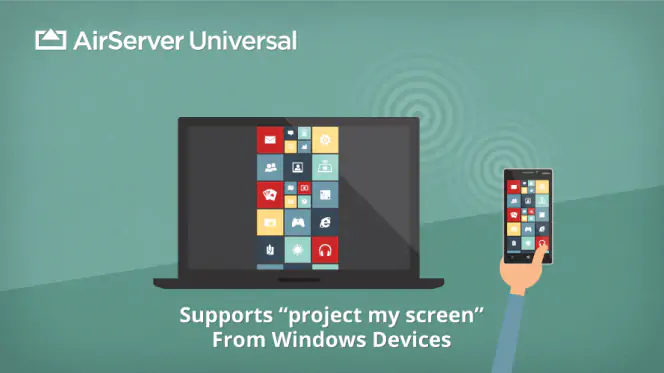 Best for: screen mirroring
Price: $19.99
Trustpilot rating: 3.6 out of 5, 9 reviews
This clever software allows you to cast to your Windows device with ease. It has been made to try and make it much easier for those who want to use the casting options on their device. By casting to your laptop, you can then use the screen recording options on AirServer to turn your device into an iOS screen recorder app.
Key features:
Allows you to cast to your laptop in real time
Inbuilt recording function
Pros:
Easy to make recordings from your device
Can also be used for casting
Cons:
No editing functions
Takes up two screens while recording (iOS device and laptop)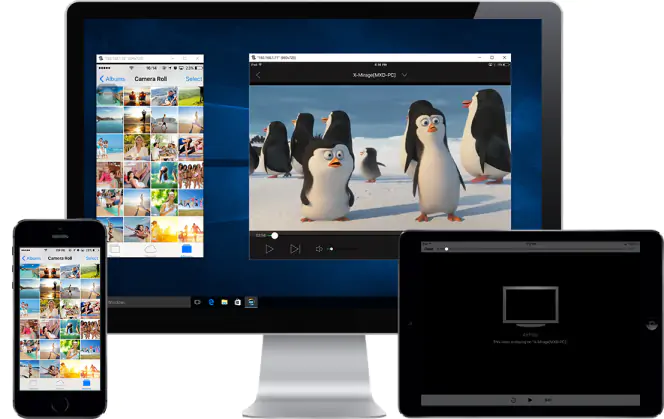 Best for: 4K mirroring and recording
Price: $19.99
X-Mirage works in a similar way to AirServer and can be installed on your Mac or Windows to mirror your device. It means wirelessly setting up your device to cast to your Mac or PC, and even share this stream with others really easily.
As well as mirroring, you can also easily click a record button and make a video, and you can even add voice-overs as required.
Key features:
Invite others to mirror their screen
One click recording
4K mirroring
Pros:
Record from multiple devices
Enjoy HD quality every time
Cons:
No real editing functionality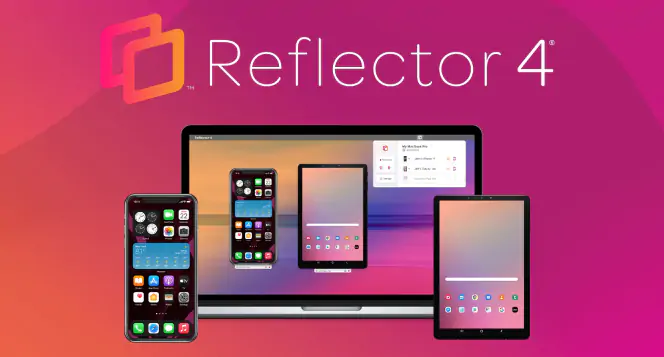 Best for: mirroring multiple devices
Price: $18
G2 rating: 4 out of 5, 47 reviews
This is a brilliant option for those who want the best screen recording app for iPhone mirrors and want to use multiple iOS devices to cast to a laptop and record, you can even lay them all out at once using this software's smart display. These look great, and give Reflector a unique selling point. It's great for creating unique presentations.
Key features:
Emphasize and highlight specific devices
Show and hide devices as required
Simple one-click recording
Pros:
Great for mirroring multiple devices
Easy to record in one click
Cons:
Not great for editing options
How to choose an iPhone screen recording app
Choosing the best iOS screen recording apps may be slightly different depending on the type of device you have and the way that you want to record, as well as the specific features you need, such as face recording or even more advanced editing and streaming.
Compatibility. You have to make sure that the recorder is compatible with your device. If you are using an iPhone recorder on your Mac or PC then you have to check that it will work with both.
Price. The best screen recorder for iPhone that is free may not be the best overall, you might want to invest a little to ensure that you get a top screen recorder and the functionality you want.
Functions. Match up the functionality to what you need as a consumer. Do you need the option to record long videos or just short bursts? Do you want to be able to stream? Different apps offer different functionality.
Support. Do you get support with the app? You will want to use software that is regularly updated with a good base of knowledge and support so that you can troubleshoot any problems.
Usability. Usability and speed are crucial for screen recorders, especially due to the fact that you will often want to make a recording in a hurry, so you won't be looking to spend ages changing the settings or messing around with setting up the recording. It is useful if you can start in a matter of seconds.
You may assume that the best screen recorder for iOS is the one inbuilt in your device, but actually, many of the others allow you to do much more with your recordings, including live streaming and creating complex videos from multiple sources. Depending on which device you want to use and how many editing features and functions you need, there are multiple apps that record your iPhone screen.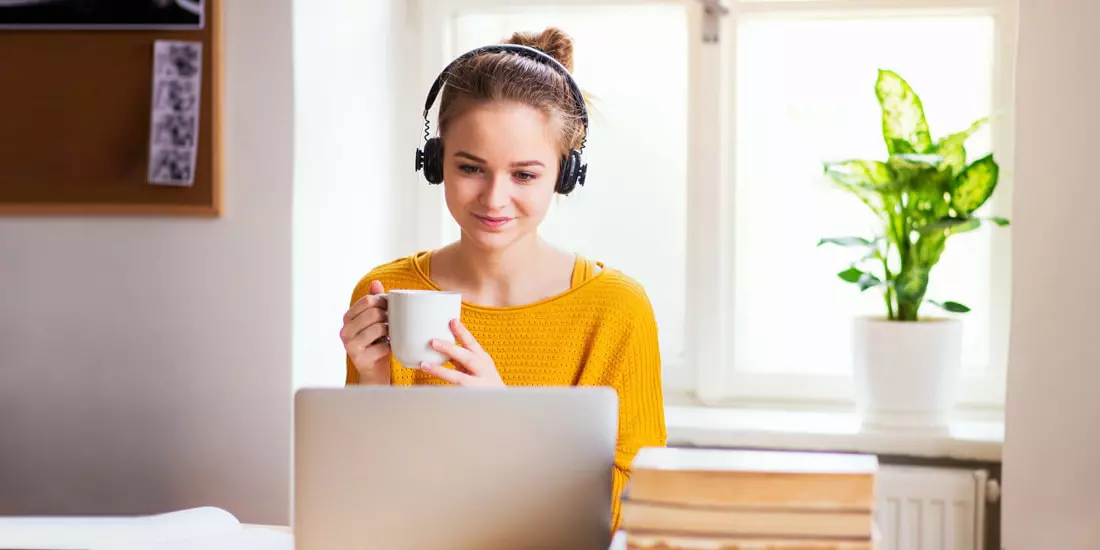 Movavi Screen Recorder
The perfect way to record from your screen
Frequently asked questions
What is the best iPhone screen recorder app?
Check out these apps:
Record It!
Web Recorder
Screen Recorder – Livestream
Screen Recorder – RecPro
DU Recorder
Read this article for more screen-recording options for your iPhone.
How do you record an iPhone screen in 4K?
There are a few options for recording your iPhone screen: you can use a built-in iOS recording feature or a screen recorder like Record it! Or you can also connect your iPhone to a Mac and use QuickTime Player.
For more information, follow the link below.
Does an iPhone have a built-in screen recorder?
Yes, the iPhone has a built-in screen recorder but this is fairly limited in functionality. It is limitless in the length of videos, but it doesn't allow scheduling or 4K recording.
Sign up for news and special offers