How to convert WMA to MP3 with VLC
VLC is a world-renowned media player anyone can download for free to enjoy their multimedia files on Mac, Windows, Linux, Android, and other major operating systems. But most people don't realize they can use VLC as a file conversion tool as well – like using VLC to convert multiple files to MP3 format via the Media Player's built-in file-converter function.
For instance, did you know that VLC supports free WMA to MP3 conversions? As someone who has been using the VLC Media Player for over a decade, VLC's WMA converter feature definitely surprised me. Windows Media Audio (WMA) and several other major video and audio codecs are all able to be converted using the VLC Media Player, and you probably have it downloaded on your computer already!
Because it's free and easy to use, knowing how to convert WMA to MP3 with VLC is a handy trick to know. Especially if you bounce between operating systems and devices. After we walk you through how to use the VLC audio converter tool, we'll provide an alternative you can switch to if you want, and we'll wrap things up with some frequently asked questions.
How to use VLC to convert WMA to MP3
MP3 is the most widely used and well-known audio codec in the world, so being able to convert WMA to MP3 for free is important for anyone who wants to move audio files across operating systems.
Ready to use VLC to convert WMA to MP3? Here's a quick seven-step process for using VLC's "to MP3" converter, so you can easily access your audio files when you change between any device:
Step 1. Download and install VLC
If you haven't downloaded the VLC Media Player already, visit VLC's official website and click the download link for the appropriate operating system. You can either select the icon below the orange Download VLC button (like the Android robot, Mac OS X symbol, the Windows window frame, etc.), or you can click the down arrow for a more robust dropdown list of operating systems to choose from.
Step 2. Open VLC, click Media in the top menu, and select Convert / Save
After opening up the media player, click Media, located at the top left of your menu. From the dropdown, click Convert / Save near the bottom. Note that if you want to repeat this process in the future, the Ctrl + R hotkey helps you omit this step.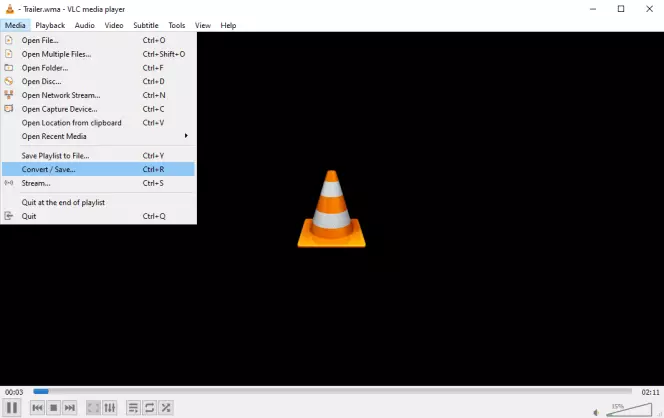 Step 3. Add the WMA file/s you'd like to convert to MP3
In the Convert / Save window, click the + Add button on the right side. This pulls up your computer's file directory. Track down the WMA file/s you'd like to change to MP3, select as many as you want, and click Open to move the files to the media player.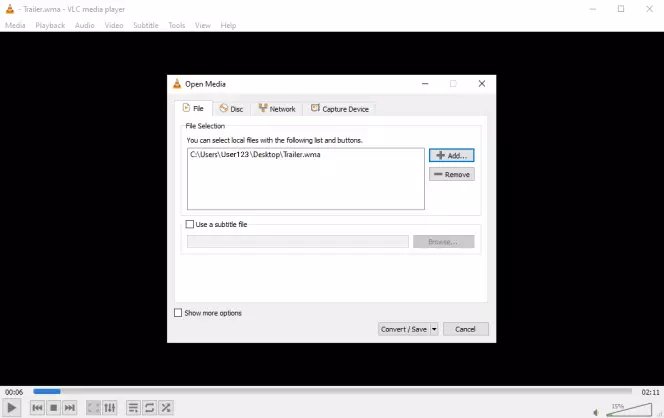 Step 4. Click the Convert / Save button
At this point, you'll be able to see the name of your WMA files in the window. Once you've added all the files you want to convert, click Convert / Save at the bottom of the window to proceed to the next step.
Step 5. Adjust the Profile settings to Audio – MP3
At the center of the current window, you should see the Convert radio button automatically filled out (select it if it isn't). Then you'll notice the Profile section in the center of the window – click the dropdown menu next to it and choose Audio – MP3.
If you want to convert your WMA to other audio codecs, you can repeat the entire process leading up to this point and simply change the output in the Profile section.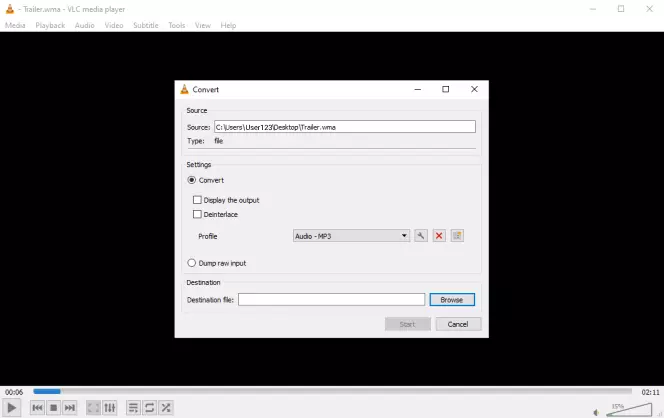 Step 6. Click Browse to choose your download destination
Before you can start the conversion process, you need to choose where you want your newly-minted MP3 files to be downloaded to. If you prefer to organize them later, you can just let them download into the default folder or to your desktop, or you can create a new folder and send them all there.
After all the settings are in order, simply click Start to begin.
The time needed to convert WMA to MP3 with VLC will depend on file size/s and how many WMA files you're trying to change, but it should take no longer than a couple of minutes. You can track the download progress on the VLC Media Player (the blue bar will indicate how close to completion you are).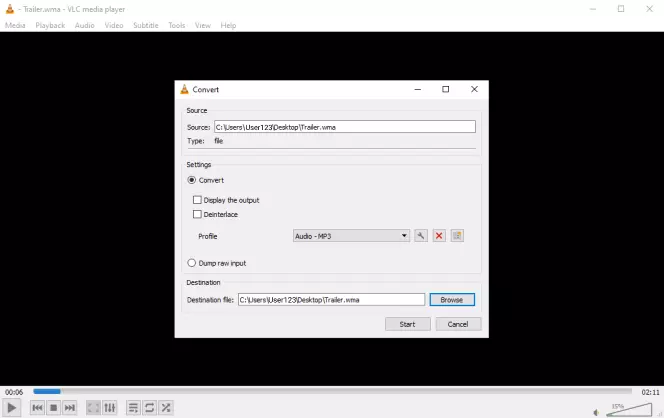 The VLC Media Player is not converting WMA to MP3? Try a VLC Alternative!
Sometimes software just doesn't want to play nicely, and you're left in need of an alternative to get the job done. If you're struggling to convert WMA to MP3 using the VLC Media Player, then another good option is to use Movavi Video Converter.
Some pros of using Movavi's file conversion tool include:
Flexibility: Being able to convert to and from many more file types
Speed: Convert large batches of WMA files to MP3 in seconds with the Superspeed setting
Simplicity: User-friendly, modern interface that makes it easy to execute all of your file conversion needs
If you'd prefer a converter tool that's more dynamic and gives you more control over your audio files, you should learn more about Movavi Video Converter. Here's how to easily use Movavi Video Converter to convert your WMA files to MP3:
Download the appropriate software (for Windows or Mac, depending on your OS). Follow the installation instructions, they're fairly standard.
Click the Add Media button, and select Add Audio. If you're trying to convert a batch of WMA files, upload them all now to convert them together.
In the Audio tab, select a suitable preset from the MP3 tab.
Select where you want to save your converted files by clicking the Save to button at the bottom of the app.
Modify (compress, change the bitrate, etc.) your file at this stage (optional).
Begin conversion by clicking the Convert button.
Comparing VLC and Movavi Video Converter
| Feature | The VLC Media Player | Movavi Video Converter |
| --- | --- | --- |
| Modern UI that makes it easy for anyone to convert and modify their files | | |
| Can convert in batches rather than only convert individual files | | |
| | | |
| --- | --- | --- |
| Supports conversion of a huge range of audio file types for all major operating systems and devices | | |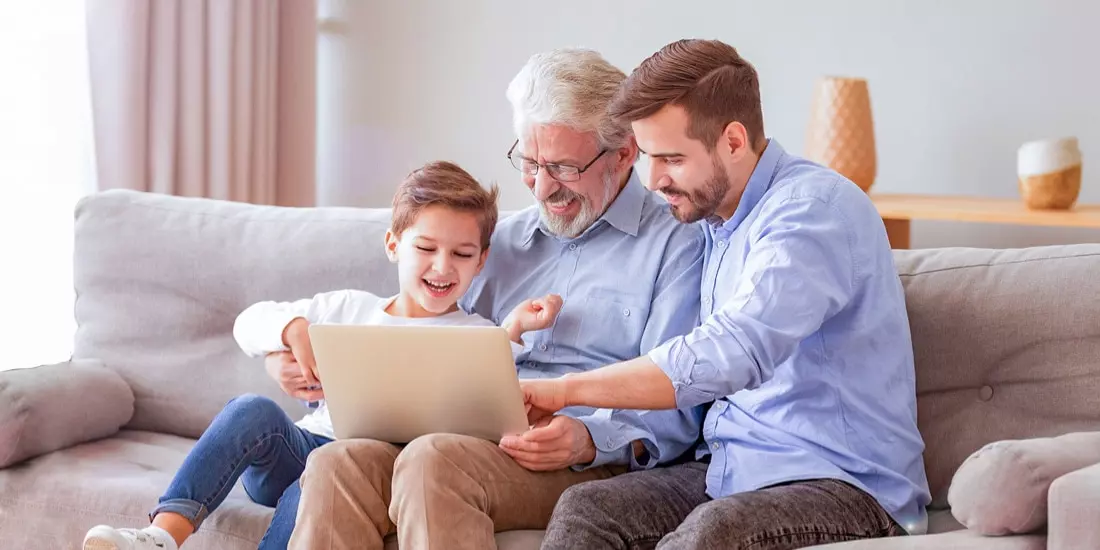 Movavi Video Converter
The ideal way to get your media in the format you need!
Frequently asked questions
What is a WMA file?
WMA, sometimes referred to as .wma or Windows Media Audio, is a proprietary audio codec created by Microsoft. Many people use WMA files while listening to music, podcasts, and more on their Windows OS, and many of them probably don't even realize it. In contrast to the MP3 (or .mp3) codec, WMA files are generally smaller and have higher sound quality.
Does VLC play WMA?
Yes, VLC does play WMA files. The VLC Media Player can play anything from files and discs to video-game and webcam streams. It also lets users watch a huge range of video files and audio files – a range that rivals the best media players available today.
Can VLC convert WMA to MP3 in batch?
No, you can't use VLC to convert WMA to MP3 in batch form, which is a problem if you're trying to move a bunch of files off a Windows device to another operating system (like iOS or macOS).
If you want to convert to MP3 via VLC in batch, you're better off using Movavi Video Converter. Here's how to do so in 5 steps:
In the converter tool, click Add Media and select Add Audio.
Add all of the WMA files you want directly to the converter.
In the Audio tab, choose the MP3 file format.
Click Convert in the top menu.
Wait until the conversion process is done (it should be quick).
How to open a WMA file?
Although WMA files don't have the flexibility and ubiquity of MP3 files, they're still relatively easy to open using third-party software. Here are five media players that have no issues opening WMA files for your listening enjoyment:
WMA Music Player
VLC Media Player or the VLC app
Orb
Winamp
KMPlayer
WMA vs. MP3: which format is better?
WMA and MP3 are similar – they're both audio codecs that let you listen to files on your various electronic devices. However, WMA is proprietary software, so its use is more restricted than the non-proprietary MP3. For instance, DRM-protected WMA files are very difficult to access, whereas MP3 doesn't face the same protections.
Additionally, while WMA files are generally smaller than MP3 and theoretically produce higher sound quality, the flexibility of MP3's and the fact most people can't hear the difference makes MP3 better for the majority of users. However, if you're an audiophile with a huge library of music and the right hardware, WMA is probably the best file type for you.
Sign up for news and special offers