The Best Games Video Editors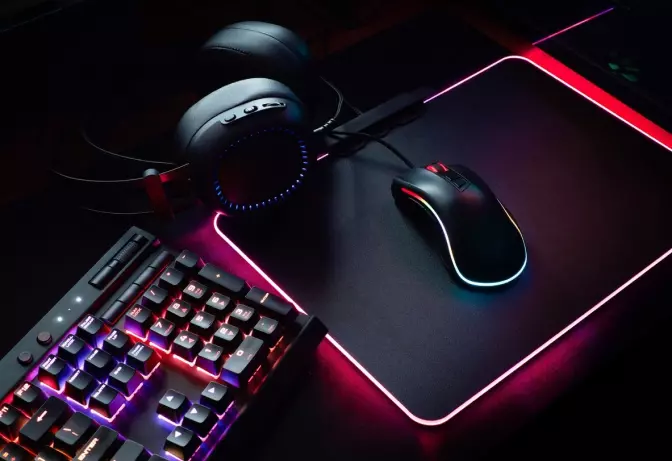 When it comes to choosing gaming video editing software, your choices may seem limitless – a paradise of options for a game video editor. Not a bad place to get lost, but that is what might happen as you get deeper and deeper into the (admittedly exciting) capabilities of the best video editing software for gaming that is available – including for free.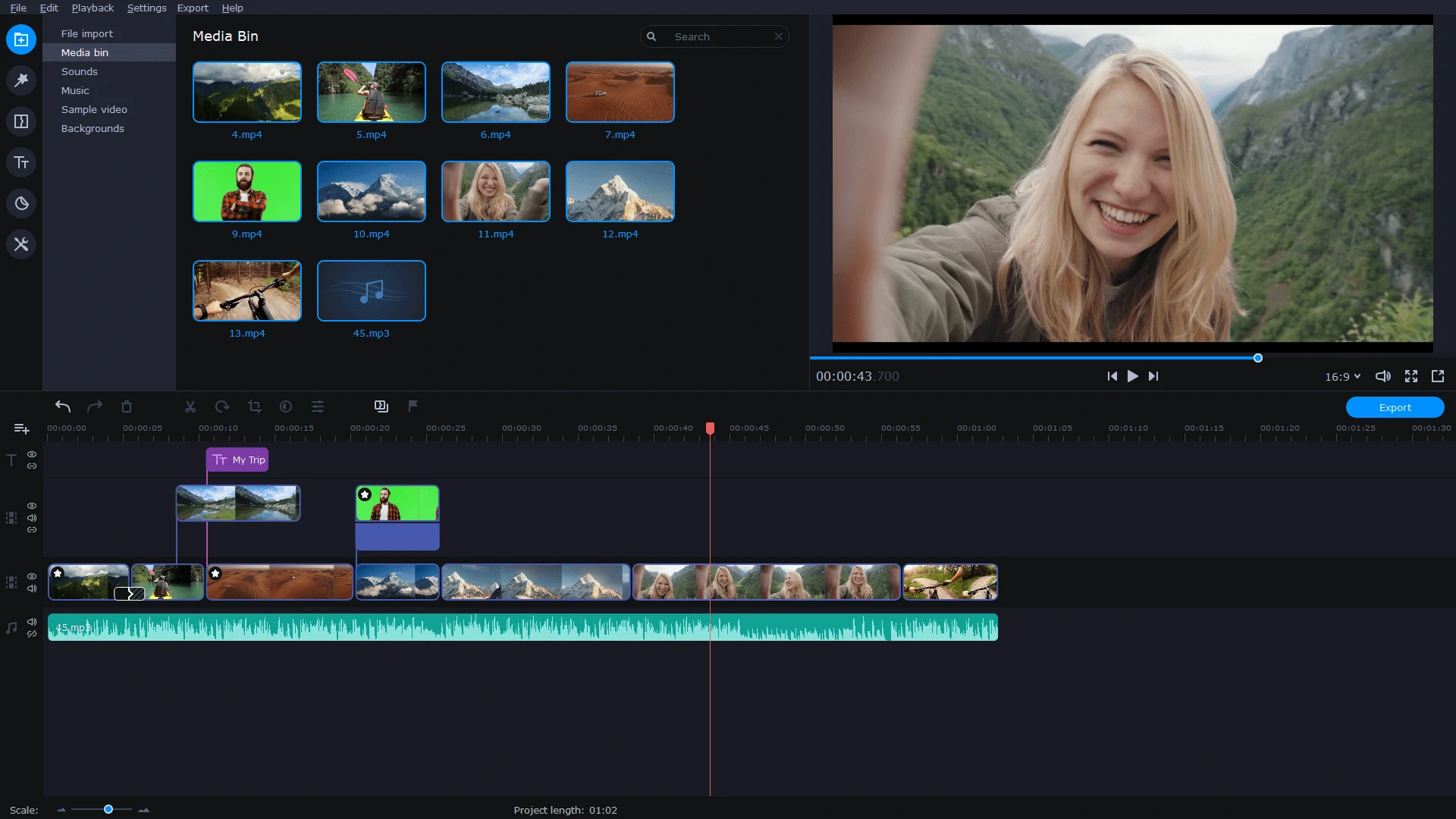 Gaming Video Editing Software: Some Choices
Now, look at a half dozen options for games video editing software, including some that are free and some you can try for free and may prove worth a modest investment to own. We don't devote the same number of paragraphs to each option because the basic photo editing features spelled out for the first option can be found in the others, as well. Instead of repeating them, we focus on some special features of each option and compare more general aspects such as ease of use, costs (or free), and the "learning curve" required to master the features.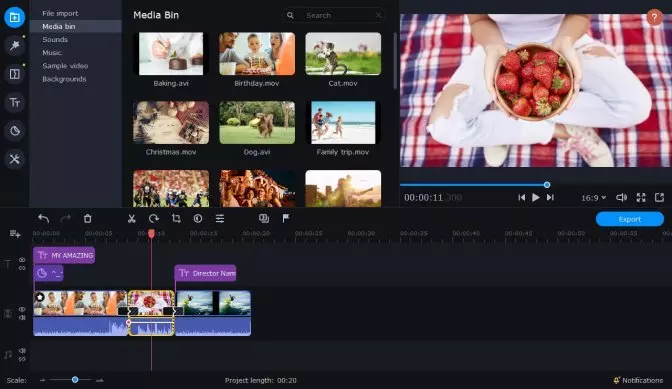 Movavi Video Editor Plus is forthright in its claim to offer video editing software with powerful features for bringing together your creative ideas and sharing them – but without the complexity and steep learning curve required by a "professional-level" editor. Movavi incorporates all of the basic editing tools of other software on this list, but also many special features such as keyframe animation, ready-made intros, and all the special effects of every kind that you will need.
At the same time, though, Movavi Video Editor Plus has a simple interface with intuitive controls that means you can create a finished video in as little as 20 minutes. It frees you, the user, from technicalities to focus on creative aspects of your work and to have fun making movies. And that, of course, is exactly what the editing of your video games, gaming experiences, and gaming get-togethers are all about.
Key features
Auto adjustment options to enhance the video quality
Different effects, including chroma key
The powerful video stabilization feature
Pros
Easy to use
Lots of video-editing features
Supports direct sharing on YouTube
Cons
Free trial has some limitations
Edit a Gaming Video with Movavi Video Editor Plus
Download the installation file, install the program on your PC, and launch it.
To upload your videos to the video editor, click the Add Files button and select the files. Drag the videos to the Timeline.
You can edit your video in various ways: add titles and transitions, apply filters, record and add a voice-over to your video, and much more.

To add transitions, open the Transitions tab, select the one you like and drag it between the video clips on the Timeline.

To record a voice-over, click Record Audio above the working area and specify the recording settings. Next, place the red marker at the point of the video you want to start the voice-over and click Start Recording.

Click the Export button to save the edited video. Then, choose the video format and hit Start.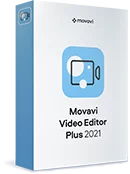 Movavi Video Editor Plus
Your next step in video-making
Edit video clips, images, and audio on a timeline

Add transitions, filters, titles, and stickers

Animate objects using keyframes, use more built-in media

Export videos in any popular format
Windows Movie Maker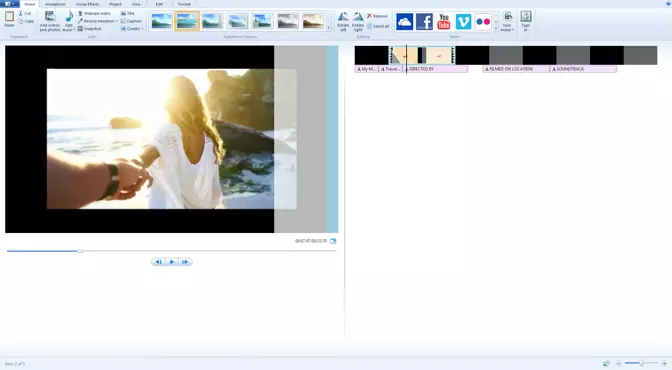 WMM or WLMM (Windows Live Movie Maker) is billed as a "movie maker," and is, but for gamers that often means editing. For that, WMM offers most of the standard features of other gaming video editing software. You can create movies (or edit your games) by bringing together music, images, and video. The software enables you to compress, make thumbnails, and cut and edit your game film. It is considered fairly easy to use even for beginning video makers. With WMM, however, you usually require a separate program to convert your projects in order to save them. The software program has been criticized for frequent freezing.
Key features
A wide range of titles and transitions
Has an AutoMovie feature with preset editing styles to automatically create videos
Pros
Free
Supports popular media formats
Cons
It is discontinued and no longer available to download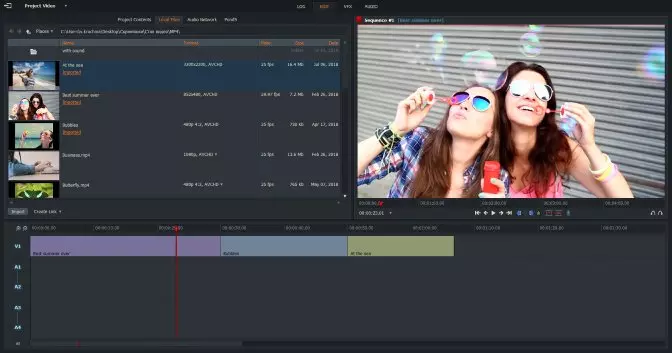 In contrast with WMM, Lightworks is viewed as a "professional level editor." Obviously, that does not mean automatically better for your game video editing. For example, professional-level video-editing software takes time to learn in order to use it well. That often means layers of tabs to negotiate to find and execute the steps you want. And Lightworks is not free, of course.
The Lightworks software operates with Windows, Linux, or OSX. Professionals have tested and evaluated the software, so you can see how it works when the system has been mastered. Lightworks offers all features of WMM and more, but for game players who are into video creation and editing as a hobby, there is little assistance built into the software itself after some hints for starting out. One reviewer summarized Lightworks as coming "with a professional level cost and a steep learning curve".
Those are not necessarily objections, of course, for those who require the capabilities of professional-level photo editing and have the workflow over time to justify the cost and the time spent learning.
Key features
Multi-camera editing
Access to royalty-free audio and video
Pros
Available for Windows, Mac, and Linux
Supports many file formats
Cons
It takes some time to learn how to use the program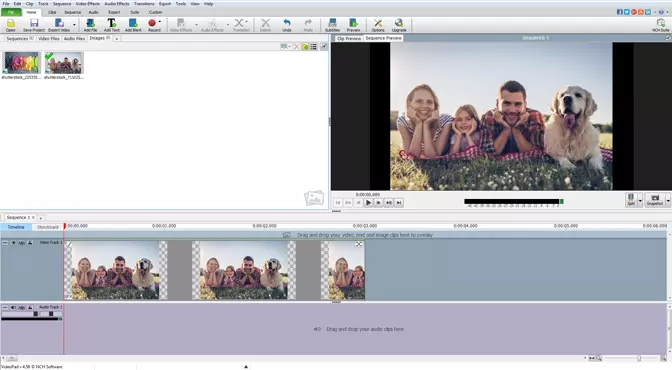 There is a free version of VideoPad, but with far fewer utilities than the purchased one. The free and simpler version is reportedly easy to use, with timeline or storyboard editing, but, unfortunately, the free version makes some functions unavailable after you have tested them a few times. Capabilities of the free version can be compared with WMM and those of the full-pay version with those of Lightworks.
Key features
Over 50 effects and transitions
3D video editing
Pros
Intuitive interface
Allows to create effects templates
Cons
The features in the free version are limited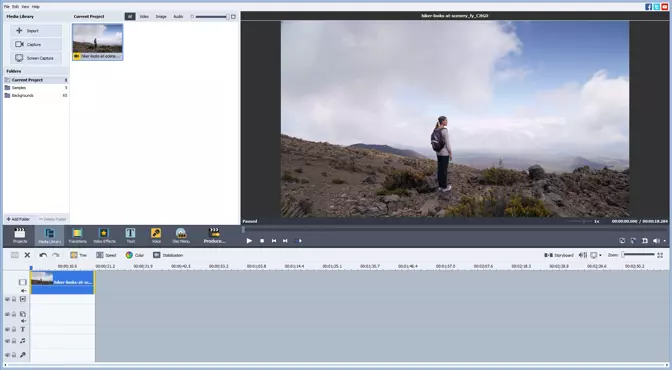 This is another video editor that offers most or all of what the other game editors do, but with the added capability to edit and create videos with a wide spectrum of visual and sound effects. Special attention has been called to its video quality and a reasonably easy to use interface. Its audio and video conversion features handle the problem of converting files into different formats and also to burn DVDs. Special features include masking, subpixel accuracy, and blending modes.
Key features
Lots of effects and transitions
Blu-ray video editing
Pros
Supports many media formats and codecs
Allows to create slideshows
Cons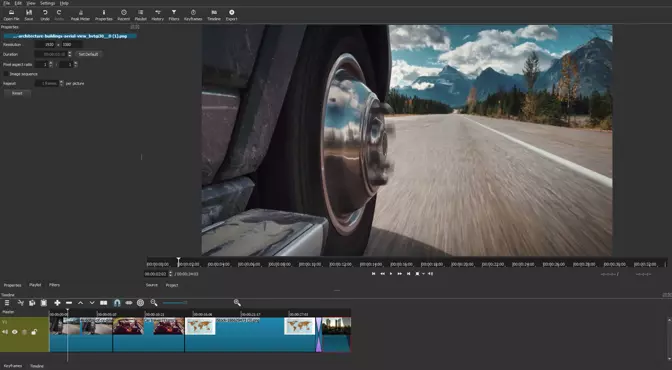 The name is not a spelling error, but a kind of pun. It offers the game editor all the features of most other video editors and advertises a very user-friendly and customizable interface that is supposed to work for both professionals and beginners alike. The software offers filters for color grading in a sophisticated way. Users also have a choice of different audio filters for enhanced sound effects.
Key features
Multitrack timeline
A wide range of audio and video filters
Webcam and audio capture
Pros
Free and open source
User-friendly interface
Cons
The interface takes time to learn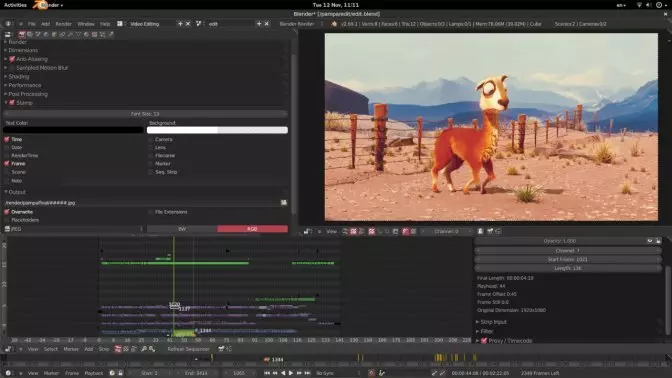 This gaming video editing software may have special appeal for gamers because of its "blending" effects for animation, modeling, and simulation – to name a few. In short, Blender has all the features of video photo editors on this list and some special ones of its own. The software enables you to carry out basic activities such as video cutting and splicing, but also more complex and intricate tasks such as video masking. You can do live previews, histogram displays, speed control, and blending video, images, audio, and special effects.
Key features
Video masking
Audio mixing
Pros
Available for free
Customizable program interface
Cons
Can be a bit complicated for beginners
Gaming Video Editing Software: Some "Musts"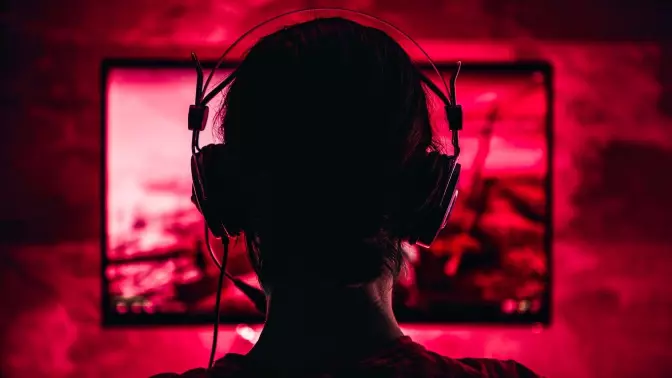 That does not mean – emphatically not mean – that good editing software for games is not in demand at every level! It most certainly is, but the game maker today creating a game film is far, far more likely to be exercising creativity, storytelling ability, and artistic talent to modify an existing game. Your need for excellent, versatile games video software is likely to start with the capability to download a video you want to alter, to record yourself playing the game, or record a game competition – and then share it with friends and fans on a social platform like YouTube or Vimeo.
The essential steps for which your games video editor comes into play are 1) recording gameplay on your PC or your Mac, 2) editing it with the amazing editing tools and special effects now available, and 3) uploading it to a social platform. A powerful gaming video editing software should enable you to do at least the following:
Use basic and advanced editing tools for standard video cutting, rotating, and cropping, and montage – all with a few clicks, and have advanced options of color correction, audio manipulation, "green screen" effects, and so on.
Have instant access to a plethora of special effects of all kinds that you can use to customize your game film to your needs and creative inspiration.
Handle virtually all common video formats found on the internet so that if the film you are editing was recorded with other tools, or downloaded from different sources, the photo editor deals with it easily.
Definitely export your edited video to most formats, devices, YouTube, Vimeo, or burn it onto a DVD – whatever you need.
Frequently Asked Questions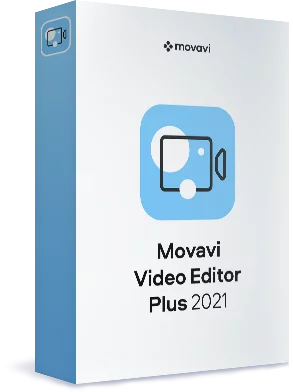 Movavi Video Editor Plus
Your next step in video-making
Edit video clips, images, and audio on a timeline

Add transitions, filters, titles, and stickers

Animate objects using keyframes, use more built-in media

Export videos in any popular format
* The free version of Movavi Video Editor Plus has the following restrictions: 7-day trial period, watermark on the output videos, and, if you're saving a project as an audio file, an ability to save only half the audio length. Learn more
See Other Useful How-to Guides