Best games video editors
There are so many gaming video editors out there that it is hard to find one that suits your needs best. In this article, we've done the research for you and devised a list of the best gaming video editing software. Using games video makers such as these, you'll be able to complete your project creatively and easily.
Best gaming video editing software for a Windows PC
$64.95
Movavi Video Editor Plus is forthright in its claim to offer video editing software with powerful features for bringing together your creative ideas and sharing them – but without the complexity and steep learning curve required by a "professional-level" editor. Movavi incorporates all of the basic editing tools of other software on this list, but also many special features such as keyframe animation, ready-made intros, and all the special effects of every kind that you will need.
At the same time, though, Movavi Video Editor Plus has a simple interface with intuitive controls that means you can create a finished video in as little as 20 minutes. It frees you, the user, from technicalities to focus on creative aspects of your work and to have fun making movies. And that, of course, is exactly what the editing of your video games, gaming experiences, and gaming get-togethers are all about.
Key features
Auto adjustment options to enhance the video quality
Different effects, including chroma key
The powerful video stabilization feature
Pros
Easy to use
Lots of video editing features
Supports direct sharing on YouTube
Cons
Free trial has some limitations
Supporting many formats and devices ranging from your iPad to your Xbox One and Samsung Galaxy, this games video editor has landed a spot as our special pick of the best video editing software for gaming. You can create high-quality videos with effects like titles and transitions. There are also filters available for use and an effects store to choose from. Powerful effects, ranging from chroma key to thematic stickers, will make your video editing process seamless.
The highlight of this program is that it is easier to use than most video editors and therefore is suitable for a wide range of users, from beginners to advanced editors.
Recent additions include more hotkeys, the ability to change the speed of your video without any audio distortion, and motion tracking for titles, all advanced editing effects that allow for a more powerful experience when it comes to games video editing.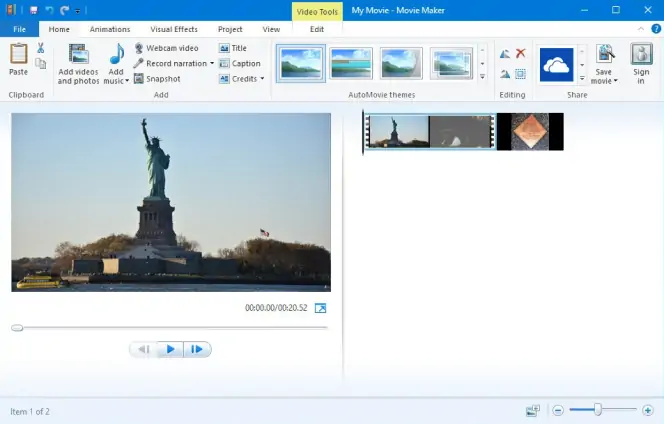 OS: Windows
Best for: Basic functionality
PCMag rating: 4 out of 5
Price: Free
WMM or WLMM (Windows Live Movie Maker) is billed as a "movie maker," and is, but for gamers that often means editing. For that, WMM offers most of the standard features of other gaming video editing software. You can create movies (or edit your games) by bringing together music, images, and video. The software enables you to compress, make thumbnails, and cut and edit your game film. It is considered fairly easy to use even for beginning video makers. With WMM, however, you usually require a separate program to convert your projects in order to save them. The software program has been criticized for frequent freezing.
Key features
A wide range of titles and transitions
Has an AutoMovie feature with preset editing styles to automatically create videos
Pros
Free
Supports popular media formats
Cons
It is discontinued and no longer available to download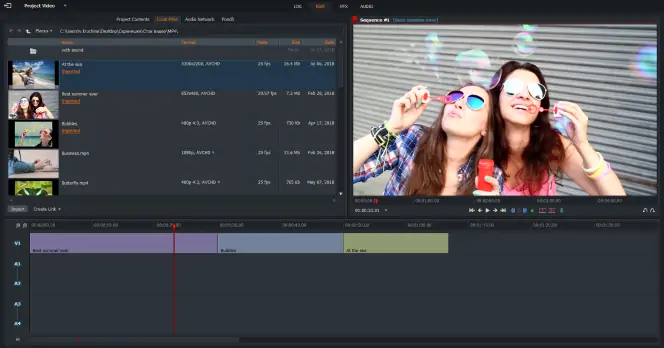 OS: macOS, Windows, Linux
Best for: Timeline
PCMag rating: 3.5 out of 5
Price: Free to $389.99
In contrast with WMM, Lightworks is viewed as a "professional level editor." Obviously, that does not mean automatically better for your game video editing. For example, professional-level video editing software takes time to learn in order to use it well. That often means layers of tabs to negotiate to find and execute the steps you want. And Lightworks is not free, of course.
The Lightworks software operates with Windows, Linux, or OSX. Professionals have tested and evaluated the software, so you can see how it works when the system has been mastered. Lightworks offers all features of WMM and more, but for game players who are into video creation and editing as a hobby, there is little assistance built into the software itself after some hints for starting out. One reviewer summarized Lightworks as coming "with a professional level cost and a steep learning curve".
Those are not necessarily objections, of course, for those who require the capabilities of professional-level photo editing and have the workflow over time to justify the cost and the time spent learning.
Key features
Multi-camera editing
Access to royalty-free audio and video
Pros
Available for Windows, Mac, and Linux
Supports many file formats
Cons
It takes some time to learn how to use the program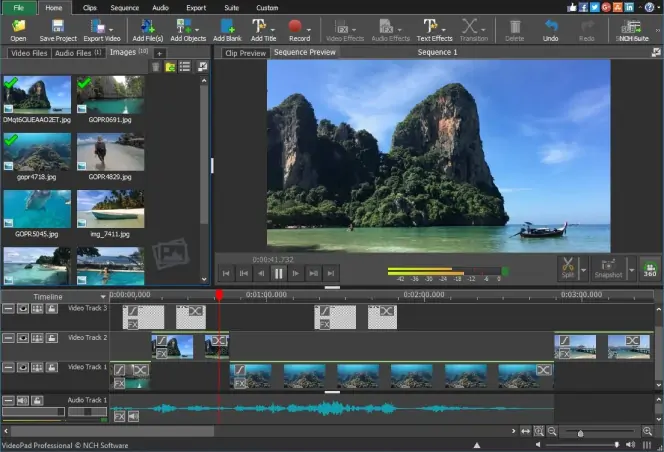 OS: Windows
Best for: Digital audio
TechRadar rating: 3.5 out of 5
Price: Free to $99
There is a free version of VideoPad, but with far fewer utilities than the purchased one. The free and simpler version is reportedly easy to use, with timeline or storyboard editing, but, unfortunately, the free version makes some functions unavailable after you have tested them a few times. Capabilities of the free version can be compared with WMM and those of the full-pay version with those of Lightworks.
Key features
Over 50 effects and transitions
3D video editing
Pros
Intuitive interface
Allows to create effects templates
Cons
The features in the free version are limited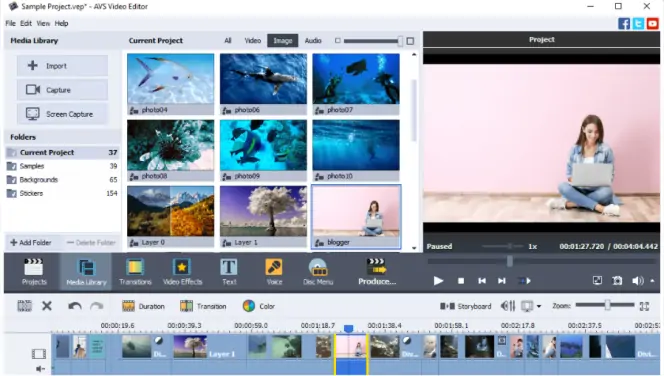 OS: Windows
Best for: In-program recording
Capterra rating: 4.6 out of 5
Price: $69 to $199
This is another video editor that offers most or all of what the other game editors do, but with the added capability to edit and create videos with a wide spectrum of visual and sound effects. Special attention has been called to its video quality and a reasonably easy-to-use interface. Its audio and video conversion features handle the problem of converting files into different formats and also to burn DVDs. Special features include masking, subpixel accuracy, and blending modes.
Key features
Lots of effects and transitions
Blu-ray video editing
Pros
Supports many media formats and codecs
Allows to create slideshows
Cons
Best video editing software for gaming on a Mac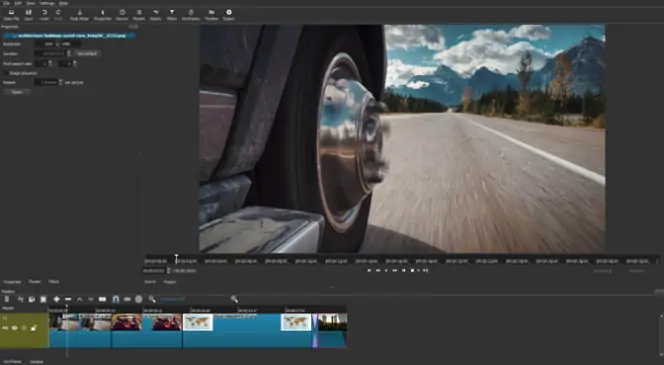 OS: macOS, Windows, Linux, FreeBSD
Best for: Sound mixing
TechRadar rating: 4 out of 5
Price: Free
With wide format support and impressive sound mixing capabilities, this program is great for turning video and audio clips into a finished project. It has plenty of audio scopes to choose from and a myriad of video filters. You can trim, comment, and scrub without an issue, making this a good gaming video editing software for free. With an intuitive interface and support of resolutions up to 4K, this program is a great option for video editing and gaming. The program includes video tutorials for any additional help needed when it comes to the inner workings of the program, as well as tips and tricks.
Key features
3-point editing
Color wheels for color correction
Audio scopes
Pros
Good for beginners
Completely free for use
Cons
Less user-friendly than alternatives
Limited transitions and speed editing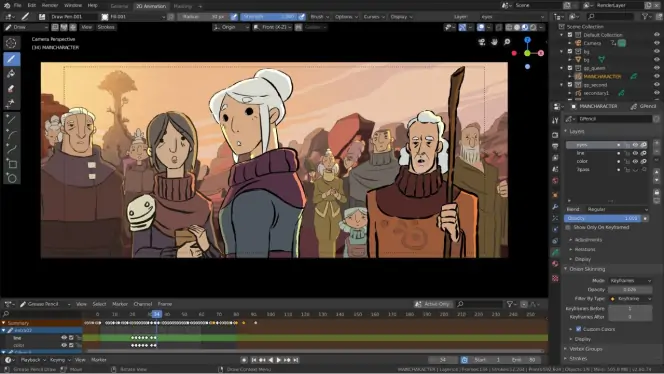 OS: macOS, Windows, Linux
Best for: Range of capability
G2 rating: 4.5 out of 5
Price: Free
Blender is primarily a 3D creation suite and is equipped with video editing and audio mixing capabilities, as well as a number of others like animation and rendering. With Blender, users can customize their experiences completely using scripting. This program's sequence editor allows for tasks ranging from waveform visualization to video masking, making it one of the best gaming editing software on the market. In terms of audio, there are syncing and scrubbing options and speed control for the best possible outcome of video and audio. While this is a multifaceted program, it is especially suited for the use of gaming.
Key features
Live preview, luma waveform, chroma vectorscope, and histogram displays
32 full slots for adding video and audio components
Audio mixing, syncing, scrubbing, and waveform visualization
Pros
Full customization
Completely free for use
Cons
Less user-friendly than alternatives
More basic editing tools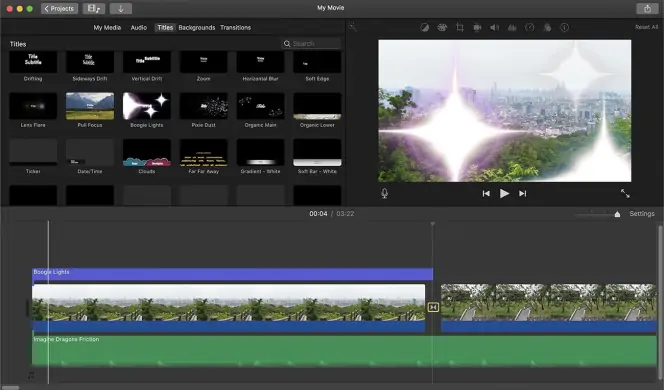 OS: macOS, iOS
Best for: Direct sharing
PCMag rating: 4.5 out of 5
Price: Free
iMovie is one of the best video editing software for gamers because it is free and simple to use from the get-go. You can create professional videos using in-program transitions, text templates, and effects. The program allows you to share your videos directly from iMovie to a variety of different platforms, as well as work on videos between your iPhone, iPad, and Mac using AirDrop or iCloud. Because it is typically bundled into Apple devices, it likely comes free with your device.
Key features
Direct sharing to Messages, social media platforms, and YouTube
AirDrop and iCloud transfer
Trailer creation templates
Pros
Updated for newer macOS and iOS versions
User-friendly interface
Cons
Requires a lot of space for video projects
Effects are less powerful than alternatives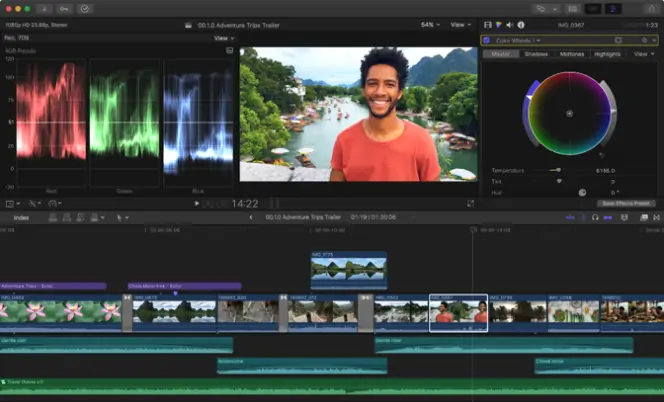 OS: macOS
Best for: Feature versatility
TechRadar rating: 3.5 out 5
Price: $299.99
This program can be used as a game video editor thanks to its wide range of video editing features, from a Magnetic Timeline feature to closed captioning capabilities. You can customize both 2D and 3D titles, as well as assign roles to make the import process that much easier. One of the effects that you don't typically see in a video editor is the Compound Clip feature, which allows you to group clips together for easier editing. There are regular debugging updates, along with means of powerful media organization. Final Cut Pro has a free trial so that you can test out its features before purchasing.
Key features
Intuitive color grading
Optimized output
Includes customizable effects
Pros
Powerful video editor
Great integration with Apple computers
Cons
Requires a lot of space for video projects
There are many system requirements for use
Best online gaming video editors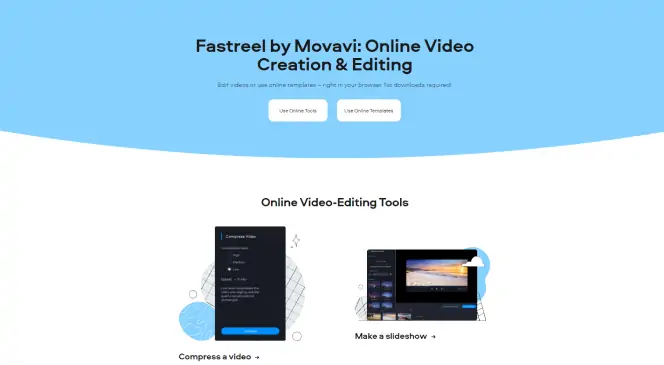 OS: Unlimited
Best for: Ready-made templates
Trustpilot rating: 4.3 out of 5
Price: Free to $9.95/month
Fastreel is a great way to easily edit gameplay in your browser itself. It has a variety of tools, with some of the most popular being merging videos, creating slideshows, and adding watermarks to videos. Using the website, you can use both online tools and online templates to make intros, outros, advertisements, and more. There are even templates to make book trailers and birthday videos. There are also split-screen options and ways to play with speed in your game film, making this a great option for gaming.
Key features
Range of easy-to-use templates
Separated effects by category
Subtitle and music addition capability
Pros
No download necessary
Simple to use
Cons
Limited features
Watermark included with the free video download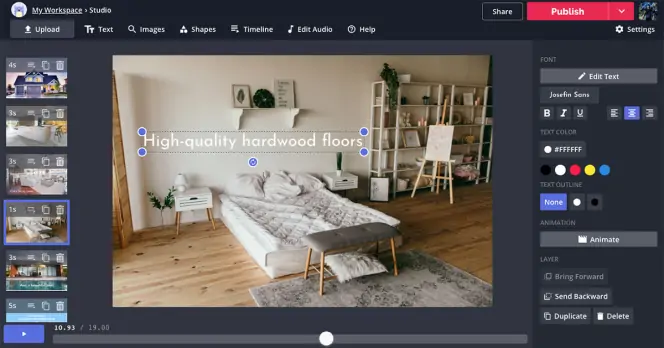 OS: Unlimited
Best for: Fun additions
Capterra rating: 4.4 out of 5
Price: Free or $17
This program is an online content creator that can be used for gaming montages, as well as to add some fun effects to your videos. It includes groups of templates, called collections, to choose from depending on your needs as a creator. While the video editor is the main call of this browser program, it also includes a subtitler, video and audio adjustments, and a full studio, among other features. There is powerful track management and easily importable media. Kapwing does not suggest related content or allow for interaction between creators on the site, making it a safe alternative for younger gaming creators.
Key features
Auto-subtitle capabilities
Multi-language support
Mobile Mockup Maker, Motion, Cartoonify, etc. additions
Pros
Simple to use
Free to remove watermark
Cons
File size limits for free version
Reports of bugs by customers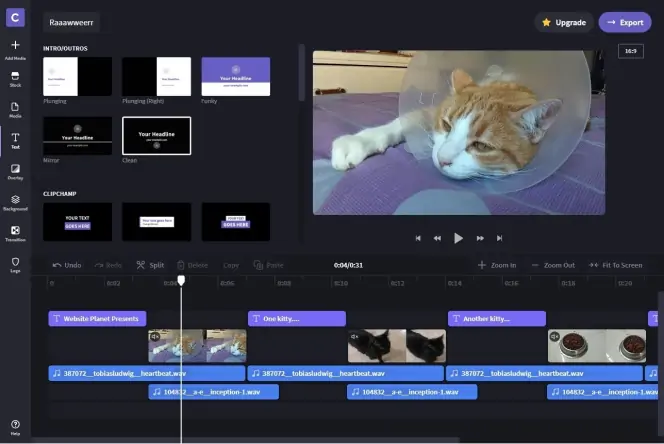 OS: Unlimited
Best for: Site integration
Trustpilot rating: 4.6 out of 5
Price: Free to $19/month
ClipChamp is a free online video editor that will work for your YouTube gaming needs. With customizable video templates and stock to choose from, this is a great option for professional video making without the hassle of uploading. There are plenty of video templates to choose from that are made by professionals, divided into promo and intro video templates. ClipChamp integrates with a number of sites, including but not limited to Google Drive, Dropbox, and Pinterest. There is a free trial so that you can test out the effects and features before committing to a purchase.
Key features
Wide range of video and audio stock
HD saving capabilities
Integrates with many online programs
Pros
Unlimited video creation
Watermark free at 480p
Cons
Limited features
Premium account needed to export at a higher resolution without watermark
Best games video makers for smartphones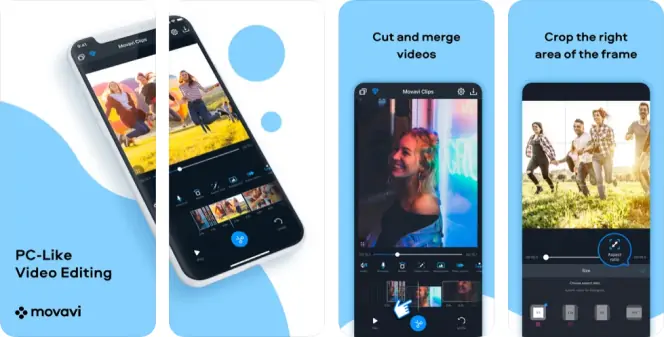 OS: iOS, Android
Best for: Flexibility of format and quality
App Store rating: 4.7 out of 5, 8.9K ratings
Google Play rating: 4.7 out of 5, 119K ratings
Price: Free with in-app purchases
Movavi Clips is a user-friendly app for those who want to put together a video easily. It is especially good for gaming because there is a built-in selection of music to choose from, great for montages and intros. It is especially flexible with output format and quality, as you can choose from a variety of clip formats, like square and landscape, as well as video qualities. There are no ads included in the video editor, and you can add effects like a fade-in and speed adjustments to make your video as professional as possible. You can also upload your finished video straight to platforms like Facebook and YouTube from the app itself.
Key features
Output video crop formats
Built-in music selection
Color editing available
Pros
Intuitive interface
Includes all of the essentials needed to edit a gaming video together
Cons
Requires recent versions of iOS to download
Direct clip cut and paste feature currently not available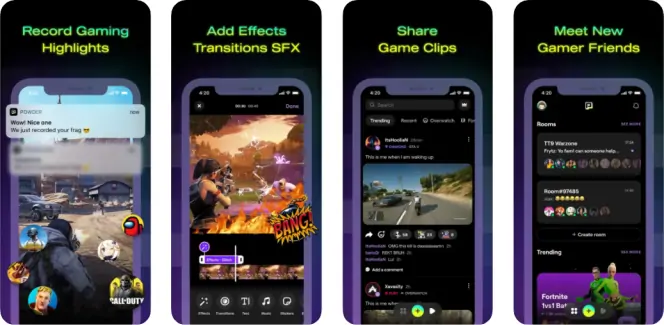 OS: iOS, Android, Windows
Best for: Mobile recording
App Store rating: 4.8 out of 5, 45.6K ratings
Price: Free
Powder supports several platforms and games for video sourcing and has a built-in mobile recorder that is specifically designed for gamers to be able to record their gaming while they are playing instead of having to download a separate platform for recording to import it in. The video customization features makes trimming and cutting videos to put them together into one cohesive recording an easy task. Along with that, you can use cool features like speed adjustment and sound effects to have your desired video put into fruition. The app is completely free, and it is specifically designated for gamers, allowing import from PC, Xbox, PS4, and Switch.
Key features
Video sourcing support
Built-in mobile recorder
Regular updates
Pros
Social media aspect of gaming included
User-friendly interface
Cons
Requires recent versions of iOS to download
Glitches reported by users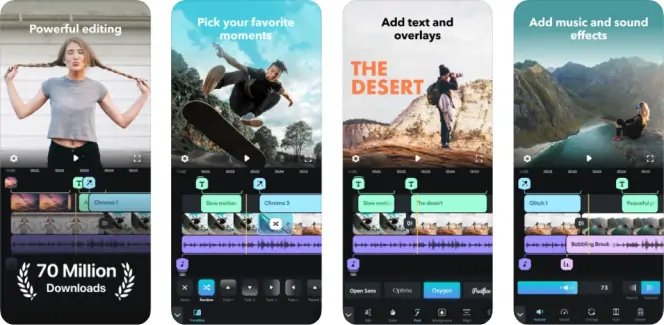 OS: iOS, Android
Best for: Removing background
App Store rating: 4.6 out of 5, 244K ratings
Price: Free with in-app purchases
This gaming video editor allows you to pick from videos and put them together, with text capabilities, overlays, and video effects to boot. You can add music and sound effects to your videos easily, making this a great option for gamers who like to include sound effects. There is also a Chroma Key effect wherein you can remove the background from your videos, something that is not common in video editing mobile apps. Because there are so many royalty-free tracks provided to you in the software, this is the ideal app for somebody who likes to add a lot of music to their gaming videos for montages and introductions.
Key features
6,000+ royalty-free tracks built in
Built-in voice recorder
Video animation effects
Pros
Supports 11+ languages
Easy splicing
Cons
Handling of data for tracking is extensive
Lack of text display effects
Gaming video editing software: some "musts"
That does not mean – emphatically not mean – that good editing software for games is not in demand at every level! It most certainly is, but the game maker today creating a game film is far, far more likely to be exercising creativity, storytelling ability, and artistic talent to modify an existing game. Your need for excellent, versatile games video software is likely to start with the capability to download a video you want to alter, to record yourself playing the game, or record a game competition – and then share it with friends and fans on a social platform like YouTube or Vimeo.
The essential steps for which your games video editor comes into play are 1) recording gameplay on your PC or your Mac, 2) editing it with the amazing editing tools and special effects now available, and 3) uploading it to a social platform. A powerful gaming video editing software should enable you to do at least the following:
Use basic and advanced editing tools for standard video cutting, rotating, and cropping, and montage – all with a few clicks, and have advanced options of color correction, audio manipulation, "green screen" effects, and so on.
Have instant access to a plethora of special effects of all kinds that you can use to customize your game film to your needs and creative inspiration.
Handle virtually all common video formats found on the internet so that if the film you are editing was recorded with other tools, or downloaded from different sources, the photo editor deals with it easily.
Definitely export your edited video to most formats, devices, YouTube, Vimeo, or burn it onto a DVD – whatever you need.
Conclusion: what to look for in a video editor
This article has presented the best games video editors in 2021, complete with their key features, pros, cons, and details about what to consider before you download. The above apps are especially adept in usability and are rich in features that you can use to make a professional video out of just clips and audio.
The following is a summary of what you should consider when you're looking for a good video editing software.
Usability: You have to be sure that the software you're looking at is user-friendly or that you're willing to put in the time to learn all of its features if it isn't as user-friendly and there is a learning curve. There are many levels of applications and software, ranging from beginner to expert, so find the program whose usability is best suited to your level of expertise in video editing. If you're completely new, something like Movavi Clips or Shotcut would be best for you. However, if you're more advanced in the gaming video editing world, you may elect a software like Final Cut Pro with more powerful effects but less catering to beginner users to suit your needs.
Features: Consider which features you need to use for your gaming video and choose an app based on what has the features you're looking for. If you're looking for basic functionality, something like Windows Movie Maker may be a good option for you. However, if you're looking for something specific like a Ken Burns animation feature or Chroma Key background removing feature, find an app that has that. There are several popular video and audio effects that are included in the basic application, but if you have specific needs for your gaming videos, you must consider those first and foremost.
Supported formats: It is most important to find a program that has wide support for all of the formats of video that you use or need. Without this, you will have to go through a conversion process that will be much harder on you every time you're making a video. The most common video file formats are MP4 and MOV, but if you have other video file formats that aren't as widely supported, you should look into the video editors that you are considering to be sure that they support the format you're looking to upload.
User reviews: Many times, user reviews will tell you more than the app will. They often discuss glitches and flaws in the program, as well as favorite effects and what the program is best for. By reading into reviews before purchasing or downloading, you can be sure that you know what you are getting into. The best-rated app on this list is Powder, and the best-rated computer software is ClipChamp.
Support: It is important for an app to include a customer service system so that users can have their feedback heard and get help with the app whenever they need it. Before downloading an app, decide how much you prioritize having help using the app and getting through issues with it and then check to see what kinds of resources that app has. Some, like Splice, update regularly to fix glitches, and others communicate with customers to make sure that they have the best experience possible.
Convenience: Be sure that you review the features of each app you're considering. Some platforms have site integration that you can use to upload videos, like from Google Drive and Dropbox. Others have in-app mobile recording, wherein you can create content from the program itself. Features like this make the process of using the app that much better, and it is an important consideration before downloading.
Price: Often, the price will reflect features and power in video editing software. Decide what you are willing to pay and stick to that budget. Free programs will likely have fewer features and less power than an industry-standard like Final Cut Pro, but it all depends on what you're willing to put down and what you need in a video editing program to achieve your video editing and gaming goals.
Space: Some programs, like iMovie, take up much more space on your device than others. If you only have a certain amount of space on your device that you can delegate toward a video editing software, be sure to keep that in mind before purchasing or downloading. Some relatively short video files can get into the gigabytes when editing, so keep this in mind before you purchase a software that may take up more space with files than you desire.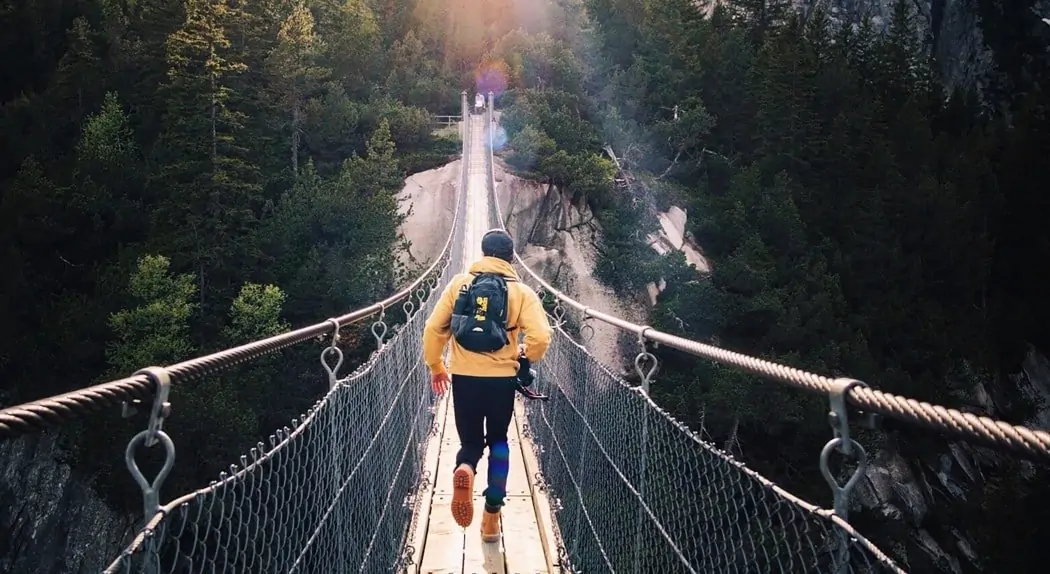 Movavi Video Editor Plus
Make videos. Create. Inspire.
* The free version of Movavi Video Editor Plus has the following restrictions: 7-day trial period, watermark on the output videos, and, if you're saving a project as an audio file, an ability to save only half the audio length. Learn more
Frequently asked questions
Sign up for news and special offers