How to Add Captions to Photos

Want to turn any image into a custom e-card but don't know how to make it happen? All you need is the right software, and Movavi Photo Editor is the way to go when you need to add words to pictures! Put words on different images and change fonts effortlessly – size, color, even the contour of the characters. Create amazing virtual greeting cards in no time!
Learn how to add words to pictures with Movavi Photo Editor. All you need to do is download Photo Editor for Windows or Mac, install the software, and follow the instructions below.
Launch the Program and Add Your Photo
To start putting captions on a picture, launch the program you've downloaded. Click Browse for Images to open the file you're going to work on. Alternatively, you can simply drag and drop the pic into the editing area.
Put a Caption on the Photo
To add words to a picture, open the Text panel and click the blue Add Text button. Now type whatever you want inside the broken white line frame. Keep in mind that Movavi Photo Editor allows adding multiple blocks of captions to any individual picture. To do this, just repeat the above steps as many times as necessary. To move a text block, just click and drag it wherever you need to.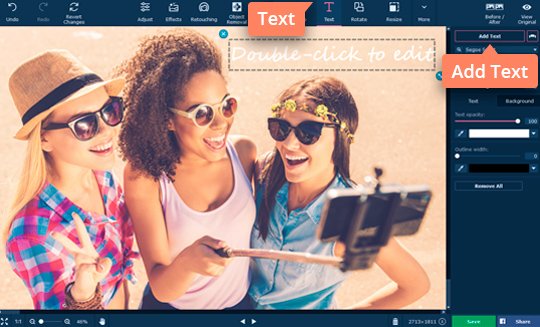 Edit the Caption
You can easily edit your caption using the handy toolbar. Open the Text subtab and change the font size, color, and adjust the justification and degree of transparency. You can also outline letters and choose the color and weight of the outline. Open the Background subtab and adjust the text background settings: opacity, frame width, color, and more.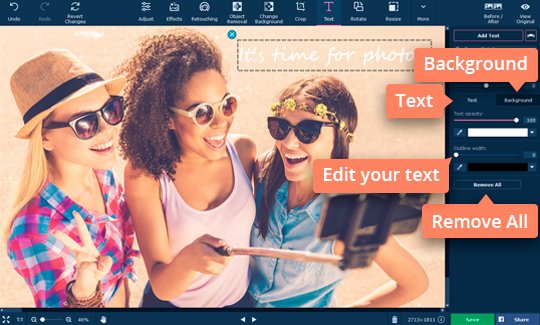 Click Add Decorations next to the Add Text button. In the window that will open, you can add various stickers to adorn your text.
If you want to delete the caption blocks you've added and start over, just click Remove All.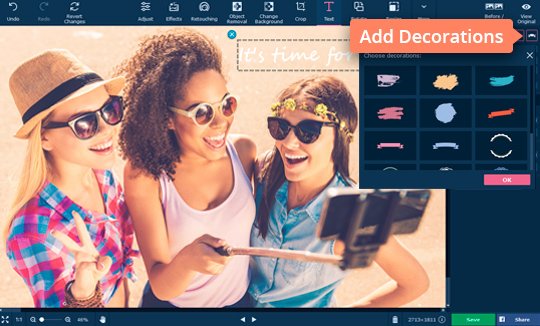 Save the Final Image
To save the captioned picture, click the Save button in the lower right corner and choose the destination folder, file name, and format. You can save your picture in PNG, JPEG, TIFF, BMP, or any other popular image format.
And there you have it – all you need to know about successfully placing captions on images!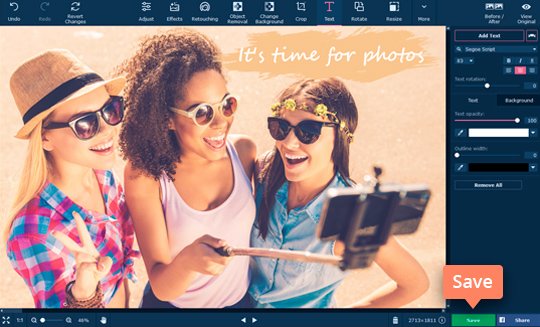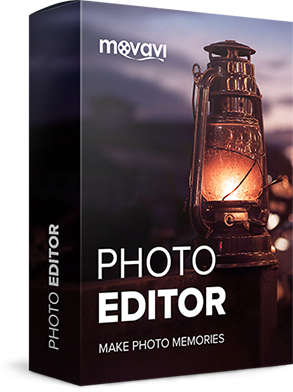 Movavi Photo Editor
The easiest way to turn any snapshot into an eye candy
Improve quality and retouch blemishes

Add effects and filters

Crop, straighten, and flip pictures

Change image backgrounds and remove objects
See Other Useful How-to Guides