How to Record Streaming Audio on PC
If you are a music lover, you've probably asked yourself: how can I record online music to listen to it again or share it with my friends? The answer is easier than you might think. You don't need any special hardware for your computer or expensive software to capture live streams and convert them into audio files.
Movavi Screen Recorder will help you record sound from your computer in no time. With this handy screen audio recorder, you will be able to not only capture streaming audio, but also use it as a system audio recorder. Plus, of course, you can use it as a screen video recorder – its primary function.
Download Movavi Screen Recorder, your handy online audio recorder for Windows (compatible with Windows 7 / 8 / 10 / XP / Vista) or Mac (compatible with Mac OS X 10.6.8 or higher), and check this step-by-step tutorial on how to rip audio from the Internet. Go through these steps yourself and copy a few songs from the web right now!
Install Movavi's Screen Sound Ripper
After downloading, run the file to install the streaming audio recorder and follow the on-screen instructions. You're just a few simple steps away from capturing web audio!
Set Up Audio Capture
To grab streaming music or podcasts, run Screen Recorder. To configure the capture parameters, you need to define the capture area – for example, the web page containing the desired audio track, simply click on it with the cursor to select it. After the capture interface appears, check that the System Audio capture is active – the button will be marked green. You should also make sure no noise from your microphone will interfere with the recording process by deactivating that option.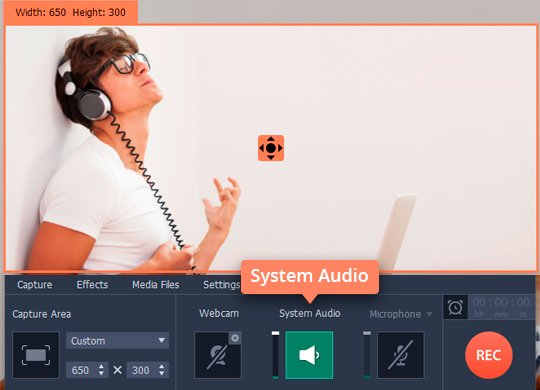 Capture the Online Audio Stream
Click REC to begin recording. Whatever you intend to record – podcasts, a music track from a YouTube clip, or a webcast from a video sharing website – start playback after the 3-second countdown, so you get the audio fully recorded. Once you've recorded the desired segment, click Stop. Alternatively, you can manage the recording process with hotkeys: if you are a Windows user, click F9 to pause the recording and F10 to stop. On a Mac, click ⌥ ⌘ 1 and ⌥ ⌘ 2 respectively.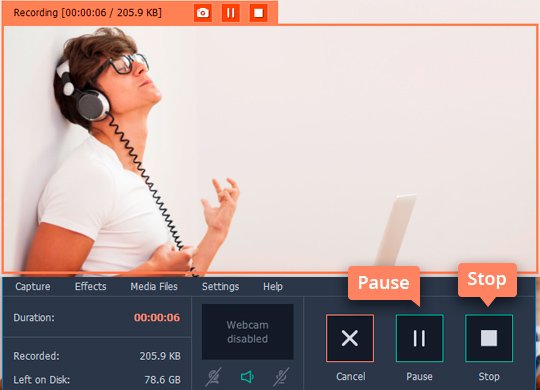 Save Your Recording in an Audio Format
After you've finished recording, a preview window will open. Here, you can review the recorded segment with the video track. To extract the audio, hit the Save As button and select MP3. Press Save to export your audio file.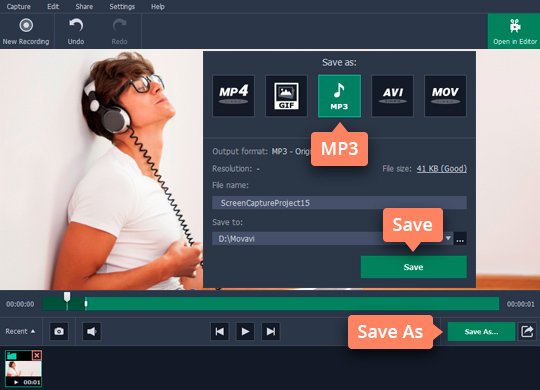 Awesome! Now you know how to record audio from websites of your choice with Movavi Screen Recorder – the best online video/audio downloader for your computer!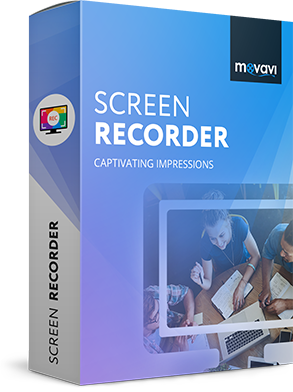 Movavi Screen Recorder
The perfect way to record from your screen
Capture video from your computer screen

Grab sound from multiple sources

Save recordings without quality loss

Export videos in any popular format
Disclaimer: Please be aware that Movavi Screen Recorder does not allow capture of copy-protected video and audio streams.
See Other Useful How-to Guides