How to Convert MKV to AVI and Vice Versa
The MKV, or Matroska, format is getting more and more popular among online file sharers. It was designed as a new standard for high-quality video compression, and is able to combine HD video with multiple audio tracks and subtitle tracks, which can lead to very large file sizes – over 4 GB. This becomes a problem because they don't fit on flash drives, steal a lot of disk space on your computer, and require a very powerful system for smooth playback. However, we often don't really need all these data, so it's important to have software at hand to convert MKV to AVI or another common format.
Below, we'll discuss several of the best ways to transfer MKV to other formats.
How to Convert MKV to AVI with Movavi
Movavi offers one of the fastest solutions for MKV-to-AVI conversion. Download Movavi Video Converter for Windows or Mac right now and give it a try.
Read this step-by-step guide to converting MKVs to AVI.
Install the Program on Your PC or Mac
Once the installation file has downloaded to your hard drive, open it and follow the on-screen instructions. The installation typically takes around half a minute.
Add MKV Files to the Program for Encoding
Click Add Media, then Add Video and open the files you want to transform. The batch conversion feature enables you to encode multiple files simultaneously, so you don't have to add and convert them one by one.
Select the Output Format
Navigate to Video > AVI and select the AVI preset that best suits your needs. If you use Windows and your computer supports the Intel® graphics technology, the conversion process may be accelerated. If you are simply converting from MKV to AVI without changing the codec or resolution, the files will be converted even faster using the SuperSpeed technology.
Video Converter supports more than 180 different multimedia formats and codecs, so you're sure to find the one you need. Typically, MKV files can be compressed into AVI, but you can also change AVI to MKV or another movie format if you wish.
Learn more about support for Intel® graphics acceleration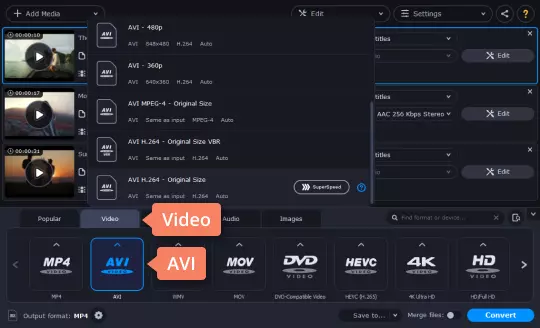 Convert MKV to AVI
Once everything is set, click the Save to button below the presets ribbon to make sure the output files will be saved in the right place. Click the Convert button to start. The folder containing the converted files will open automatically once the operation is complete.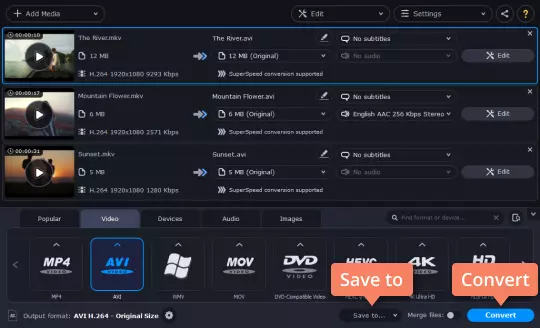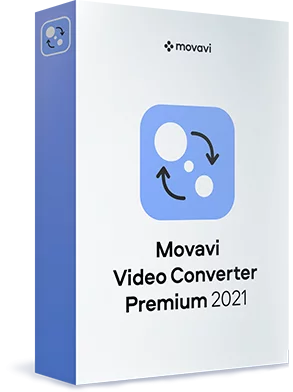 Movavi Video Converter
The ideal way to get your media in the format you need!
Convert video, audio, DVDs, and image files

Enjoy lightning-fast conversion without quality loss

Improve quality, adjust sound, trim and join files before converting

Save video and audio clips for easy mobile access
How to Convert MKV to AVI Online
If you want to convert your video clips online, go to https://www.videoconverter.com/ and upload a file by clicking the Add Your Media button. Open the list of formats, choose Video, and select AVI as your desired format. Next, hit Convert. After the conversion is complete, click the Download button to save the video to your hard drive.
Note that the service lets you convert only one file at a time and the maximum size of the file is limited.
How to Use an MKV-to-AVI Converter for Free
You can also convert your files by using a program like the VLC media player as a free MKV-to-AVI converter. Just download the application and do the following.
Click Media and then Convert / Save in the top portion of the program interface. Select Add to insert one or more audio files and hit Convert / Save. Another window will open, in which you can choose AVI as the output format, set the destination folder, and specify the file name. Once you're finished, click Start.
AVI vs. MKV Comparison
AVI (Audio Video Interleave) is one of the most widely used formats for encoding movies, TV shows, home video, and educational materials. Thanks to its simplicity, AVI is supported by all Windows-based devices as well as many Android-based devices, game consoles like Xbox and PSP, and most personal computer operating systems. However, it's not the best option for Apple fans. That's because AVI files will only play on Mac computers if they are encoded using QuickTime codecs, which is not usually the case. So, you'll probably have to convert AVI files to a multimedia format supported by Apple.
MKV (Matroska Video) is a free container format that lets you combine multiple audio, video, and subtitle streams – which is why it has become so popular for movie storage. MKV contains a video track, an audio track, and a subtitle track as well as a lot of service information that enables users to create menus like DVD movies, manage timing, etc. However, your TV or smartphone may face problems opening MKVs, so many users prefer to convert movies to a format compatible with most devices.
Below, you'll find an MKV vs. AVI comparison table.
| Comparison Parameter | MKV | AVI |
| --- | --- | --- |
| File extension | .mkv, .mk3d, .mka, .mks | .avi |
| Video-encoding formats | H.264, H.265, MPEG-4, MJPEG, Theora, VP9, DV, others | H.263, VC-1, MPEG-1, MPEG-2, MPEG-4, others |
| Audio-encoding formats | AAC, AC3, MP3, ALAC, Vorbis | AAC, WMA, MP3, FLAC, AMR, others |
| Device and OS compatibility | Some TVs, media players, and mobile devices. Windows PC (with a special codec installed), no native support in macOS | All Windows-based devices, Mac OS X (with extra software), Linux |
Frequently Asked Questions
See Other Useful How-to Guides