How to Convert MP4 to WMV
MP4 is an extremely popular video format which is supported by most media players, thanks to its high quality compression. This means that MP4 files don't get too large but your movies and clips are still of acceptable quality when viewed on the big screens.
However, you may still face one of the following problems.
An MP4 file can't be viewed?
Probably, your device is just too old, predating the MP4 format. You can still change the file type to the one your device handles – all you need is the right kind of app.
The file is played with no sound?
The audio codec in your file may be incorrect. To solve this one, just choose the right audio codec – a good media converter can help you out.
No free space for a new clip?
Even though MP4 clips don't take much space, it can be a problem to fit them on some old devices. A good idea is converting your clip changing the resolution and bitrate.
Sometimes, you need uncompressed video for the best possible viewing experience or for detailed editing. In these cases, if you have a Windows-based PC, it's better to choose the WMV format. So it's helpful to have a converter on hand that translates files from MP4 to WMV or vice versa.
MPEG-4 Part 14 or simply MP4 is one of the most commonly used formats supported by almost all default media players. MP4 files usually contain compressed video and audio but can also store subtitles and images.
WMV is a video format developed by Microsoft. WMV files support DRM (Digital rights management), making them extremely suitable for selling video content online. If you have a Windows PC, this format is your best choice.
This guide will help you to convert MP4 to WMV. If you want to better understand the difference between these formats, take a look at the comparison table at the bottom of the page. Also, we'll answer some frequently asked questions.
How to Use Movavi's MP4-to-WMV Converter
Don't know how to convert MP4 to WMV? Ask Movavi! We have a great tool – Movavi Video Converter – which supports 180 video and audio formats (including, of course, MP4 and WMV) and also lets you save video and audio in the most appropriate format for more than 200 mobile devices. Now you can transfer MP4 to WMV or other formats in minutes!
Download and Install the Video Converter
Download Movavi Video Converter and install it following the on-screen instructions. This software is intuitive and easy to use, so you don't need to be an expert to use it!
Add a File to the Converter
To add a file for conversion, click the Add Media button in the Video Converter interface and then select Add Video. Choose the video files you want to change from MP4 to WMV or vice versa.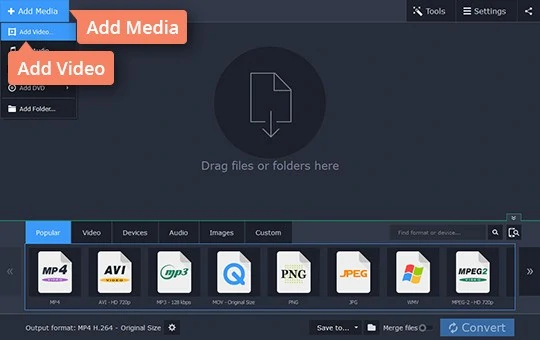 Set the Output Format and Settings
Go to Video > WMV and choose the appropriate WMV preset that defines your desired output format. Remember that the output file may be pretty large if you select a high resolution preset.
If you need to convert a WMV file to MP4, choose the MP4 category and the desired preset. Movavi Video Converter can process a single file or batch-process multiple files in a single pass.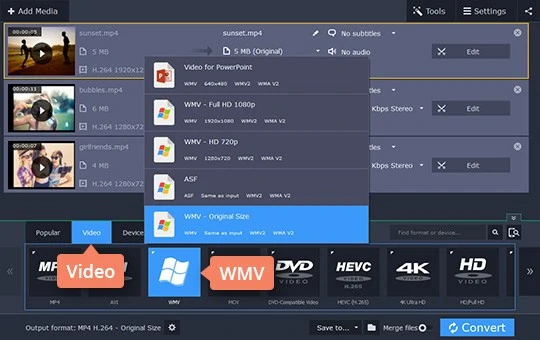 Convert Your Videos from MP4 to WMV
Choose the folder for the output videos next to the Save to field and click Convert to start the process. Converting MP4 to WMV will take up to several minutes, depending on the number and resolution of the files.
Once the conversion is complete, your video will be saved in the format you selected, and the destination folder will open automatically.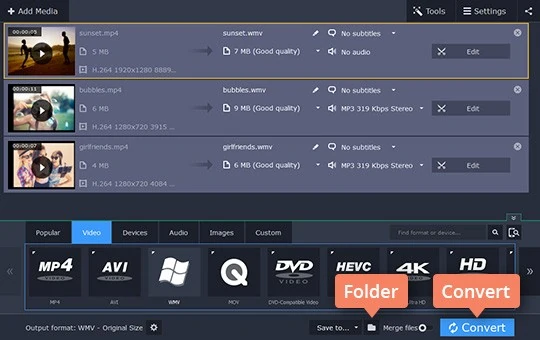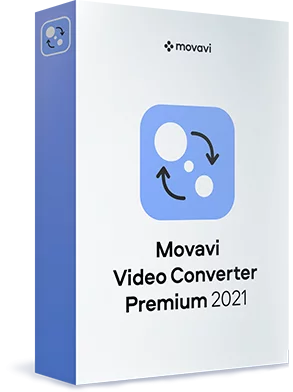 Movavi Video Converter
The ideal way to get your media in the format you need!
Convert video, audio, DVDs, and image files

Enjoy lightning-fast conversion without quality loss

Improve quality, adjust sound, trim and join files before converting

Save video and audio clips for easy mobile access
MP4 vs. WMV Comparison Table
| Comparison parameter | MP4 | WMV |
| --- | --- | --- |
| File extension | .mp4 | .wmv |
| Video encoding formats | H.264, H.265, MPEG-2, MPEG-4, H.263, VC-1, Dirac, others | WMV V7, WMV V8, WMV 9, WMV 9 Screen, WMV 9 Advanced profile, MPEG-4, WMV 9.1 Image V2 |
| Audio encoding formats | AAC, MP3, AC-3, Apple Lossless, ALS, SLS, others | WMA 9, WMA Pro, WMA Voice |
| Device and OS compatibility | Compatible with almost all devices and operating systems | Blu-ray and DVD players and recorders. Windows, macOS, and Linux devices (with the help of any media player supporting the WMV format) |
Frequently Asked Questions
How Do I Convert MP4 to WMV on a Mac?
On a Mac, you can use either an online conversion tool or a desktop app compatible with macOS.
Yes, it is compressed. WMV offers three codecs for compression: the main WMV for streaming video, plus WMV Screen and WMV Image for other content.
Yes, it has a good compression rate, so it will probably come in handy when you want to send a video or audio file via email, and the sound and video quality are pretty good. WMV works well even with older versions of software, if need be.
What Is Better – MP4 or WMV?
It depends on what you need the file to be able to do. If you need to be able to open the file on any device, use MP4: this format is very common and widely supported. If you only need to use the file on Windows, use WMV: it will save on storage space while maintaining good quality.
Are MP4 Files Smaller than WMV?
No, they aren't. In the 'smaller size' competition, WMV wins. Its compression rate is twice that of MP4. WMV can be used to compress MP4 files if you want to save some space on a Windows PC.
See Other Useful How-to Guides