Whether you have an extensive digital video collection and want to transfer it to DVDs, or you would like to watch home movies that you recorded with a camera on your DVD player, you'll require a video-to-DVD converter and burner. Unfortunately, many DVD players cannot read digital media file formats such as WMV, MP4, MOV, 3GP, or AVI, which are commonly used for storing the video data from video cameras and mobile devices.
If you want to convert video files to DVD, the following is a list of some of our favorite converters. You can use these video-to-DVD converters for free, along with a reliable paid alternative that offers additional features if you're looking for more powerful software.
Top Free Video-to-DVD Converters
Many video-to-DVD-format converters are out there for you to use, but some are better than others and include features that make them stand out. If you're looking for the best video-to-DVD converter to change digital videos to DVD format, consider one of the following options.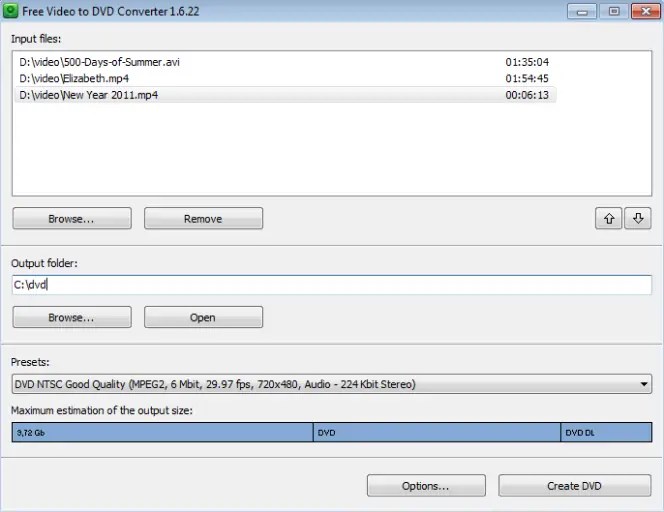 For a simple and easy-to-use software to convert to DVD, consider using Free Video to DVD Converter. This software is safe and easy to download and install on Windows systems. Use it for converting virtually any video format to DVD and burn them to a DVD, which you can then play on your DVD player.
To use Free Video to DVD Converter, take the following steps:
Download the Software
The software is free to download and install without any risk of adware or spyware.
Open the Program
You can open the software by following Start > All Programs > DVDVideoSoft > Programs > Free Video to DVD Converter. You can also click the DVDVideoSoft Free Studio icon on your computer's desktop.
Choose Your Input File
Next, click on the Browse... button and choose a file to upload to the converter. You can also select multiple files to convert. The size bar below will show you how much space the files will take up on the DVD.
Select the Output Location and Presets
To choose the output location for your files, click the Browse... button at the bottom of the window and select the save destination for the completed video. Click Ok, then choose the preset you would like to use for the video in the list that appears.
Complete the Conversion and Burn Your DVD
Begin conversion by clicking Create DVD. A window will appear that allows you to choose specific actions for the burner to complete following the conversion. After the conversion finishes, you can burn the file to a DVD by selecting the saved VIDEO_TS folder as the video input.
Pros:
Safe to use without any malicious software
Converts multiple file formats
Burns multiple files on a single DVD
Detects the size of your DVD folder and videos
Cons:
Basic design may not appeal to some users
Doesn't include many advanced features beyond simple video to DVD conversion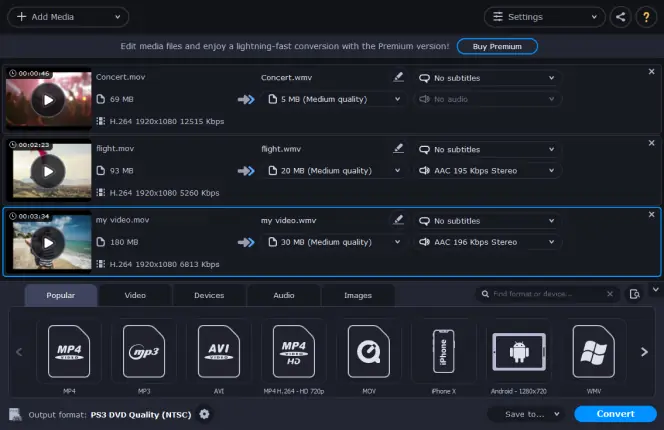 For another convenient, user-friendly, and safe DVD format converter that balances both efficiency and quality, download Movavi Free Video Converter. Using this software to convert to DVD for free, you can convert more than video, with access to over 180 file formats, including audio and image files. You can also reduce the size of your media files without any loss of quality.
To use this software, follow this guide:
Download and Install the Program
To start, simply download and install the program on your Mac or Windows computer.
Add Your Media Files
Next, either upload the files you want to convert from your computer or drag and drop them into the application.
Choose the Output Format
To prepare your files for conversion, select the output format, including DVD formats.
Convert the File and Enjoy Your Completed Videos
To begin converting, click Convert and wait until the conversion completes. Once the process is finished, you can view your converted files on a DVD player.
Pros:
Fast and high-quality conversions of over 180 file formats
Entirely free to download and use without any malicious software
Can function as a video-to-audio converter to save music from video clips and movies
Cons:
To burn your DVD files onto a disk, you will need to use another program, Movavi Video Suite
VLC, or VideoLAN Client, is another convenient convert-to-DVD software that also functions as a universal media player for Windows, Mac, and Linux users. VLC Media Player plays many codecs that aren't included on many systems, and it's also completely free and safe to use as a reliable program to convert movies to DVD.
To install and use this application, take these steps:
Download VLC Media Player for Your Device
Download and install VLC on your Mac, Windows, Linux, or mobile device.
Add the Files You Want to Convert
Open the program and choose the files you would like to convert from the Convert / Save (Windows) or Convert / Stream (Mac). Drag and drop or upload your files in the next window.
Select the Output Format
The next step is to select the output format for files. For DVD, you would use H.264 + MP3 (TS).
Choose a Save Location
The final step is to save your file by clicking Save as File in the Choose Destination window.
You can also use this software to burn DVDs if you have a writable DVD in your disk drive, with a guided process to help you burn media files.
Pros:
Free and safe to use as an established, reputable conversion service
VLC functions as both a converter and media player for nearly any device
Supports many file formats and makes it easy to burn DVDs
Cons:
Some users have reported issues when trying to use VLC to play DVDs and other file types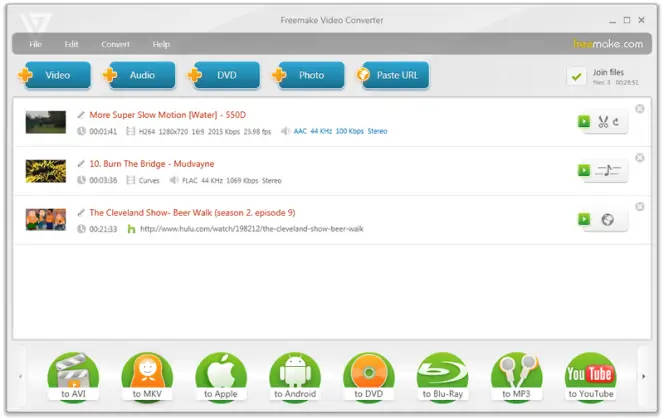 Freemake is another reliable tool for turning videos into DVDs, but what makes this software somewhat different is that it also works as a DVD ripper. In addition to converting video to DVD, you can use Freemake to rip DVDs and save them to your computer or modify them.
To install and use Freemake as a video converter to DVD, follow this brief guide to get started:
Install Freemake on Your PC
To start, download and install Freemake on your computer. Freemake is currently only compatible with Windows.
Upload Your Files
Choose the files you would like to convert to DVD or rip a DVD to use as a digital file using a disk in your disk drive.
Select a Format or Device
Next, choose the output format and device for your converted DVD file.
Begin the Conversion
Simply click Convert to start the conversion process and wait for it to complete.
Pros:
Very easy to use with the ability to convert and rip DVDs
Supports many file formats
Allows for conversion of 4K and HD videos
Rip and burn DVDs and even Blu-rays
Cons:
Freemake is only available to Windows users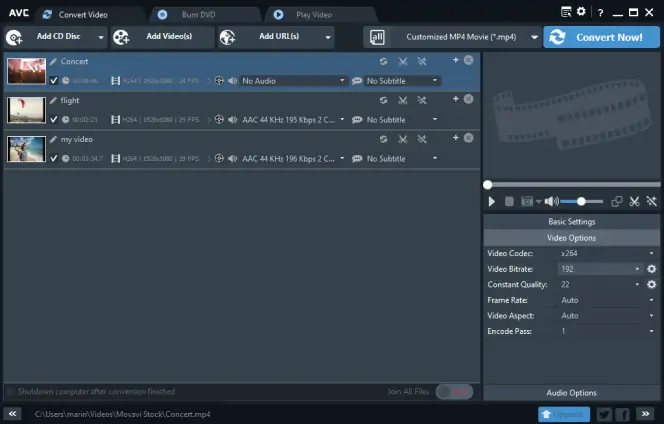 To try another video to DVD converter for free, consider using Any Video Converter Freeware. You can easily convert video files to DVD format using this software, and you can use it for more than video-to-DVD conversions with many other supported file formats. This software boasts quick conversions and consistently high quality with each conversion. You can make DVDs from just about any video format, including MP4, MPG, AVI, FLV, and more. You can also use it as a burner with a writable DVD and disk drive.
If you want to find out how to convert video to DVD with Any Video Converter, simply follow these steps:
Install the Program
Download and install Any Video Converter Freeware from the developer's website.
Choose Input Files
Once you open the program, you can choose the files you want to convert to DVD format from your device.
Select the Output Format
To convert your media to DVD, select the DVD output format for video files. It supports both PAL and NTSC, depending on your preferences.
Convert Files and Burn Them to DVDs
Convert the files to begin the process and wait for it to complete. To burn your files to a DVD, all you need to do is insert a writable DVD in your disk drive, choose a recorder from the dropdown menu, enter the Disc Label, and click Burn.
Pros:
Makes it easy to convert video files to DVD format
Supports many file formats
Easy to use and safe
Cons:
Only works with Windows computers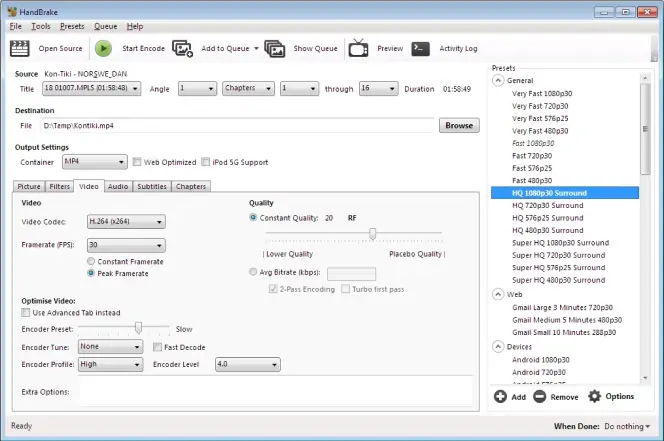 For another reliable way to convert video to DVD for free, give HandBrake a try. Like VLC, HandBrake has been around for a long time and is one of the more well-known applications available. It's free and open-source, works on multiple operating systems, and enables you to convert video from and into many different formats.
To get started with this software, take the following steps:
Download and Install HandBrake
Download the program from the HandBrake website and install it on your Mac, Windows, or Linux computer.
Select the Files You Want to Convert
In the HandBrake Source window, choose the files you want to convert to DVD and click Open.
Choose the Save Destination for Your Files
Choose a save location for your completed conversions.
Determine Which Output Format to Use
To convert video to DVD, click Output Setting or Format to select a DVD file format for converting your files.
Start Converting
Start the conversion process by clicking Start or Start encode and wait for it to finish.
Pros:
Very easy to use to convert videos to DVD and other formats
Compatible with multiple systems including Mac, Windows, and Linux
Includes many editing features for videos beyond simple conversion
Cons:
Only MKV and MP4 file containers are available for the output
An Alternative Video-to-DVD Converter for Windows and Mac
Although all the free video to DVD converter and burner software listed above can help you watch your favorite media on a DVD player, we recommend Movavi Video Converter as a paid alternative if you want more from your converter. With additional features and reliability, Movavi Video Converter can be the all-in-one solution you're looking for in a media converter.
Some of the benefits you get with Movavi Video Converter include:
Faster conversion speeds to have you watching your DVDs in no time
Conversion of multiple files simultaneously through batch processing
Efficient conversions without any loss of quality, even when converting 4K videos
Added editing features and compression capabilities
If you want to know how to use Movavi Video Converter to convert video to DVD and complete other conversions for a wide range of formats, follow these basic steps.
Step 1. Download and Install the Video to DVD Converter
The first step to take is to download the converter and install it on your device. This software is compatible with both Mac and Windows computers. You can also use it to convert over 180 different file formats, including MP4, AVI, WMV, and DVD, along with many other less popular formats. In addition to converting, you can also use the software to resize and edit your videos. Editing functions include the ability to adjust video quality and audio volume, or you can join or trim video clips before converting.
Step 2. Select the File You Want to Convert
After installing the converter, open the program and click Add Media, which you'll find in the top left corner of the window. Then click Add Video to select the files you want to convert from your computer. You can choose one or several files to convert to DVD format.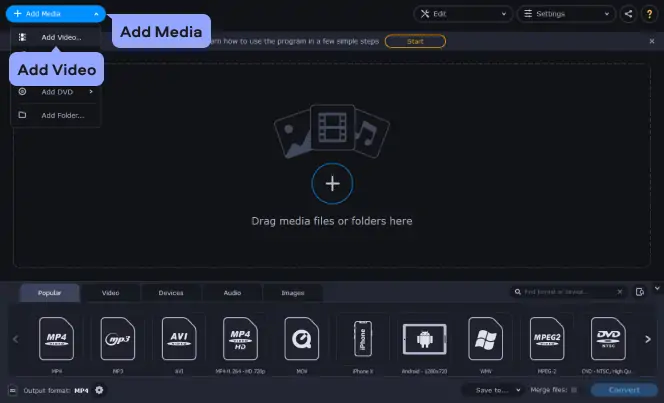 Step 3. Choose a DVD File Format
To select an output file format, select the Video tab. From there, you can choose the DVD-Compatible Video category and select the appropriate preset. With this converter, video to DVD conversion can be accomplished using either NTSC or PAL standards, which use different resolutions, but both are supported on most DVD players today. You also have the option to select low, medium, or high-quality options for your conversions, each of which will affect the total file size by a wide margin.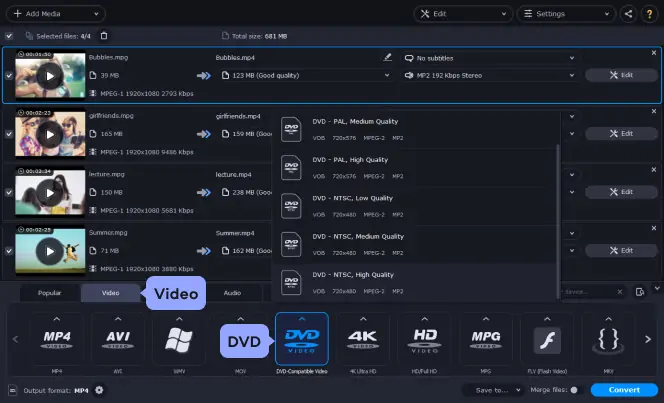 Step 4. Convert Video to DVD Format
The actual conversion process is also simple when turning video to DVD. Click the Save to button and select the save destination for the converted file or batch of files. Keep in mind that the converted files may be larger than the original file, so ensure you have sufficient space on your hard drive to save the file.
To begin the conversion, click on Convert and wait for the conversion to finish before accessing the completed file. The larger the file, the longer it will take to convert. For large files, conversion can take up to several minutes.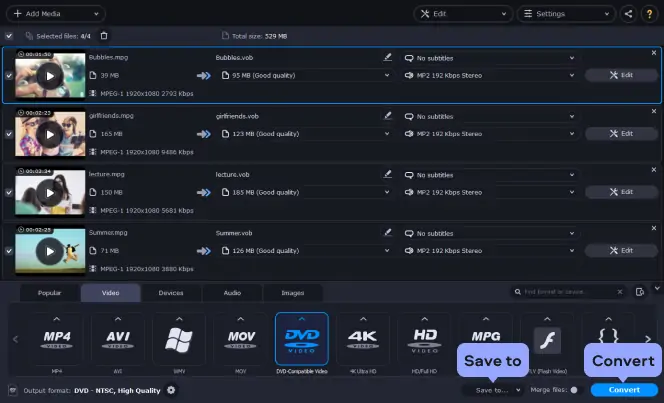 Step 5. Burn the Files to DVDs (Optional)
Once the conversion finishes, the folder where you saved the file will open automatically. From there, you can watch the converted file on your computer, mobile device, or DVD player.
You can use Movavi Video Suite, which is compatible with Windows, to convert and burn DVD format files to physical DVDs. With Movavi Video Suite, you'll get access to a variety of multimedia processing programs. In addition to converting and burning videos to DVDs, you can also use this suite to edit your videos and capture screen recordings, among other capabilities.
After you've downloaded and installed Movavi Video Suite, place a writable DVD in your PC's DVD drive. You can then click Burn Disc to burn the video to your DVD. Unlike other burners, you won't need to re-encode your video files to the DVD format due to the intelligent DVD-compatible preset. This means you can easily and quickly burn your DVD within minutes.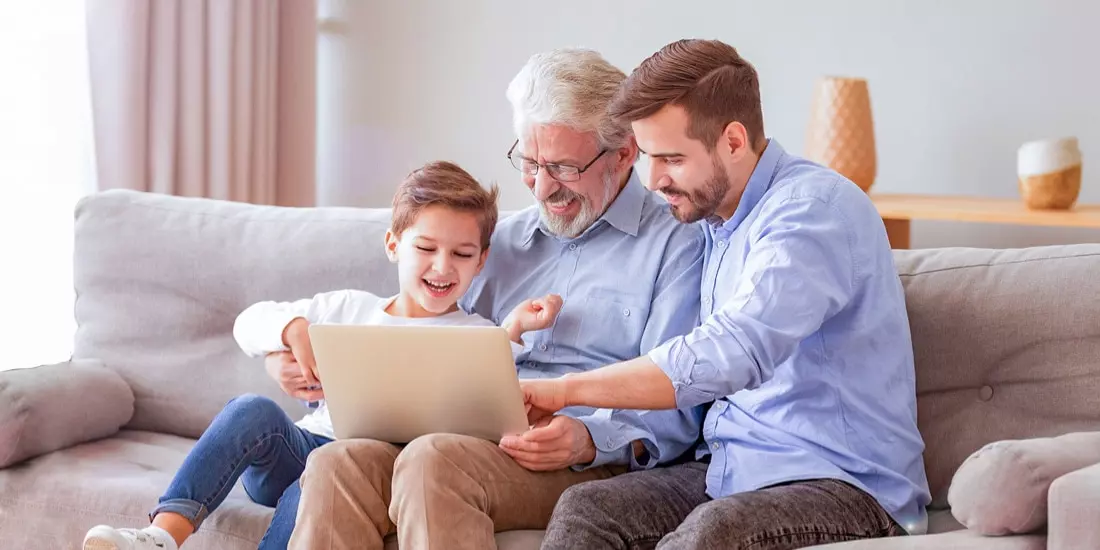 Movavi Video Converter
The ideal way to get your media in the format you need!
Frequently Asked Questions
What Is the DVD Video Format?
DVDs store video, audio, subtitles, and navigation menus in the VOB format. VOB is a multimedia container that was designed specifically for DVDs. VOB files can also be encrypted to ensure copyright protection.
How to Convert a Video to a DVD-Compatible Format on Mac?
You can use any program for video conversion to transfer video to the DVD format on Mac. We recommend Movavi Video Converter for Mac. Download this simple yet powerful software and follow the instructions below.
Download and install the program, then launch it.
Drag and drop the video file to the program window.
Open the Video tab and click DVD-Compatible Video. Choose the desired preset for conversion.
Click Convert to start the conversion process.
What Is the Best Resolution for DVD Video?
The highest possible resolution for DVD video is 720 × 480 pixels for NTSC and 720 × 576 pixels for PAL. That is far from HD quality, so if you want to burn an HD video to a disc, you need to use Blu-ray.
What Is the Standard Format for a DVD?
DVD video can be encoded in the MPEG-2 Part 2 / H.262 or MPEG-1 Part 2 format. However, MPEG-2 is more common.
What Is the Difference between a CD and a DVD?
CD stands for Compact Disc. It's an optical medium that replaced cassette tapes. CDs can store up to 700 MB of audio or video data. DVD means Digital Versatile Disc, and it's a type of optical disc that can contain up to 4.7 GB of data. The main difference between them is their storage capacity. Also, CDs are mostly used for storing music albums and audio data in general, while DVDs contain films and videos.
Sign up for news and special offers