How to Convert Video to DVD

You've shot a video with your camera and now you want to watch it on your DVD player. Or maybe you want to free up some hard drive space and burn your movies to DVD. Either way, you'll need to convert your files to the DVD format since not all DVD players can read AVI, WMV, MKV, MP4, or 3GP formats, the most common formats for video shot with mobile phones and camcorders.
Movavi Video Converter is your easy answer to questions like "How can I convert video to DVD?" or "How can I convert AVI to DVD?" Get this handy tool, and you will be able to transfer your files to the MPG format, which is compatible with most DVD players, in just a couple of clicks.
Follow our step-by-step guide and see how easy it is to convert video to DVD.
Install the DVD Converter
Download the DVD converter from the Movavi website and install it. This fast, easy-to-use software for PC or Mac supports more than 180 file formats, so you can go beyond just converting MP4, WMV, or AVI to DVD and vice versa to resizing your video and performing basic editing tasks.
Choose a File for Conversion
Launch the converter and click the Add Media button in the upper left corner and then Add Video. Choose one or multiple files to convert to DVD.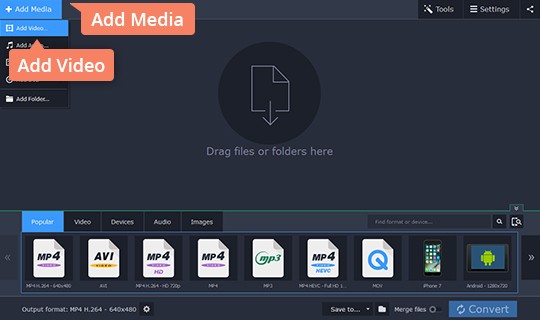 Choose a Format
To choose an output format, click the Video tab, open the DVD-Compatible Video category, and select a preset. The DVD converter enables you to encode video in both PAL and NTSC standards, which have different resolutions – modern players usually support both formats. You can also choose high, medium, or low quality – the final file size will be significantly affected by your choice here.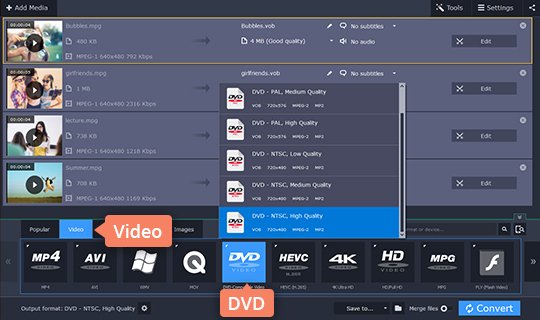 Convert Your File to DVD
Click the Folder icon and choose the destination for the converted video or videos. The converted file may be larger than the original, so make sure you have enough free hard disk space.
Finally, click Convert and just wait until the conversion is complete. If the file is large, the process can take several minutes.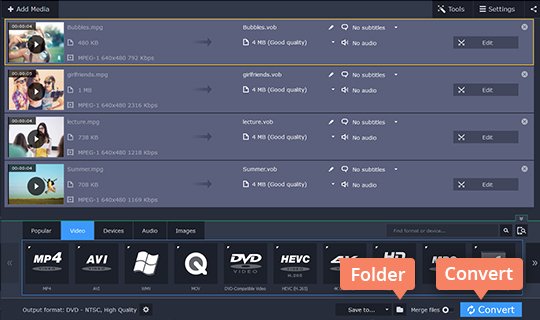 Burn Files to DVD (Optional)
When the conversion is complete, the folder with the converted video will open automatically. Now you can watch your movie on your computer, mobile phone, or DVD player.
If you want to burn your files to DVD, try Movavi Video Suite for Windows – a useful collection of multimedia processing programs. In addition to video conversion, editing, and capture, the suite can also help you with burning videos to DVD.
With Movavi Video Suite installed, all you need to do then is make sure you've inserted a writable DVD into your computer's DVD drive and then click Burn Disc. Thanks to the intelligent DVD-compatible preset, the files will not need to be re-encoded into the DVD format, which means your DVD will be ready in just a few minutes!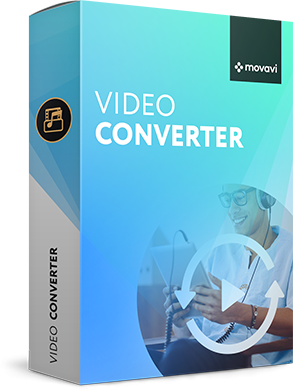 Movavi Video Converter
The ideal way to get your media in the format you need!
Convert video, audio, DVDs, and image files

Enjoy lightning-fast conversion without quality loss

Improve quality, adjust sound, trim and join files before converting

Save video and audio clips for easy mobile access
See Other Useful How-to Guides