Best Free Screen Recorders for Windows 10
If you're looking for the best way to record your computer screen using Windows 10, there are plenty of screen-recording solutions available. However, with so many options, it can be a challenge to find the right software or platform for your system. Regardless of the features you'd prefer and the type of platform you want to use, there are several reliable screen recorders that can record the screen and audio on your device.
Here we'll review some of the most popular screen recorders for Windows 10, including desktop software, online recorders, and Google Chrome extensions that are compatible with this operating system.
Desktop Software to Record a Screen on Windows 10
Trying to figure out how to record a video on Windows 10? You can use screen-recording software to capture high-quality video and audio. If you want to download a screen recording program to your Windows 10 desktop or laptop computer and use it offline, there are plenty of reliable desktop tools to record a screen. Windows 10 users can choose from plenty of software depending on their preferences. Whether you want to record video alone or want to record video with sound, or want access to various video editing features in addition to recording capabilities, the following solutions can give you what you're looking for in the ideal screen-recording program.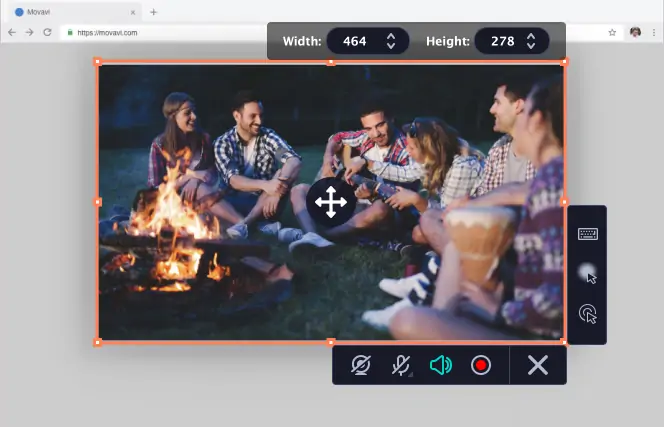 For one of the best programs available for screen recording and more, consider Movavi Screen Recorder. This software makes it easy to record your screen and capture video on Windows 10 systems, with the ability to save clips in 4K or Full HD resolutions. It's very intuitive and incredibly easy to use, enabling you to quickly set up recording parameters, record both video and audio through speakers or voice on your microphone, edit your videos, and save the completed file.
You can also use Movavi Screen Recorder to create screencasts, capture your webcam, grab multiple streams, schedule recordings, take screenshots, and share your videos quickly with convenient links.
The one disadvantage you may find with Movavi Screen Recorder is the limitations available with the free version, but the full version of this software can give you everything you need for recording and saving screen capture.
Check out some user reviews for Movavi Screen Recorder at G2.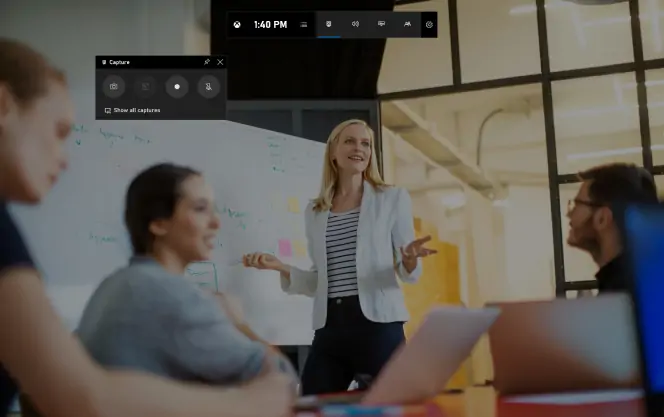 If you're using Windows 10, you also have a video recording option built into your system in the form of the Xbox Game Bar. Primarily used for video game streaming, you can also use this Game Bar to record other types of video on your computer, including both video and audio. It's also easy to use and gives you instant access to various widgets to help you record and share recordings. You can also use this tool to chat with friends who have Windows 10 systems, Xbox consoles, or Microsoft mobile devices.
Keep in mind that this program is designed more explicitly for gaming purposes, so it may not be exactly what you're looking for if you'd prefer a more universal screen capture software. However, it's convenient and entirely free to use for Windows 10 users, so if you're looking for a quick and free solution, this may be sufficient.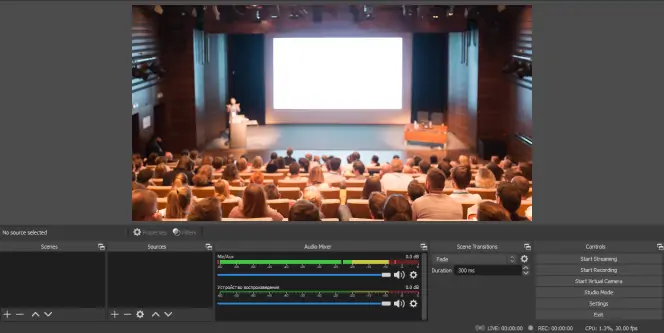 For another reliable option to capture your screen and audio on a Windows 10 system, you can try OBS Studio, which stands for Open Broadcaster Software Studio. This program features high-performance recording of video and audio in real-time. You can use it to create videos with various components. For instance, a scene could have a screen capture, along with text, webcam footage, browser windows, images, and other media.
OBS Studio also allows users to set up an unlimited number of scenes and custom transitions to seamlessly blend them. When it comes to audio, users can also benefit from an audio mixer that includes various per-source filters including noise suppression, noise gate, and gain. You can also customize screen capture with simple but powerful configuration settings. The program's modular "Dock" UI also enables you to rearrange the layout any way you want. OBS Studio is compatible with most streaming platforms as well.
The only issue you may find with OBS Studio is that, despite the myriad features, the developers don't offer much guidance or help.
Read a review of OBS Studio at TechRadar.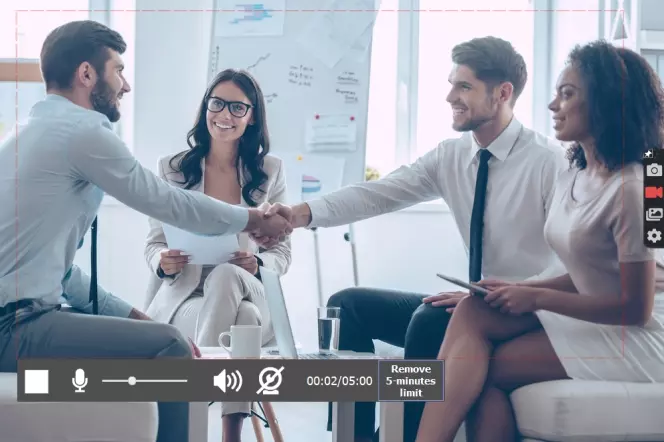 ScreenRec is a small app that lets you take screenshots and record your screen in just a couple of clicks. With just about 200 MB of the disk space it takes, this app is one of the friendliest for weak PCs. The interface is really convenient, too: everything you need is right at the side panel.
The first advantage to notice is the screenshot editing. All the shapes, arrows, and bubbles you can add look very pleasant, which is rare for freeware. Another good option is the media gallery that stores all of your screenshots and recordings allowing you fast access from the panel. The trial version only allows for 5 minutes of uninterrupted recording, which is enough to try the app out and consider creating a dedicated account. Also, registering gives you a dedicated account to save and share your screenshots and recordings online.
ScreenRec has many positive reviews on Trustpilot. Click the link below to see what users have to say about their experience: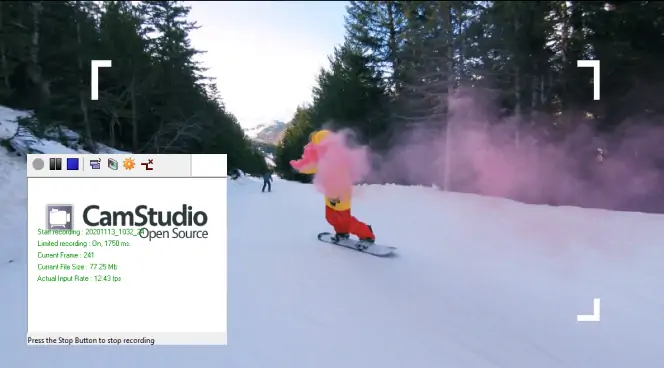 CamStudio is another versatile software that can record a screen on Windows 10. The program converts recordings into AVI files, which you can then convert to Streaming Flash videos (SWFs) if you want. This software is useful for creating demonstration videos and many other types of videos, and you can also add text captions to your videos in lieu of audio if you prefer. You also benefit from high quality levels thanks to the program's Lossless Codec that produces clear video without taking up too much space on your hard drive.
CamStudio is also entirely free to use and includes plenty of recording capabilities for a free program. Select custom cursors, record only part of the screen or the entire screen, and adjust the quality to reduce the file size if needed.
Some issues that people have reported with CamStudio include the inability to play SWF videos using certain browsers, and SWF files could also consume so much memory to the point where computers occasionally crash, but there are fixes discussed on the website for both issues.
To see what people have to say about CamStudio, read user reviews at SourceForge.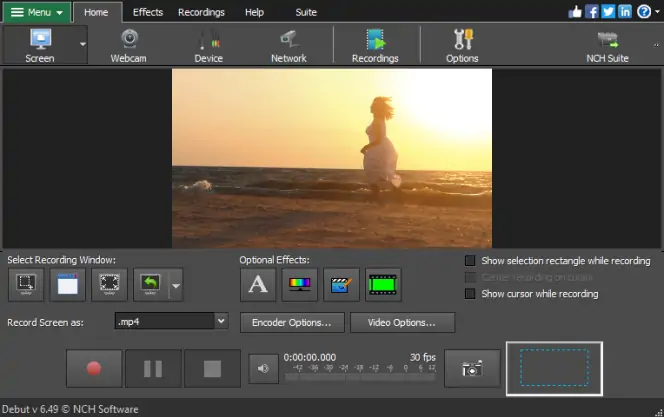 For a program that allows you to recover either your screen, webcam, or recording device on Windows 10, give Debut Video Capture a try. Using this software, you can record your entire screen or a portion of it, adjust colors and add basic effects, record your webcam, add captions, capture video from IP cameras, and record videos in various formats. It also allows you to record audio, either from your computer's speakers or a microphone. To optimize your recordings, you also have the option to adjust the size, resolution, and frame rate of your recordings.
The software is easy to use and includes a wide range of features to enable top-quality recording.
The biggest downside to using Debut Video Capture is the outdated interface, which may deter some users.
Check out the review of Debut Video Capture on TechRadar.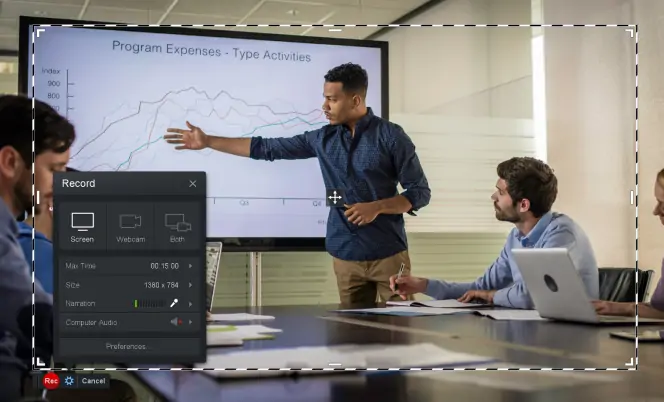 Searching for a simple but reliable tool to record and share screen recordings? Screencast-O-Matic makes it easy to capture and optimize your videos, with the ability to easily share them once completed. Whether for personal use, education, or work, Screencast-O-Matic is ideal for just about any application. You can use it to record your computer screen, or you can record webcam footage. You can also add narration to your videos.
Edit your videos with a selection of editing features including text, shape, image, and video overlays, or add basic animations and other effects such as transitions to blend multiple scenes. With the Premier Plan, you also get access to a stock library that includes stock images, video, and audio to further customize your videos. Once you've completed your videos, upload them to the cloud and share them with your audience. There's no shortage of things you can do with this intuitive software.
While the software is convenient and free to use, you need to pay for a premium version to access editing features and the stock library.
To see what people are saying about Screencast-O-Matic, take a look at the reviews at G2.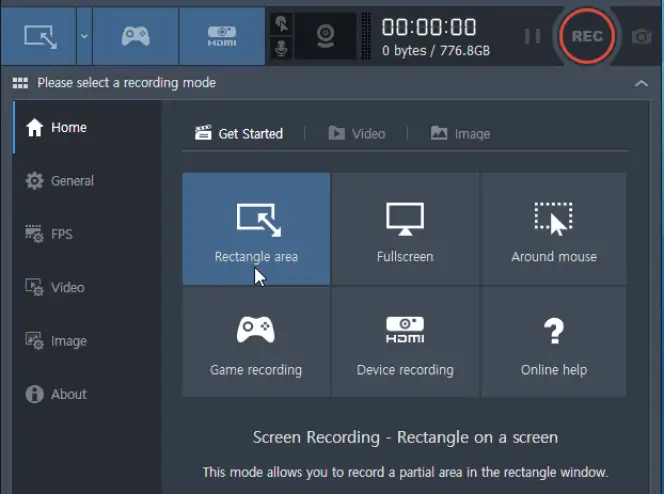 For a simple recording software that produces high-quality recordings, Bandicam is a dependable solution that's well-established as a reliable program. It's capable of recording the entire screen or a small area of a window, and it's great for capturing video game footage. This software features a high compression ratio without sacrificing quality, and it also comes with a wide range of features.
In addition to screen recording, you can use Bandicam to draw and outline videos, schedule recordings, add your own voice to videos in post-production, add cursor effects, or use a chroma key overlay and other webcam overlays. With Bandicut, you can also cut your videos and merge multiple files to create a neatly trimmed and cohesive video from several clips.
The biggest problem that users have with Bandicam is the limitations seen with this program compared to other more advanced recorders. However, if you're looking for something basic and easy to pick up and use, Bandicam is a consistently reliable option.
To learn more about what other users think of Bandicam, read some reviews over at Trustpilot.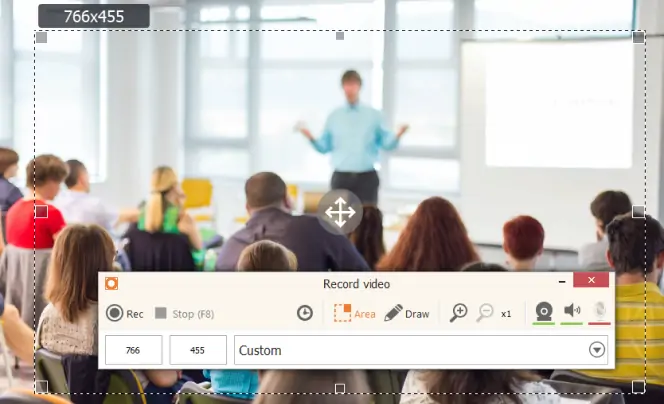 If you want to create high-quality video tutorials, live streams, webinars, or record other videos, Icecream Screen Recorder is another decent, free option that's easy to use. Using Icecream Screen Recorder for Windows 10, you can record your entire screen, record a smaller area, or take a screenshot, and you can also record your webcam. It's simple but powerful, offering users the ability to record audio, annotate videos, record based on previously customized areas, add logos, and share videos by uploading them to YouTube and other platforms.
Editing features are also included with Icecream Screen Recorder, including trimming, hiding cursors, speed adjustments, file conversion, hotkeys, and scheduled recordings, among others. Depending on the features you want, both free and "Pro" versions are available. As a Windows 10 user, you'll also have access to features that other users don't, including the ability to record games and add logos.
One problem that users may find is that the free version is more limiting than they would like, and the premium version may be a bit pricey for some.
To see what people are saying about Icecream Screen Recorder, read the reviews at G2.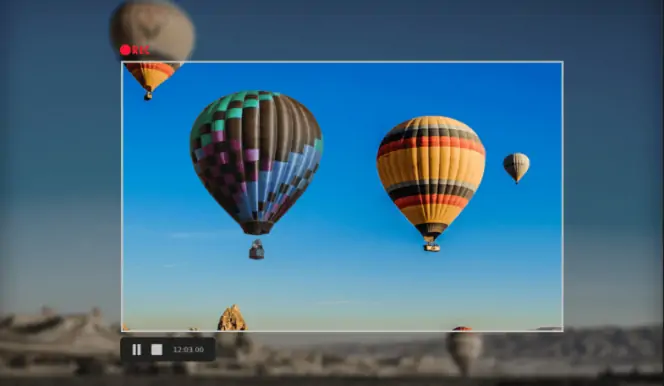 What you can get with FlashBack Express is a bit more than a simple screen recorder – it also offers a reliable editing tool. You can record your screen for creating short videos, or you can produce more extensive tutorials and other videos. Using the FlashBack editing suite, you can also trim videos, add captions, incorporate images and arrows, or add music and narration with your microphone.
The free version of this software gives you plenty of features, with the ability to capture webcam recordings, add commentary, and avoid any time limits or watermarks that you might get with other free software. It's a simple recorder, but the various editing features can help you fully customize your recordings, and you can try the premium version for free.
The main disadvantage of this product is the fact that certain features are only available with the paid version, but the free version has plenty to offer.
Read a review of FlashBack Express by TechRadar.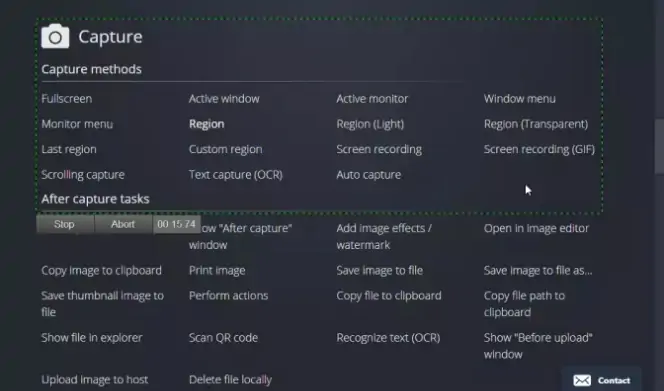 For free and open-source software that's lightweight with plenty of customizable options, ShareX is another solid choice. This program features easy screen capture sharing, customizable workflows, and many other features for capturing and post-production tasks. You can capture the full screen on your computer, capture specific areas of the screen, capture based on the last region you used, capture scrolling, auto capture, and do much more.
Once you're done capturing your screen, you can perform certain after capture tasks, including the ability to copy an image to your clipboard, save a thumbnail to an image, add image effects and watermarks, show files in explorer, and upload your recordings and images to share them with others. Users can share completed recordings and images on over 80 different platforms, including Imgur, Twitter, Flickr, Dropbox, and Google Drive.
Ultimately, if simple recording and editing with a wide variety of customization options are ideal, ShareX is a good tool. However, it features primarily image editing options for screenshots over video editing for screen recordings.
To learn more about what users think of ShareX, see the reviews over at G2.
Online Recorders for Video Capture on Windows 10
Want to know how to record video on PC with Windows 10 without any software? If you'd prefer to use online recording solutions that don't download any software to your computer, there are a few different online screen recorders that you can use on the developers' websites. Online recorders make it easy to record your screen using your browser of choice, and some even allow you to download an app to your device for remote use.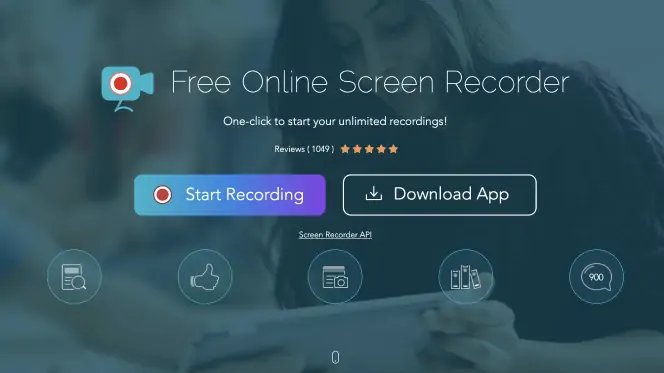 For an easy and quick solution to record your screen, Apowersoft Free Online Screen Recorder is a simple but effective tool. You can begin recording your screen with a single click and use it for an unlimited time and number of recordings. You can then save your completed recording to your hard drive or upload it to platforms like YouTube, RecCloud, and others. Whether you want to record your streaming sessions, or record videos for live chat training, self-demonstrations, and other uses, there are plenty of applications for this recorder.
You can record either your full screen or a custom region, and you can select which window and other parts of the screen you would like to record. It allows you to record both audio and video simultaneously, and you can even record your webcam. Editing features include the ability to annotate while recording, and you can select multiple output formats.
The only limitations that might disappoint some users include a lack of features and the need to use a browser plugin.
For a full review of Apowersoft Free Online Screen Recorder by TechRadar, visit the TechRadar website.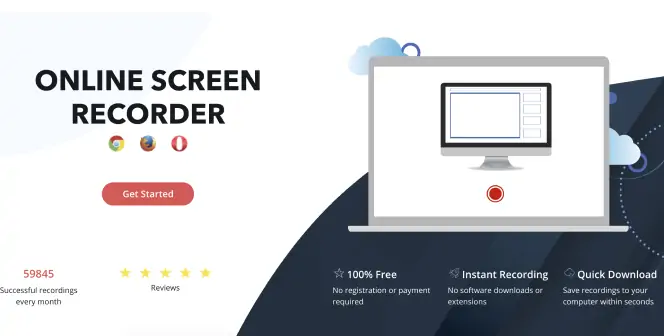 In need of a basic online screen recorder that's easy to use and to-the-point? You can't go wrong with Screenapp.io. It's 100% free to use and offers instant recording capabilities without any need for software or extensions. Downloading is also quick to allow you to save your completed recordings almost instantly.
If all you're looking for is a quick, simple recorder, screenapp.io is a dependable option. However, if you're looking for editing features and other components that go beyond simple recording and saving, you may want to use something more complex.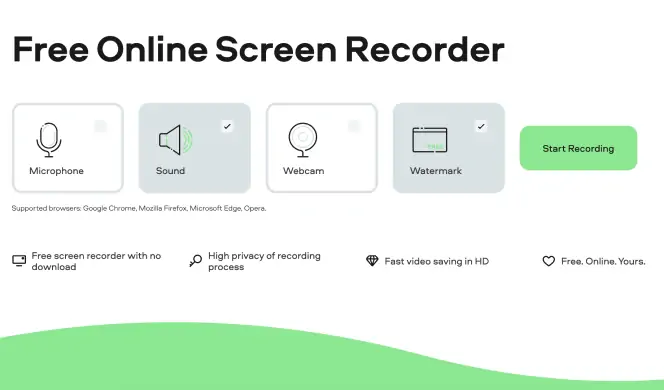 Screencapture.com offers several basic recording options without any need for extra software or plugins. You can use it to record your screen microphone, webcam, and speakers, all with just a couple of clicks. You can then save your videos quickly in HD, and all recordings remain entirely secure and private.
This tool is easy to use for basic recordings, but, again, if you want something more complex and rich with features, you may be better off looking for another solution. You also need to pay for the premium version of the site to record videos without a watermark.
Google Chrome Extensions to Screen Capture a Video on Windows 10
If you use Google Chrome and want an easy-to-use extension that can perform video capture on Windows 10, there are a couple of extensions to try. Both of these options are popular and offer multiple features along with convenient use through your Chrome browser, without the need for any other software.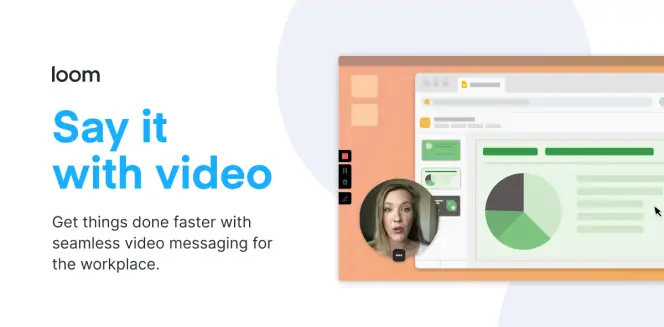 Loom is a very easy-to-use screen-recording software that's ideal for creating work-related video messages and presentations. You can use it to create tutorials, demonstrations, instructional and training videos, and much more. This tool gives you the ability to record your screen, webcam, and voice and instantly share your recordings.
It may not be rich with features, but it can serve as a simple, accessible solution for recording your screen and microphone.
You can view the number of users, reviews, and the average rating on the Chrome Web Store before downloading.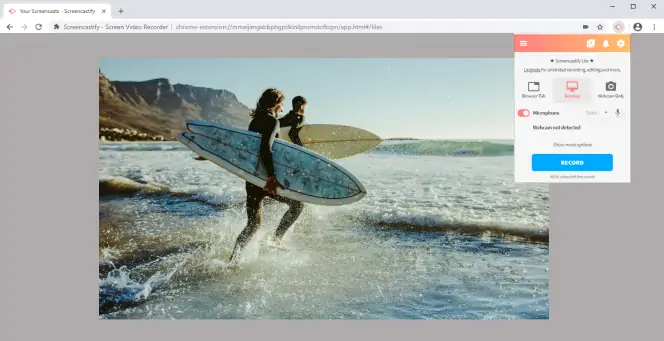 Screencastify is a very popular screen recorder for use with Google Chrome. You can easily record your screen, edit your videos, and share your recordings in no time. All recording features are entirely free, and you don't have to worry about necessary watermarks or other limitations. In addition to recording, you can trim and export your videos in full HD. Once you're done with your videos, upload them to Google Drive and other platforms for easy sharing.
Again, like other basic online software, it may not offer a lot in the way of editing features, but it's a reliable quick recording solution for producing basic videos. You will also need to upgrade to the paid version to access merging, cropping, and annotation features.
You can view the number of users, reviews, and the average rating on the Chrome Web Store before downloading.
Comparison Table of All Apps
| App | Output Formats | Pros | Cons |
| --- | --- | --- | --- |
| Movavi Screen Recorder | MP4, MOV, MKV, MPEG, AVI, etc. | Offers many easy-to-use recording features | Need editing software to access editing features |
| Windows 10's built-in Game Bar | MP4 | Included on the Windows 10 operating system | Basic features; intended mostly for gaming |
| OBS Studio | FLV or MKV | Many powerful recording and editing features | Minimal guidance |
| ScreenRec | MP4 | Lightweight, easily accessible, with online integrations | Some features are only available after registering |
| CamStudio | AVI or SWF | Easy-to-use with custom recording configurations | Issues with SWF playback |
| Debut Video Capture | AVI, WMV, MP4, MPG, FLV, etc. | Free to use and capable of recording from webcams and other devices | Outdated interface |
| Screencast-O-Matic | MP4, AVI, FLV | Makes it easy to record, edit, and share videos | Free version is very limited |
| Bandicam | AVI or MP4 | Simple, trusted software with several editing features | Limited compared to other screen recording software |
| Icecream Screen Recorder | MP4, AVI, WebM | Easy to use with plenty of customization options | Limiting free version |
| FlashBack Express | AVI or SWF (also WMV and MOV with the paid version) | Basic recorder with a nice interface and no watermarks | Can only access some features with paid version |
| ShareX | MP4, AVI, WMV, GIF, M4A | Free and open source with a variety of customization options | More image editing features than video editing for recordings |
| Apowersoft Free Online Screen Recorder | MP4, AVI, WMV, MOV, FLV, etc. | Makes it easy to record your screen and webcam entirely online | Limited editing features and requires browser plugin |
| Screenapp.io | WebM (may eventually support MP4) | Very easy to use for simple screen recording and saving | Lacks many features |
| Screen­capture.com | WebM, MP4, MOV, AVI | Easy basic tool for recording your screen and audio | No editing features and need to pay to get rid of the watermark |
| Loom | MP4 | Great to use for work-related recordings and videos | Minimal features beyond recording and trimming |
| Screencastify | WebM, MP4, MP3, GIF | Free and convenient online recorder for Chrome | Free version has limited video-editing capabilities |
How to Record a Video on Windows 10 Using Movavi Screen Recorder
Movavi Screen Recorder is a great tool to use to capture video footage on your screen. It's easy to install and use to create custom, high-quality recordings. Simply take the following steps to record your video using this reliable software.
Step 1. Download the Movavi Screen Recorder installation file and follow the instructions provided.
Step 2. You can adjust video capture settings by clicking Screen recording. Simply choose the area you would like to record using the mouse to drag the cursor across the screen.
Step 3. Record the screen by clicking the REC button, and your recording will begin following a brief countdown.
Step 4. Edit the recording if needed by trimming the video clips on the timeline. Once you're done, click Export and save the video in the desired format.
Frequently Asked Questions
Which is the best screen recorder for Windows 10?
There's no shortage of great software to use to video capture on Windows 10. Some of the tools we recommend include:
Movavi Screen Recorder
OBS Studio
ScreenRec
The Windows 10 Game Bar
Bandicam
CamStudio
Screencast-O-Matic
Flashback Express
Debut Video Capture
ShareX
How do I record my screen on Windows 10?
Movavi Screen Recorder makes it easier than ever to record a video on Windows 10. All you need to do is install the software, select the area you want to record on the screen, and begin recording.
Does Windows 10 have a screen recorder?
Yes, Windows 10 has a built-in screen recorder in the form of the Windows 10 Game Bar, which allows you to record gaming footage using certain apps. However, you won't be able to record outside of the apps. If you're looking for a more versatile screen recording software, try Movavi Screen Recorder, which includes plenty of options for custom screen captures.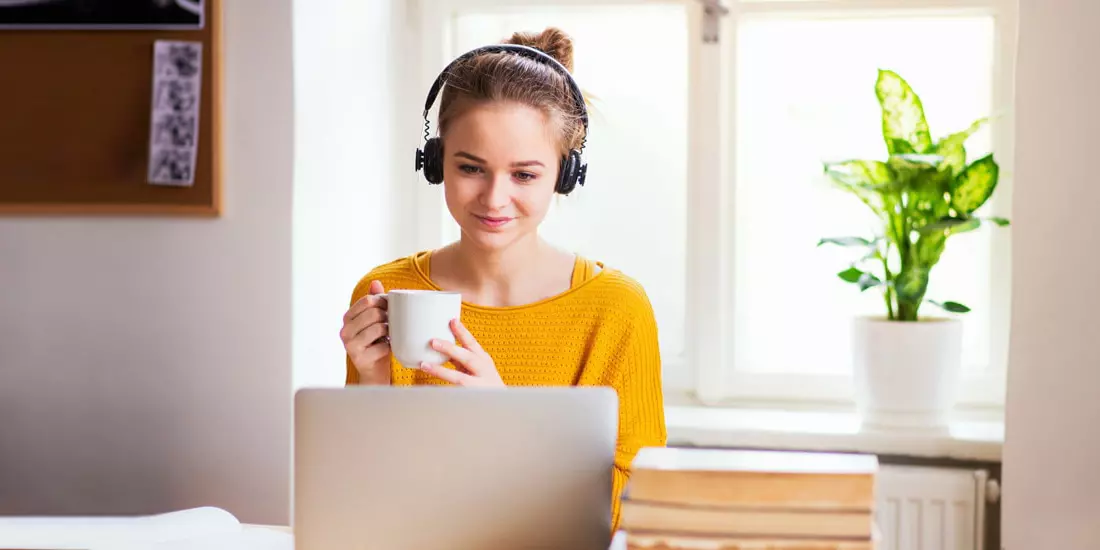 Movavi Screen Recorder
The perfect way to record from your screen
Disclaimer: Please be aware that Movavi Screen Recorder does not allow capture of copy-protected video and audio streams. Learn more