Download

Download

and install Movavi Screen Recorder
Set the recording frame
Click REC to start recording, then Stop when the call is over
Edit the recorded video
Save and share the video
Don't waste precious time - record important things now!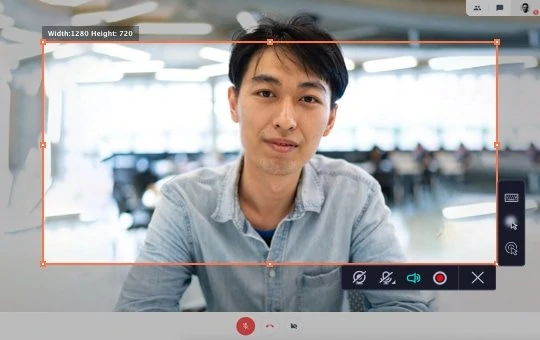 How to Record a Google Hangout for Free
Google Hangouts is communications software from Google that lets users send messages, make video calls, and stay in touch. The software is perfect for business users: it connects to Google Calendar, which makes it almost impossible to miss an important meeting or a training session.
What if you need to record a Hangouts call? Movavi Screen Recorder makes it easy. This program is a perfect free Google Hangouts recorder that can record screen activity with audio and convert the files to many different formats. Its intuitive interface will make you feel at ease with the functions and options, even if you've never done anything like this before. Plus, Screen Recorder is totally safe and reliable; many people around the world already trust in and use software from Movavi.
In the guide below, you'll learn how to record a Google Hangout for free. Just download the Windows or Mac version of the program and capture your fondest memories!
Step 1. Install the Google Hangouts Recorder

DownloadDownload the installation file, open it, and follow the onscreen instructions.

Step 2. Adjust the Recording Parameters

Open Google Hangouts on your computer and launch Screen Recorder. Press the icon with video camera on the pre recording panel and adjust the capture frame. After that, the main recording panel will appear.

If you want to record a Google Hangout with audio, make sure the System Audio and Microphone buttons are highlighted in green – this indicates that the program will record your voice and the voices of the people you're chatting with.

Step 3. Start Recording a Google Hangout

When all the settings are OK, click the REC button. Get ready to start your video chat; recording will begin in three seconds. Click Pause when you need to take a break, and Stop to finish and save. Alternatively, you can use hotkeys: F9 to pause/resume and F10 to stop (for Windows) and ⌥ ⌘ 1 to pause/resume and ⌥ ⌘ 2 to stop (for Mac). The recorded video will be automatically saved on your hard drive in MKV format and appear in the preview window.

Step 4. Cut and Convert the Video (Optional)

In the preview window, you can re-watch the captured video and make sure everything's OK. You can also cut out any unwanted material, such as the moment you turn the camera on/off. To do this, place the white marker at the beginning of the section you want to get rid of and press Scissors. Do the same to mark the end of the segment. Now click on this marked segment and press the Trash Can icon. When you are ready to save the changes, click Save As.

To choose the format in which to save the captured video, click one of the formats listed at the top of the dialog window. Once you've selected the desired format, click Save and wait for a few minutes while the program finishes converting your video.

Done! Now you know how to record a Google Hangout with both video and audio. The same process works for other video calling apps like Skype, as well as various programs and streaming websites. Just try the software for yourself and see how it works out!
Frequently Asked Questions
Can You Record a Google Hangout Session?
Of course, you can! Consider using Movavi Screen Recorder. With this app, you can easily capture a video from your Hangout session of any length and with all the sound you need. If you're a G Suite user and have already upgraded your Hangouts to Google Meet, you can also record the meeting with the built-in tool.
Where Do Google Hangout Recordings Go?
If you're using Movavi Screen Recorder, your files can be found in the C:\Users\%your_username%\Videos\Movavi Screen Recorder\ folder on Windows or /users/%your_username%/Movies/Movavi Screen Recorder/ on Mac. You can change this option in Preferences. If you're a G Suite user, Google Meet, which is the new version of Hangouts, also allows you to record meetings. This version saves the result to your Google Drive in the Meet Recordings folder and emails you a link to the video.
How Do I Record Audio and Video on Google Hangouts?
First, download and install Movavi Screen Recorder, then launch it. Click the video camera icon on the right side of your screen. Select the area to capture, switch on System Audio and Microphone if you need to record sound – these icons will appear in green when the program is ready to capture audio. When you're about to start the meeting, click the REC button. After a 3-second countdown, Movavi Screen Recorder will begin to capture video. Hit Stop at the end of the meeting. Click Export, adjust the save options, and click Save. You're done!
The classic Google Hangouts doesn't have a recording option. But if you're a G Suite administrator, a member of a business team, or a teacher, you can use the built-in recording tool in Google Meet. After you start or join the meeting, click the three dots in the lower-right corner and hit Record meeting. When you're ready to finish, click Stop recording twice. You can also wait until everyone leaves then meeting, at which point the recording will stop automatically. You will receive a link to your video file by email.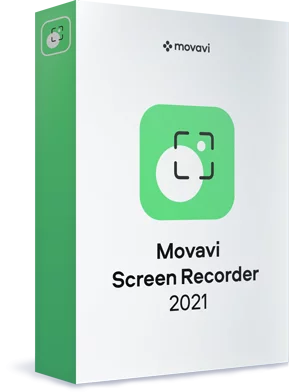 Disclaimer: Please be aware that Movavi Screen Recorder does not allow capture of copy-protected video and audio streams.
Movavi Screen Recorder
Capture video from your computer screen

Grab sound from multiple sources

Use the simple editing tools to make your recording perfect

Save videos in any popular format
Disclaimer: Please be aware that Movavi Screen Recorder does not allow capture of copy-protected video and audio streams.