You might want to record Google Hangouts for many reasons. You might be creating a podcast, learning resources, or you might just want the conversion saved for future reference. Luckily, there are numerous ways to record Google Hangout video and audio.
In this guide, we are discussing six free options for capturing Hangouts, as well as comparing the pros and cons of each. The options come in the form of browser add-ons and plugins, tools you can use without having to download anything, or even apps for your iPhone or tablet. All of these can record video and audio so that you can keep a record of your Hangout meetings.
How to Record a Google Hangout Using Movavi
Step 1. Install the Google Hangouts Recorder
Download the installation file, open it, and follow the onscreen instructions.
Step 2. Adjust the Recording Parameters
Open Google Hangouts on your computer and launch Movavi Screen Recorder. Press the icon with a video camera on the pre recording panel and adjust the capture frame. After that, the main recording panel will appear.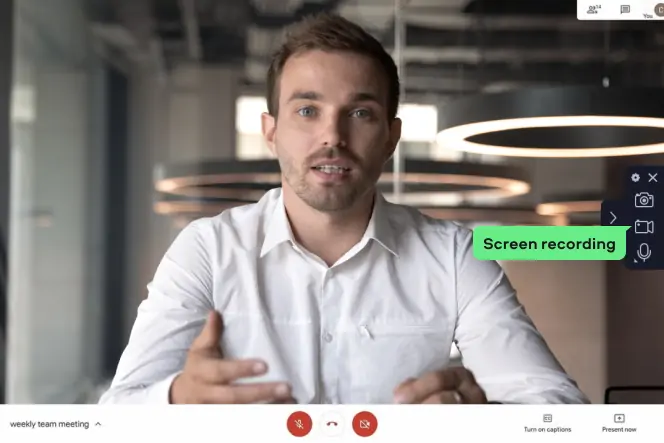 If you want to record a Google Hangout with audio, make sure the System Audio and Microphone buttons are highlighted in green – this indicates that the program will record your voice and the voices of the people you're chatting with.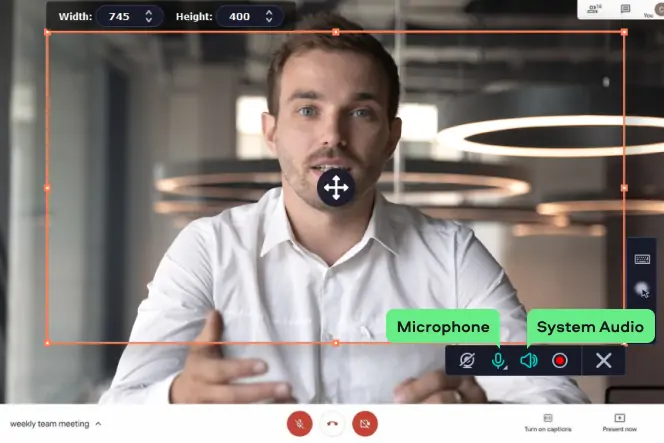 Step 3. Start Recording a Google Hangout
When all the settings are OK, click the REC button. Get ready to start your video chat; recording will begin in three seconds. Click Pause when you need to take a break, and Stop to finish and save. Alternatively, you can use hotkeys: F9 to pause/resume and F10 to stop (for Windows) and ⌥ ⌘ 1 to pause/resume and ⌥ ⌘ 2 to stop (for Mac). The recorded video will be automatically saved on your hard drive in MKV format and appear in the preview window.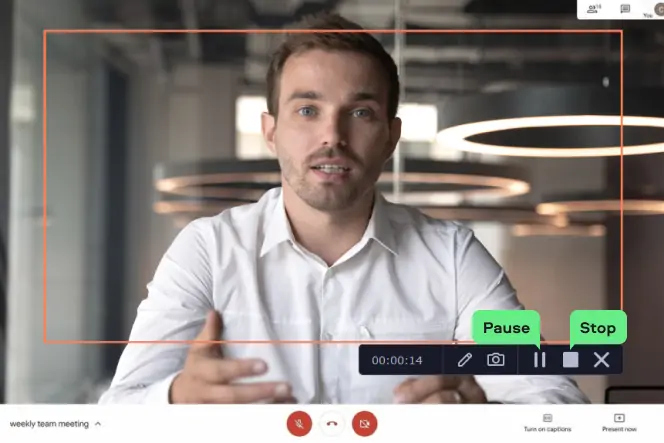 Step 4. Cut and Convert the Video (Optional)
If you want to, in the preview window, you can re-watch the captured video and make sure everything's OK. You can also cut out any unwanted material, such as the moment you turn the camera on/off or if you record audio at the start or end that you don't require. To do this, place the white marker at the beginning of the section you want to get rid of and press Scissors. Do the same to mark the end of the segment. Now click on this marked segment and press the Trash Can icon. When you are ready to save the changes, click Export.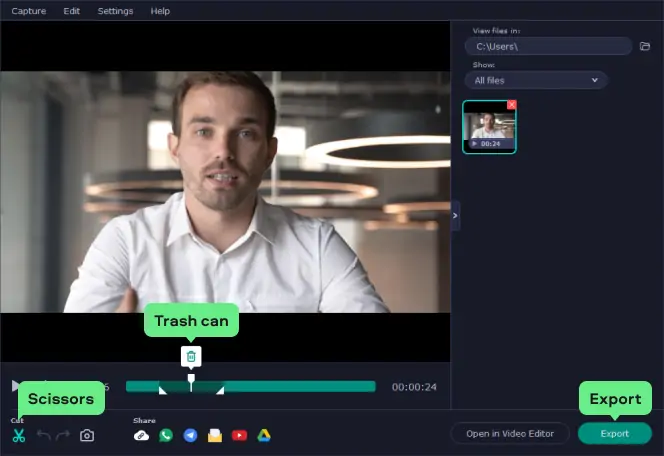 To choose the format in which to save the captured video, click one of the formats listed at the top of the dialog window. Once you've selected the desired format, click Save and wait for a few minutes while the program finishes converting your video.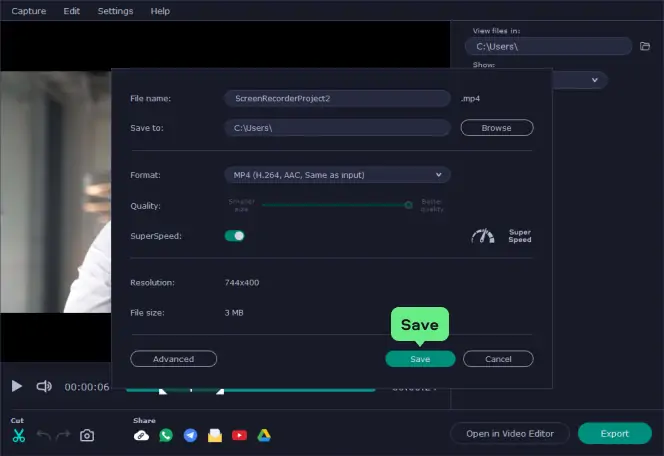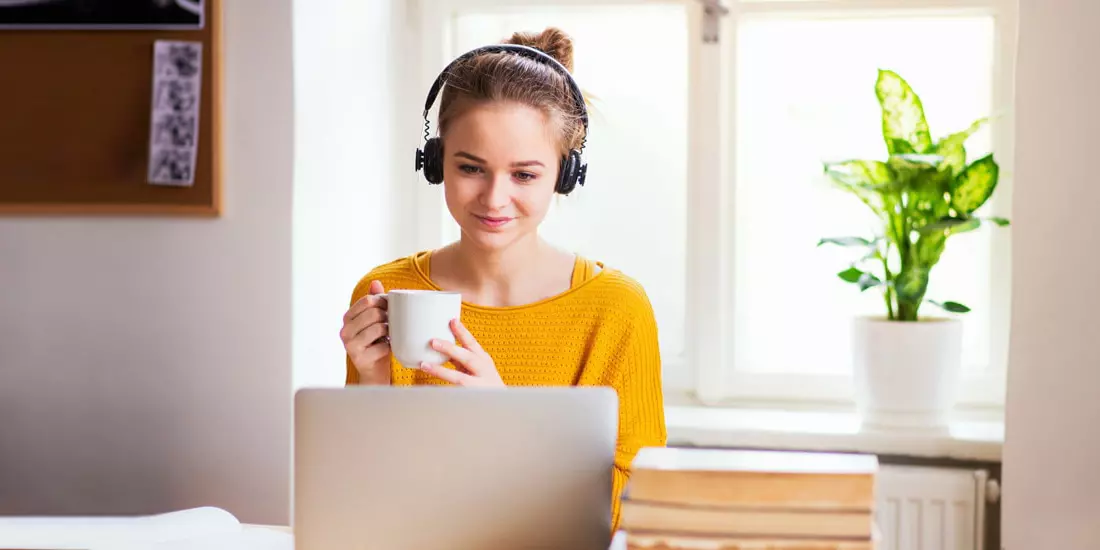 Movavi Screen Recorder
The perfect way to record from your screen
Disclaimer: Please be aware that Movavi Screen Recorder does not allow capture of copy-protected video and audio streams. Learn more
Recording Google Hangout with Apowersoft Free Online Screen Recorder
Apowersoft is a screen recorder that works as a browser plugin for both Mac and Windows. You can use it to record a Google Hangout video call, but only if you are willing to have an extra tool installed on your browser. It offers a simple interface, and if you don't mind using the settings it automatically uses, it doesn't take long to get started. The same developers make a web-based tool that you don't have to install, but this costs in the form of a paid subscription.
If you want a free and simple alternative, you can use Screencapture.com. It does have a downside because it adds a watermark, but it doesn't need installation.
Pros:
No watermarking on videos
Easy to use
Cons:
Require a specific tool to be installed on your browser, which can slow it down.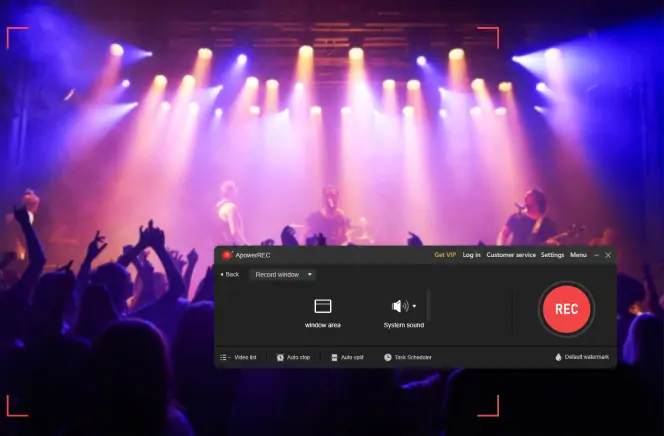 How to Record Google Hangouts Using Apowersoft
Download and install the app from their website.
Proceed to the Apowersoft website
Click Start Recording to activate the app.
Customize the region and settings.
Start recording.
Afterward, save your session to your local disk or choose to upload it.
See what TechRadar has to say about this app below.
How to Record Google Hangout Video and Audio in Loom
Loom is a specific Google Chrome plugin to let you record from your webcam or create a quick screen share video. It's designed to be quicker than an email, making it great to share quick messages. Loom's presets might capture from your webcam by default so make sure you change the settings to record bot video and screen audio from your meeting.
Though Loom's plugin works via Chrome, it doesn't record exclusively from the browser. Once you've set it to record, you can record anything that is going on within your screen.
The Starter Plan is free and lets you share videos free of charge with up to 25 people in a Team Workspace. However, if you have a bigger organization, you may have to move to a paid plan.
Pros:
No watermarks
Quick and easy to share short videos with colleagues or friends
Videos can be stored on Loom's own platform
Looms quickly integrate with Slack, Gmail, Notion, Coda, Intercom, and Headway
Cons:
Only works on Chrome browser
Settings may need to be changed to record your call audio
Paid plan for businesses with over 25 people in a workspace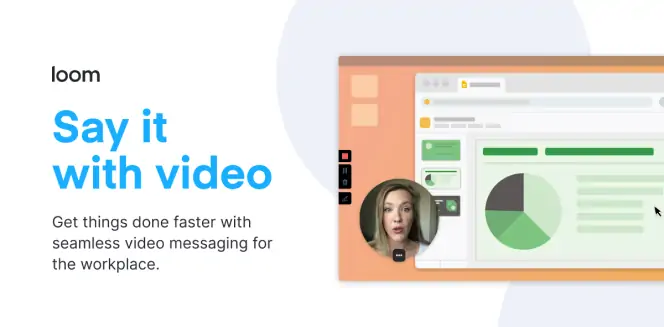 How to Record Google Hangout Video and Audio in Loom
Download the Loom Chrome extension.
Download Loom
Click on Advanced Settings and make sure you select Tab Audio as the audio source.
Record the tab in which your chat is taking place.
Share and save the video and audio via Loom.
Check out the customer reviews and how many people have downloaded Loom below.
How to Record Google Hangout Video Call Using Your Native iPhone Screen-Recording Tool
Modern iPhones come with their own screen-recording tool inbuilt. If you want to record a Google Hangout video call on your phone, then this screen recorder can be a good option. You can access screen recording via the drag-down Control Center menu at the top of the iPhone. Video can also be recorded in this way via an iPad.
If you don't find the screen recorder in the Control Center, you can easily add it in your settings to ensure recording is just a click away.
Pros:
No need to install new software
Video can be instantly backed up to iCloud
No watermarks on the videos
Cons:
Notifications might spoil your recording
Can take up valuable space on your iPhone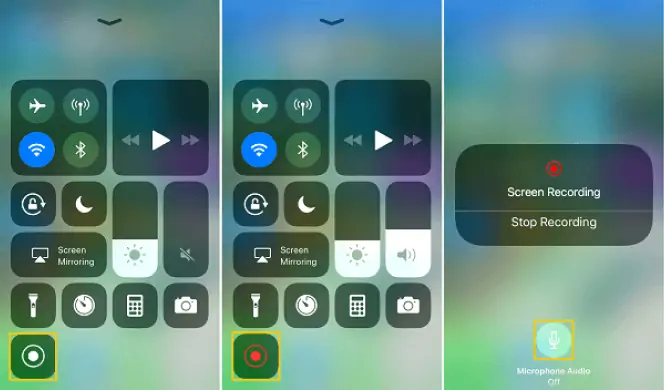 How to Record Hangout Using Native iPhone Screen Recorder
Make sure you have the Hangouts app and prepare your call.
Drag down the Control Center on your iPhone.
Press the Record button and wait for the countdown.
Switch to Hangouts and record your call.
How to Record Google Hangouts on Android Devices
Mobizen lets you record a Google Hangout in quality settings up to 1080p Resolution, 12.0MBPS. A lot of people use it for recording gaming videos, but if you are using the Google Hangouts app on your Android phone, Mobizen can allow you to capture and edit video clips ready for uploading or sharing. Though Mobizen is a really useful tool for Android, some users have reported some lag in their recordings. On top of this, you can only use it on Android devices, so you can't record on your laptop.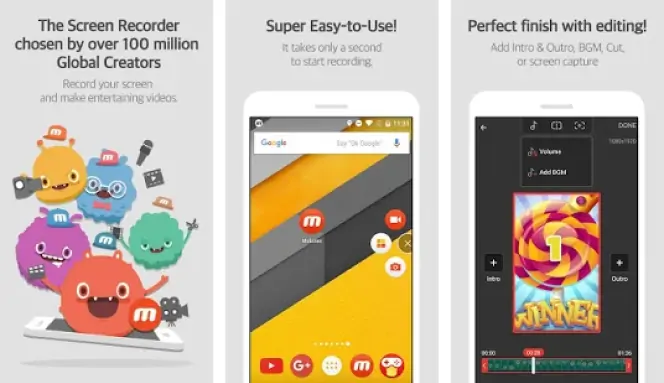 How to Record Google Hangout Video Call Using Mobizen
Install the Mobizen app.
Download Mobizen
Tap the Mobizen widget while on your Google Hangout session.
Alter the settings using the cog icon.
Use the camcorder icon to record the video and the Stop button when you are finished.
To view reviews and what others thought of Mobizen for Android, click the link below.
How to Use a Built-in Recording Feature in Google Meet
Google Hangouts doesn't have a native recorder to use, but Google Meet lets the organizer of a call record the meeting if they wish. This only applies to certain Google Meet plans, including education, business, and enterprise plans, which is a privacy feature to ensure not just anyone can record the meeting. This is frustrating if you are logging into a webinar or meeting on Google Meets and you want to record it for reference, as it isn't an option for attendees.
Google Meet can record in HD and integrates with Drive to save your recordings. If you're a regular user of Google Suite, then you will find this helpful, but long meetings can fill your storage space quickly.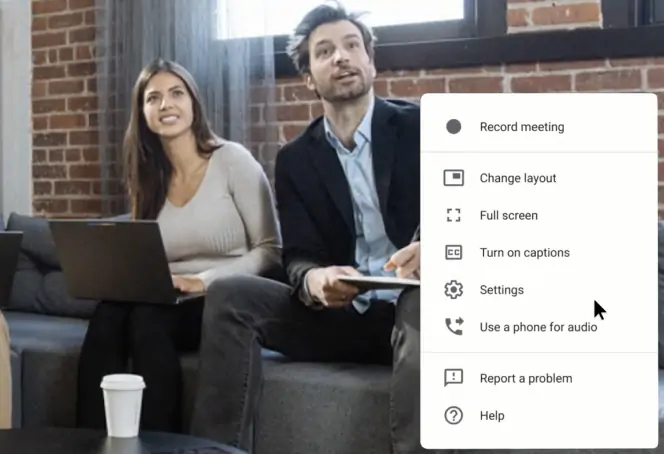 How to Record Google Meet
Open Meet and either start or join the meeting.
Click More and then Record Meeting.
If you have permissions, it will bring up a recording button.
Hit Record, this will notify other participants the meeting isn't private and is being recorded.
When you finish, click More and then Stop recording.
If everyone has left the meeting, the recording will have stopped automatically.
Find the meeting in My Drive, under the Meet Recordings folder.
Frequently Asked Questions
Can you record a Google Hangout session?
Can I record Google Hangout natively within the app? The answer is no. There's no option to record the chat within Hangouts. However, there are many workaround methods using screen recording methods. If you are recording using an iPhone, the inbuilt screen recorder is handy and can be called up in seconds to start recording. For those people who need to record via laptop, a Chrome plugin or even browser capture screen recorders like Movavi can make it easy. Loom is a similar option that is normally used to share shorter videos such as quick tutorials.
Where are Google Hangouts recordings stored?
If you're using Movavi Screen Recorder, your files can be found in the C:\Users\%your_username%\Videos\Movavi Screen Recorder\ folder on Windows or /users/%your_username%/Movies/Movavi Screen Recorder/ on Mac. You can change this option in Preferences. If you're a G Suite user, Google Meet, which is the new version of Hangouts, also allows you to record meetings. This version saves the result to your Google Drive in the Meet Recordings folder and emails you a link to the video.
How Do I Record Audio and Video on Google Hangouts?
First, download and install Movavi Screen Recorder, then launch it. Click the video camera icon on the right side of your screen. Select the area to capture, switch on System Audio and Microphone if you need to record sound – these icons will appear in green when the program is ready to capture audio. When you're about to start the meeting, click the REC button. After a 3-second countdown, Movavi Screen Recorder will begin to capture video. Hit Stop at the end of the meeting. Click Export, adjust the save options, and click Save. You're done!
The classic Google Hangouts doesn't have a recording option. But if you're a G Suite administrator, a member of a business team, or a teacher, you can use the built-in recording tool in Google Meet. After you start or join the meeting, click the three dots in the lower-right corner and hit Record meeting. When you're ready to finish, click Stop recording twice. You can also wait until everyone leaves then meeting, at which point the recording will stop automatically. You will receive a link to your video file by email.
Sign up for news and special offers