Best free webcam recorders
Before we dive deep into product descriptions and ratings, the five best webcam recorders on the market today are the following:
It doesn't matter if you're an experienced influencer with refined webcam recording skills, a beginner looking to simply get your first webcam set up, or somewhere in-between. Having a better understanding of the webcam video recorder and camera recorder products available in 2021 will help you find the best product for the fairest price.
On a tight budget? Check out the free webcam recorder options that we discuss in this piece. An experienced user looking to take your recording capabilities to a professional level? We break down the best webcam recorder software on the market.
No matter the budget, operating system, or specs, by the time you're done reading this article, you'll know which online webcam recorder and webcam capture tools and devices are best suited to you and your needs. Let's get to it.
Best camera recorders for Windows
Looking for a webcam recording tool on Windows? Let's start with the highest-rated option.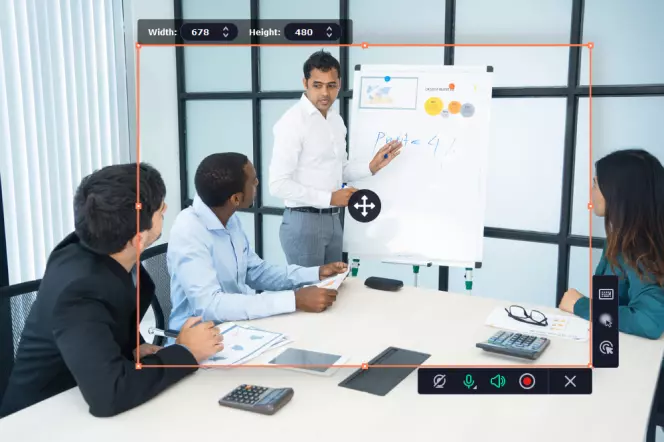 Best for people unfamiliar with webcam recording devices and companies in need of a simple online tool to collaborate, present, or explain the material to colleagues or clients
Rating: 4.5 out of 5 stars, 44 reviews
Movavi Screen Recorder is sleek, easy-to-use software that you can download and use for free. Although the free version has certain limitations (like watermarks and being unable to add descriptions and tags), you'll be able to tell if it's the platform for you quickly after using it.
When using the recorder on your PC, you'll notice a movable, unobtrusive widget appear. Use this widget whenever you want to take screenshots, record video, adjust your recording settings, and export your finished video clips as an MP4 or other file type (depending on your needs).
And if you're happy with the product, Movavi Screen Recorder integrates easily with Movavi Video Editor for a much greater range of editing capabilities.
Pros:
Functional free version available
Intuitive interface
Powerful: full HD (1080p) recordings at 60fps
Cross-device and OS support
Cons:
Free version can't directly upload video files to YouTube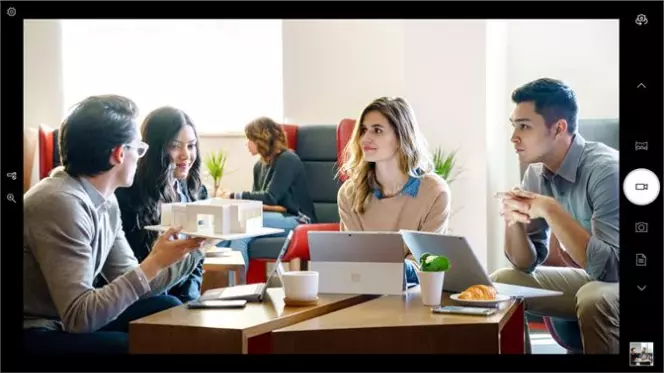 Best for PC users who simply want to record video (but not do much editing work)
Windows Camera is built into Windows OS, so assuming you're a PC user, then it's technically free to use. This tool can record at whatever the highest resolutions and frame rates of your webcam are, so if you're running a decent rig, then Windows Camera can likely handle your basic video-recording needs.
Pros:
Built into the operating system
Simple to use
Cons: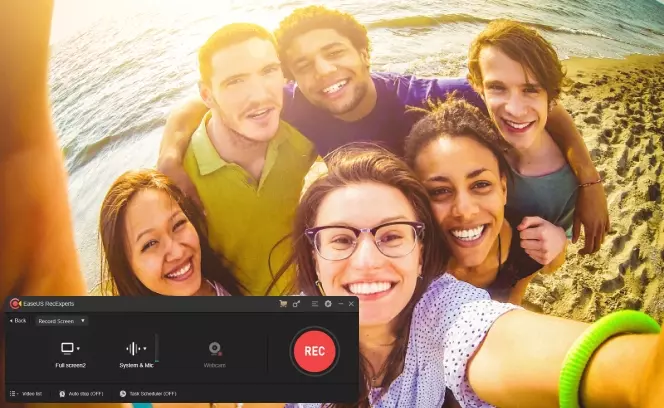 Best for users trying to record intensive applications, like online games or high-definition video
Rating: 4 out of 5 stars
EaseUs RecExperts is feature-rich recording software that has many of the tools necessary for professionals to create videos on their computers. It handles all the basics like recording system sound, audio recording, and video overlay. It comes with additional features to make your life easier, such as letting you schedule and automate recordings.
Whether you're looking to record a 4K video or simply want to put together a webinar, EaseUs can help you get the job done.
Pros:
High-resolution support
Easy video overlay
Automated recording
Cons:
Lacks a powerful video editor
Requires third-party software to encrypt videos
Best webcam video recorders for Mac
Running Mac OS and looking for screen capture and video recording tool? Check out these three options: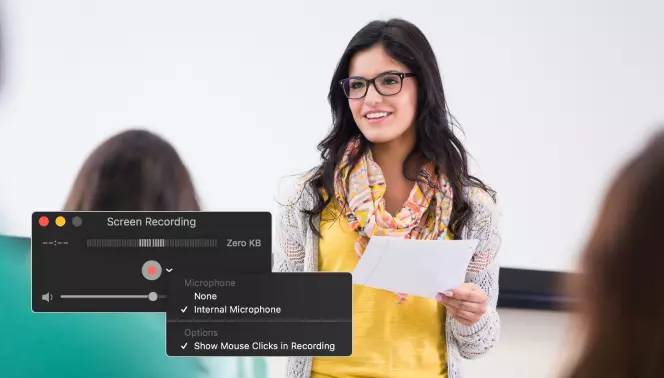 Best for current Mac users looking for a convenient, free way to record the screen on their Mac devices
QuickTime is a lean application bundled with macOS that's capable of video editing, screen recording, and capturing moments on your Macbook laptop, iPhone, and iPad. Intuitive and clean like most Apple products, QuickTime is an effective and straightforward way of manipulating and recording video to your chosen Apple device.
Pros:
If you run macOS on any device, you already have it
Integrates with iTunes
Cons:
Limited features
Can't play SRT files (for subtitles)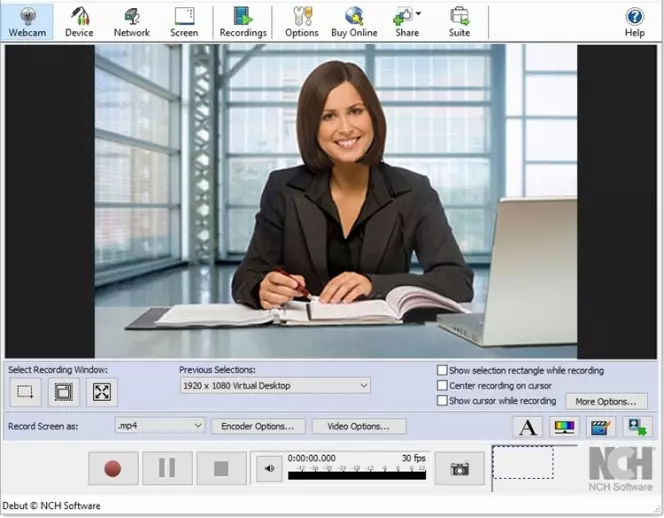 Best for amateurs looking to take their screen or webcam recording beyond a pre-installed app like QuickTime
Debut Video Capture is free software for Mac that features both webcam and screen recording capabilities. Whether you want to record the entire screen or a specific section, it's simple to frame and record video then save it as an MP4, WMV, FLV, or other popular file format.
Debut also features a green screen tool, the ability to include a watermark or logo to your video, and lets you record audio simultaneously. With this range of features, it's a solid free webcam and screen recorder choice.
Pros:
Many free features
Can schedule recordings
Able to use your own webcam or the screen
Cons:
Not built to record video-game footage
The interface looks a bit old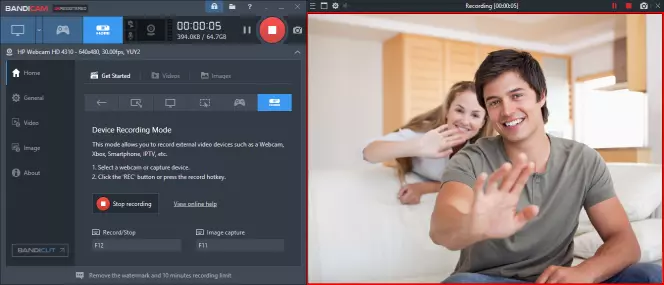 Best for casual users looking to make a short screen recording for free, or pro users willing to pay for advanced video editing features
Rating: 4.4 of 5 stars, 23 reviews
Bandicam is a powerful tool for recording high-quality video, audio, and screen captures. Users can use hotkeys to quickly execute commands, and Bandicam's YouTube channel can give you some tips for getting the most use out of their features. Bandicam lets you compress, edit, and manipulate recordings with ease.
Pros:
Strong real-time recording tools (drawing objects, mouse effects)
Audio recording (system sound + microphone) and editing is made easy
Cons:
Recording limit for the free version
Occasionally freezes
Best online video camera recorders
Looking for more feature-rich video recording options for your webcam? The following three online video camera tools are a good place to start: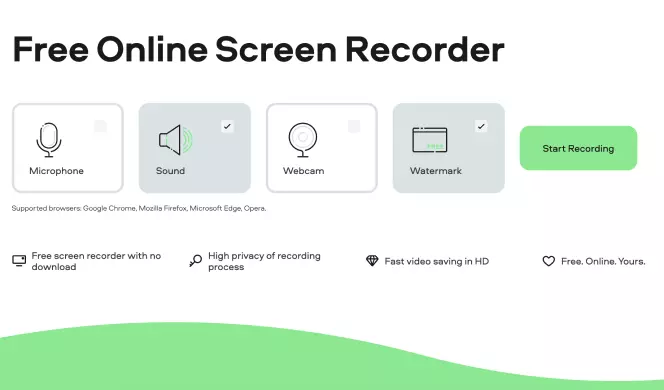 Best for beginners to webcams and video content who want an easy and fun way to record and tweak video footage
Rating: 4.6 out of 5 stars, 93 reviews
Screencapture is a free webcam recorder that lets you easily record 1. your desktop and 2. video from your webcam at the same time through your browser. With a range of straight-forwarding editing tools, Screencapture helps you not only record but quickly make adjustments to your new video files without the need to buy heavy-duty video editor software.
You can even add text, subs, and audio to your completed recordings for additional customization, making Screencapture suitable for creating presentations and YouTube videos.
Pros:
Sleek interface
Helpful tutorials
Fast HD video export
Cons:
The free version is watermarked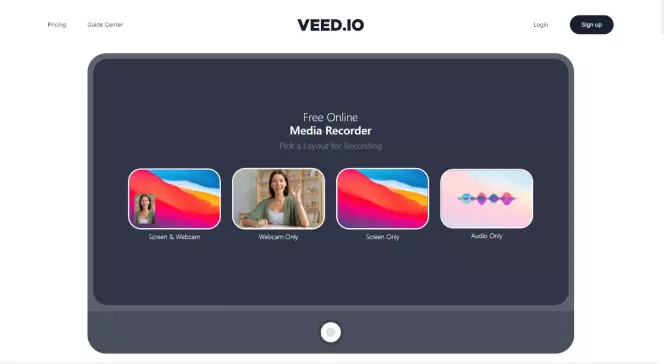 Best for users interested in presenting content (like products, video reviews, etc.) via social media
Rating: 4.4 out of 5 stars, 16 reviews
VEED.IO is a convenient browser tool for online webcam and screen recording that requires no download to get started. Their website is easy to navigate, and they've provided walkthroughs for the various supported editing and recording features.
VEED is simply a sleek, modern tool for users looking to record their screen, audio, webcam, or all three simultaneously.
Pros:
Facilitates team collaboration
Granular editing functions
Transform podcasts into video content
Cons:
Occasional crashes and bugs reported by users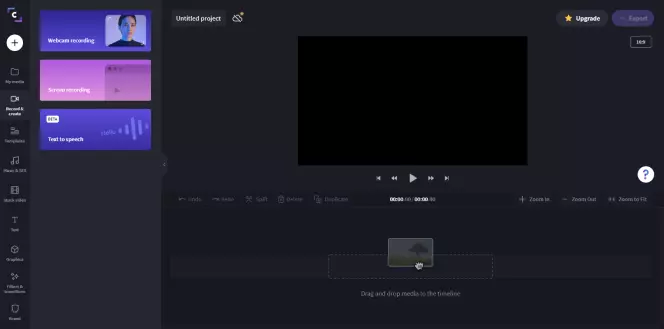 Best for users with fast computers because video exporting is done using computer resources rather than on the cloud
Rating: 4.6 out of 5 stars, 3,221 reviews
Clipchamp is an effective editor and recording browser tool that lets you easily integrate your video content into other popular apps like Google Workspace, Dropbox, Pinterest, Zoom, YouTube, and Giphy. If such integrations make your life as an amateur video editor or creator easier, Clipchamp is worth checking out.
Pros:
Built-in integration with popular applications
Easy access to recordings via the cloud
Cons:
Reported by users to occasionally be slow and even crash
Best Google Chrome extensions to record webcam videos
If you want to record a webcam video using only a Google Chrome extension, you're in luck. Here are your three best selections: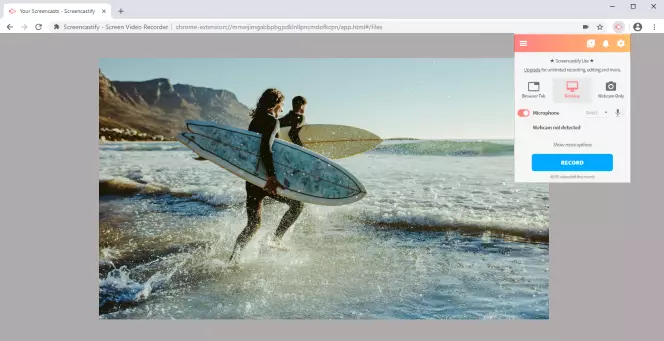 Best for teachers trying to incorporate more video into their live classes, especially ones stuck at home teaching remotely
Rating: 4 out of 5 stars, 10,000,000+ users, 11,500+ reviews
Screencastify is the most downloaded screen capture and webcam recording extension for Google Chrome, and it's easy to see why. With a free version that doesn't include watermarks and many of its main features included (video trimming, support for different file exports, unlimited # of recordings), Screencastify has a lot to offer many groups of users.
If you're a Chrome user and are comfortable with Google Workspace, Screencastify also makes it easy to save videos to your Google Drive and share them via Google Classroom.
Pros:
Robust free version and an affordable ($24 / year) paid version
Easy to learn and use
Can include text and simple shapes in real-time
Cons:
Free recordings restricted to 5 minutes or less
Not as easy to use outside of your Chrome browser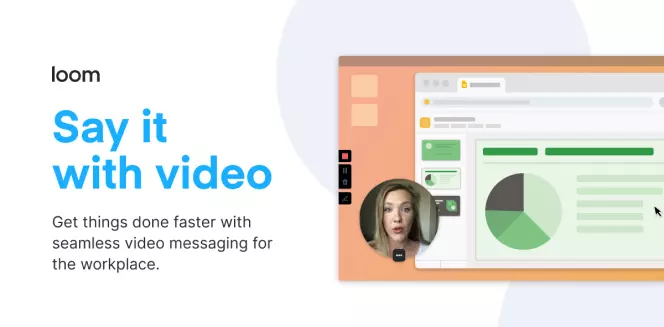 Best for businesses in need of a video collaboration tool for working with colleagues and/or clients
Rating: 4.7 out of 5 stars, 4,000,000+ users, 10,000+ reviews
Loom is a business-facing Chrome extension that targets the video and screen capture needs of companies operating primarily online.
With much of the US workforce turning to remote work because of the pandemic, a tool like Loom has helped lighten the burden by making whiteboard-style presentations and conferences easy to execute. Recording your screen along with your voice and face simultaneously is made simple and lets you engage with customers and coworkers almost as well as if you were meeting in person.
Pros:
A highly collaborative tool with several collaboration-specific features
Analytics dashboard for paid users
Intuitive
Cons:
The free version is restrictive
Can get expensive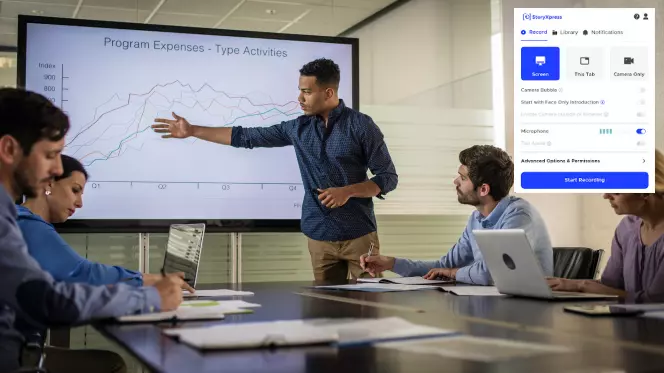 Best for sales and marketing teams looking to drive further engagement with their videos
Rating: 4 out of 5 stars, 200,000+ users, 179 reviews
Screen Recorder + Webcam Screen Video Recorder is another free Google Chrome extension with paid features that make it a lot more feasible for heavy video users. But if you're fine recording video and capturing parts or all of your screens for sub-10-minute clips, it's a solid free option for amateurs and enthusiasts.
Paid users can enjoy Video Analytics, editing customization tools for making branded intros and outros, higher resolution recording, video libraries, and more – functions targeted at companies and professional teams.
Pros:
Record camera and video footage offline
The process implemented to reduce the possibility of your video upload failing
Cons:
User-reported bugs (like crashing and the video cutting off)
Best webcam recording apps for Linux
Linux has some excellent screen capture and video recording options available for its users. Here are the top three: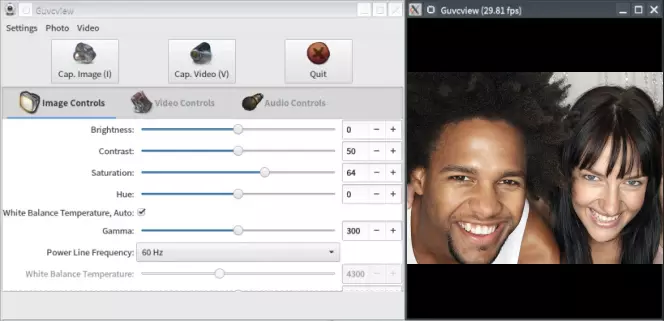 Best for tech-savvy users in need of webcam recording, as well as people already using Logitech camera devices
Rating: 4.5 out of 5 stars, 13 reviews
Guvcview is a straightforward webcam recorder for Linux, with a two-window interface to simplify navigation (one window for the camera, the other to operate menus and settings).
Guvcview also allows vendors to create extension controls so that their users can make even more use out of their software. Currently, Logitech (one of the major global webcam manufacturers) has taken advantage of this option and provides extension controls for anyone using Guvcview with a Logitech recording device.
Pros:
Vendor-specific enhancements
Simple interface
Cons:
Lacks video-editing functions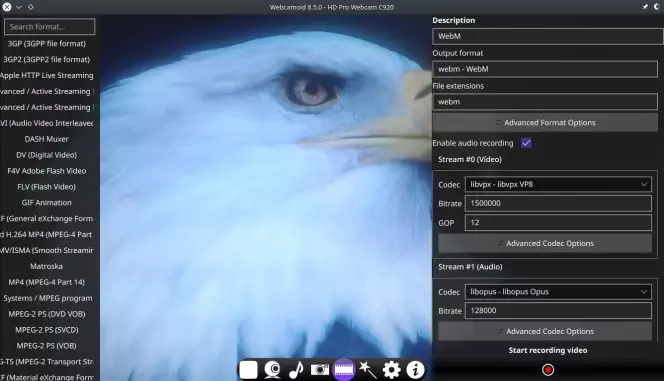 Best for anyone looking to spice up their webcam and screen capture videos with interesting effects and robust editing features
Webcamoid is another highly rated video recording tool with a variety of interesting editing features. For instance, you can pixelate your face or even send yourself into the matrix with Webcamoid's range of fun built-in effects.
Pros:
A strong video editing tool
Modern interface with big buttons
Cons:
File configuration settings are not easy to use for beginners
Sometimes runs a bit slow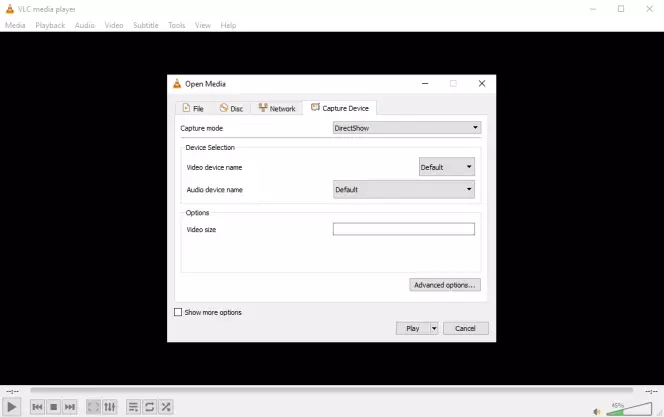 Best for anyone who downloads a lot of video content and needs one place to access all that content
The VLC media player is one of the most widely used pieces of video-related software you can find online. It's compatible with a huge range of file formats and lets you modify them in a variety of ways.
For instance, if you want to cut a clip from a movie and save it as an individual file, take a snapshot, or even adjust the frame rate of a video clip, all of these features are built into your player. So if you already have VLC on your computer, try using it for your screen capture and recording needs.
Pros:
An immense range of files supported
Easily convert video files into audio files
Cons:
Comparing webcam recorders
App

Operating systems

Output formats

Pros & cons

Movavi Screen Recorder
macOS, Windows
MP4, AVI, MOV, MKV, GIF, MP3, PNG, BMP, JPG
Fast and powerful at recording and exporting video
but
The free version is feature-limited
Windows Camera
Windows
Depends on the device you're using
Simple
but
Limited to recording and screen captures
EaseUs RecExperts
Windows
Video – MP4, WMV, AVI, FLV, MPEG, VOB, and more.
Audio – WAVE, MP3, AAC, and a lot more.
Helpful features like automated recording
but
Lacks powerful editing tools
QuickTime
macOS
AVI for video files, plus WAV, AIFF, MPEG-1 AVR, DV, OpenDML
Integrates with Mac apps like iTunes
but
Isn't compatible with non-Mac file types like SRT
Debut Video Capture
macOS
MPG, MP4, AVI, WMV, FLV, MOV
Feature-rich
but
Dated interface
Bandicam
Windows
MP4, AVI, HEVC, H.264, XVID, MPEG-1: MPEG-1, JPEG, YV15, RGB24, VFW, VBR/CBR
Helpful real-time effects
but
Sometimes freezes
Screencapture
Online browser
MP4, AVI, MOV, MKV, GIF, MP3, PNG, BMP, JPG, and more
Helpful tutorials and customer service support
but
Content is watermarked
VEED.IO
Online browser
MP4, MOV, MKV, AVI, WMV, FLV
Strong team-building ethos incorporated into the product
but
It's sometimes buggy
Clipchamp
Online browser
MP4, MOV, 3GP, WMV, VOB, DCM, WebM, AVI, DIVX, FLV, MKV
Integrates into major cloud applications
but
Recording slows down and sometimes crashes
Screencastify
Google Chrome
MP4, GIF, MP3, WebM, VP8
The free version includes major features
but
Recording time is restricted to 5 minutes
Loom
Google Chrome
MOV, MP4, AVI, WMV, WebM
Powerful video analytics
but
Expensive
Screen Recorder + Webcam Screen Video Recorder
Google Chrome
MP4, AVI, WMV, MOV, MPEG4, MPEGPS, FLV, 3GPP, WebM
Can record offline
but
Sometimes the video gets cut off
Guvcview
Linux
MP4, ASF, GXF, ISMV, MKV, AVI, GIF, DV, F4V, FLV, MPEG-1, MPEG-2, 3GP, 3GP2, MXF
Integrates with Logitech webcams
but
Is missing helpful video editing tools
Webcamoid
macOS, Windows, Linux
MP4, MKV, NUT, OGG, MOV, SWF, WebM, WTV, MPEG, MPEG-2
Excellent video editing capabilities
but
Can be difficult to set your preferred configurations
VLC
macOS, Windows, Linux, Android, iOS
MP4, DTS, ASF, MPEG (ES, PS, TS, PVA, MP3), AVI, WMV, WMA, MOV, 3GP, OGM, MKV, OGG, WAV, AAC, AC3/A52, Raw DV, FLAC, FLV, MXF, Nut
Huge range of input and output options
but
Has faced hacking issues in the recent past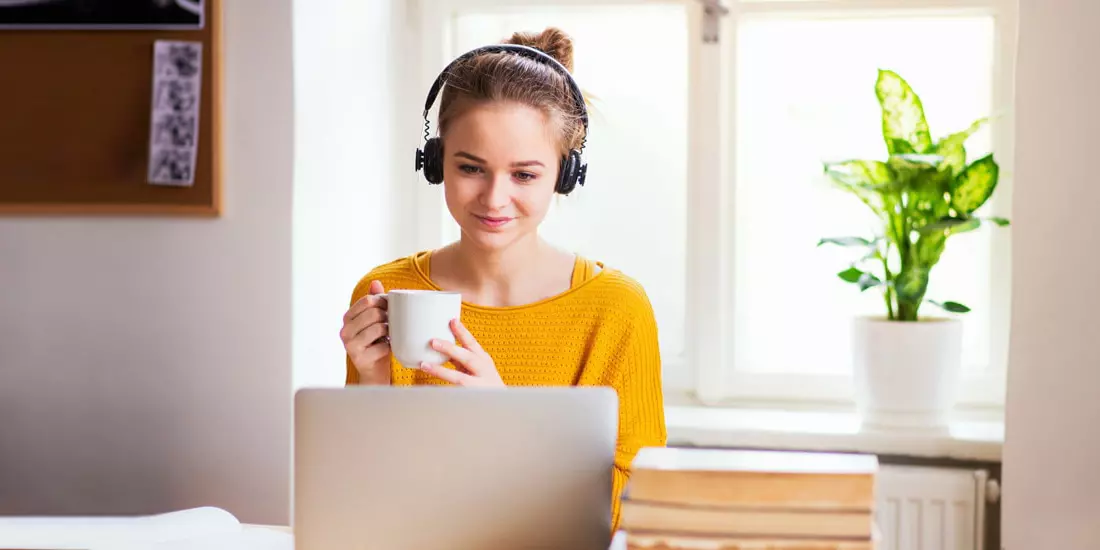 Movavi Screen Recorder
The perfect way to record from your screen
Disclaimer: Please be aware that Movavi Screen Recorder does not allow capture of copy-protected video and audio streams. Learn more
Frequently asked questions
What is the best webcam recorder?
Depending on your needs, these are the best webcam recorders available online today:
Movavi Screen Recorder: easy to use, multi-language and multi-device support, and powerful editing features in HD
Screencapture – a streamlined online screen capture tool that makes recording yourself or your screen simple
Screencastify – a dynamic Google Chrome extension that has a wide range of features (many of which are included in the free version)
How can I improve the quality of my webcam?
Improving the quality of your webcam is as simple as taking the following five steps (in any order):
Use studio lighting to add sharpness and clarity to your video.
Film during the daytime and utilize natural light.
Make sure the light illuminates your face rather than the back of your head – placing light in front of you will result in clearer video.
Tweak your settings to hit the right level of light by adjusting exposure, ISO, and gain values, as well as white balance.
Use a Lookup Table (LUTs) to help you tweak color grading.
How do I record a webcam video?
Recording a webcam video with a video maker / editor / recorder tool is a straightforward process.
Here's how you can easily record a webcam video step by step using Movavi Screen Recorder:
Open the tool (download and set it up first if you haven't yet).
Adjust the size of your recording (pixel width) by clicking and dragging the window.
Set your preferred audio settings.
Select whether you want to record cursor movements, mouse clicks, or keyboard strokes using the options menu.
Click the Recording button, pause, and stop as necessary.
Edit as you'd like, and save it in your preferred file type.
Sign up for news and special offers