Our review of the best video grabbers
If you want to enjoy videos independently from hostings or just save them for later, a video grabber may help. You can save clips via desktop screen-recording software or use a video grabber online.
Software

OS

Best for

Download

Movavi Screen Recorder
Windows, Mac

Lots of features

Editor included

ClipGrab
Windows, Mac, Linux
Easy-to-use search function for YouTube videos
JDownloader
Windows, Mac, Linux, and more

Simple and intuitive to use

Gets updated frequently

4K Video Downloader
Windows, Mac, Linux

Advanced download and subtitle option

You can stream 3D and 360-degree images

Video­Grabber.net
Web-based

Many download formats available

Also downloads HD videos

Screen­capture.com
Web-based

Free screen recorder

Fast video saving in Full HD

Video­Grabber.cc
Web-based

No unnecessary advertise­ment

Fast and straightfor­ward

SaveFrom.net
Web-based

Offers HD-quality videos

Fast download speed

Video Download­Helper
Browser extension

Lightweight and fast tool

Comes with the user manual

Video Downloader Professional
Browser extension

Allows playing videos on TV

Downloads online videos fast

Video Downloader Plus
Browser extension

Can grab multiple videos simultane­ously

Detects and saves any type of format

Loom
Browser extension

Videos are stored at no cost

Saves up to 25 videos
Making a video grabbing could help you have the videos downloaded so you can enjoy them during your free time. Here we will tell you how to screen-grab video content from popular video sites through software and online video grabber channels above. Some allow users to download videos; some of them are screen recorders that function as video grabbers.
Desktop video grabber software
The first method, which involves the use of video grabber software, is only suitable for Windows and/or Mac operating systems. These may, however, be incompatible with smartphones with Android or iPhone operating systems.
OS: Windows, Mac
Price: $57.95
Best for: Windows and Mac operating systems
G2 rating: 4.5 out of 5 stars, 41 good reviews out of 44
Movavi Screen Recorder is a desktop software for Windows and Mac. It offers many options for capturing the screen, but it also provides the user with an editor to edit the captured movies. It is possible to pause the screen capture and resume it later, but when you click the Stop button, the video will be captured and shown in an integrated player, which already allows some minor adjustments. On this screen, it will be possible to see what has just been captured. The free trial version allows you to test the software with the Movavi watermark on the screen but without the possibility to export the captured videos.
Pros:
Packed with features
Lots of screen-capture options
Editing tool included
Complete, but intuitive in operation
Cons:
The free version puts a watermark on videos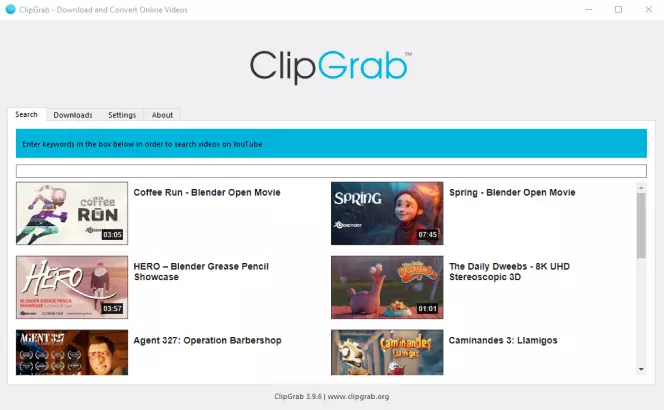 OS: Windows, Mac, Linux
Price: Free
Best for: downloading videos from YouTube
TechRadar rating: 4.5 out of 5 stars
ClipGrab is a free video capture and conversion program for YouTube, Vimeo, Facebook, and many other popular video sites. It is a browser extension that works mainly for Windows. It can convert downloaded videos to many formats in one simple step. The ClipGrab for Windows installer includes InstallCore, an advertising software module classified as a potentially unwanted program (PUP) or potentially unwanted application (PUA) by some anti-malware products.
Pros:
Offers a built-in, easy-to-use search function for YouTube videos
Captures HD video (1080p and 720p) and converts downloaded videos to MP3, MPEG4, or other formats
Cons:
ClipGrab has been described as "litter-loaded" software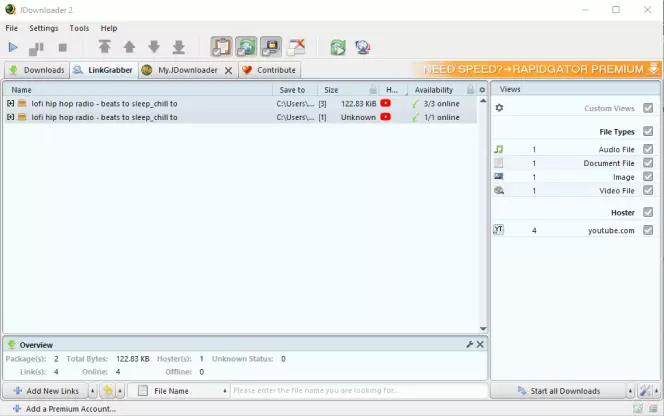 OS: Windows, Mac, Linux, and more
Price: Free
Best for: advanced users who need a free service
TechRadar rating: 4 out of 5 stars
JDownloader allows you to download and save videos from a wide range of websites instantly and conveniently. It offers faster video transfers using multi-threaded download technologies. You can upload 4K, HD, or other standard content of your choice. JDownloader also allows you to watch and enjoy multiple videos at the same time. The desktop software has the so-called Link Grabber that tracks the clipboard to identify and download the video automatically. Remote monitoring helps you track downloads when you are away from your device. It also allows you to import standard files from various file-sharing sites.
Pros:
It has a simple and intuitive style
Very easy to use
Gets updated frequently
Cons:
Requires a lot of memory space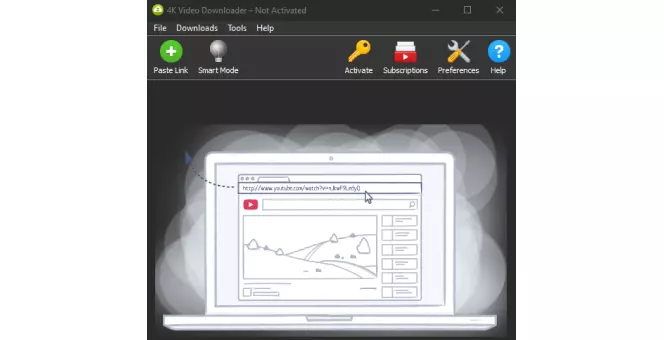 OS: Windows, Mac, Linux
Price: Free
Best for: leisure and advanced use
Trustpilot rating: 4.7 out of 5 stars, 253 good reviews out of 279
4K Video Downloader is a desktop software for PCs that allows downloading of playlists, channels, videos, and subtitles from YouTube, Facebook, TikTok, Vimeo, and other video sites in high quality. It is a basic video downloader that helps you to save all your favorite Internet videos on your device. 4K Video Downloader supports all popular video pages. 4K and 8K HD video downloads are supported. It also allows you to download videos in a group. You can download an entire playlist and channel from YouTube and save the downloaded files in MP4, MP3, M4A, FLV, MKV, 3GP. It captures video in HD 720p, HD 1080p, or 4K. The software offers support for downloading subtitles in the .srt file and for 360° video viewing. Multi-threaded update technology makes it easy to stream to this freeware software. Plus, the Smart Mode feature ensures that all videos are seamlessly accessible using your desired settings.
Pros:
You can download all playlists and networks
The software comes with an advanced download and subtitle option
You can stream 3D and 360-degree images
Cons:
4K Video Downloader is only available on desktop operating systems: Windows, macOS, and Ubuntu
Best video grabbers online
Video grabber online services are offered to virtually all operating systems: Android, iOS, Windows, macOS, and more. You don't need to have an extension or program downloaded on your system to access the service. Some of the best online video grabber services are listed below.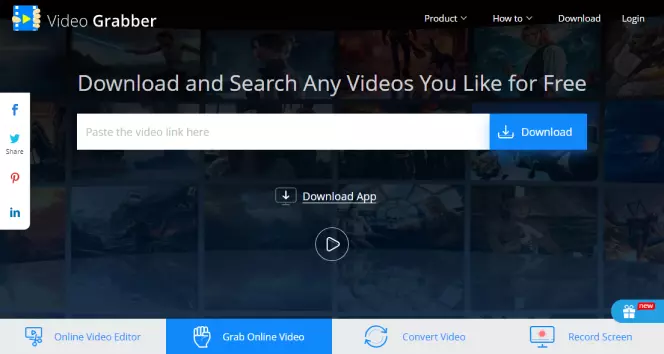 OS: Web-based
Price: Free
Best for: professional screen recording
Video Grabber is an all-in-one video editing platform for cloud-based video saving. You can search for videos on the site and also download videos. Just paste the video link and download. VideoGrabber.net lets you download videos into various formats, from MP4 to FLV, 3GP, WEBM, WMV, and MP3. You can also download high-definition videos by using the online service. You can use the service to grab video from a website if you don't want to download any additional apps for this task.
Pros:
Many download formats available
Also downloads HD videos
Suitable for audio and video downloads
Cons:
Only limited usage in the free trial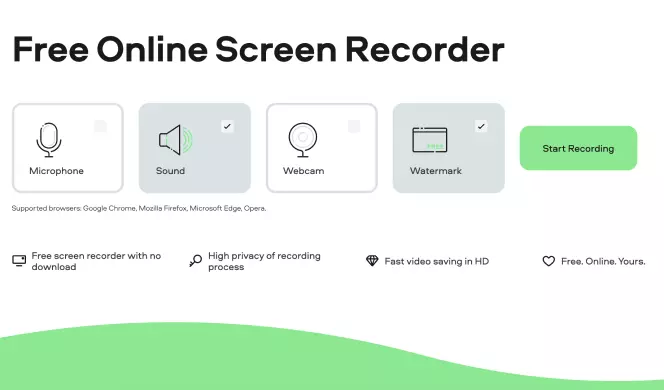 OS: Web-based
Price: Free
Best for: capturing streamed videos
Trustpilot rating: 4.6 out of 5 stars, 49 good reviews out of 70
Screen Capture is an online screen-grabbing service that captures everything you want on a desktop. It captures videos through supported browsing software. These can be Google Chrome, Microsoft Edge, Mozilla Firefox, or Opera. You can schedule recordings, snow keystrokes, draw on the videos or save files on almost all popular formats. You can grab the activities on your screen, include your face in the video through a webcam, and can also record your screens with sounds.
Pros:
Free screen recorder
Offers high privacy during the recording process
Fast video saving in Full HD
Cons: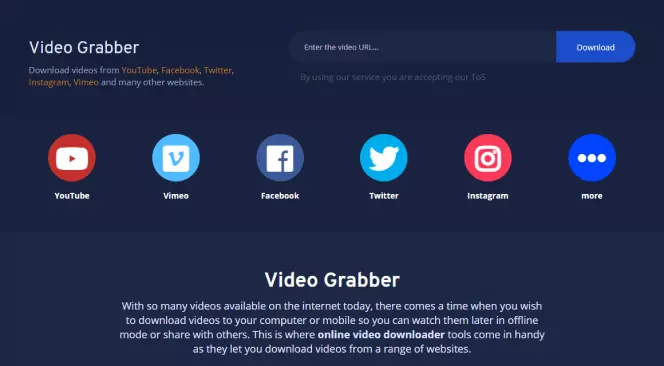 OS: Web-based
Price: Free
Best for: YouTube, Vimeo, Twitter, Facebook, and Instagram
Video Grabber is an online service that allows you to download any video. It downloads videos into 480 x 270, 640 x 360, 1280 x 720, and 480 x 27 into different formats from MP4 to M3U8. It is fast, safe, and secure. It helps users grab videos for free. However, you can only convert videos that have links and can already be shared. It doesn't show unnecessary ads, and the service is free.
Pros:
No unnecessary advertisement
Available in MP4 and M3U8 formats
Fast and straightforward
Cons: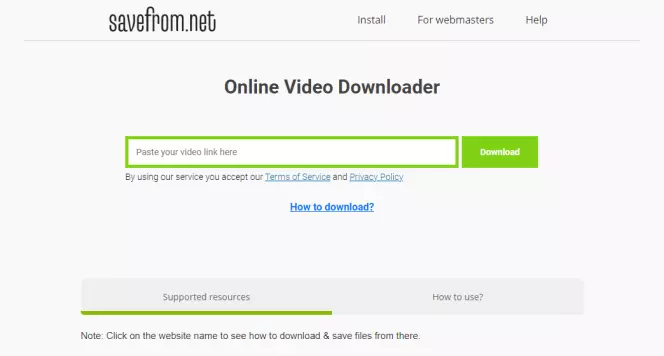 OS: Web-based
Price: Free
Best for: instant downloads
Many Internet sites allow you to download videos from the Web: one of the most popular is SaveFrom.net. Its strength is undoubtedly in the minimal and straightforward user interface, designed to download a video on the fly without distractions. To start using it, go to the official web page. Then in the bar located in the center of the screen, paste the address of the movie to download and then click on the download video button in the browser, located at the bottom of the new screen that will open. This tool is also available in the form of a browser extension, and you can install it by clicking on the Install button.
Pros:
Downloads videos to various compatible formats
Offers HD-quality videos
Fast download speed
Cons:
Displays lots of ads
Not for all video hosting sites
How to screen-grab videos in your browser
These browser extensions allow you to download and save videos from a wide range of websites instantly and conveniently. They can be installed on Chrome, Mozilla Firefox, or other browsers. However, they support only a few browsers.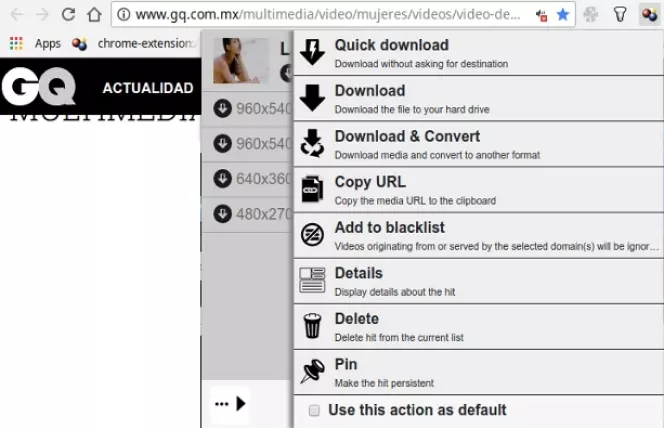 OS: Browser extension
Price: Free
Best for: Mozilla Firefox
Chrome web store rating: 4.3 out of 5 stars, 9,719 good reviews out of 12,286
This is one of the Mozilla Firefox add-ons that makes it easy to download videos from various platforms used to distribute this type of content. Like Facebook, Vimeo, Vine, Periscope, Break, Metacafe, Twitch, Dailymotion, etc. Among other features, it allows you to select the desired resolution for the video, and you can even record Periscope and Twitter sessions with it. It is one of the best browser extensions you can install on Chrome or Firefox. Using it is very simple: a button is added next to the address bar of the browser. Whenever you stumble upon a video that interests you, click it, and it will download.
Pros:
It is a lightweight and fast tool
Comes with a user manual
For virtually all video hosting sites
Cons:
Isn't supported on Mac
Browser may freeze if multiple videos are queued
Video Downloader Professional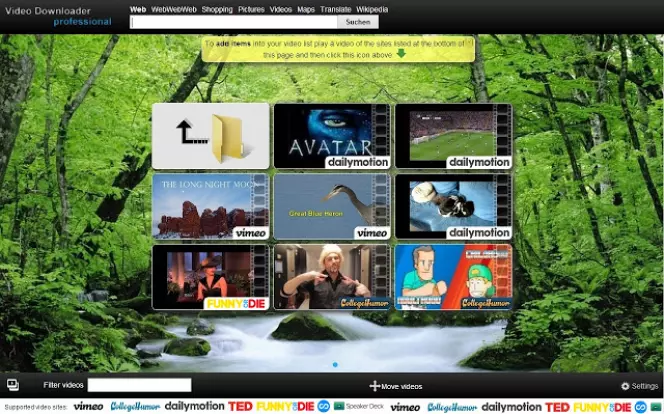 OS: Browser extension
Price: Free
Best for: downloading videos on TV
Chrome web store rating: 4.5 out of 5 stars, 163,944 good reviews out of 205,295
This is one of the main extensions provided by Chrome to its users to download videos posted on YouTube. This way, you can enjoy them offline whenever you want in an MP4 file that you can play on any computer and mobile device. When you install this tool, a new icon will be added to the browser bar from which you can download and save the clip. Not just for Chrome browser, it is also available for Firefox.
Pros:
Allows playing videos on TV
Downloads online videos faster
Cons:
Only compatible with Chrome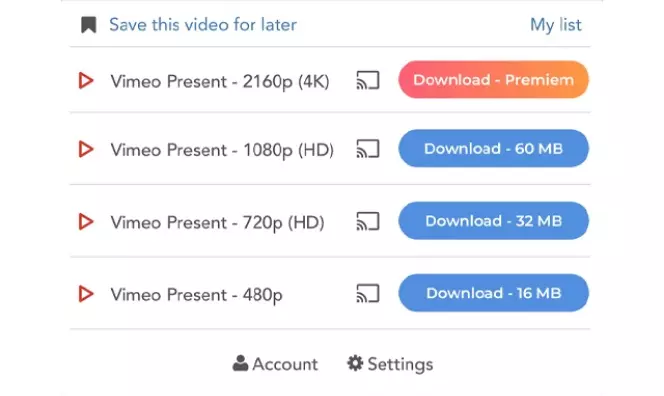 OS: Browser extension
Price: Free
Best for: users who want a free extension with no ads
Chrome web store rating: 4.5 out of 5 stars, 2,736 good reviews out of 4,270
Video Downloader Plus is an extension that helps you grab a video from a website on Firefox or Chrome. It supports sites like Facebook, Vimeo, Twitch, Dailymotion, RaiPlay, and other streaming websites. One of the best browser extensions for video downloaders, it can download all popular media types from any website. You need to add the extension available for Chrome and Firefox, and an icon will be created on the top bar. When you are on a site that contains a video, you need to click on the icon, and the list of available video formats will appear. Just click Download, and the video will download to the Downloads folder. You can save videos in .3GP, .MP4, .MP3, .WMV, and .FLV. The quality is exceptional because the different resolutions in which you can download videos are offered.
Pros:
You can grab multiple videos simultaneously
Detects and saves any type of format
Free and easy to use
Without ads and unlimited
Cons:
Extension doesn't work with YouTube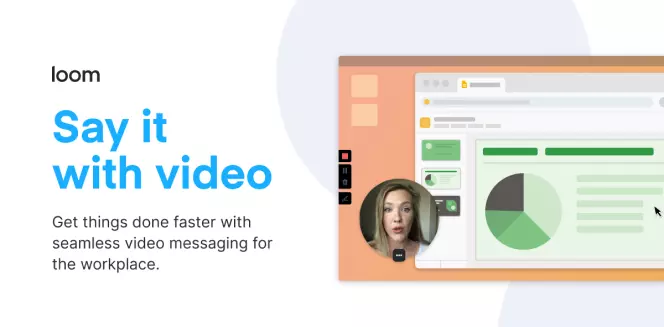 OS: Browser extension
Price: Free
Best for: recording and sharing videos
Chrome web store rating: 4.7 out of 5 stars, 8,052 good reviews out of 10,071
The Loom desktop client has three different recording modes: Camera Only, Screen Only, and Screen + Camera. You can quickly access the menu by clicking the ellipsis in the upper right corner of the program and selecting Preferences to adjust the default recording options to best suit your needs. For example, users can set the quality of their recording to automatically adjust according to available bandwidth or a number between 360p and 1080p. You can also decide if the control menu is visible, have a countdown before your recordings begin, and highlight the clicks you make with the mouse while recording.
Pros:
You can start, stop, pause, resume, and cancel recording
You can save and access up to 25 videos
All Loom videos are stored at no cost
Cons:
Only works on Chrome extensions
How to grab a video from a website
Movavi Screen Recorder is capable of grabbing videos from websites and lets you record any screen activities to create video clips while browsing the web, watching online videos, chatting via Skype, or working with a new application. Download Movavi Screen Recorder right now and read this guide to learn how to use it.
Step 1. Install and run the video grabber
Once you've downloaded the app, install it according to the on-screen instructions.
Step 2. Set the recording parameters
First, click on the Screen recording icon and designate the capture area by drawing the capture frame with your mouse. You can also adjust the size of the capture area later by pulling on the frame's edges.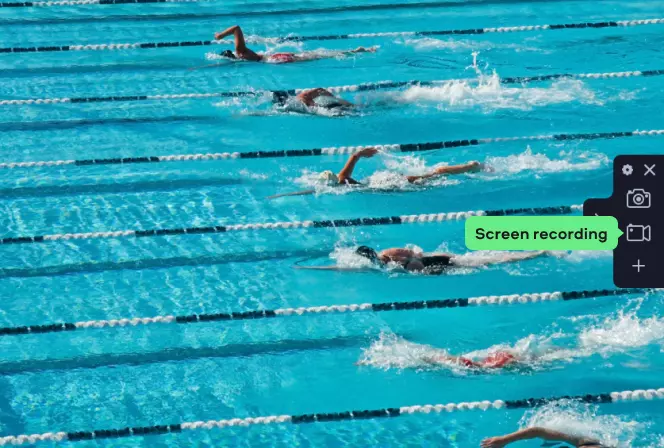 Now set the audio preferences. By default, the program captures sound from your output sound device. If you also want to use an input device (microphone or other), click the Microphone icon to activate input device sound capture. Make sure you have your microphone plugged in. If you connect more than one input device, you'll need to open the drop-down list above the microphone icon and pick the name of the other device(s) from the list.
You can also add webcam video to your screen recording. To do this, click on the Webcam button – it should turn green.
For a more informative video, you can configure the program to memorize keyboard and mouse actions. To do this, go to the Effects menu and set up the Keystroke Recording or Cursor Effects.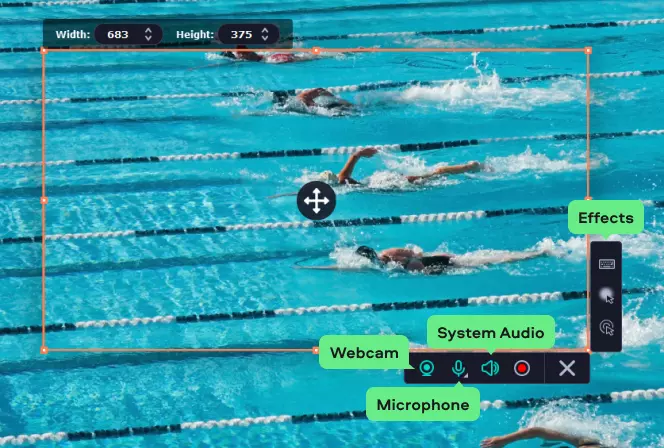 Now click REC on your screen to grab a video. You can manage the process by clicking the appropriate buttons on the program's control panel or use hotkeys: in Windows, press F9 to pause/resume the process and F10 to complete it. To take a screenshot, hit F8. If you're a Mac user, press ⌥ ⌘ 1, ⌥ ⌘ 2, and ⌥ ⌘ 3, respectively.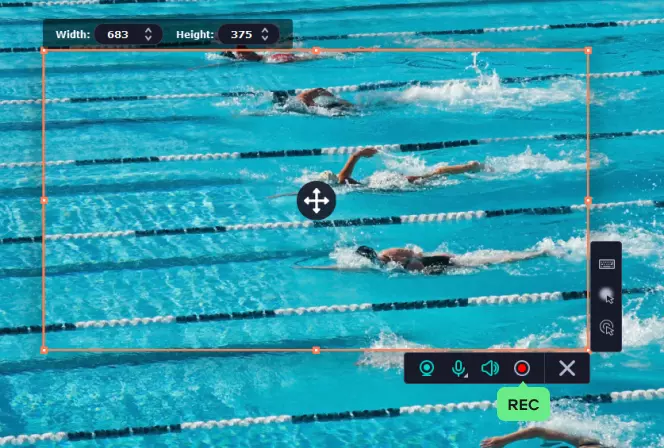 Step 4. Trim and convert the footage (optional)
After you've finished grabbing your footage, it will be automatically saved in MKV, so if you don't need any editing or format changes, you can simply check your recording in the preview window. If there are any segments you'd like to cut out, use the Cut tool to mark the beginning and end of the unwanted fragment, then select it with the left mouse click and remove it using the Delete button.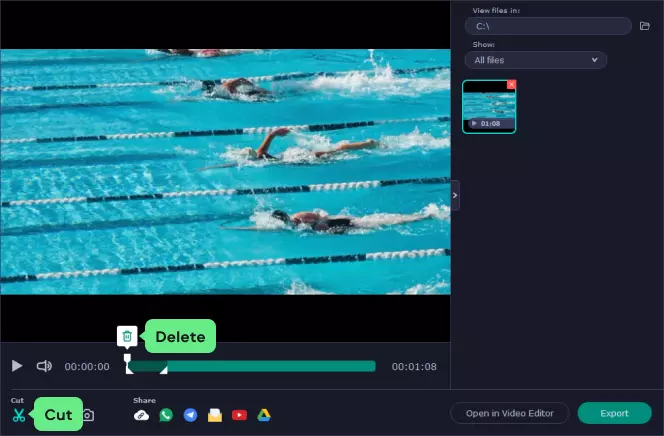 Click Export to apply any changes you've made, an export dialog will open. Here, you can choose a new format for your recording. Finally, hit Save and wait for the clip grabber to finish processing your video. Screen Recorder is the best tool that will help you save any video to your hard disk!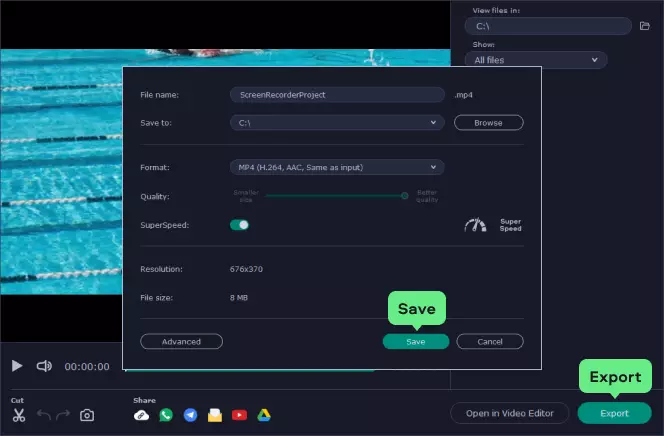 Conclusion: What to look for in a screen grabber
We hope this article will help you find what you are looking for. Here is a short list of things you should pay attention to when choosing the best free video grabber software:
Watermark: there are a lot of apps that are technically free. But they leave a mark on your recordings.
Quality: make sure that the app provides the necessary quality of sound and imagery. It may be relevant for your recording to be clear and understandable.
Features: if you need anything besides video grabbing, like export to the cloud, for example, you find it in the features descriptions. Check the official websites of the apps for more information before downloading anything.
Reviews: it is a good idea to see what other people have to say about an app you are about to download. User reviews can hint at hidden issues or perks.
Support: it is good to know that you can contact the support team via live chat, email, or else in case of trouble. If there is no such option, it is better to consider using another app.
Video grabbers help you save videos so you can stream them anywhere and wherever you want. It doesn't matter if you keep the videos to pass the time or for educational purposes, these resources will help you a lot. We have attempted to cover as many services as possible so you can quickly find an app that can help you import your favorite content.
Warning: Illegal downloading of copyrighted videos is illegal. This tutorial was written for illustrative purposes only. It is not our intention to encourage piracy, and therefore, we do not take any responsibility for how you will use the information contained in it.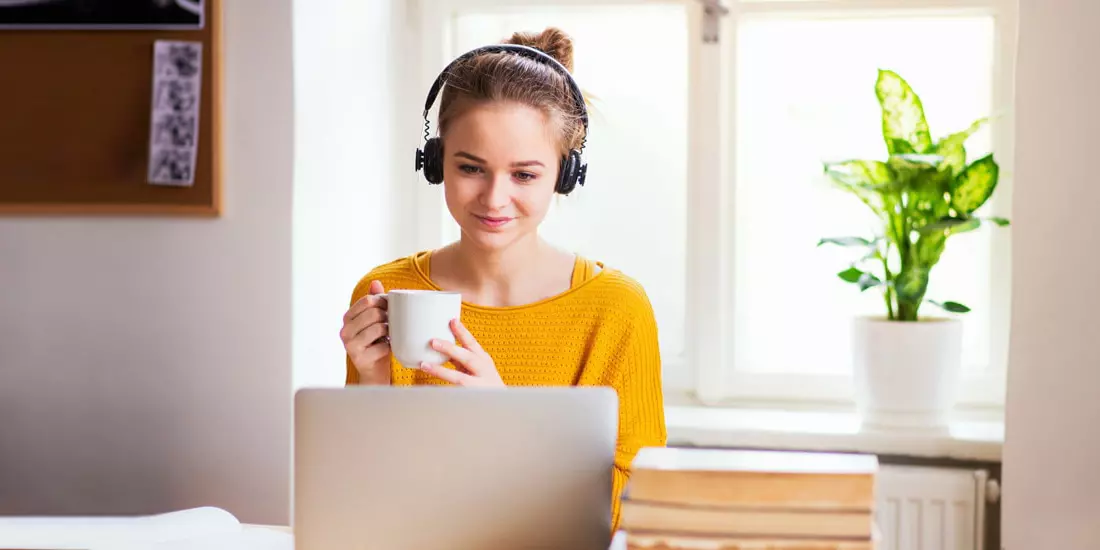 Movavi Screen Recorder
The perfect way to record from your screen
Frequently asked questions
How do I grab a video?
Download and install a screen grabber

Get Movavi Screen Recorder for Windows

Run the program and adjust the recording settings
Hit the REC button to start
Hit the Stop button to finish
Edit the record if you want and click Export to save the file
What is the best video grabber?
The best video grabbers are software, extensions, and websites that offer seamless download or recording processes. They must be compatible with as many formats as much as possible (from MP4 to WEBM, MP4, MOV, AVI, ASF, MPG, and more). They must also be compatible with the most popular operating systems, from Windows to Android, macOS, Linux, and more. Overall, the best video grabbers are:
Movavi Screen Recorder
ClipGrab
JDownloader
4K Video Downloader
VideoGrabber.net
Screencapture.com
VideoGrabber.cc
SaveFrom.net
Video DownloadHelper
Video Downloader Professional
Video Downloader Plus
Loom
Is VideoGrabber.net safe?
VideoGrabber.net is one of the most popularly used video-grabbing online services. The service is safe to use according to user reviews and service reviews by experts online. However, if you don't trust online tools like this, you can always use a desktop program such as Movavi Screen Recorder.
How to grab a video from a website?
Many media files are only available for a few days. If you want to save them for future reference, there are two ways to do this. You can use a screen grabber and record what's on your screen, or you can use desktop apps, online tools, and browser extensions specifically designed to download video clips. Below is a list to help you choose.
Screen grabbers:
Movavi Screen Recorder
Screencapture.com
Loom
Desktop programs:
ClipGrab
JDownloader
4K Video Downloader
Online tools:
VideoGrabber.net
VideoGrabber.cc
SaveFrom.net
Browser extensions:
Video DownloadHelper
Video Downloader Professional
Video Downloader Plus
Sign up for news and special offers